Finest Way to Merge OGG Files for Windows PC and Mac Computers
You may run through the trouble of merging audio files, particularly OGG, yet don't have enough knowledge of how to get this done. Merging audio is a usual activity in which you will combine multiple tracks into one file. This results in a playlist, sort of a remix with all the songs playing nonstop. Don't sweat it because you can accomplish this in a jiffy using the appropriate program. Whether for personal or academic purposes, you will be able to merge OGG files easily. Find out the best tool to handle this plight.

Part 1. What is OGG?
OGG is an audio file format that is designed for storing music files just like MP3 files. It comes with an OGG container that saves audio streams compressed with Vorbis codec in which file size is smaller in size but possesses a better sound quality. Therefore, for those of you who are looking for a balance of audio quality and file size, OGG is the file format.
As a matter of fact, files with the .ogg extension are created by Xiph.org Foundation, a nonprofit organization creating various formats for multimedia purposes. Hence, OGG is a free and open container format. Moreover, it holds streams of audio and video, subtitles, and other text as well. These are multiplexed media files that use OGX as their file extension. If you wish to merge files quickly, then continue reading to learn the best practical approach to achieve it.
Part 2. Professional Way to Merge OGG
One of the easiest and sought-after applications there is to merge OGG files is Vidmore Video Converter. Although this is a converting tool, it offers powerful functions. It can join two or more tracks in one file in no time. Regardless of the file size and number of files you want to join, the tool can work it out for you. Moreover, the tool enables you to use it either on your Mac or Windows computer that has a simple and easy-to-use interface. All you have to do is insert your target soundtracks to the program, merge, select an export format and save the final version of the audio file. To demonstrate the process of how to merge OGG files, take a look at the step-by-step procedure beneath.
Step 1. Run the program
First off, download the program using any of the Free Download buttons below. If you are a Windows user, tick on the Windows version or Mac for Apple users. Install and launch the program afterward.
Step 2. Add OGG tracks to the app
To add tracks, click on the Plus sign button on the app's main interface and select your desired audio track from your file folder. You can add another track by clicking the Add Files button in the upper left corner. To upload a folder of OGG files, click on the Add Files option drop-down and select Add Folder.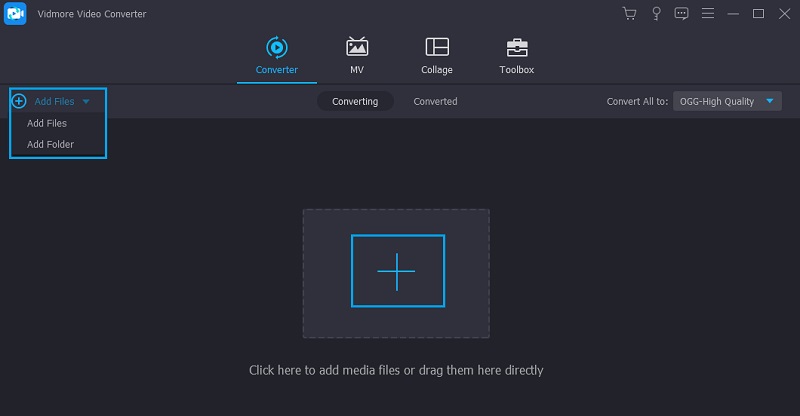 Step 3. Arrange the OGG tracks order
After uploading your desired tracks, you may arrange them according to the order you prefer. Simply drag a particular track to the order when you would like to play it.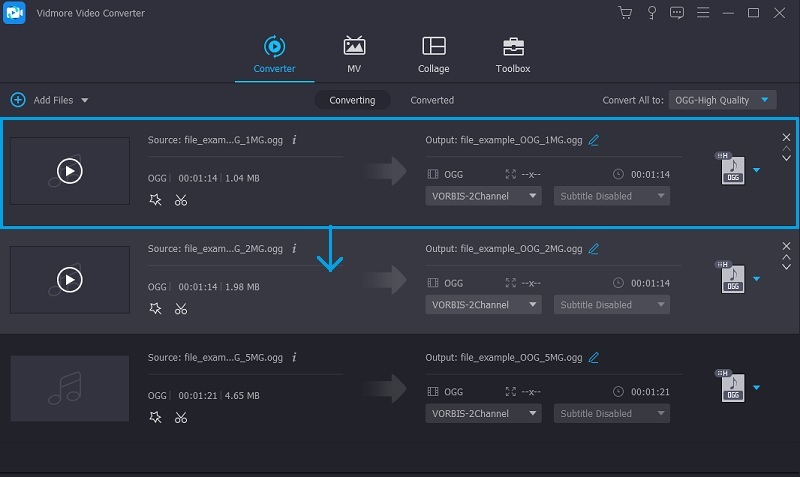 Step 4. Merge OGG files
At this point, open the Profile menu and go to the Audio tab. On the left panel, select OGG format and choose an audio profile that suits your needs. Next, tick the checkbox for Merge into one file and then hit the Convert All button to begin the merging process. The combined files should be saved on the default saving path. You can also directly check its playback on the Converted tab on the same panel.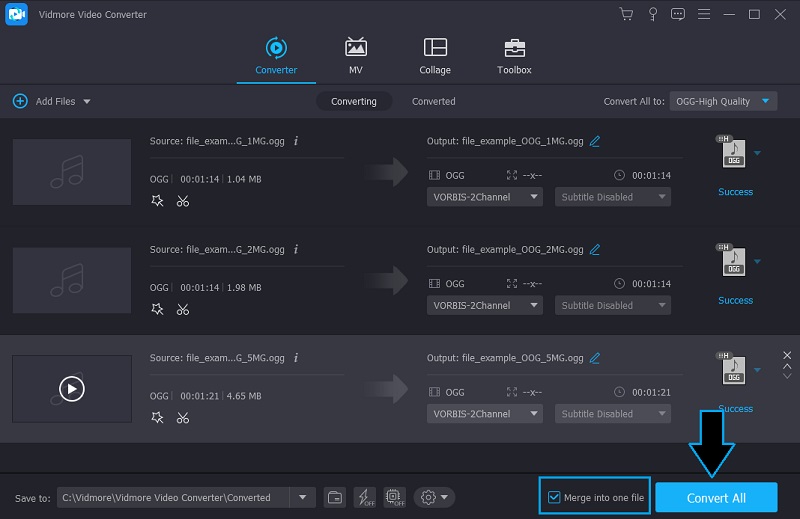 Part 3. Other Features in Vidmore Video Converter
Aside from merging audio files with Vidmore Video Converter, you can also take advantage of other features, including trimming, splitting, adjusting volume, delay, and so much more.
1. Trim OGG files quickly and easily
You may also trim or cut audio files within a few steps without requiring special or technical skills. This program allows you to cut a portion of audio files and save it as ringtones with quality loss. In addition, it features a fast split function wherein you can split audio into multiple segments rapidly. You can choose to split the track by average or by time, depending on your personal preference.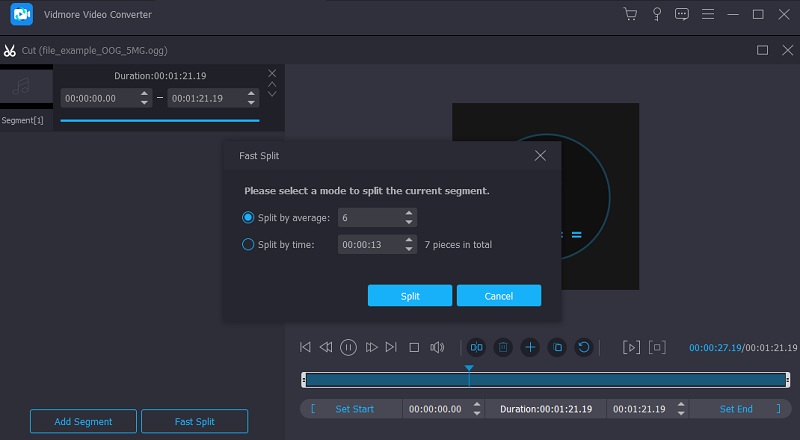 2. Audio in the Edit feature
This is also a perfect tool for various editing needs as it allows you to adjust the track's volume. Using this program, you can increase and decrease the volume of the sound file. In case that the audio is not synced with the video, you may adjust the delay to speed up or slow down the audio to sync the audio with the video.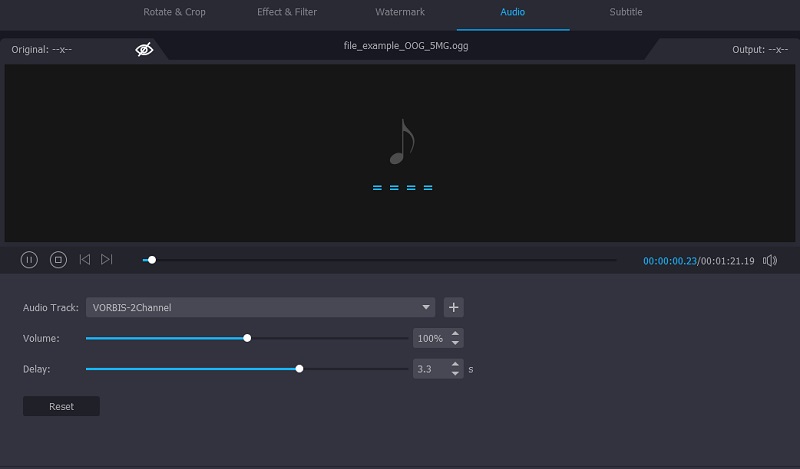 Part 4. FAQs of Merging OGG
How can I merge audio files in Windows 10?
There are various methods that you can employ for merging audio files in Windows 10. You may consider using Audacity to convert OGG files, but it can be challenging if you use this tool for the first time. Better yet, choose the tool above to help you quickly merge any audio files on your Windows 10 PC.
Is OGG better than MP3?
Both OGG and MP3 files are open-source audio formats. OGG has a better sound quality and smaller compressed file than MP3. Yet you may also have some other benefits from MP3 like joint-stereo and discrete channels of the audio file.
Can I play OGG files in VLC?
Almost major or common media players can play OGG files. This includes VLC and Windows Media Player. If you like to play OGG files online, you can do so through Google Drive.
Conclusion
Whether you need to merge OGG files that are split or individual tracks for continuous playback, the process is pretty easy. There are various methods to help you merge audio files. Yet to save your time and effort, Vidmore Video Converter is a practical solution that you should consider using. More than merging audio files, it offers additional features that would be helpful for other purposes like editing and adjusting the audio itself.