Effective MP2 to WMA Converter Solutions for Windows and Mac
MP2 is natively played on radio broadcasting as well as DVD players. The reason is it offers higher error resilience compared to other audio formats like MP3. In fact, it is the standard format for television and radio broadcasting. Moreover, it performs well when the bitrate is 256kbps and higher. The only downside is that its playback is not good for listening to audiobooks.
The strength of WMA lies in that disadvantage. With WMA, you will compress the file, even more, allowing you to produce an improved playback while reducing the overall file size. In other words, you can enjoy superb quality with relatively smaller file size. This article will share the best MP2 to WMA converters for platforms Windows and Mac.

Part 1. MP2 vs. WMA
MP2 and WMA are good formats for easy delivery since they are compressed audio files. So, you may be wondering which format is better. MP2 is designed to maintain the original sound of the file dedicated for audio broadcasting. Hence, that is why it lacks support for many audio players. Typically, you can stream this type of audio file on DVD players.
On the other hand, WMA has a wonderful performance in terms of sound quality at a low bit rate. Besides, it is widely accepted among many websites gaining popularity amongst online users. However, it does not perform well at high frequencies. Technically speaking, it loses quality when the bit rate rises from 192k. Nevertheless, below are tools you can use to convert MP2 to WMA.
Part 2. How to Convert MP2 to WMA Easily
When looking for an audio converter, it would be best to look for an application that works well with your level of expertise and if the tool actually completes the task effectively and efficiently. Hence, we handpicked some of the best MP2 to WMA converters that meet the criteria for the best audio converters. You can take a glance at these programs below to further learn about them.
1. Vidmore Video Converter
Vidmore Video Converter is an innovative program that enables you to access many useful tools for manipulating audio files. With it, you can convert 200+ audio and video files to any of your desired formats. Additionally, it allows you to convert files into device-supported formats, including iPhone, Samsung, Roku, Huawei, etc. Aside from that, you can achieve your desired professional output by customizing the audio parameters. Under its toolbox, you can explore more functionalities and features like metadata editor, volume booster, audio sync, and so much more. Follow the detailed steps on using this app for converting MP2 to WMA.
Step 1. Grab the installer of the app
First off, download the program via the Free Download buttons below. Once done, install the app by following the on-screen setup. Run the program afterward.
Step 2. Add MP2 audio file
After launching the app, you will see its main interface. From here, click the Plus sign button to add an audio file to convert. You may also drag and drop the selected audio file into the software to upload.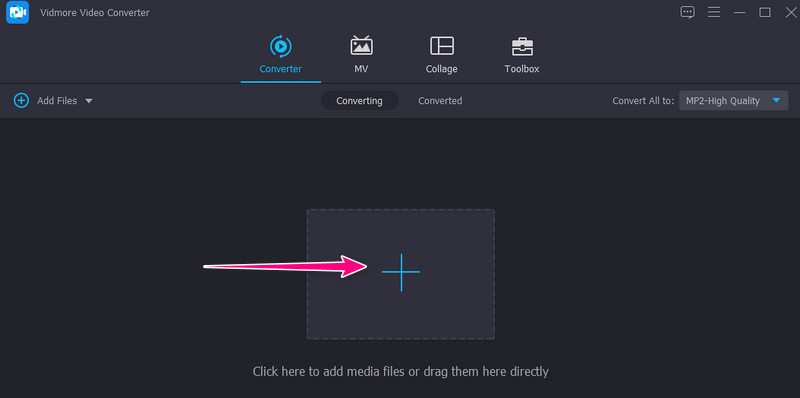 Step 3. Choose WMA as the output format
At this point in time, click the Profile menu to unfold and see the list of available audio formats. Go to the Audio tab and select WMA on the left side menu. Next, select the quality that suits your preference or requirements.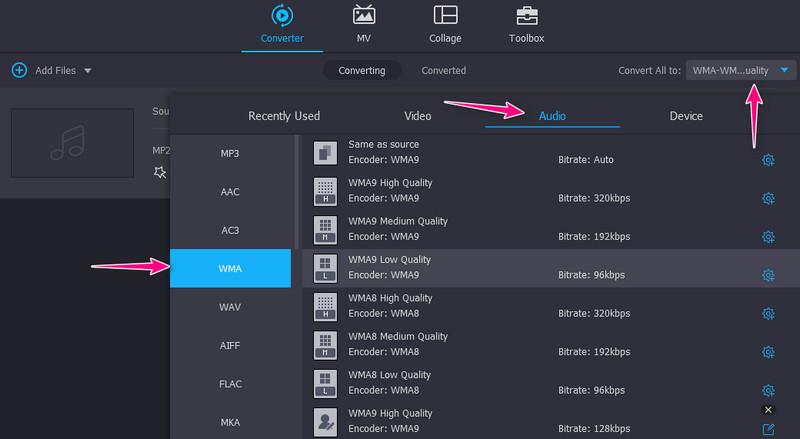 Step 4. Start converting MP2 to WMA
When you are done selecting audio quality, you will arrive at the main interface. From here, click the Convert All button to commence the conversion process.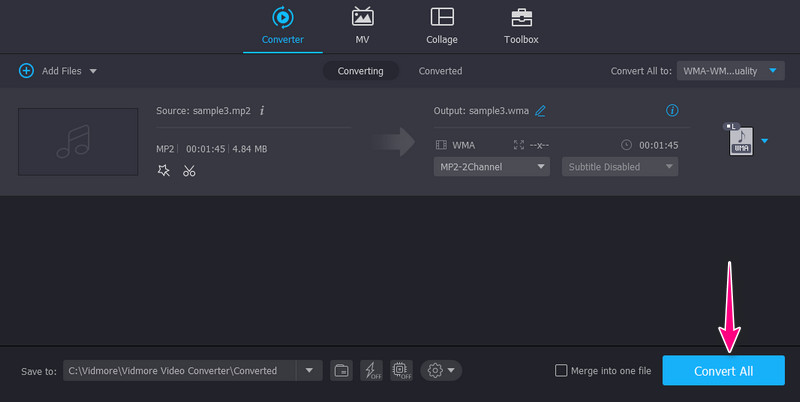 2. Vidmore Free Video Converter Online
Aside from the desktop solution, you can also employ an online solution to convert MP2 to WMA. Vidmore Free Video Converter Online supports different media file types, allowing you to convert from the web page directly. This also integrates the feature of editing parameters like sample rate, bitrate, channel, etc. Besides, you can perform both batch and single conversion using this program. That means you can upload multiple audio/video files and convert them simultaneously. On the other hand, below are the steps you can follow to use this as your MP2 to WMA converter for Windows and Mac.
Step 1. Launch the online converter
To begin with, go to https://www.vidmore.com/free-online-video-converter/ to visit the program's official page. Click the Add files to convert for a quick installation of the program's launcher. But if you are a repeat user, you don't need to go through this process.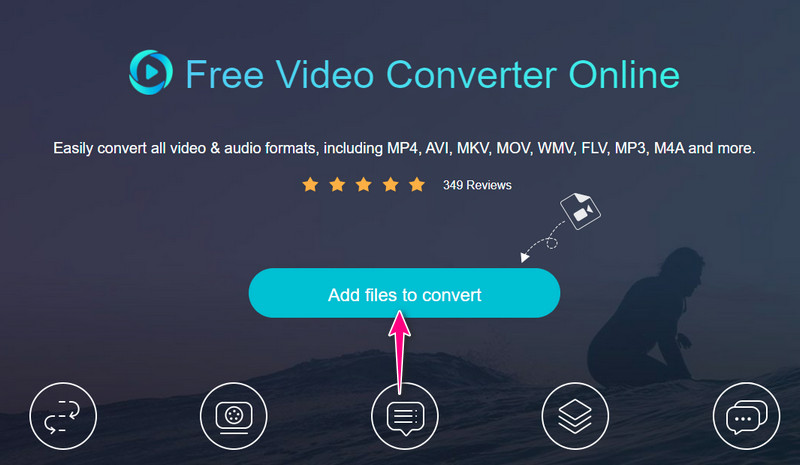 Step 2. Import an MP2 file
Click the Add files to convert button from the main interface to open the File Explorer on your computer to locate the audio file that you wish to convert.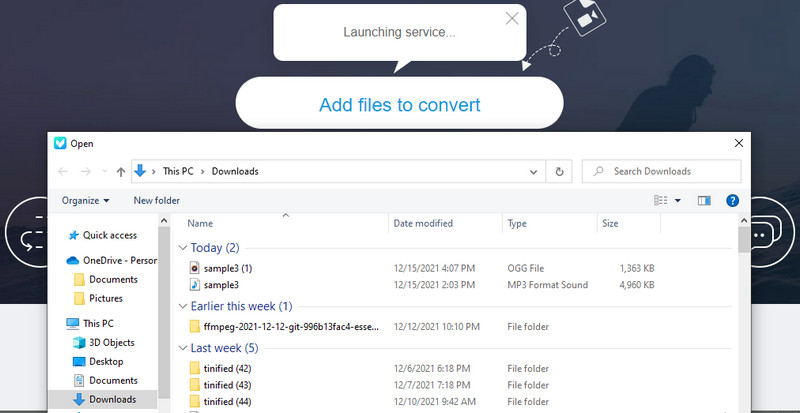 Step 3. Select an output format
Once the audio file is uploaded, a window will pop up where you and you will be prompted to select an output format for the output file. Go to the Audio format option. Then tick on the WMA radio button to set it at the output format.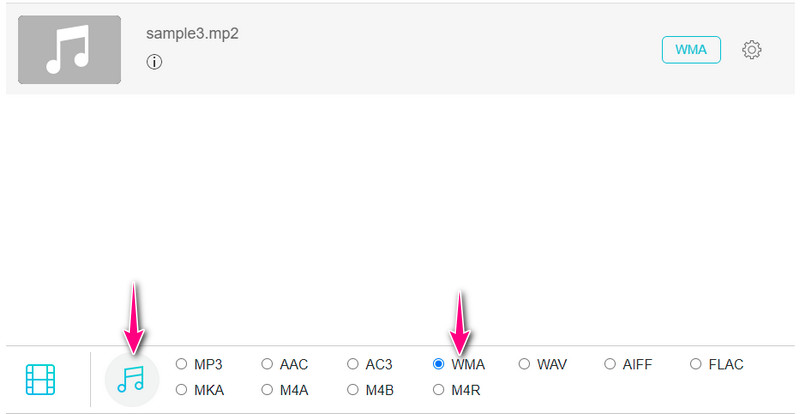 Step 4. Convert MP2 to WMA
After that, click the Convert button at the bottom right corner. First, you will need to set the file directory. The second time you click the button, it will start converting the file. A folder will automatically open when the task completes where you preview the playback.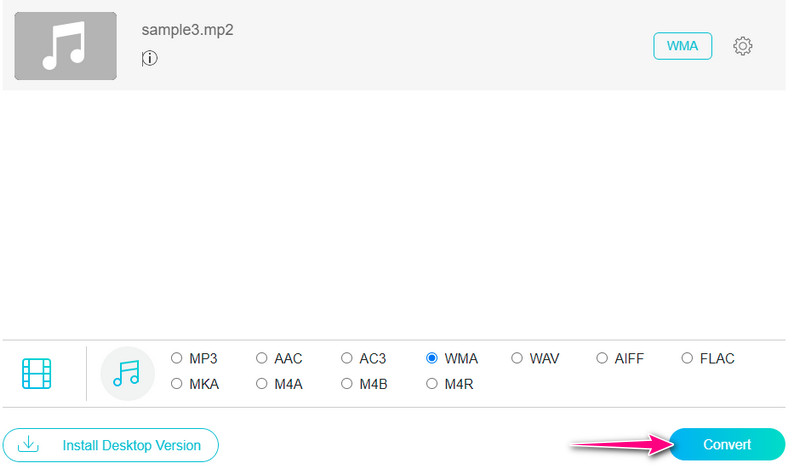 Part 3. Which Way is Better?
If you are still wondering which program to use, you may refer to the illustration below.
| | | | |
| --- | --- | --- | --- |
| | Ease of use | Fast speed conversion | Compatibility |
| Vidmore Video Converter | Intuitive interface | Converts fast | Windows and Mac |
| Vidmore Free Video Converter Online | User-friendly | It depends on the internet connection | Windows, Mac, and Web |
Both programs are effective and efficient for converting MP2 to WMA. But it is obvious that if you want to convert conveniently without installing anything, the online solution is appropriate. On the other hand, the desktop app is right-fit if an internet connection is not always available.
Part 4. FAQs of MP2 to WMA
How can I create a WMA file?
You can use various programs to create a WMA version of any audio file. Take the above programs, for example. As long as that app supports WMA as the output format, you will be able to create a WMA file out of any audio file.
Can I convert WMA to MP3 in Windows 10?
Yes. You just have to look for an application compatible with Windows PC or Windows version 10. For example, you can use Vidmore Video Converter to easily convert WMA to MP3.
Which program can I use to play WMA?
You may use a VLC media player as a WMA player to open WMA on your Mac or Windows PC. Natively, you can play WMA using Windows Media Player on your Windows PC.
Conclusion
Converting MP2 to WMA does not have to be complicated. If you are using an appropriate, you can convert the media format with little to no effort. On the other hand, you can select the method that suits your preference. Either you convert online or offline using a desktop program.