Top WMA Editors for Mac and Windows You Should Consider Using
There are various reasons why you need to edit WMA audio files. Might be you need to cut superfluous parts of audio with high accuracy. Enhance audio by applying effects, adjusting audio volume or pitch. Regardless of your purpose, a WMA sound editor should definitely come in handy. But with all sound editors available in the market today, it can be a daunting task to pick the best tool for you. Therefore, here are the top 4 sound editing apps that you can use right now.

Part 1. Best Free Online WMA Editors
1. Wavepad
Wavepad is audio editing software that is free to download on a Windows computer. The tool is packed with sound editing features where you can copy, split, trim, and cut audio files. So, whether you want to cut an audio file into two, you may do so using its split function. On occasions that you need to remove unwanted audio parts that do not take too much portion, audio trimmer will come in handy. Plus, you can copy parts of a recording and insert them on other parts of the audio or on another recording. The best part is you can apply music effects including normalize, equalize, amplify and so much more. Not to mention, it supports almost all audio file formats such as WMA, WAV, FLAC, AIF, VOX, OGG, and many others making it one of the best WAV or WMA sound editors there is.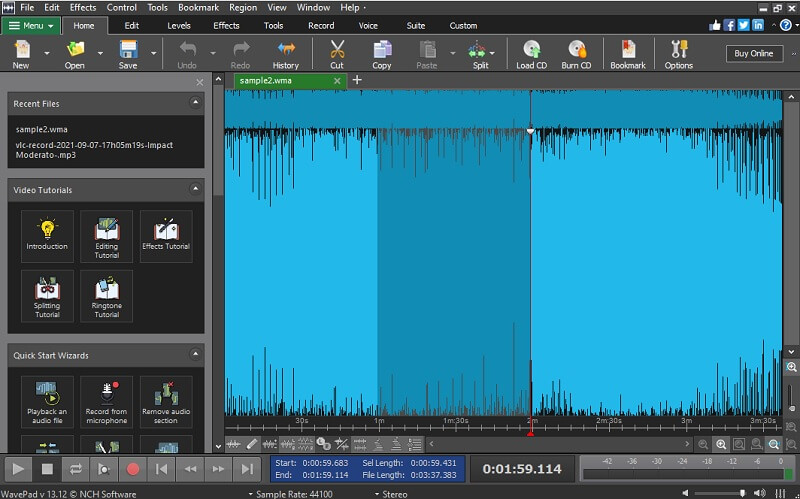 2. Vidmore Video Converter
Vidmore Video Converter is an impressive WMA editor for Mac and Windows that is jam-packed with useful tools for your audio editing jobs. It comes with a music editor where you can cut, trim, split into segments, and merge audio clips with so much ease. There are convenient ways for you to cut songs. One is by entering the duration time in seconds to cut clips with high precision. Another is by moving the music grabber or handles to help you easily select the part that you need to retain and remove that unwanted part. In case you need a WMA metadata editor, Vidmore can sufficiently do the job.
That is possible with the app's media metadata editor function. Whether you need to edit the tag or metadata of your audio/video file, the tool is built for such a need. With it, you will be able to add a thumbnail or cover photo, modify the title, genre, album, etc of your chosen media files. Indeed, Vidmore is a multi-purpose app that also works well as a WMA tag editor freeware for Windows and Mac platforms.
3. Clideo
If you want to save space on your hard drive by not downloading additional programs, you should probably opt for online programs like Clideo. Editing audio files using this program is as easy as A, B, C and is also fast enough that you can accomplish your editing task in a matter of seconds. As a matter of fact, it features an easy-to-use interface that contributes to editing your audio in a faster way. This can also help you merge serve audio clips into a single file.
Therefore, you can create a playlist of songs in just a song. Moreover, it enables you to cut specific parts of audio with accuracy. Similarly, it comes with handles so you can select the parts to trim or cut. You can also cut audio files by entering the beginning and ending duration time.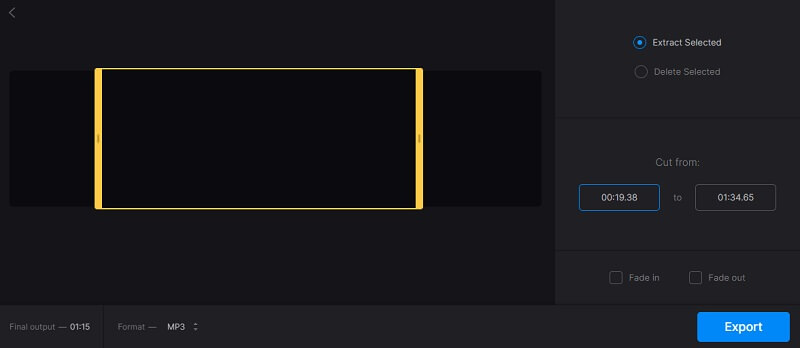 4. Audio Trimmer
Considering another online program? You should look no further than Aconvert. What is so good about this WMA editor online is that you can import from different file sources. You have the freedom to upload from your local hard drive, from a website via URL, Google Drive, and even Dropbox. Needless to say, it is a flexible program when it comes to uploading media files. Furthermore, it can combine multiple songs in one from the web page directly. No signup or registration is required for you to use this free WMA audio editor.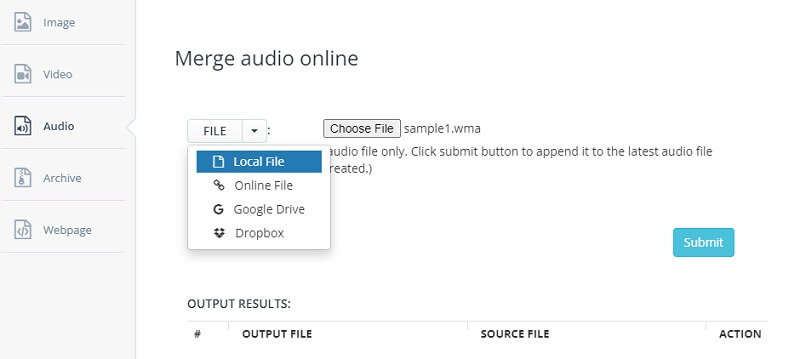 Part 2. How to Edit WMA with Professional Software
Beneath is the detailed guide on how to use this amazing tool:
Step 1. Install the WMA Sound Editor
To begin, download the Vidmore Video Converter on your computer by clicking any of the Free Download buttons below. Follow the installation wizard to install the app and install it afterwards. As soon as the installation is done, it will display the main interface of the app. To get used to its features, you may circumnavigate the functions.
Step 2. Add WMA file to edit
Then, tick the Plus sign button to open your file folder and upload a WMA file from your hard drive. Select your desired WMA file to edit and hit the Open button.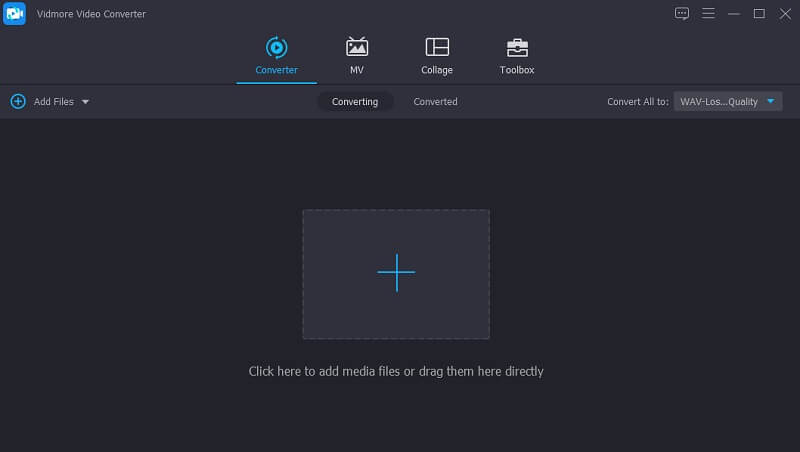 Step 3. Edit WMA clip
After successfully uploading a WMA file, you may start editing the audio file. To cut the clip, simply click on the Cut icon that resembles the scissors. By clicking the Edit icon, you will be able to adjust the audio delay and volume according to your needs. Then hit the OK button once you are done with the changes.
Step 4. Save the edited WMA file
Now resume to the Converter tab where you uploaded the WMA file. Before saving the final version of the WMA file, you have the option to convert the WMA to another audio format or keep its original format as you like. Once you are ready, simply press the Convert All button at the bottom right corner. The conversion process should start immediately and you will get the playback after the quick conversion.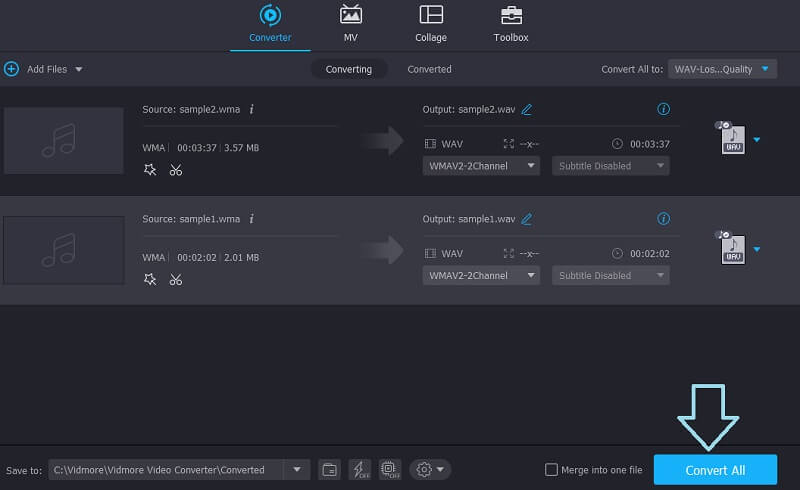 Part 3. FAQs of WMA Editors
How to trim a WMA file?
Trimming a WMA file is not that difficult as it sounds. All you need is a music editor that supports audio files, specifically WMA. In fact, there are online and offline programs that will help you accomplish this task. Just pick the appropriate tool for you.
How to edit WMA files on Mac?
Editing WMA files on Mac can be done with the help of software that is compatible with Mac or an online tool that works on Safari browser. Vidmore is one of the introduced tools that can run on both Mac and Windows PC.
How do I open WMA files?
Obviously, Windows Media Player is the best program to play WMA files. However, you may use third-party WMA playback software such as VLC, MPlayer, Winamp.
Conclusion
Generally, there are various WMA sound editors that are available free and paid. Therefore, we picked the best and most decent programs that you should consider using. There are online and desktop apps to fit every user's requirements.