How to Convert MP3 to AC3 With These Highly Recommended Solutions
Have you ever tried playing your MP3 tracks on your home theater, but it doesn't have good quality? You are not alone. Sometimes having an MP3 file with not so good quality makes us not enjoy the file we are playing. But worry no more! We have a solution for that. Through the help of this post, we will teach you how to convert MP3 to AC3 with the service of the online and offline tools we will review. Check out the post below for you to improve your MP3 file's quality.

Part 1. Best MP3 to AC3 Converter
You can convert your MP3 file to another format, such as AC3, using Vidmore Video Converter. No matter how inexperienced you are with computer technology or how large your MP3 file is. There are several features in this complete utility that allow you to customize audio and video files to your taste. Extract audio and video files, and convert audio and video files between different formats. This software performs best on devices running the Mac or Windows operating systems, respectively. As a result, there will be no problems with compatibility on your end. This tool has various editing features that will aid you in improving the quality of your audio files, including the ability to change the bitrate, sample rate, and channel settings.
Because of the user-friendly interface provided by this application, there is no need to be concerned with the technical parts of the software. After determining whether this desktop tool is beneficial, you can begin converting your preferred files by following the processes detailed in the next section.
Step 1: Acquire the MP3 to AC3 Converter
Before you can begin the conversion, you must first download and install the software, which you can do by clicking on the Download button to the right of this page. Installing the software on your device is as easy as running it when successfully downloaded and installed on your computer.
Step 2: Insert the MP3 Audio Track
On your first use, it will take you to the main page, where you can add files by clicking the Add Files button on the left upper side of your screen's interface. You can do this by clicking the button. There are other ways you can add MP3 songs to your Timeline, like by tapping the Plus sign in the middle and choosing them from your computer's hard drive.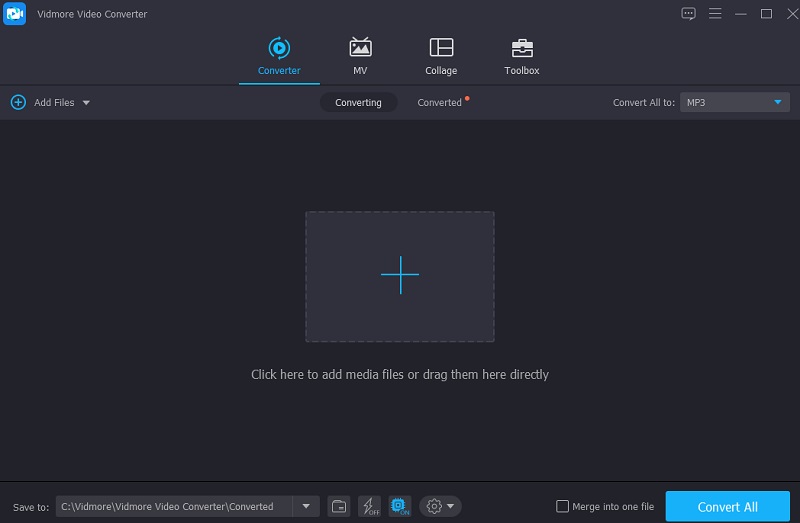 Step 3: Choose AC3 as Format
To see the numerous audio formats accessible in the tool's Timeline, pick the Audio section and then the drop-down arrow on the right side of the audio track. From the drop-down option, choose the AC3 format.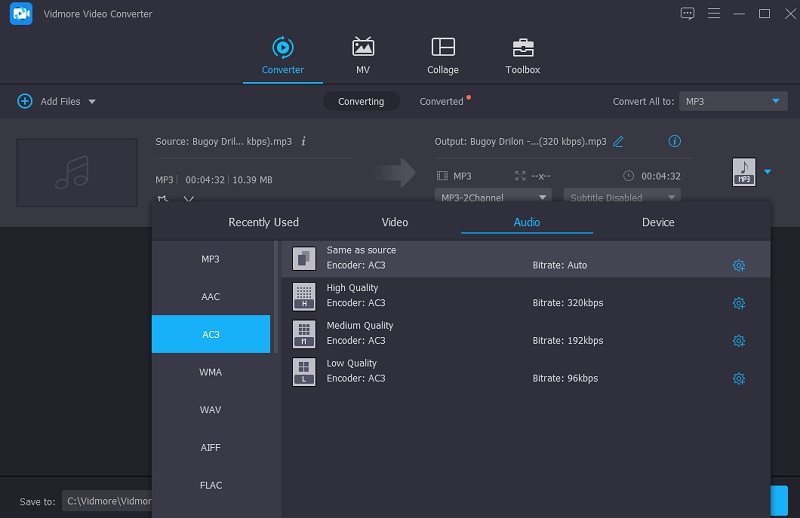 Select the Settings icon on the right side of the screen to change the quality of your audio clips. Then choose the proper Bitrate, Sample Rate, and Channel settings from the drop-down menu. To begin again, click the Create New button after you're finished.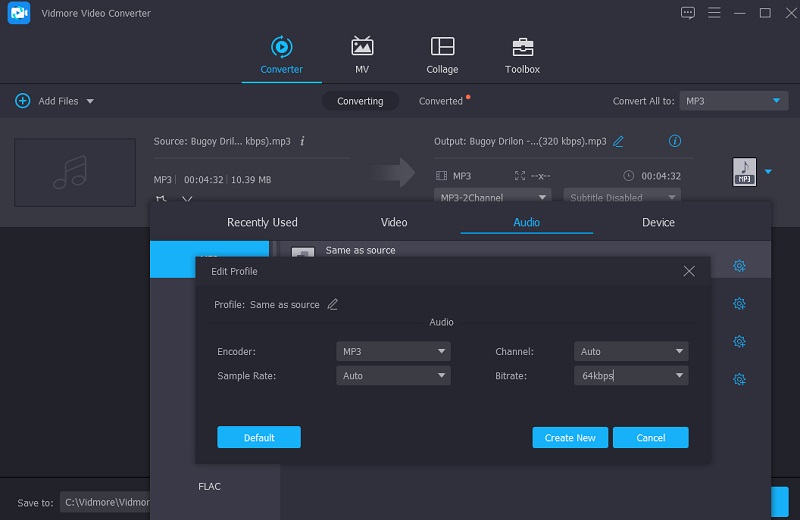 Step 4: Convert the Audio into AC3
You may proceed with the conversion procedure when you've completed all of the required adjustments to your MP3 files. At the bottom of the screen, tap the Convert All button. After that, you'll be able to enjoy your file in a matter of seconds.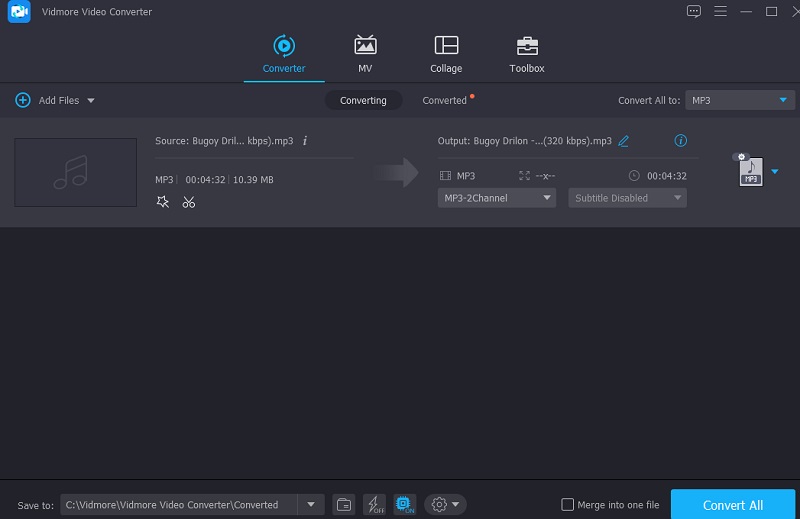 Part 2. Free Online MP3 to AC3 Converter
People are more interested in goods that swiftly connect them to their needs. Therefore online tools are growing more popular. In addition, if you're searching for a new video and audio converter that can change the format of your audio track with ease. Instead of other solutions, you may want to use Vidmore Free Video Converter. This web-based application will surely help you convert your soundtracks by offering a variety of file formats from which to pick. You won't have to read any instructions since you won't have to worry about finding out how to use its audio editing features. It will surely be more convenient for you, mainly if you are always on the road since it converts faster.
Step 1: In your browser's address bar, look for Vidmore Free Video Converter's home page. Click it, and it will take you to the program's main interface. Go to the menu bar and choose Add files to convert, then download the launcher to get started.
Step 2: After you have finished the installation of the tool's launcher, click the Add files to the convert button and choose the MP3 audio track from your Folder. You may add another file to the tool's Timeline after putting the audio track on it by choosing Add file from the left-hand option in the upper-left corner of the screen.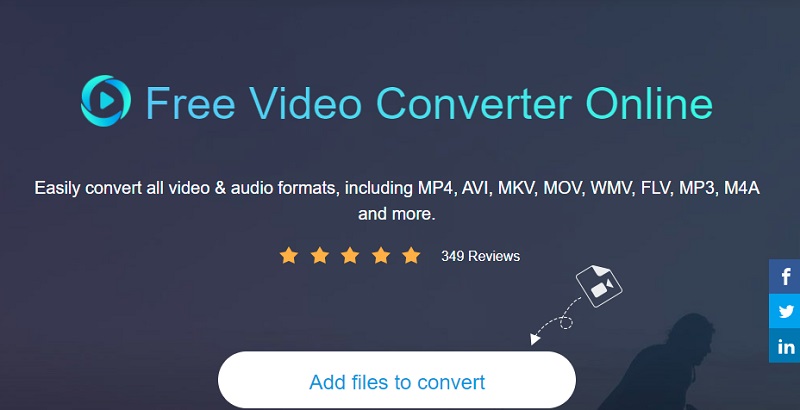 Step 3: By pressing on the Music icon in the bottom right corner of your screen and choosing AC3 as a file type, you can select the file format you want.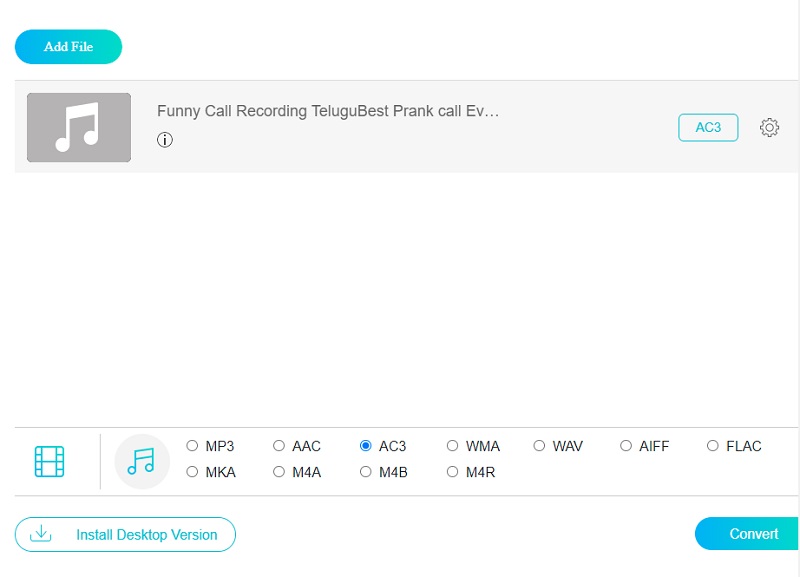 Choose Settings from the right-hand menu to view the Bitrate, Sample Rate, and Channel drop-down arrows if you want to consider audio quality. Select the appropriate choice from the drop-down lists to adjust the quality to your desire. Click the OK button when you're finished.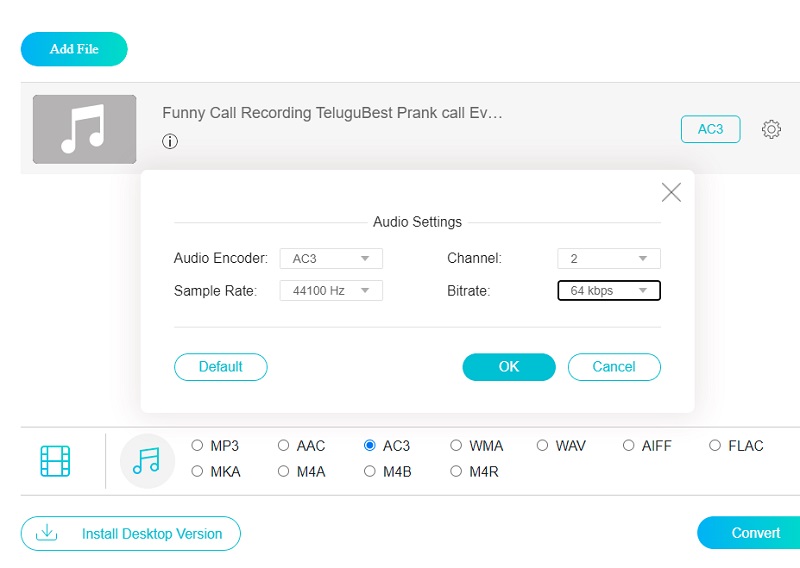 Step 4: You can now hit the Convert button to start the conversion process after completing all the abovementioned stages. After clicking the Convert button, you'll be asked to choose a file's destination from the Folder that displays. Then, using the drop-down menu, select a folder to convert, and the process will begin.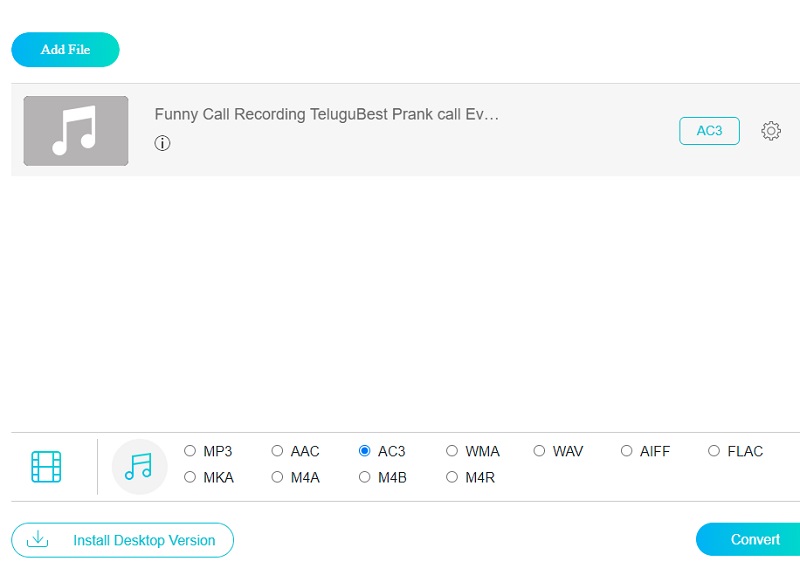 Part 3. Comparison Chart Of The 2 Converters
Indicated in this post is the simple illustration of similarities and differences of MP3 to AC3 Converters.
| | | |
| --- | --- | --- |
| KEY FEATURES | VIDMORE VIDEO CONVERTER | VIDMORE FREE VIDEO CONVERTER |
| User-friendly Interface | | |
| Lots of File Formats | | |
| Fast Conversion | | |
| Support Editing Tools | | |
| Available on Mac and Windows | | |
Part 4. FAQs About MP3 to AC3 Converter
Which is preferable, AC3 or AAC?
When compared to AC3, AAC is a more sophisticated lossy audio format with higher bit rates. In most cases, it will give higher-quality audio than AC3 at the same bitrate, particularly at low bitrates.
Is it possible to play AC3 on Android?
The only way to play your AC3 files on Android devices is by downloading VLC Media Player.
What exactly is 5.1 AC3?
It is a cross surround sound system with six separate audio channels: left front, right front, center, left rear, right rear, and LFE subwoofer.
Conclusion
With the help of this post, you can now fully enjoy your favorite MP3 files by converting MP3 to AC3 for you to achieve better audio quality. It's just a matter of deciding whether to employ online or offline solutions.