Convert MP3 to FLAC Online Free and Desktop Without Losing Quality
You may have many MP3 files on your device or sound equipment. While MP3 offers high compatibility, it does not provide as high sound quality as FLAC files. Many players and devices also support FLAC files. Moreover, it offers a perfect copy of the music on CDs bit by bit but at half the original file size. Quite frankly, FLAC sounds better than MP3 files, and you can enjoy it on various devices without difficulty.
In order to change MP3 to FLAC, you will need to use converters that are effective and efficient. With that being said, we explored and handpicked several programs that can help you solve this predicament.

Part 1. How to Convert MP3 to FLAC Free Online
Below are some of the effective online tools that will allow you to convert MP3 files to FLAC for free. The tools that we will offer do not require installation, so they will not consume memory space on your drive or device. Continue reading to get the necessary information.
1. Vidmore Free Video Converter
First on the list is Vidmore Free Video Converter. The program is fully compatible with Windows and Mac computers allowing you to perform the conversion without registering for a membership. Moreover, it supports nearly all major audio and video formats. These include MP3, FLAC, OGG, M4A, WMA, WMV, etc. More importantly, it handles both single and batches conversion making it easy to import and convert several files simultaneously. Also, suppose you find it necessary to modify the output. In that case, you can do so as this program integrates a simple profile editor. On the other hand, here is a detailed guide to convert MP3 to FLAC online for free.
Step 1. Access the website of Vidmore Free Video Converter. To do this, open a browser on your computer and type its web address link on the address bar, and press enter on your computer keyboard.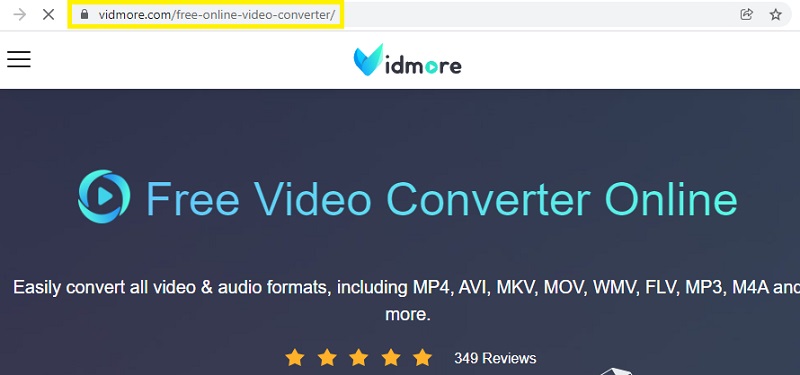 Step 2. Once you get to the main page, click on the Add files to convert button to launch the program. It will prompt you to locate and upload the MP3 file. If you are using the tool for the first time, you will need to run through the quick installation of its launcher. Then, you can convert as normal.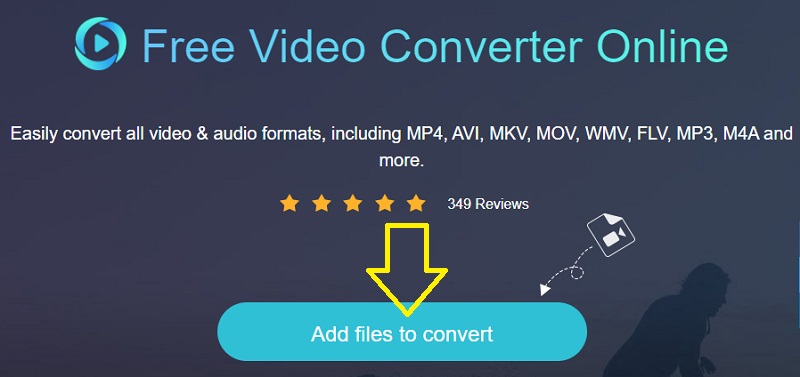 Step 3. After uploading MP3 files, go to the Audio format panel by clicking the Music icon. By then, you will see a list of audio formats. From here, select FLAC. If you desire, edit the parameters by clicking the Gear icon. Adjust the settings for your specific needs and hit OK to confirm the settings.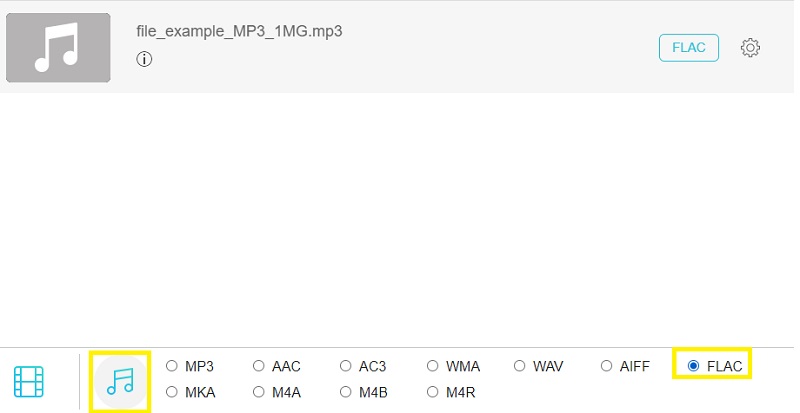 Step 4. Once you are done with the configuration, set a file destination for the output file. Finally, click the Convert button to convert MP3 to FLAC.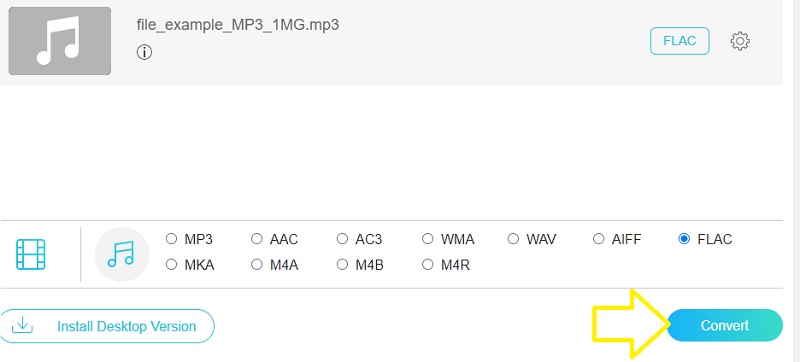 Pros:
Allows editing parameters.
Convert several audio files at once.
Cons:
Supports limited formats.
2. CloudConvert
CloudConvert is a good alternative if you are looking for another online program to convert MP3 to FLAC converter free of download. The tool is helpful for different purposes. It enables you to convert audio, video, image, presentation, document, and many others. Moreover, it comes with an easy-to-use interface that can convert media files even without prior experience with the tool.
Step 1. Launch a browser on your device and go to the website of CloudConvert.
Step 2. Click the Select File button to upload your target MP3 file from the main page. Depending on your requirements, you may also upload from Google Drive, Dropbox, and OneDrive.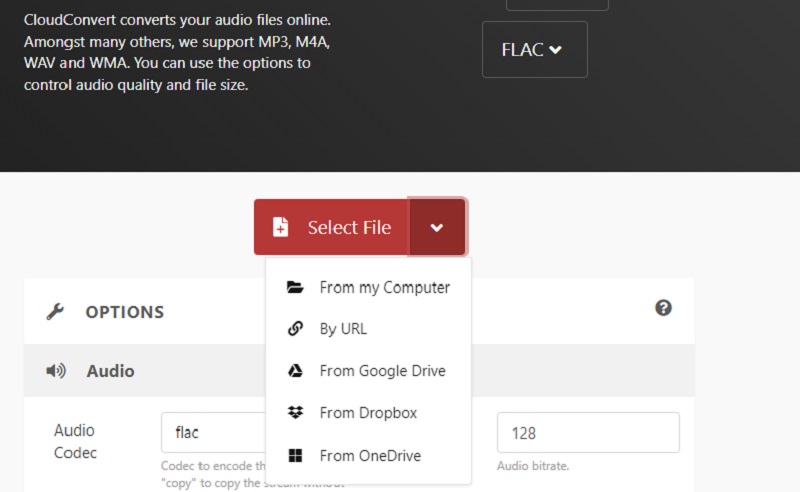 Step 3. This time, select an output format. In this particular scenario, choose FLAC as the output format.
Step 4. Lastly, hit the Convert button to start processing the file.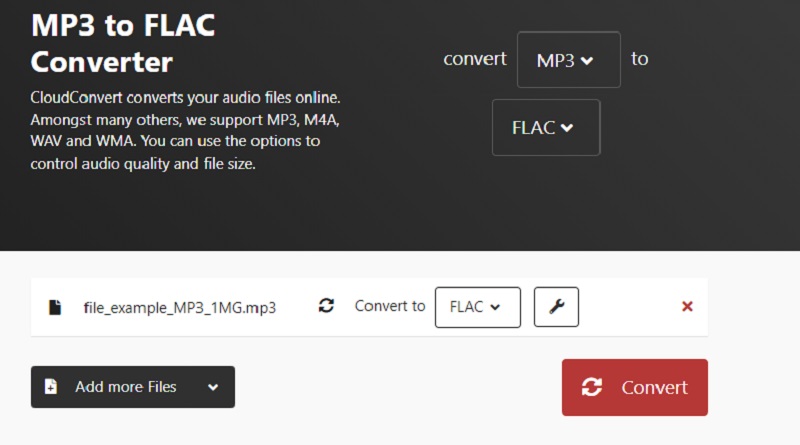 Pros:
Provides various uploading methods.
Audio editing functions.
Cons:
Limited time for processing files.
3. Convertio
Convertio is also a web-based app that directly converts files from the web page like the previous programs. You can choose to upload from your local drive and the cloud storage. On top of that, the tool is compatible with all devices, including mobile devices, without installing anything.
Step 1. On your browser, type in the address link of the website on the address bar.
Step 2. Click the Choose Files button from the main page to upload the MP3 you like to convert.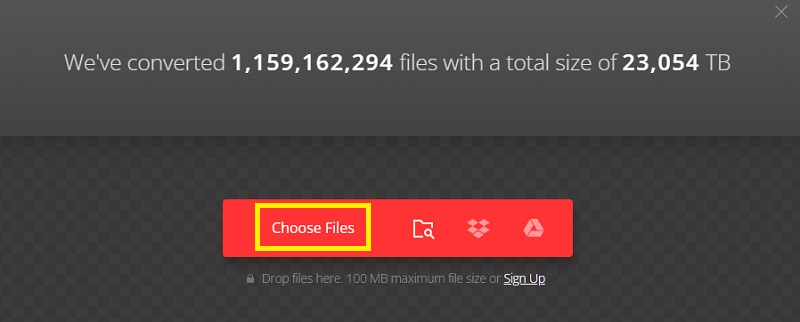 Step 3. Now, open the format tray for audio and choose FLAC from the selection. After all the above steps, click the Convert button to carry out the conversion.

Pros:
Modify audio parameters.
Comes with a video compressor.
Cons:
Maximum of 100MB file size you can upload.
Part 2. How to Convert MP3 to FLAC on Desktop
You might also be considering an offline app since not all users have access to the internet connection all the time. Vidmore Video Converter is one of the recommended programs. Aside from its primary function of converting, the tool also serves as a media metadata editor, audio and video editor, slideshow maker, and so much more.
If you are in a hurry and need to convert multiple files, the tool is helpful for this kind of need. You also do not have to worry about the file size or the number of converts using this program.
Because this tool is available in Windows and Mac, you can use it as an MP3 to FLAC converter for Windows and Macintosh. Just follow the steps below to learn how to utilize it.
Step 1. Download and install the program
The first thing you have to do is download this program on your computer. Click the Free Download button beneath. You can choose between the Mac and Windows versions depending on your device's OS. Have the app installed and launch it.
Step 2. Add MP3 files to convert
When the app is running, you will see the main interface that displays a big Plus icon. Click on it and upload your desired MP3 file to convert. Click on the Add Files at the upper left side to add more files or convert in bulk.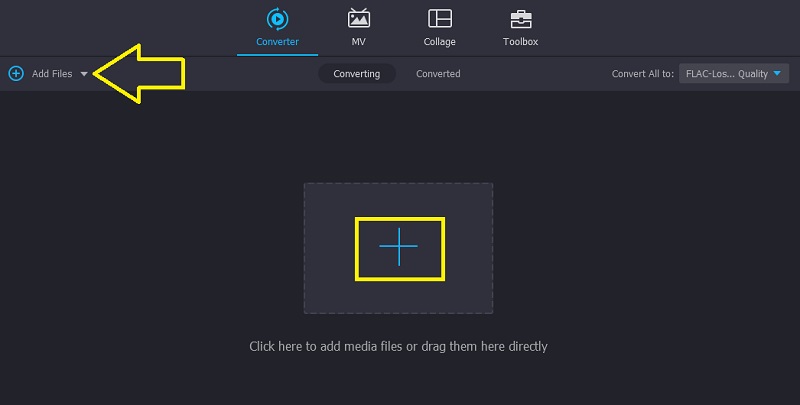 Step 3. Select an output format
After uploading the MP3 file, select an output format for the audio track. Unfold the Profile tray and go to the Audio tab. On the left panel, choose FLAC and select an audio profile.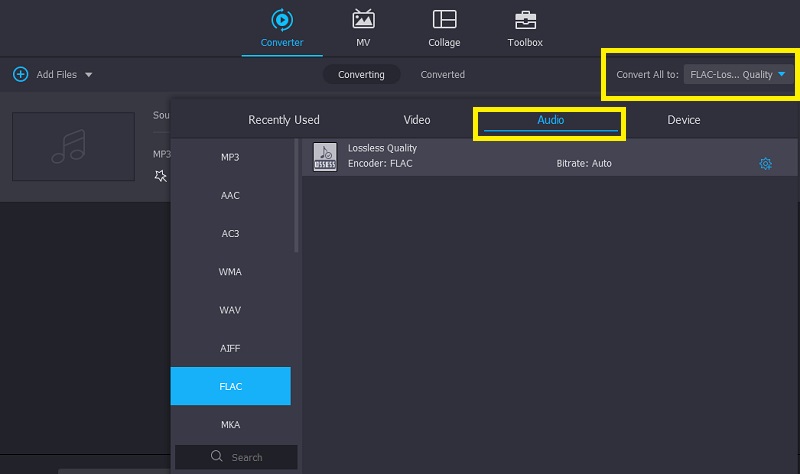 Step 4. Start converting audio files
Now that you have selected the output format, you can set a file destination for the output file. Click on the Open output folder at the bottom-most part of the interface and set the output folder. After that, click the Convert All button to begin processing the file.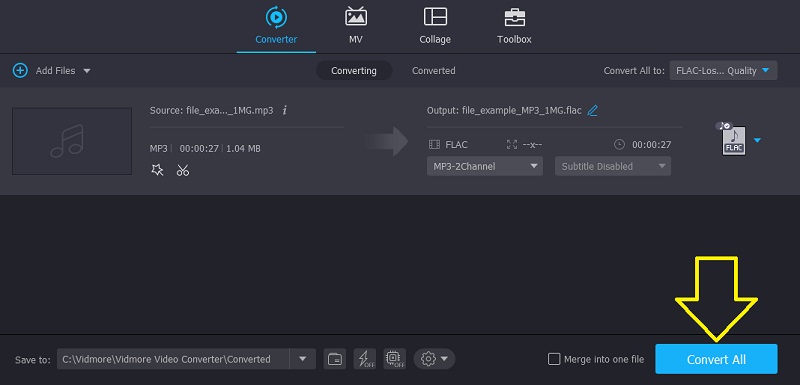 Part 3. FAQs of MP3 to FLAC
Does converting MP3 to FLAC improve quality?
Actually, it does not improve the quality of the MP3 file. MP3 is a lossy format, while FLAC is lossless. There will not be any noticeable quality improvement when converting from lossy to a lossless format.
What is the difference between FLAC and MP3?
MP3 discards data in the decoding process while FLAC does not. However, FLAC files are more extensive than MP3 in size.
Can you convert FLAC to MP3 without losing quality?
Losing quality when converting is quite unavoidable. For a lossless audio conversion, you may use Vidmore Video Converter.
Conclusion
These are the tools you can utilize to change MP3 to FLAC on Mac or Windows PC. You will prefer the online tools if you do not have worries about the network. On the other hand, desktop tools are preferable if the internet is not available all the time. Vidmore Video Converter is highly recommended from this aspect. You can use it anytime with or without an internet connection.