Highly Suggested Ways to Change OGG to M4A Files For Free
There are tons of reasons why we need to convert our audio tracks to another format. It can be because we are saving space on our device's storage that is why we want to turn some large audio files into smaller one. Or it can be because we want to transfer and play our audio tracks on our mobile device. Therefore, we convert files so that it can be compatible on our device. With that, learn how to convert OGG to M4A just by reading this post.

Part 1. How to Convert OGG to M4A Online for Free
There are a lot of online converters for free that are circulating on the internet, but the most recommended one is the Vidmore Free Online Video Converter. The reason why it is being patronized by most of the people who want to convert their audio is its user-friendly editing features. Aside from that, it doesn't require users to subscribe on their page before you can fully convert a file.
What's more amazing in this online tool is that it doesn't limit you from converting a file even if it contains heavy files. And if you value your time, this web-based software is perfect for you because it has faster speed conversion on both audio and video files. That is why you can easily change your OGG files to M4A without any hassle. And to give you more information, here is the list of steps below.
Step 1: On your browser, look for the official page of the Vidmore Free Online Video Converter then click the Add files to convert tab to download the launcher of the web based app.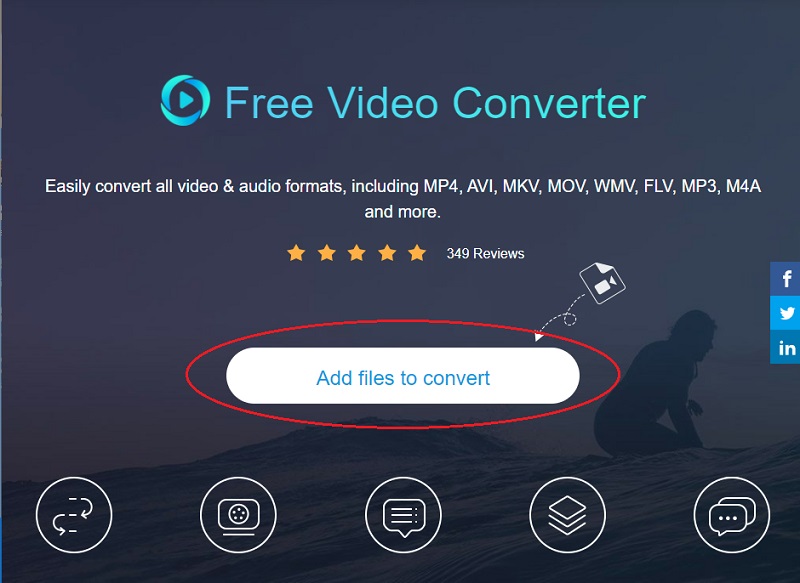 Step 2: When you are done installing the launcher, click the Add files to convert again and choose the OGG file from your library. After being directed to the interface of the tool, you can add another audio track to convert, simply click the Add File on the left upper part of the screen.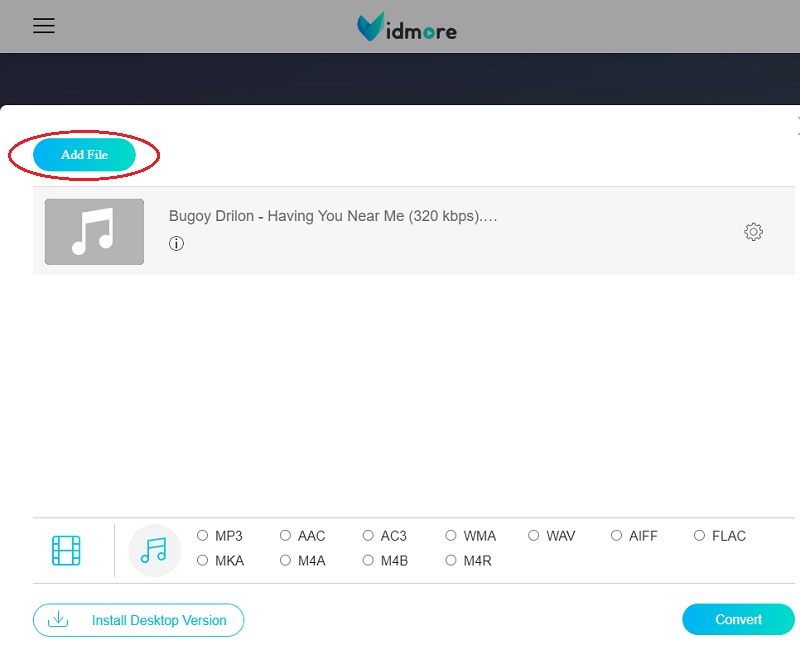 Step 3: After adding the OGG files that you want to convert, click the Music icon located at the right side of the screen and it will show you the different formats where you can convert your audio files. Then click the M4A format on the options provided below.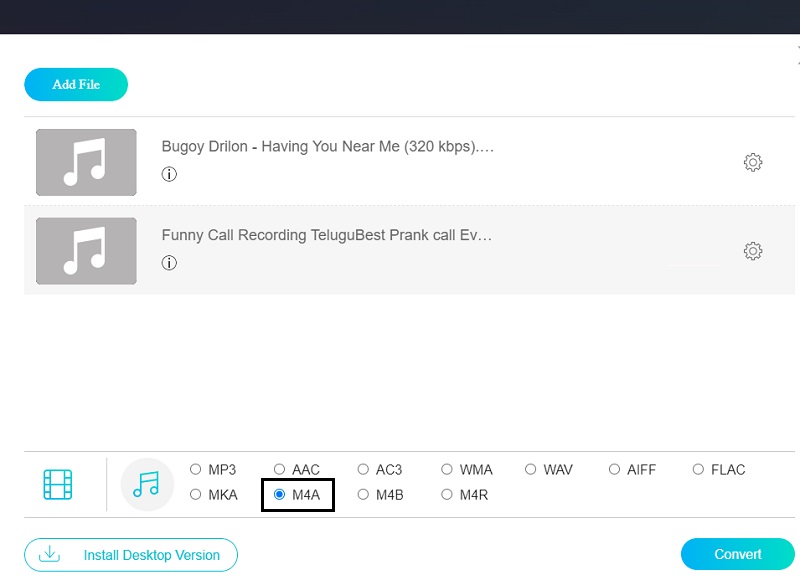 After you click the M4A format, you can also take control of the Resolution, Channel, and Sample Rate of the file to lower the size of the file. Simply click the Settings at the right side of the audio tracks. Once you are done, click the OK button to apply the changes.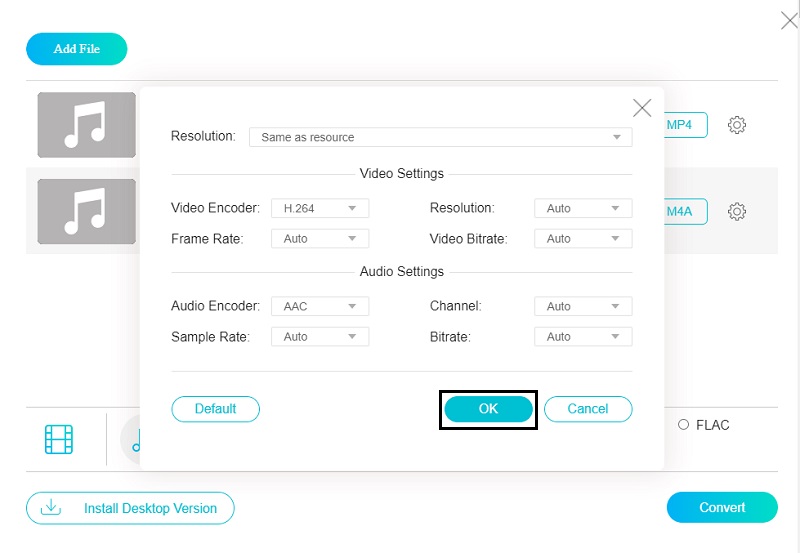 Step 4: Once you are done modifying your audio tracks, proceed in the conversion process. Simply click the Convert tab and it will show you the folders where you want your files to be located. After you have chosen, click the Select Folder and wait for the conversion process to finish.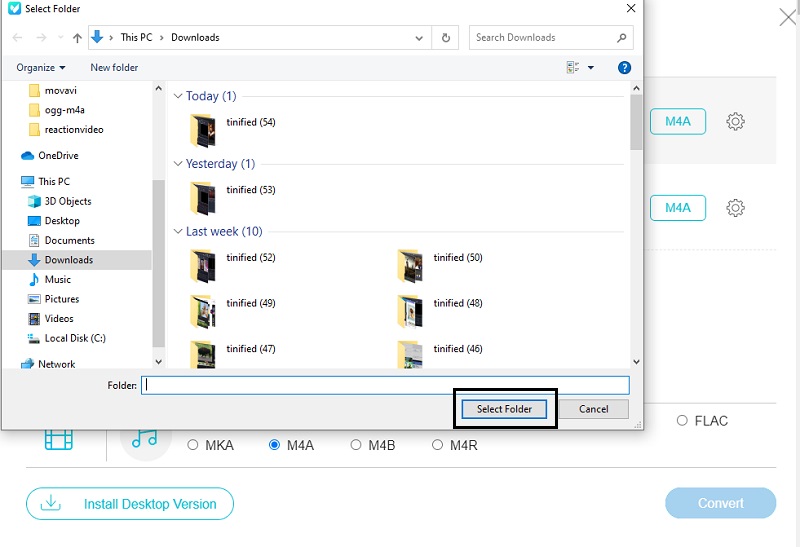 Part 2. How to Convert OGG to M4A with the Best Software
The best software that you can count on converting your OGG files to M4A is the Vidmore Video Converter. This multi-purpose software can convert audio and video into different file formats. And it works best for both Mac and Windows devices, therefore there will not be a problem when it comes to compatibility. What makes it more favourable for users is its friendly interface which will help you in converting an audio file in just a snap of an eye!
What makes this software different from an online tool is, it allows you to make adjustments on your audio tracks. Such as crop, cut and trim it according to your desire. Vidmore Video Converter can also help you save a space in your device because you can adjust the bitrate, sample rate, and the channel of your audio tracks. With that, start converting your OGG files into M4A by following the steps below.
Step 1: Acquire the OGG Converter
To get the software, you need to download one of the download buttons provided below. After that, install and launch it on your device. Once the program is running you can now open the tool.
Step 2: Add Your OGG Files
As you open the software, it will lead you to the main interface, just click the Add Files on the left upper part of the screen or you can just tap the Plus sign at the center for a quicker way. Then add the OGG files that you want to convert.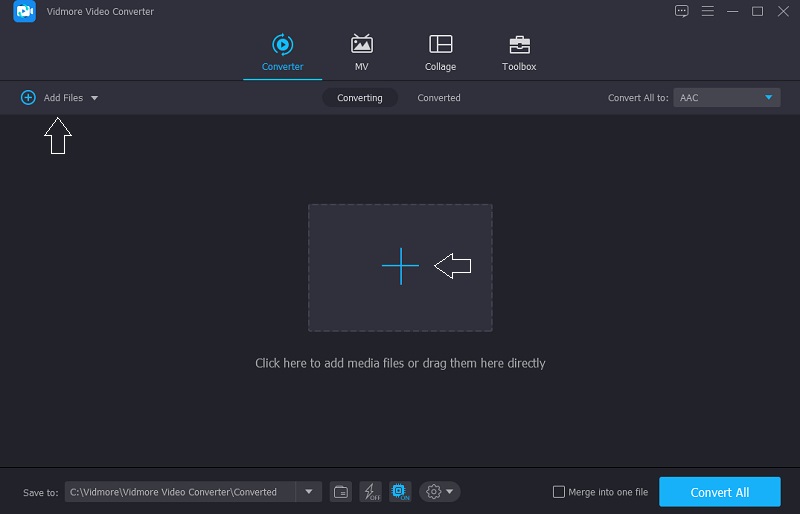 Step 3: Choose File Format
After adding your file, just click the dropdown arrow located at the right side of the audio, then tap the Audio section and find the M4A format.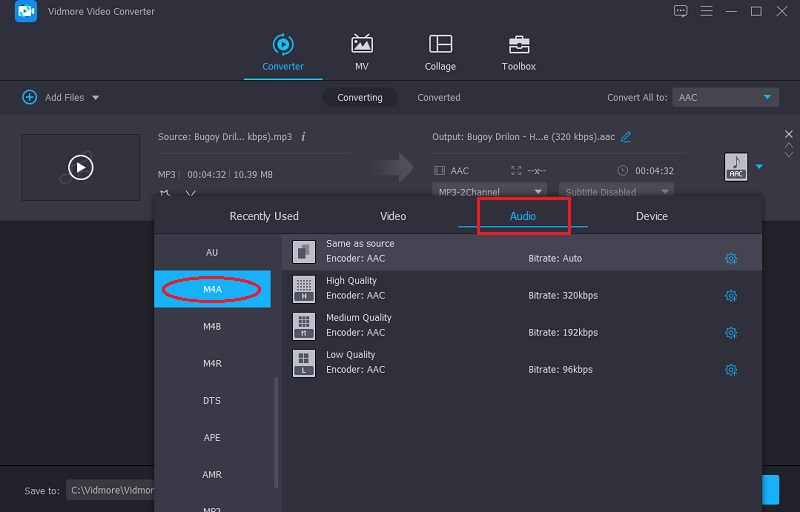 Next, to help you in adjusting your audio files, you can navigate the Settings and modify the Bitrate, Channel and Sample rate. With these, it can help you make your file size smaller. Once you are done, just click the Create New button and apply it in your audio files.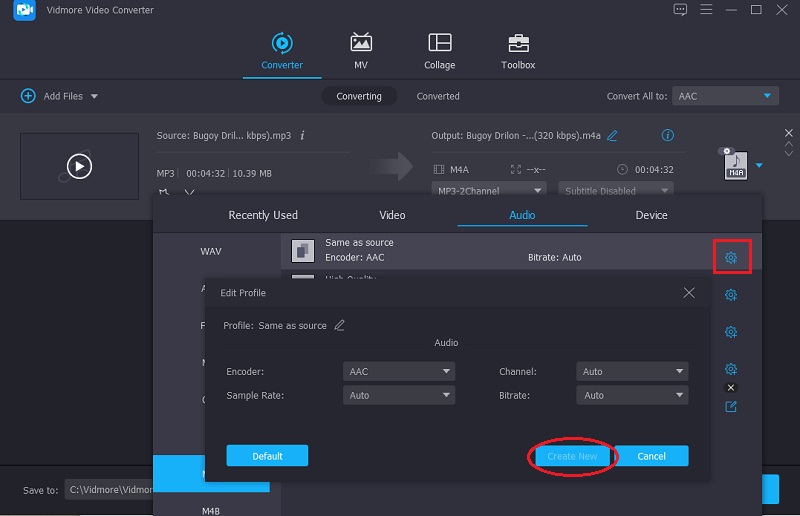 Step 4: Convert Your M4A Files
Once you are done modifying your audio files, click the Convert All button to successfully get the M4A file. And that's it! You can now enjoy your converted file.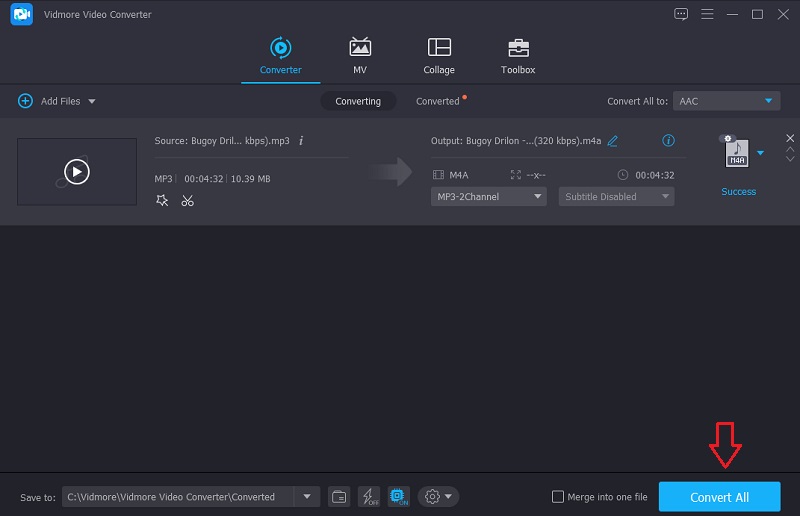 Part 3. OGG vs. M4A
OGG is a container that is used for storing audio data. It is similar to an MP3 file but it has a better sound quality. It consists of the song's metadata as well as the artist information and the track's information. And this is the reason why it contains a large file size.
M4A file is a kind of an audio file which is a lossy compression. It is considered a more advanced format than MP3 format. It is the best audio file format that is compatible on iOS, iTunes, Windows Media Player and even on your mobile device.
| | | |
| --- | --- | --- |
| KEY FEATURES | OGG | M4A |
| LOSSLESS | | |
| FAST ACCURATE SEEKING | | |
| STREAMING | | |
| CRC | | |
Part 4. FAQs on How to Convert OGG to M4A
1. What is a file conversion?
It is the process of turning a file of a format and changing it to another. This is very important especially to make your files be compatible on other devices.
2. Can I convert a video into audio?
Yes you can, you can use the Vidmore Video Converter. Add your audio file then choose the format that is for audio then click the Convert tab to get the audio's video.
3. Does an M4A format a good quality format?
M4A file has a better sound quality if you will compare it to other file formats.
Conclusion
Through this OGG to M4A converter for free, you can easily convert your files in a snap of an eye! What are you waiting for? Start using this Vidmore Video Converter and convert your most loved files according to what you require.