4 Best Free WAV to WMV Converter You Can Use With Ease
A WAV file is an example of an uncompressed audio format, which means that the original analog audio recording that the file is created from is not compressed in any way. As a result, it has a huge file size, which takes up a more incredible amount of space on storage devices. Since this, many individuals have been moving to a different format because it is more convenient for them. While some people have their files converted to a video format with a smaller size and more excellent compression, others do the opposite. And the WMV format is the best illustration of this point. Take a look at the free WAV to WMV converters listed below if you consider converting your WAV file to a video format to preserve storage space on your device.

Part 1. How to Convert WAV to WMV for Free
1. Vidmore Free Video Converter
Everyone is interested in using software that provides a service at no cost. And this is what you get with Vidmore Free Video Converter. It is the optimal method for converting WAV files to WMV files in a split second. Vidmore is a web-based application; hence, you should be able to access it using any browser. It supports various music and video formats, including WAV, MP3, AAC, AC3, AVI, MP4, WMV, and many more.
Another thing to remember is that other users can alter your uploaded file settings. You can change the resolution, as well as the frame rate and the bitrate. Within a single moment, this tool enables you to explore and convert whatever files you have open. It offers a quick conversion speed and a user-friendly interface. And although it is an online tool, it safeguards data and generates files of a high standard. Therefore, if you want to convert WAV to WMV without causing any damage to the original file, go with the instructions listed below.
Step 1: You may find the launcher on Vidmore's website. Choose to convert computer files.
Step 2: Before picking a WAV file to use as your source, you must make two taps in the box called Add Files to Convert. It is necessary to complete the process.

Step 3: Simply pressing the button corresponding to the Movie choice on the screen's sidebar will allow you to make your selection. Many video file types may be used. When selecting a file type from the options provided on the right, be sure you choose WMV.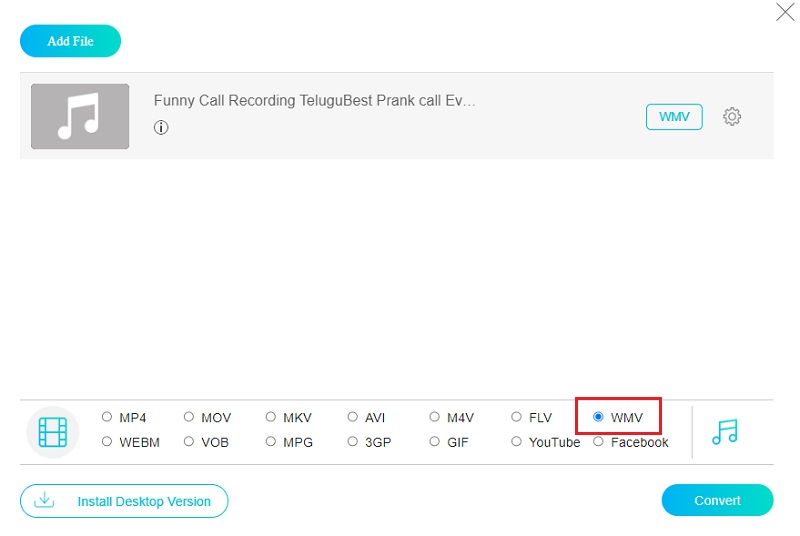 To modify the audio bitrate, use the gear icon next to the playback controls. At this moment, you may dismiss this dialogue box by clicking the OK button found inside its borders.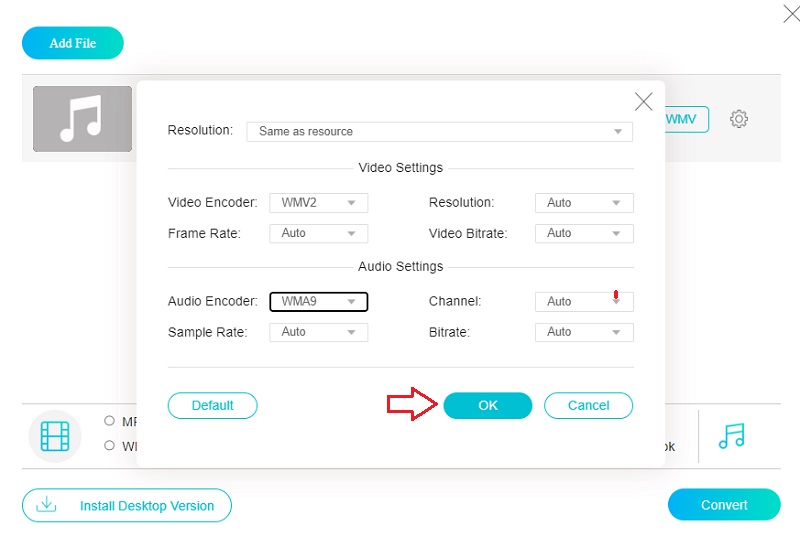 Step 4: The process of converting a file is as simple as selecting Convert and then selecting a location to save the converted file. The free video converter from Vidmore makes it simple to transform your WAV files into a WMV movie.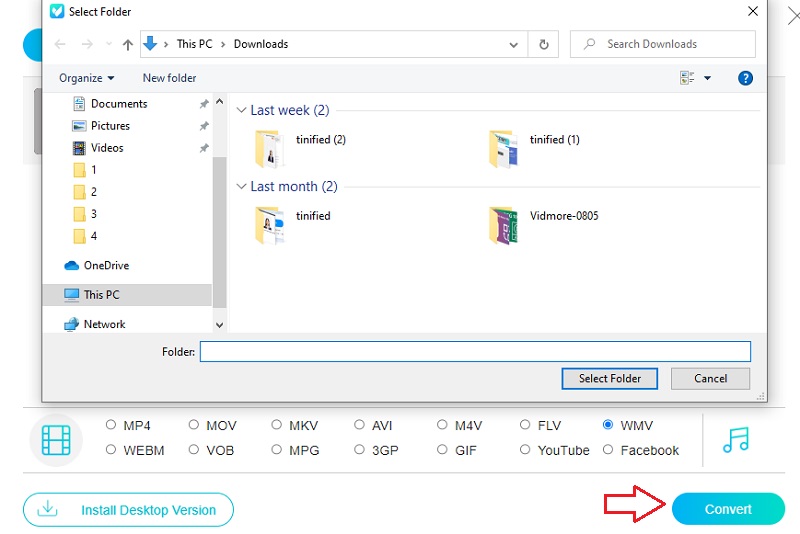 2. Convertio
Try Convertio, a free and practical application to convert files successfully. Using this online service, you won't have to bother with a ton of tiresome hoops to go through. This converter may be relied on because of its straightforward and easy-to-understand UI. Converting your files to one of the many available formats is simple. Given that it can only handle files under 100 MB, you should only use this converter for the smallest files you need to convert.
Step 1: The first step in using any online resource is visiting the associated webpage. On the website's main page, there is a Choose Files option next to a dropdown menu where you may pick WAV.
Step 2: Select WMV from the list of available formats on the right side of the screen after the upload is complete.
Step 3: If you want the conversion process to end successfully, choose the Convert option.

3. Zamzar
Zamzar is a free and straightforward online tool that can convert various audio and video file types, including WAV and WMV. With this web-based app, you may simultaneously upload and handle up to 50 MB of data. Convertio's straightforward interface lets you quickly and easily convert between several file formats. Load in your WAV files and choose the format you'd want to save them as. The converted files are available for local download, or you may access them online.
Step 1: Go to Zamzar's website and choose Add Files from the menu to begin the upload process. Using the provided dropdown, choose the WAV file that has to be translated.
Step 2: Select WMV from the dropdown option to use it as the audio format for your recording.
Step 3: Go to the top menu bar, choose the Convert Now option, and then you will be able to convert any WAV files you have.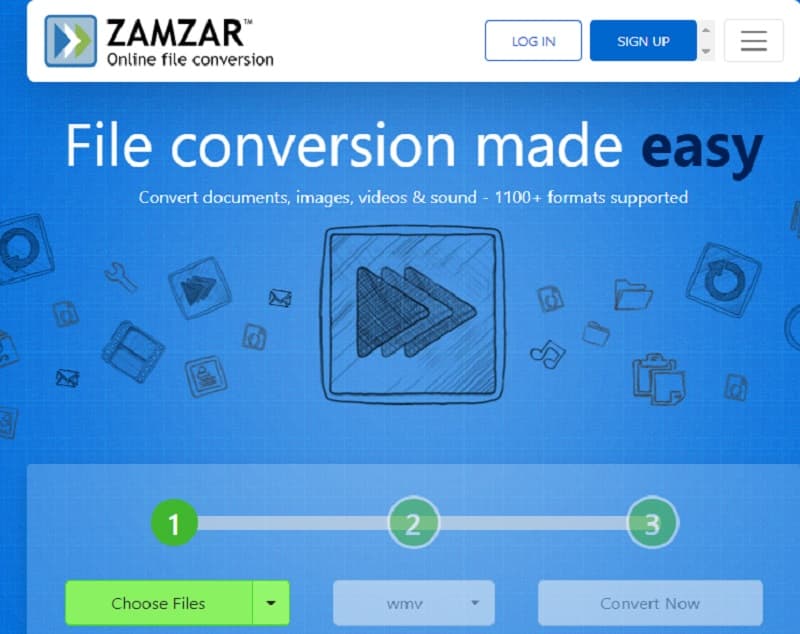 Part 2. Best Way to Convert WAV to WMV
We have found that Vidmore Video Converter is the best dependable option for changing WAV to WMV. With this handy program, you may convert your media files professionally and with peace of mind. It does more than convert from WAV to WMV; it supports over 200 video and audio formats. It works with Mac and Windows as well. The software also manages and optimizes your files and converts them for your unique device. As a result, it's much less of a hassle for users to choose the appropriate format for their papers. Follow the steps outlined below.
Step 1: The installation process may be completed by selecting the icon indicating the availability of a free download. The file download page will load. You may now activate the Vidmore Video Converter.
Step 2: First-time app users are provided with tabs and buttons. Add WAV files to your library by clicking Add files or the Plus sign.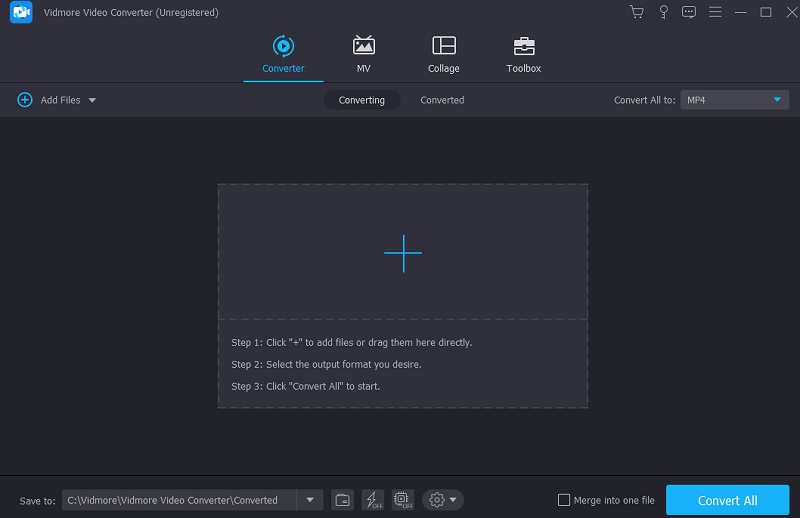 Step 3: Choose a different format after you've uploaded the WAV file. The arrow on the side of the train will show you the way. The following parts are listed below. From the Video menu, you can choose the WMV format to see the video in its original format.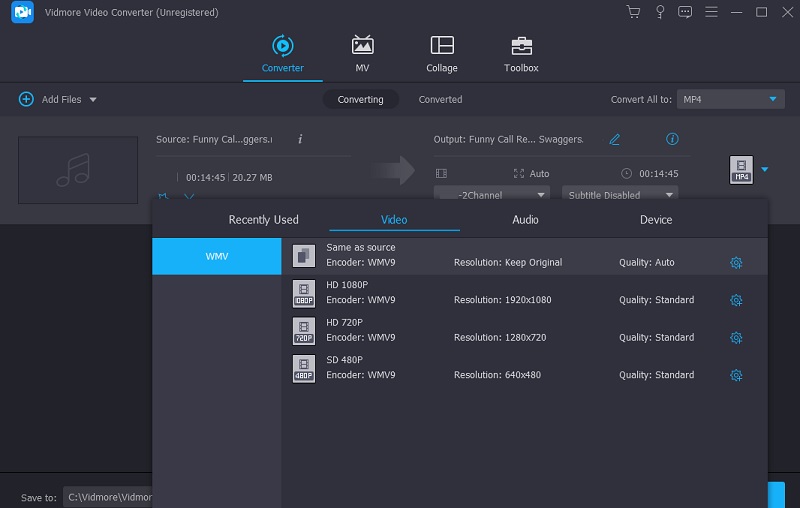 After clicking WMV, pick Settings. Quality is adjusted. Frame rate, resolution, and bitrate are adjustable. To convert, click Create New.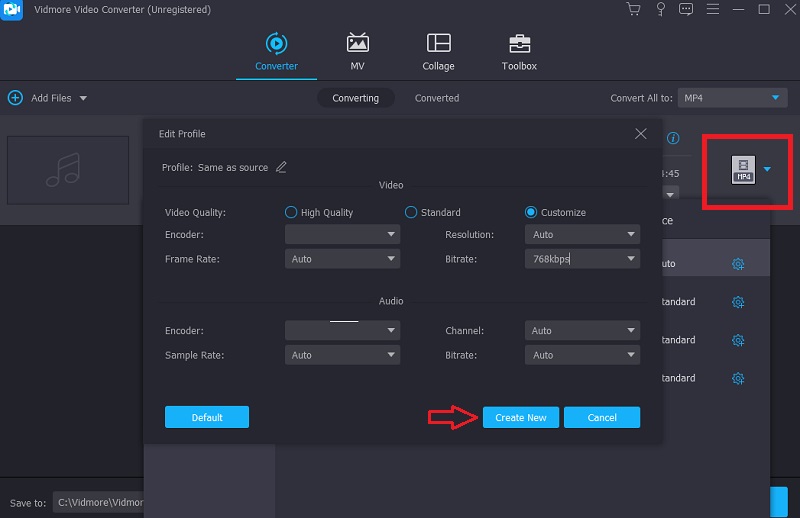 Step 4: To convert everything, click the bottom Convert All button. To stop, click here. It converts WAV to WMV forever.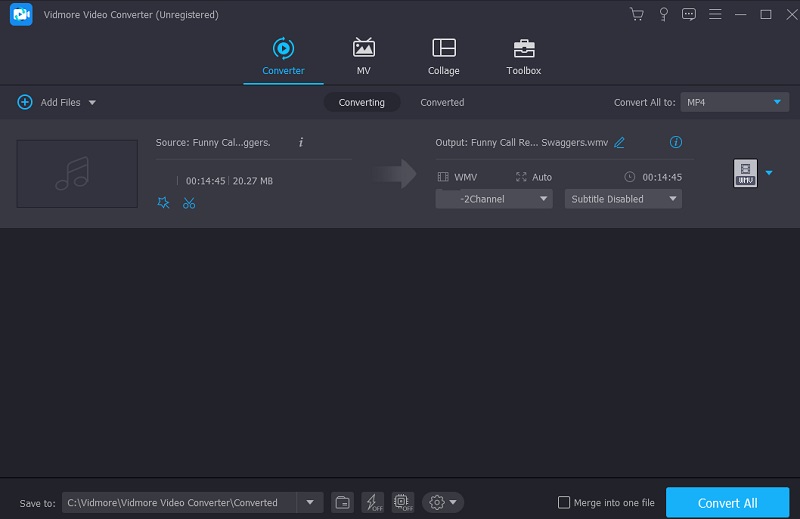 Part 3. FAQs About Converting WAV to WMV
Is it a good idea to use WMV?
The WMV container is ok. Among Windows users, it is among the most widely used video formats on the web. Files in this format may be compressed to a high quality while still being small, so they take up less storage on your computer.
Is WMV more effective than MP4?
Even now, MP4 remains the superior format to WMV. It offers a video file format that is of superior quality to the WMV standard.
What does WMV stand for?
The WMV stands for Windows Media Video, which is quite common video format on Windows PC.
Conclusions
With the assistance of the audio and video converters shown before, you can effectively convert your audio file to a video format. The same is true for your file; you may use the list of apps provided in this article to convert WAV to WMV online for free. Installing Vidmore Video Converter is a choice you may make if you would rather have a wider variety of file format possibilities.