How to Convert WMA to AAC with Offline and Online Converters
There is no doubt regarding the capabilities of WMA to perform at a low bitrate with the ability to produce a relatively small file size. In fact, it is designed to address issues with respect to MP3 flaws, specifically in terms of compression method. Hence, it is perfect for making audiobooks as well as compressing English listening audio files.
But since the WMA is a proprietary format owned by Microsoft, it does not share it with other operators. Many devices and platforms do not support this format. Yet another format that can handle both higher and lower frequencies is AAC. Now, if you're wondering about the best tools to use to convert WMA to AAC on Mac or Windows, you may find the top applications below helpful.

Part 1. How to Convert WMA to AAC on Mac
1. iTunes
iTunes is an application tailored for Apple devices like Mac to play and stream multimedia files. What is more, the tool is capable of converting audio files in a matter of seconds without any complicated settings. In addition to that, it offers modification for the parameters allowing you to change stereo bitrate, sample rate, and channels as you like. If you are interested in using this tool, then follow the below steps to learn how to convert WMA to AAC in iTunes.
Step 1. First off, open iTunes on your Mac computer. Then upload the WMA song by going to File > Add File to Library.
Step 2. After that, select your target WMA song and upload it to the iTunes library. From the menu bar, choose Edit and go to the Preferences option. Under the General tab, click on the Import Settings.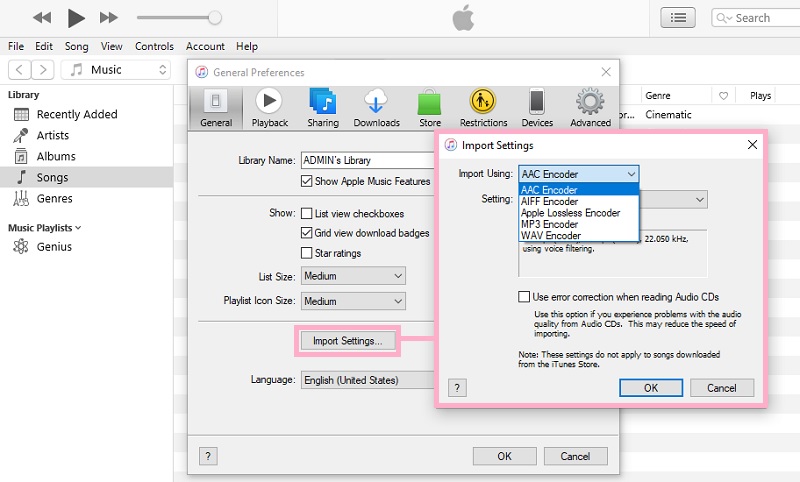 Step 3. In the pop-up menu, choose the format you would want to convert the WMA song to. In this case, select AAC Encoder and hit the OK button to confirm the settings.
Step 4. At this point, select the song you just uploaded in the library, and go to File > Convert > Create AAC Version.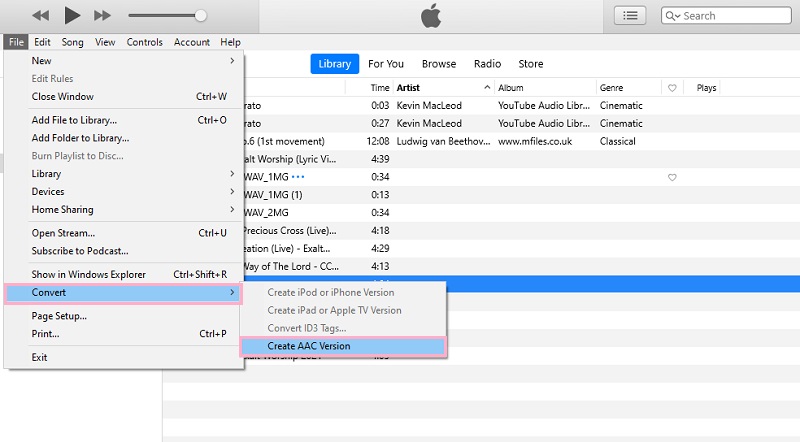 2. Vidmore Video Converter
Vidmore Video Converter is also a great addition to the list of programs that will help you convert WMA to AAC on Mac and Windows PC. That's right. The tool is compatible with both Windows and Mac computers. You can choose to convert a single file or in batch. Even better, you can upload the entire folder of songs onto the program and convert them simultaneously.
What's more, the tool gives you the capability to edit the metadata of a song or a video. That means you can change the title, album, genre, year, add comments and thumbnail. Now here's a walkthrough to help you convert WMA to AAC.
Step 1. Grab the WMA to AAC Converter
To start, grab the installer of the program. Whether you choose to convert on Mac or Windows, there is an installer provided for each platform provided below. Just click on the appropriate Free Download button. Then, install and launch it on your computer.
Step 2. Import WMA song
After launching the tool, click on the Plus sign button to upload a file. Click on the selected WMA song. Optionally, you may drag and drop the file into the upload area.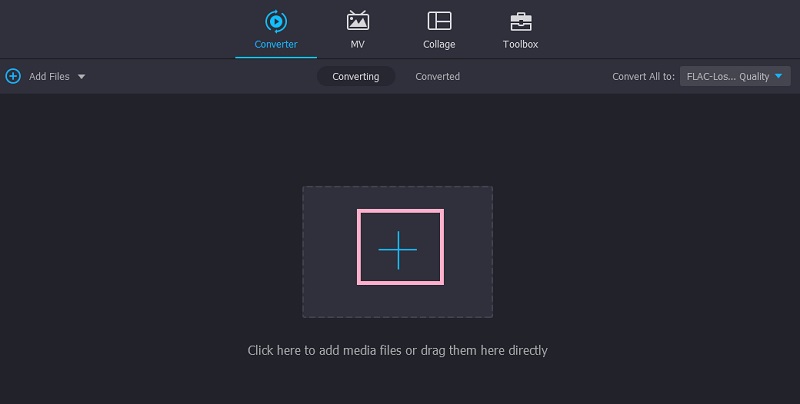 Step 3. Select an output format
Next, open the Profile menu to select an output format. Forward to the Audio tab and head over to the format selection on the left side. From here, select AAC as the output format and choose an audio preset.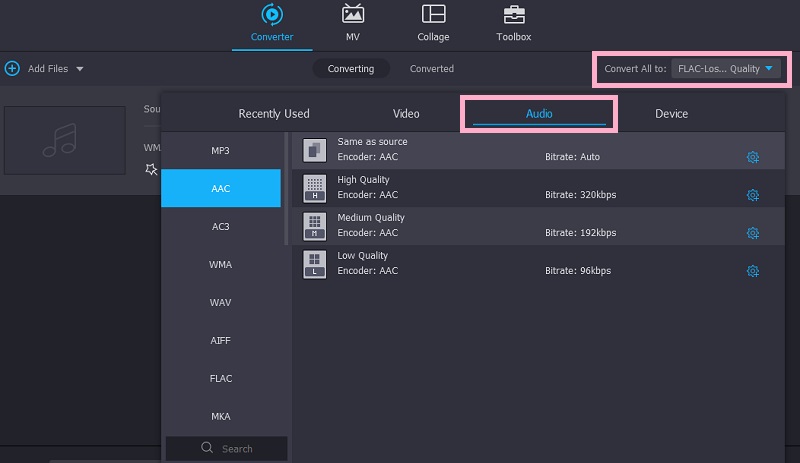 Step 4. Convert WMA to AAC
Once you get the format and audio preset right, set an output folder or destination where you can easily find the result file. Then hit the Convert All button to initialize the process of conversion.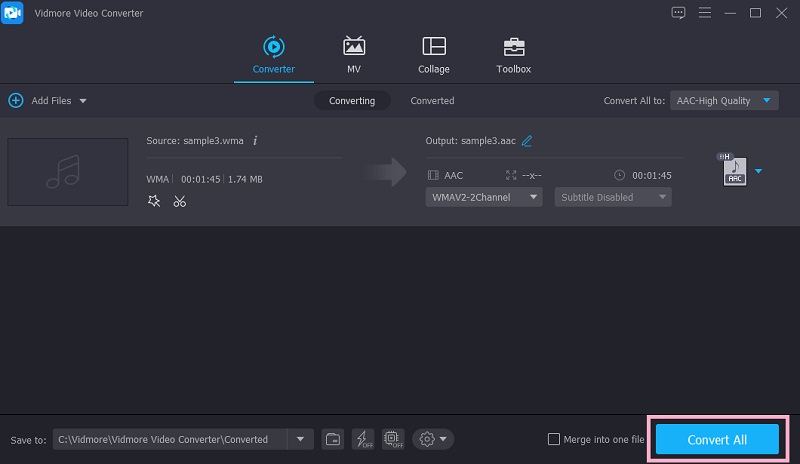 Part 2. How to Convert WMA to AAC Online
Online tools are convenient, especially if you don't like to install any extra applications on your device and want to save disk space. On that note, we've compiled some of the best tools that will help you convert WMA to AAC online and for free.
1. Vidmore Free Video Converter
This easy-to-use and free web service tool enables you to convert audio and video to different audio formats that include AAC. One great feature of Vidmore Free Video Converter encompasses steady and fast conversion without compromising the quality. On top of that, there is no need for you to register to use this program. To use it, refer to the instructions below.
Step 1. First off, access the program by launching it on any web browser available on your computer.
Step 2. Click the Add files to convert button to upload a WMA track. First-time users may need to download and install the Launcher of the web app. After that, you can freely take advantage of all its features.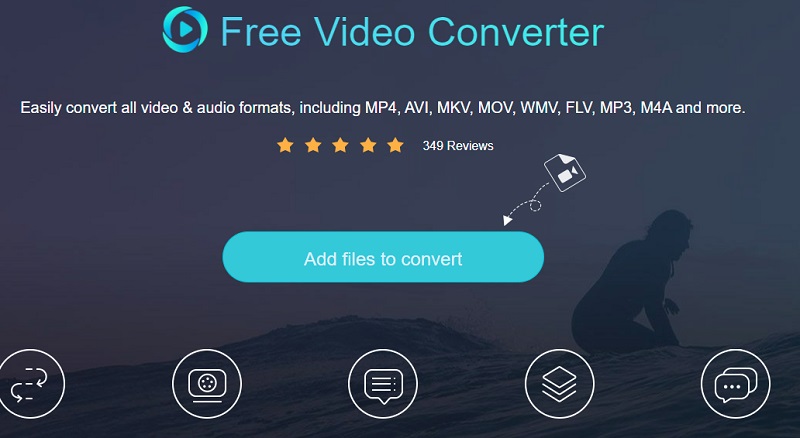 Step 3. Once done uploading, select an output format from the Audio format options. Simply click on the Notes icon. Then tick on the AAC radio button. Start the conversion process by clicking the Convert button at the bottom right corner.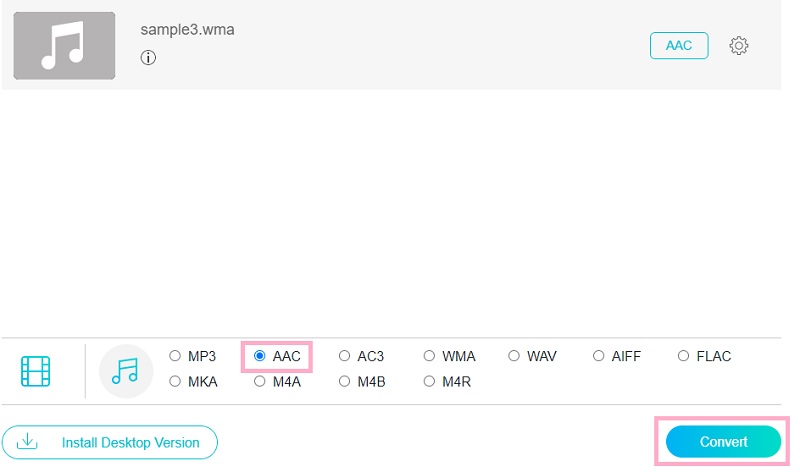 2. ConvertFiles
By using ConvertFiles, you will be able to convert files to AAC, MP3, WAV, FLAC, OGG, and so much more audio files. This also facilitates many converting categories, including archive converter, ebook converter, video converter, image converter, etc. Since this tool runs on the web, you may use it to convert WMA to AAC on Mac and Windows without any hassle.
Step 1. Begin by uploading your WMA file. Simply click the Browse button from the main page.
Step 2. In the Output format drop-down menu, select MPEG-4 AAC Audio File (.aac).
Step 3. For the final touch, click the Convert button, and the conversion process will commence.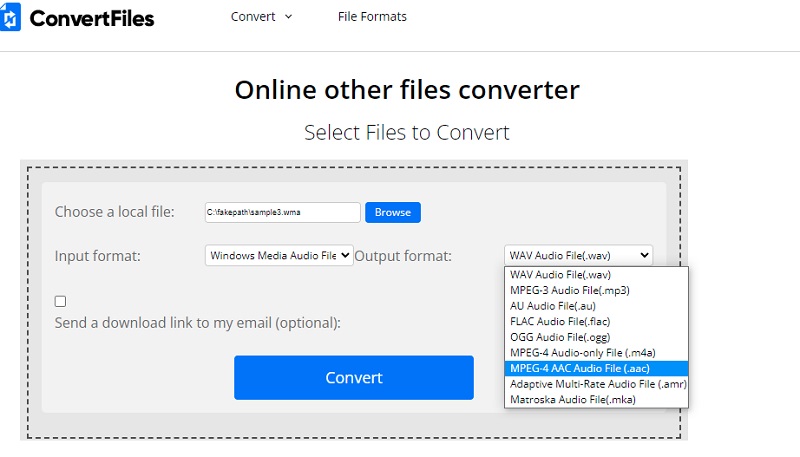 3. Convertio
Convertio is also a browser-based program that allows you to convert WMA to AAC for free. This lets you convert a variety of audio types, including iPhone ringtones. Moreover, you can choose to upload files from your local hard drive or via cloud storage. Learn more about the tool by taking the steps below.
Step 1. Launch a web browser on your PC and access the official page of the program.
Step 2. Next, decide which upload method you are going to employ. If you choose to upload a local media file, you may hit the Choose Files button. Choose your target WMA media file and upload it.
Step 3. This time, select AAC from the output format menu. Finally, click the red Convert button to begin converting.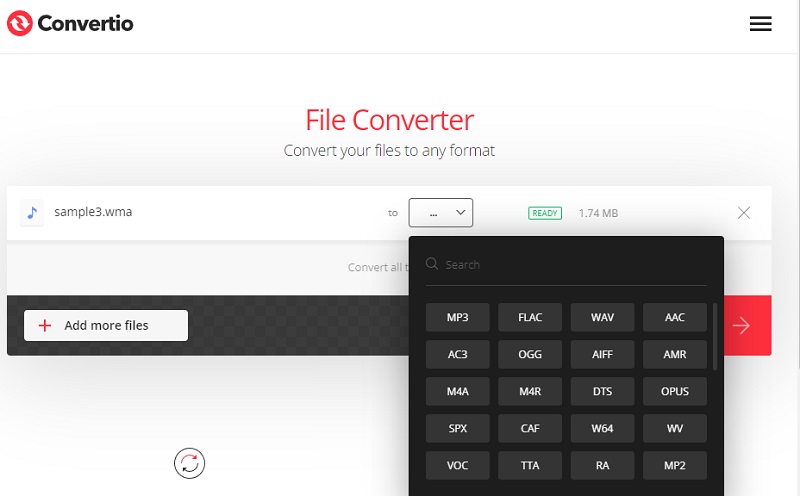 Part 3. FAQs of WMA to AAC
How can I remove DRM from WMA?
Bypassing DRM content in WMA can be quickly done using almost all multimedia converters. For this, you may use Vidmore to convert nearly all kinds of audio files with lossless quality.
Can I play WMA files on an iOS device?
By default, iOS devices like iPhones can not handle Windows Media Audio Files. In this case, you may convert the WMA file to iPhone-compatible format.
What is the AAC file used for?
AAC is used for Apple Music streaming. It uses the lossy compression method for compressing digital audio files. In fact, it is a preferred format by iTunes, PlayStation 3, Nintendo 3D, and other devices.
Conclusion
This article offers the 5 best tools for converting your audio files. You can convert WMA to AAC in iTunes if you wish to convert on your Mac or pick from the introduced tools to convert on Windows. Additionally, there are dedicated tools for converting online if you need to convert without downloading apps.