Trustworthy MP4 Compressor Programs You Can't Afford to Miss Out On
For personal and business purposes, video has become a daily part of our lives. It could take the form of personal messages, vlogs, tutorials, interviews, testimonials, and many more. The consumption of videos every day is massive in this day and age. In light of this, many online users are having difficulties uploading large videos online.
That is especially the case for MP4 videos. Meanwhile, many users would want to upload large MP4 video files. The only disadvantage is that they take up so much memory space. While it is possible to upload online, certain limitations are implemented, such as the maximum file upload. Being that said, we prepared a comprehensive list of MP4 compressors you may refer to. Paid or free online tools. For desktop and for mobile devices, there should be a tool that fits your needs.
Part 1. Top Picked MP4 Compressors for Desktop Computers
1. Vidmore Video Converter
Operating System Supported: Windows and Mac
Vidmore Video Converter is an all-in-one solution desktop tool that offers various video manipulation tools, including video compressor, video editor, video trimmer, video enhancer, and more. In fact, it can compress all sorts of video files without any problem at all. Besides, the compression process takes less than a minute, even for large MP4 video files. On top of that, you get to adjust the parameters to fit your desired output. This enables you to change the video resolution and output format as you please.
You may access the free MP4 compressor from its toolbox tab, where all its primary and extra functions are placed. Simply upload your video and adjust the compression percentage using the slider ball. Following that, you may alter the resolution and format as per your needs.
Pros:
It does not insert watermarks on the processed file.
The tool supports numerous video file formats.
There are not many settings to tweak.
Offers various editing tools.
Cons:
You need to download the tool to use it.
Limited features on its free version.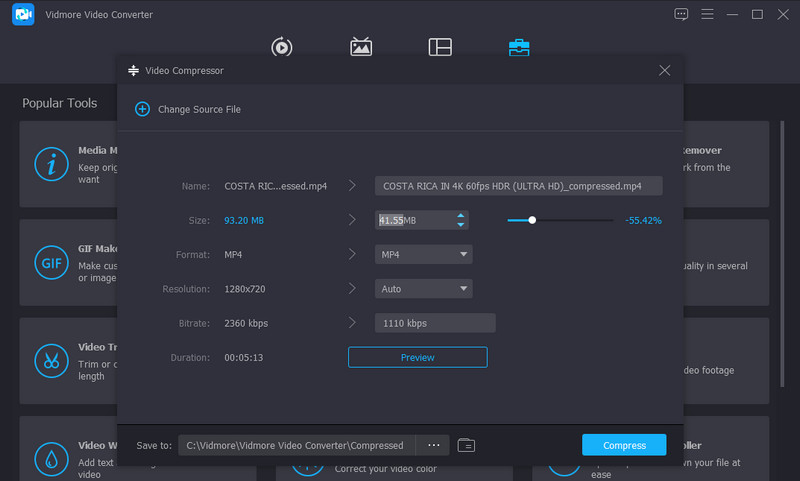 2. HandBrake
Operating System Supported: Mac, Linux, and Windows
HandBrake is a handy tool packed with plenty of great features to help you edit or manipulate videos. The program also comes with a video compressor to help you shrink the file size of MP4 and other video formats. It lets you tweak the bitrate between 5000 and 10000 or change the frame size and resolution. Although it has less customer support, you may want to have it if you are into a free and open-source mp4 video size compressor. As long as you love troubleshooting, the tool should suffice.
Pros:
Vast library of video presets for different platforms and devices.
Supports 4K and HD quality videos.
Provides options for cropping, rotating, scaling, etc.
Cons:
Only supports MP4, MKV, and WebM for its output.
Outdated and overwhelming interface.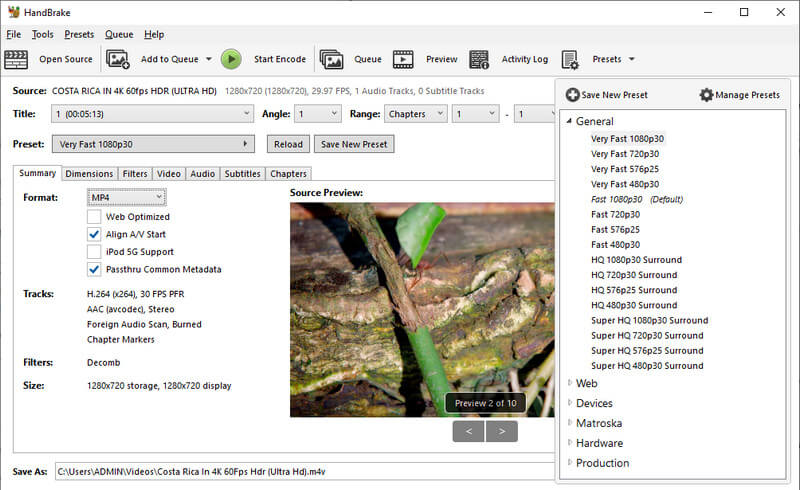 3. VLC Media Player
Operating System Supported: Windows, Mac, and Linux
There is more to the VLC Media player than meets the eye. It is well-known to play almost all video formats with no error. Actually, the tool enables you to crop, cut, and rotate videos. Another yet handy feature of the tool is video compression. This works with MP4 files and many more video formats. With this free mp4 video compressor, bitrate, frame rate, and quality parameters are highly customizable. However, it is a matter of trial-and-error because there are no indications in advance of how the resulting file will turn out, and the result is not guaranteed.
Pros:
Offers various video editing options.
Provides video parameter customization.
Apply filters for the video and audio.
Cons:
Not intuitive compression interface.
It does not provide the information of the resulting file in advance.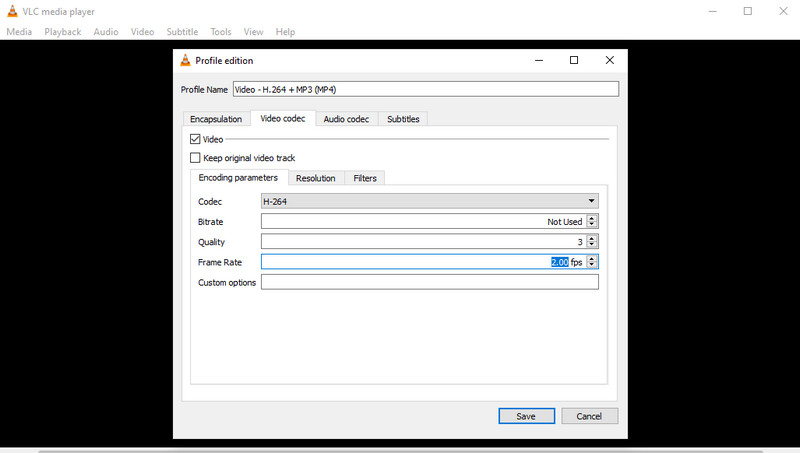 4. Free Video Compressor Online
Operating System Supported: Web
If you are into a program that will help you compress and reduce files of MP4 without any downloads and installations, go with Free Video Compressor Online. With it, you can process multiple files simultaneously and efficiently without contaminating the quality. It is compatible across browsers such as Edge, Google Chrome, Firefox, Safari, etc. Best of all, there is no added watermark on the compressed file.
In addition, you may change the resolution, bitrate, format before processing the file. This online MP4 compressor free tool is easy to operate. Just add a video, adjust the parameters and select a format. Then, only a click away from the compress button, and you are done.
Pros:
Accepts a wide range of video formats.
No added watermarks on the compressed video.
Edit and customize output format and resolution.
Free upload to different social media platforms.
Cons:
Totally dependent on the internet connection.
Installation of the small launcher is required.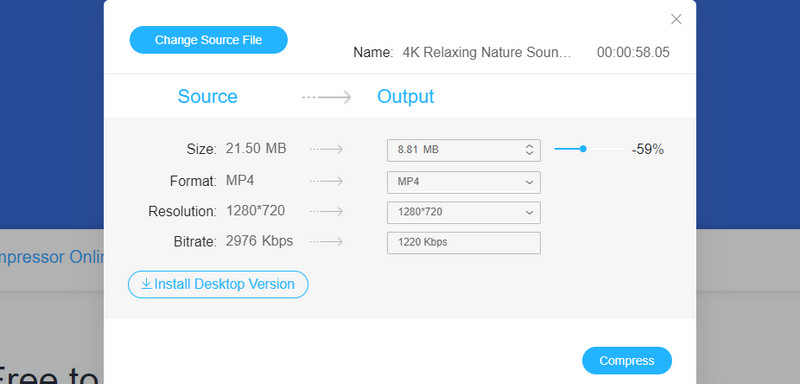 5. Video Smaller
Operating System Supported: Web
Video Smaller is also a good MP4 compressor online to shrink the video size of your MP4 videos effectively. In actual fact, it allows users to compress several video formats. This tool can compress MP4, MKV, FLV, MOV, and more video formats. Even the videos captured using your mobile device can be processed through this tool. However, it is essential to note that lengthy videos take time to upload and process.
Pros:
Compresses files without losing the original quality.
Process files from mobile devices.
Offers a huge library of video scale width.
Cons:
The maximum video file size is 500 MB.
Takes time to compress lengthy video files.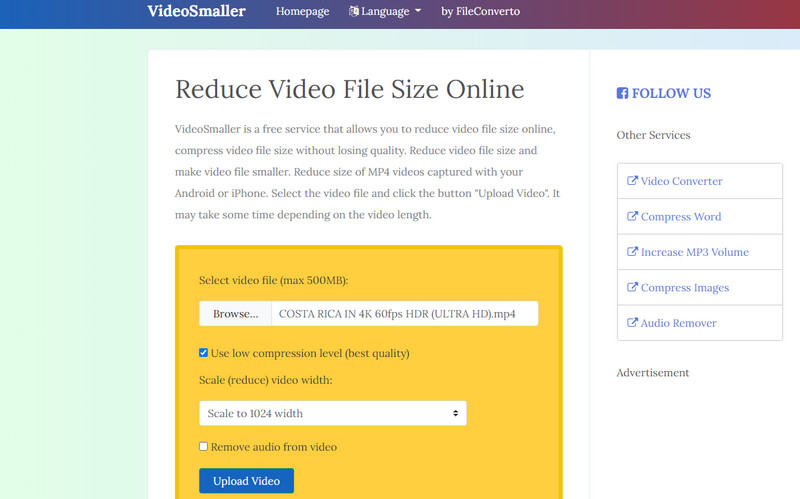 6. KeepVid Online Video Compressor
Operating System Supported: Web
Another capable online MP4 compressor free program is KeepVid Online Video Compressor. It enables you to optimize videos for email and video-sharing sites. There is no need to wait too long because the tool enables fast file processing provided you have a steady internet connection. Moreover, it enables exporting files to MP4, FLV, AVI, 3GP, WVM, and MKV. Aside from that, you can choose from the preset quality between high, medium, and low.
Pros:
Indicates the resulting information after the process.
Provides additional settings like resolution and output format.
No need to install a launcher.
Cons:
The free version does not support 4K video compression.
The upload file cannot go over 50 MB.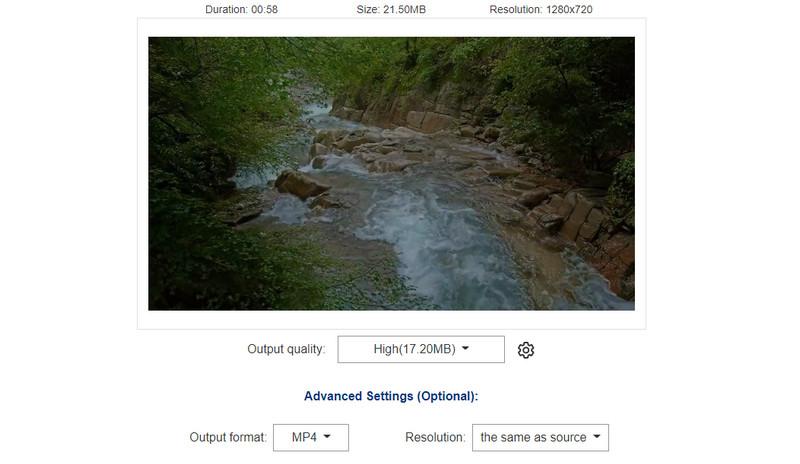 Part 2. Reliable MP4 Compressor Apps for iOS and Android
The thought of having desktop tools is good because the process is reliably fast and uninterrupted. But just in case your computer or laptop is not available, it would be better to have a backup. One way is by using mobile programs. Besides, it is convenient since you don't need to open a desktop to accomplish this specific task. Here are some MP4 video compressors for iOS and Android devices.
1. Video Dieter 2
Supported Operating System: Android only
One of the most useful MP4 compressors for Android is Video Dieter 2. It enables you to compress large video files faster on your device. In addition, you can add your favorite MP4 video and set the desired output and video quality in its intuitive interface. Besides, you can access tools like a video trimmer to help you cut portions in a video.
Pros:
Allows setting resolution and quality output.
Trim or cut unnecessary parts of a video.
Share videos via email and social media platforms.
Cons:
Does not provide accurate scaling at times.
Intermittent crashing, especially when converting files.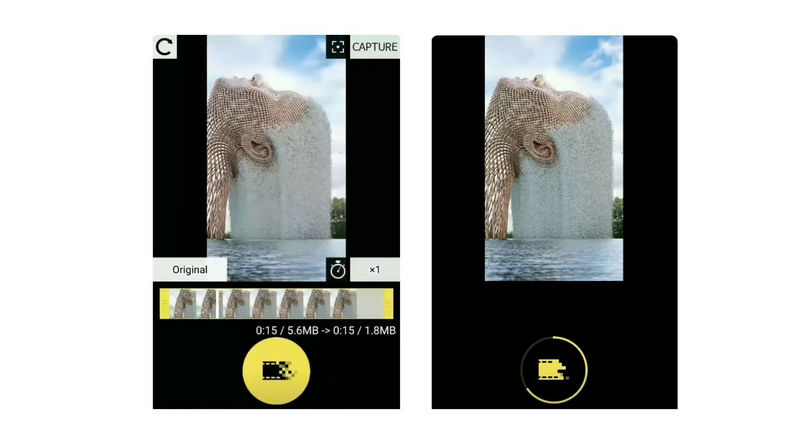 2. Video Compressor - Reduce Size
Supported Operating System: iOS only
With Video Compressor, you can share large MP4 files using just your iPhone or iPad mobile device. There are several compression levels you could employ in your videos. That includes low, medium, and high-quality videos. On top of that, this tool provides a video editor that enables you to trim, adjust speed, crop, apply filters, and so on.
Pros:
Customize the quality of the video.
Store compressed videos in albums.
Estimated resulting file size information is indicated.
Cons:
The constant popping of ads.
Adds watermark on the compressed video.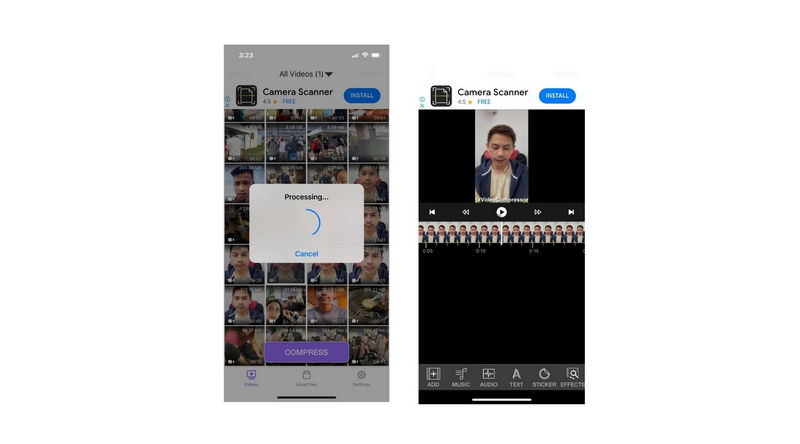 Part 3. FAQs on MP4 Compressor
Is MP4 compressed?
Usually, the MP4 file uses the H.264 compression scheme, which is a lossy codec. Generally speaking, MP4 files are compressed files, especially if you got them online.
Is MP4 the best video format?
In terms of compatibility and file size, MP4 videos are probably the best format. They are compatible with almost any device and platform while having a small file size.
Does compressing a video reduce the quality?
The compression involves lowering the bitrate which is associated with the quality. The lower the bitrate is, the lower the video quality is. In a sense, the video quality is reduced, too.
Conclusion
Surely, many tools are available to help you compress MP4 videos. Yet, finding a reliable program might still be challenging. We sorted out the best offline and offline MP4 compressors for desktop and mobile devices. You may look into each program and see which one fits your needs best.