Top Three AAC Metadata Editor Programs and Their Comprehensive Perusal
It is undoubtedly easy to recognize the artists by ear. That is the case when you are listening to a song you are familiar with. What about those unfamiliar songs you just added to your playlist of AAC files? That is where the metadata editor comes in. You had better label them with information like year, genre, album, title, artist, or cover.
Thankfully, a lot of resources regarding tag editing tools can be searched over the web. However, with so many candidates, it takes a lot of work to choose the best one. Today, we will introduce the most sought-after candidates that fit the job well. You will learn about the recommended desktop AAC tag editors.

Part 1. Recommended AAC Metadata Editor
1. Vidmore Video Converter
Vidmore Video Converter is a powerful program for editing the metadata information of your AAC files. It supports ID3v1/v2, Vorbis comments, APEv2, WMA, and MP4 (iTunes) tags and can change tags for most modern audio formats. You can conduct any text substitution and transformations in tags and filenames, import tag information from filenames or other sources, and rename files according to the information from the tags.
Also, you edit the cover of your audio or video file by importing it from your local computer drive. On top of that, it offers other valuable programs you may find helpful. You can convert and edit audio files. Furthermore, the tool is cross-platform, allowing you to run it on your macOS and Windows computers. On the other hand, here is a list of the pros and cons of this AAC metadata editor you should look into.
Pros
All popular and latest music formats are supported.
It supports ID3v1/v2, WMA, WMA, and MP4 tags.
Add comments to the audio or video file.
Insert a cover art or thumbnail into the file.
Available on Mac and Windows PC.
Cons
It does not support multiple tag editing.
It cannot show the lyrics of the audio file.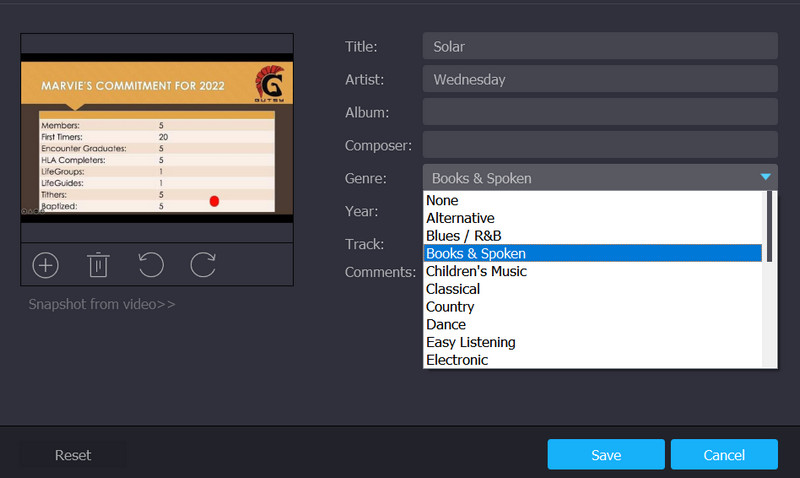 2. AudioShell
You may alter tags on Windows Explorer using AudioShell, which is a tag extension editor. It is simple to apply tags to your music files. The program is the greatest option for altering the metadata on your AAC file, despite the fact that it is only sometimes effective. This is a perfect AAC metadata editor for you if you need more memory space on your computer drive. Even though you have to download the program, it does not consume so much space. In other words, it is lightweight. Still, it does the job well when editing tags of your AAC files. However, the program is only compatible with Windows operating systems.
Pros
View and edit ID3 metadata tags in Windows Explorer.
Full Unicode and 64-bit support.
It supports detailed music tag information.
Cons
It does not have its own user interface.
Restarting the computer after installation is needed for it to work.

3. PuddleTag
PuddleTag is a Linux-based AAC tag editor, which is a straightforward program, and you can easily navigate if you are in a spreadsheet-style format. It allows for simple modification of your information as well as the extraction and renaming of tags, much like the other tag editor. This meta editor for Linux has everything you could possibly need. In addition, it comes with numerous helpful functionalities, allowing you to convert, edit, and automatically tag search. Overall, it is a great program for editing AAC tags. The thing is, you need to familiarize yourself with navigating programs in a spreadsheet-like graphical user interface.
Pros
Use it to search for music tags using the name of the file.
Use it to search for music tags using the name of the file.
It can download tags from reliable sources.
Cons
The program is available for Linux only.
It fails to search for accurate meta tags occasionally.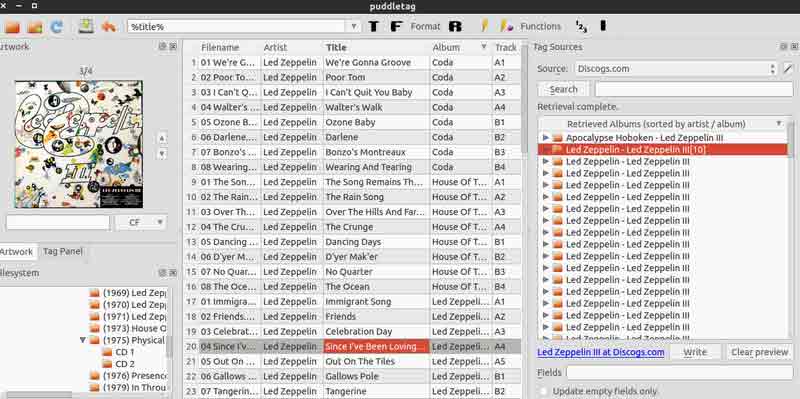 Part 2. How to Edit AAC Metadata Effortlessly
Now, let us learn how to edit meta tags using one of the AAC metadata editors reviewed in this post. Singularly, we will demonstrate how to use Vidmore Video Converter for editing AAC metadata information. Check out the instructional guide below.
Step 1. Obtain the tool and launch
First of all, acquire the program's latest version by ticking the Free Download button below. For those who are using Mac OS, click the download link for Mac, and hit the Windows download link for Windows users. Then, install and launch the tool on your computer.
Step 2. Open the metadata editor
Once you launch the tool, you will see the four major tabs of the program. The metadata editor rests in the Toolbox tab. Thus, go to the mentioned tab, look for Media Metadata Editor and click on it. Then, a dialog box will appear.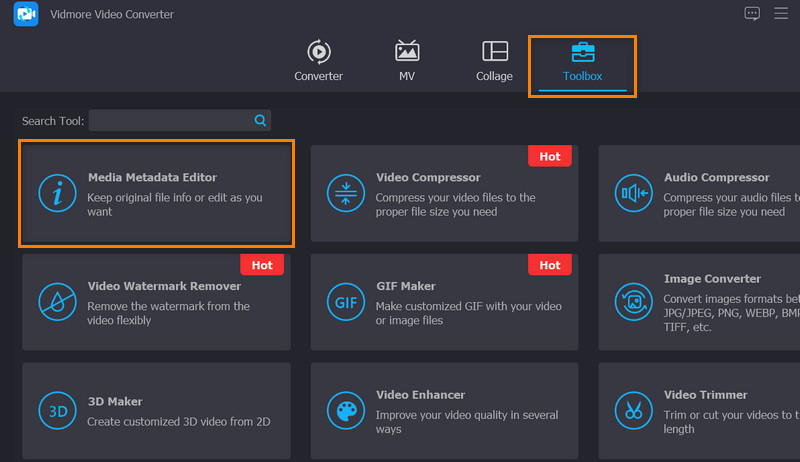 Step 3. Add an AAC file
Next, tick the plus sign button in the middle of the upload interface. From your Explorer, select your desired AAC file and add it to the program. After selecting an AAC file, the metadata editing interface will appear.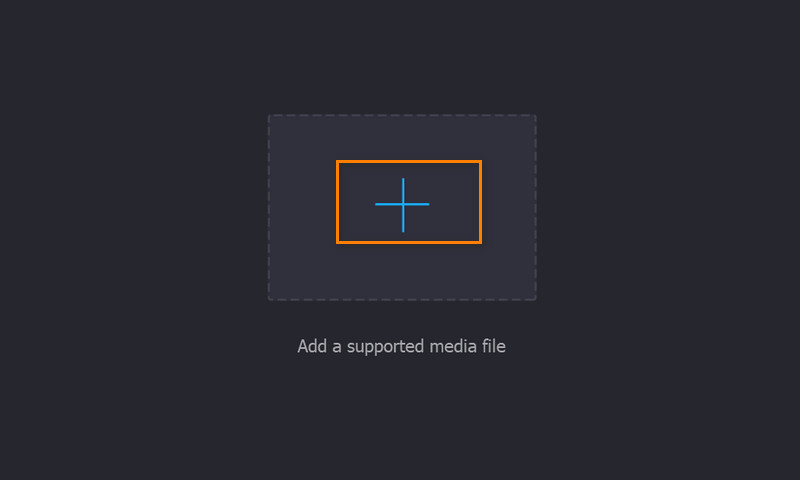 Step 4. Edit AAC metadata
Now is the time to edit the metadata of your AAC files. To use this AAC metadata editor, tick the text field of your chosen properties. Then, enter the information you wish to input. To add a thumbnail, hit the add sign below the cover frame, then select a snapshot from your local drive. When all is set, smash the Save button to confirm the changes.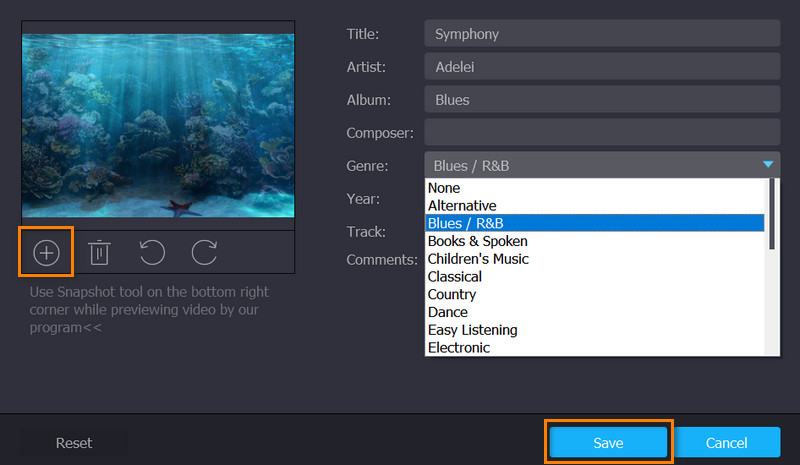 Part 3. FAQs about AAC Metadata Editors
Can I open AAC files on Mac?
Early Mac does not support AAC files. But when iTunes was introduced, it was much more convenient to open AAC files on Mac.
Can I delete metadata tags?
Yes. If you do not want others to see the information about your media files, you can use GroupDocs solutions to remove the metadata tags.
Is AAC lossy or lossless?
AAC typically uses a lossless data compression scheme. It consumes a lot of space on your computer. But on the other hand, it can reduce the risk of losing digital audio quality.
Conclusion
Editing or adding tags to AAC files should be complicated when you have the right AAC metadata editors to use. Hence, we listed them above and reviewed them for your scrutiny. On top of that, an instructional guide is provided to walk you through the process of editing metadata tags of AAC files.