Most User-Friendly AAC Audio Compression Tools You Can Depend On
The AAC format is a kind of audio file developed to replace the MP3 format. It has a large compression capacity while taking up minimal space. It is also the format that iTunes uses by default. For a given data rate, it delivers superior audio quality than MP3. You can play it in practically any software that can play MP3 files. No wonder your system device is being full due to the many audio tracks you downloaded. Now, to give you some tips, you can compress your AAC files so you can save space on your device. With the help of the AAC compression techniques in this post, you can easily shorten your most loved files.

Part 1. Why Do You Need Audio Compression?
You may be confused as to why audio compression is required. Here is why we need audio compression in the first place. Compression, in general, is a valuable strategy for lowering file sizes. When compressed, data is lost from photos, audio, and movies to minimize file size. When streaming or downloading files, this is useful. And this is very crucial, especially for those who lack space when it comes to storage devices. Compression has many benefits, including reduced storage hardware, data transfer time, and communication bandwidth. It may help you save a lot of money.
Part 2. How to Compress AAC with Software
At this point, for you not to have a hard time finding the right program that you can use to compress your AAC audio tracks. We have already gathered the most captivating AAC audio compressor.
1. Vidmore Video Converter
If you are looking for a tool, you can use it for editing, converting. Merging and compressing your audio tracks, Vidmore Video Converter has it all. This great software is compatible with Windows and Mac devices. There will never be an issue even if you are a beginner because it was built with a friendly interface. It allows every user to control the editing tools easily. When it comes to your AAC files, you can take ownership of the amount of size you will compress. You don't have to think twice about compressing your audio tracks with this tool because it compresses without compromising the quality. What is even more convenient for users is its ability to save their valuable time. No wonder this software is being known for its service. Suppose you want to know how to compress your AAC files in the Vidmore Video Converter. In that case, you can use the instructions below as a reference.
Step 1: Acquire the Vidmore Video Converter
To begin, you must first download the application. Click on the links below to get the program. Then, after the software has been installed, launch it and begin using it.
Step 2: Add the AAC Files You Want to Compress
Once the program is running, click the Add Files or Plus button to add your AAC files. Then choose the file you want to compress from your device's storage.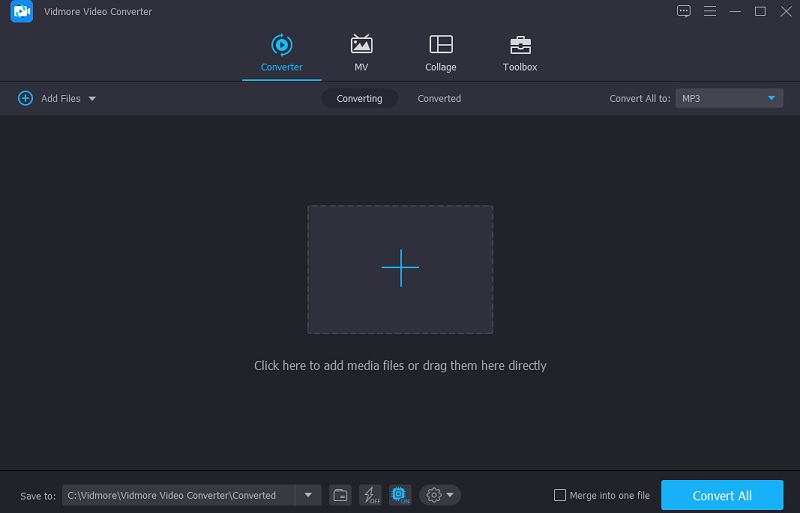 Step 3: Proceed to the Audio Settings
Go to the Audio section in the right-hand drop-down menu once you've entered your AAC file. You must choose a file format for your project. Then, choose a low or medium bitrate from the available quality choices.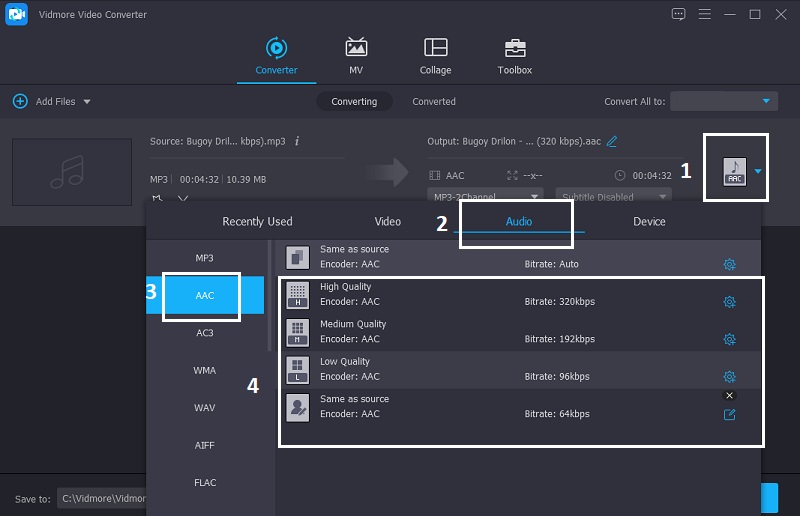 Step 4: Compress the AAC File
After choosing a bitrate, go to the Convert All tab to compress your audio file. After a few seconds of waiting, everything will be okay! Your file has been compressed to save space.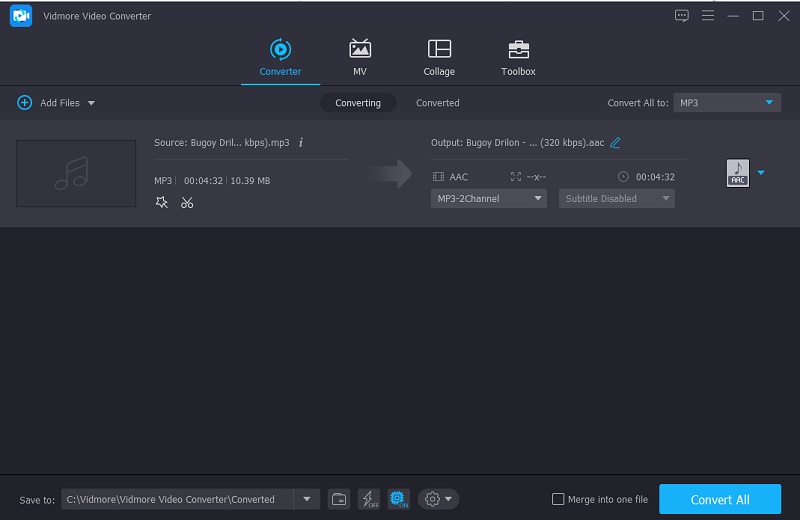 1. Audio Converter
Audio Converter is an excellent choice if you've had some experience with audio compression. It's one of the most popular and safe AAC compressors on the web. With this internet service, you may compress or convert any file type for free. Using a wide range of choices and complicated settings, you may customize the audio and visual aspects of your experience on the platform. However, you may find this too complex if you're a beginner. As a whole, it's going to help you cut down on the number of files you have.
Step 1: To open the file, click the Open File button on the screen when you reach the link. You may use Google Drive or Folder to upload files directly to the site's interface. Then, sit back and wait for the upload to complete.
Step 2: You may alter the audio file's bitrate and sample frequency by selecting Advanced Settings. Additionally, the program will allow you to modify the track data.
Step 3: Converting the audio track is done by selecting the Convert option, and it will be compressed and altered accordingly.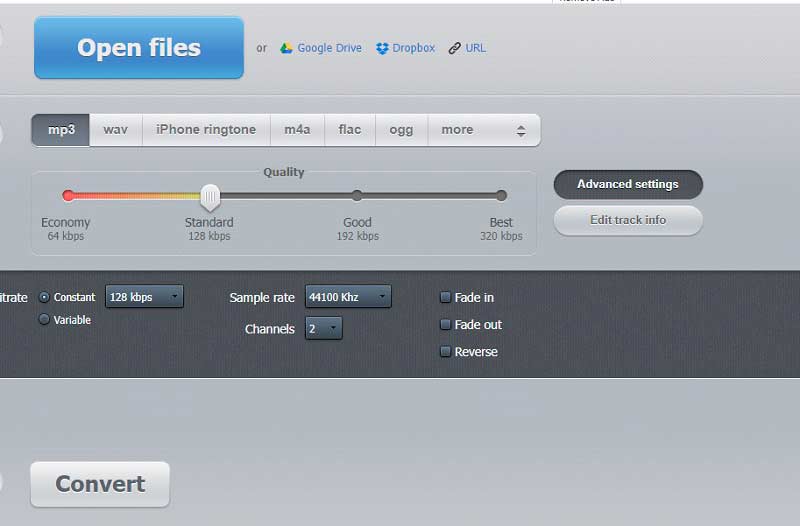 2. AConvert
Using internet software to compress AAC files if you don't have enough storage space on your device is viable. The AConvert is one of the most used audio compressors on the internet. Modifying the file format is its primary goal. You may adjust the compression settings to minimize the file size while you wait. It's a risk-free and straightforward method. Using this online service, you may convert AAC files to a variety of other formats while maintaining the original quality. To see how AConvert works, check out the procedure below.
Step 1: Go to their URL in your browser, and the website's homepage will open up in your browser. The file may be added to the website interface by selecting the Choose File option.
Step 2: Once the AAC file has been successfully added to the main interface, choose the AAC file as the target format. Then, select the suitable bitrate for your file.
Step 3: Click the Convert Now button after you're done making changes to the file to begin exporting and compressing it. Alternatively, you may watch the process unfold and then download a reduced version of the file.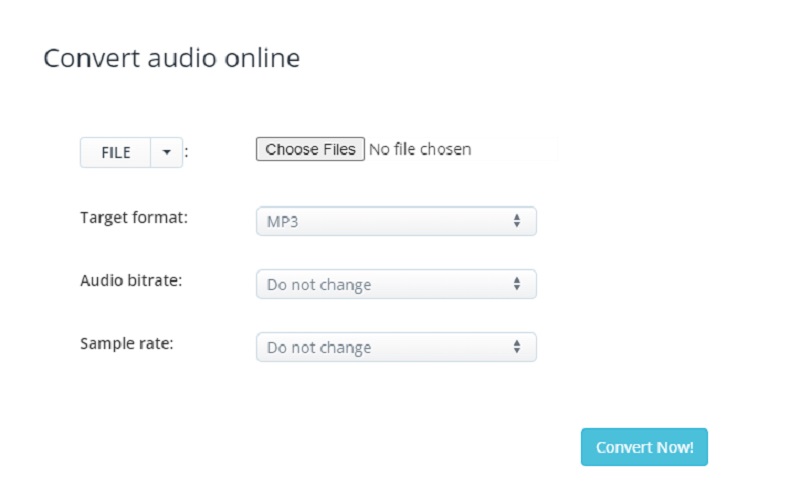 Part 3. FAQs About AAC Audio Compression
Is the quality of AAC good?
AAC often delivers superior audio quality at comparable bit rates to MP3.
What is better, AAC or OGG?
Both AAC and OGG are lossy and compressed, and their performance varies significantly at various bit rates.
What is the best AAC codec?
AAC has been upgraded several times. HE-AAC is the most recent version of the standard. It is a proprietary format, yet it is the most extensively used audio codec on the internet today.
Conclusion
Now that you have information about AAC audio compression tools, you will not have difficulty compressing your most loved files. You have to choose the AAC audio compressor you think will make your loads lighter.