3 Best WMV Tag Editors You Cannot Afford to Miss: Online & Offline
The right video tags make it easier to handle files, sort them, and quickly locate the desired video file. But with most videos being downloaded online, they sometimes need proper tags. As a result, it is not easy to manage and organize files. This is the reason why this post is made. To help users who wish to edit the metadata of their WMV files easily and quickly. With that being said, we will show you the programs you can use to modify the tags of your WMV files. Along with that, we will demonstrate the process of editing WMV metadata. Check out our handpicked WMV metadata editors.

Part 1. Best WMV Tag Editor for Windows and Mac
Suppose you are looking for a program that enables you to edit the tags of your video files. You can rely on the Vidmore Video Converter. This tool accepts many video file formats, like WMV and MP4. The same goes for audio files. You can add any audio file format to the program and edit their properties and tags. In particular, you can edit the title, artist, genre, track, and many more. Apart from that, adding comments and thumbnails to the video file is possible.
Once there is a comment and a thumbnail, it would be easy for you to recognize a video or movie. Users may also edit their video duration, orientation, etc. Almost everything you need for media editing is present in this program. It can be helpful in so many ways. For further scrutiny of this WMV metadata editor, check out the pros and cons underneath.
Pros
Compatible with Windows and Mac computers.
It accepts a wide variety of file formats.
Add artwork cover and comments to a media file.
Access a plethora of tools in one place.
Cons
It can handle one media file metadata editing at a time.
Some tools are limited in the free edition.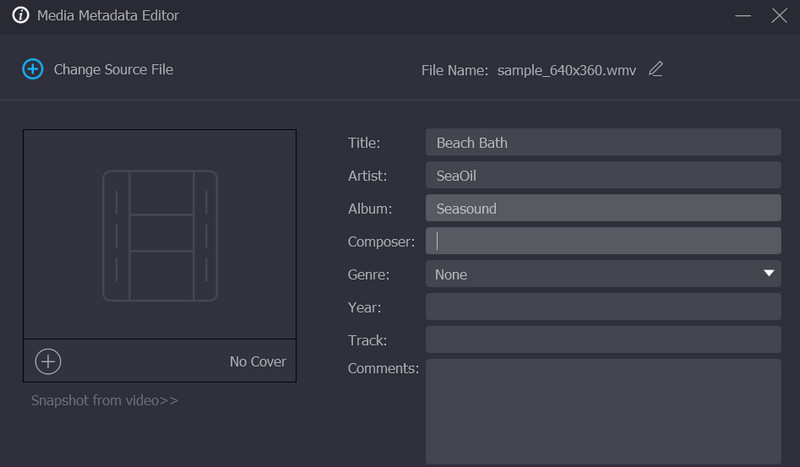 Part 2. Online WMV Metadata Editor
It is also great to use online programs, so you do not have to download programs and consume space on your computer. In that case, the process will be convenient. Moreover, you can accomplish your task of editing WMV metadata anytime, anywhere.
Metadata2Go is a web-based program that supports all file types, including photos, documents, videos, etc. It lets you check the metadata of your media files. Also, it offers an online metadata viewer for free. Therefore, you do not have to spend a dime just to view the metadata of your WMV video files. Apart from editing metadata, you can also convert files and erase all data just a click away. That said, you can get the best of both worlds. One is for changing the file format of a file, and another is for erasing or removing metadata of files.
Pros
File size restriction is not implemented.
Users can modify and remove EXIF data.
Files like documents, videos, and photos are supported.
Cons
Some file format's metadata is not available for editing.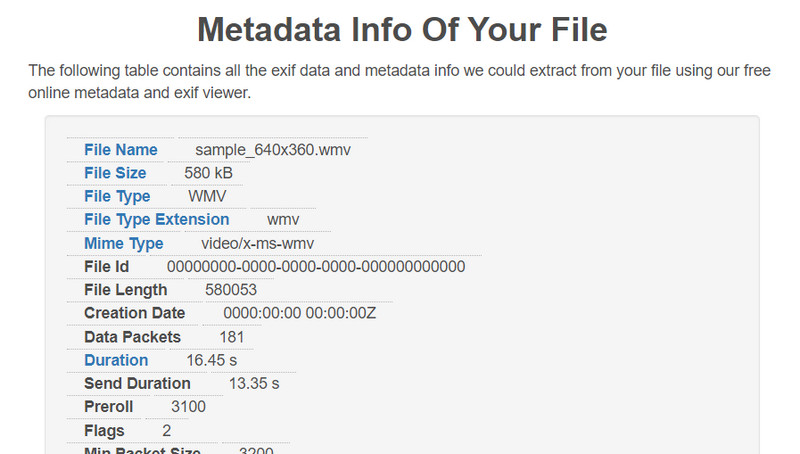 Part 3. How to Edit WMV Metadata
If you find yourself already starting to edit WMV metadata, you can use Vidmore Video Converter as your reliable WMV tag editor. Here, we will show you the process of editing WMV metadata step-by-step. Check out the instructional guidelines for reference.
Step 1: Obtain the tool and start using it
You must download the application before you can modify the metadata for your file. You can accomplish this by selecting any of the icons marked Free Download below. Both the Mac OS and the Windows OS include buttons to download it. After that, you should start it up and set it up on your computer.
Step 2. Open the Media Metadata Editor
When you first load the app, you might notice a few tabs up top. The Toolbox tab is one of them. Select this tab to find the option you're looking for. Select Media Metadata Editor, the first choice on the menu, to start editing the metadata for your media.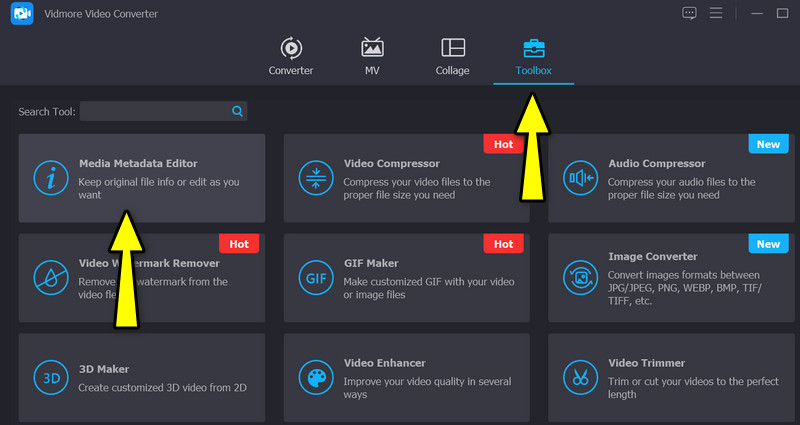 Step 3. Include the preferred WMV video
After clicking the metadata editor option, a dialog box will appear. From here, you will see a plus sign that will allow you to include your preferred video. Therefore, tick the plus sign button and find the target WMV file you wish to edit. Right after, you will see another interface for editing metadata.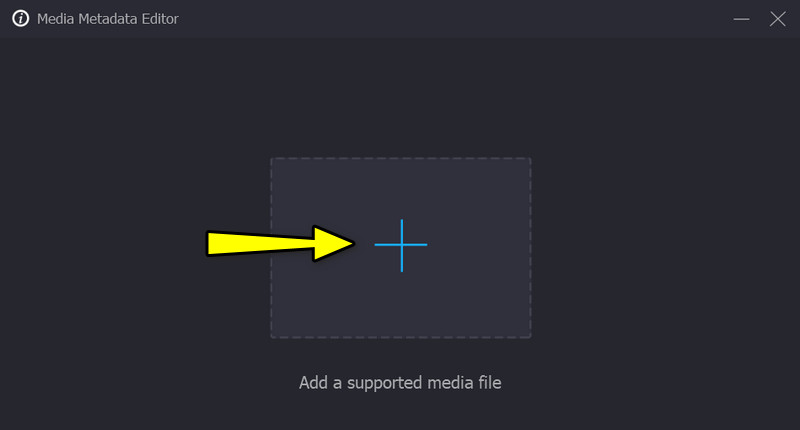 Step 4. Modify the information and save the modifications
This time, select a particular field of certain metadata. By that time, you can edit the metadata by entering the appropriate data. Once you are through editing, save the changes by clicking the Save button in the bottom right corner.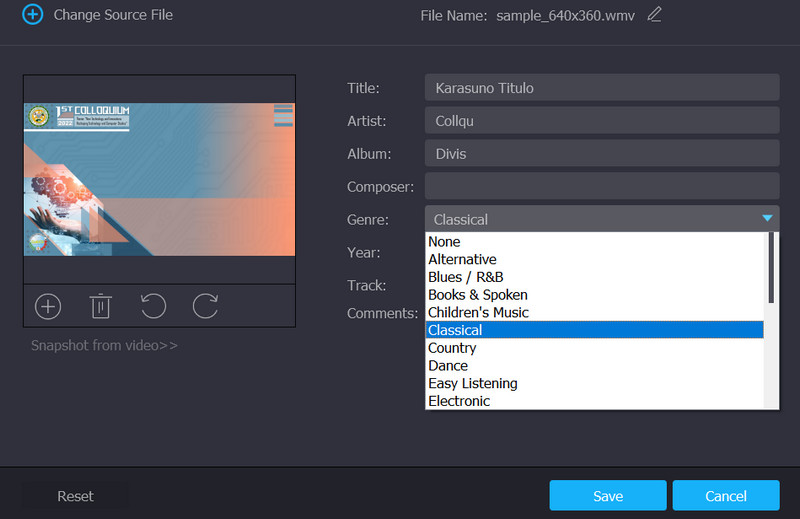 Part 4. FAQs about WMV Tag Editor
Can I view the metadata of WMV on Windows Media Player?
If you open the WMV file using Windows Media Player to view the metadata, you will not be able to view it. On the other hand, you can access the metadata using the properties menu. Locate the WMV file and right-click on it. After that, select properties and go to the details tab.
How can I edit WMV metadata on Mac?
The desktop we just mentioned above can help you edit WMV metadata on your Windows and Mac computers. Hence, if you wish to edit WMV metadata on your Mac, you can use the above program. Simply select the correct installer for your computer operating system.
Can I edit WMV metadata with VLC?
Yes, it is possible to edit the metadata of WMV using VLC. Open the video using this program and go to the Tools menu. After that, select Media information and edit the metadata of your WMV file.
Conclusion
There you have it! If your WMV files have inaccurate metadata tags, you can use the tools to help you. There are WMV tag editors for online and offline users. Therefore, choose which tool or method fits your needs best.