MP3Tag Review - Description, Main Features, Pros and Cons, and All
In the category of audio and music, MP3Tag is a leading application for editing metadata. It is one of the programs you should look for when having trouble organizing and sorting your music library. Additionally, it comes with helpful features to make your work convenient and faster. On the other hand, allow us to spill the tea about this MP3Tag by having an in-depth review. That means that this post will tackle the features, advantages, and disadvantages of the program. On top of that, you will learn the updated steps on how to use the MP3Tag. Read on to learn more.

Part 1. In-depth MP3Tag Review
MP3Tag is one of the leading metadata editing tools designed to help users edit the tags of their multimedia files, such as video and audio files. This tag editor is available on Mac and Windows computer systems. So, whatever platform of OS you are using, you can edit the metadata or information of your music and video files. Moreover, the tool offers additional features, such as editing tags for multiple media files simultaneously. Bulk tag-editing of ID3v1, ID3v2.3, ID3v2.4, or iTunes MP4 is also possible.
Besides MP3, you can edit file formats, including OPUS, AIF, WAV, FLAC, OGG, and many more. Suppose you want to edit the cover art embedded in the file. MP3Tag can edit it for you. In fact, you can adjust the size and format of the image you wish according to your desired dimension.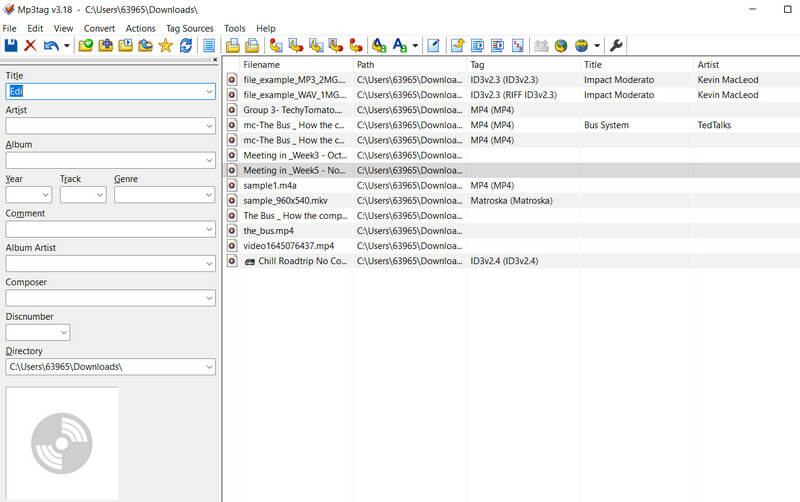 Main Features of MP3Tag
MP3Tag has some embellishments you can maximize to enjoy your tag editing experience. Therefore, if you want to know more concerning this program. Take a look at the primary function and features below.
Cross-platform program
The tool offers download options for both Windows and Mac users. You can get the installer from the official website or get it from your Mac App Store or Microsoft Store.
Edit Tags in Bulk
Editing tags for multiple files at once using MP3Tag is possible. Additionally, many versions of metadata are supported for more detailed metadata editing.
Modify art cover
MP3Tag can also help users in editing the cover art of their music or video files. You can download and add album art covers yourself.
Import from online tag sources
With MP3Tag, you can import cover and metadata from MusicBrainz, Discogs, or any custom Tag Sources.
Supports many file types
If you are worrying that it can only edit MP3 tags, you are mistaken about that idea. This tool is ideal for editing tags of MP3, M4A, FLAC, OGG, OPUS, AIF, WAV, etc.
Edit metadata in the file list directly
The help of direct editing of metadata in the file list is convenient for instant editing to correct metadata mistakes.
Pros and Cons of MP3Tag
You may or may not yet still be convinced about the capabilities of MP3Tag. But let us discover more about this tool by revealing to you the advantages and disadvantages of using it.
Pros:
There is an auto-numbering feature for track and disc numbers.
It offers quick actions to filenames and tags.
Rename files based on metadata.
Edit multiple files at once in bulk.
It allows copying tags from tags.
It supports MP4 and M4V video files.
Gather proper tags with online database lookups.
Cons:
The free trial of the tool only lasts for seven days.
An update from time to time is needed for secure and safe metadata editing.
Part 2. How to Use MP3Tag - Walkthrough Guide
In this part of the post, we will walk you through the steps on how to use MP3tag and change the metadata on your MP3 or any audio file. After following the guide step-by-step, you will be able to edit the tags of your audio files.
Step 1. Have the program installed on your computer by getting the program from its official website. You can get the version for your Mac or Windows computer. Please finish the setup process to use the program properly.
Step 2. To load your audio files to the program, go to File > Add directory. After that, select a folder where your target audio file is saved.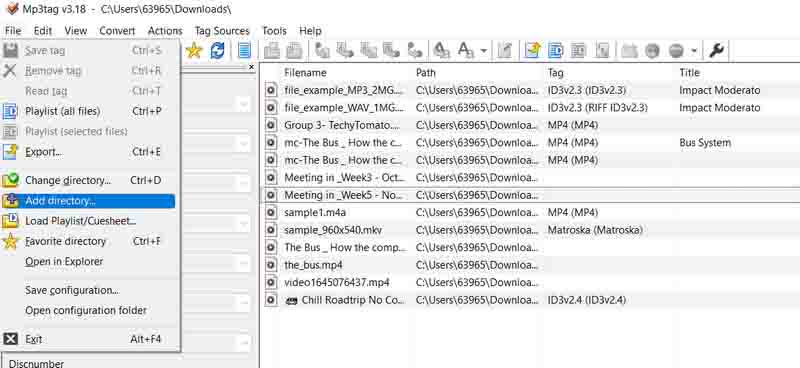 Step 3. Then, a list of audio files will be loaded into the tool. Select your desired audio file and edit the metadata by keying in the information on the left side field bar. You will see text fields for different tags.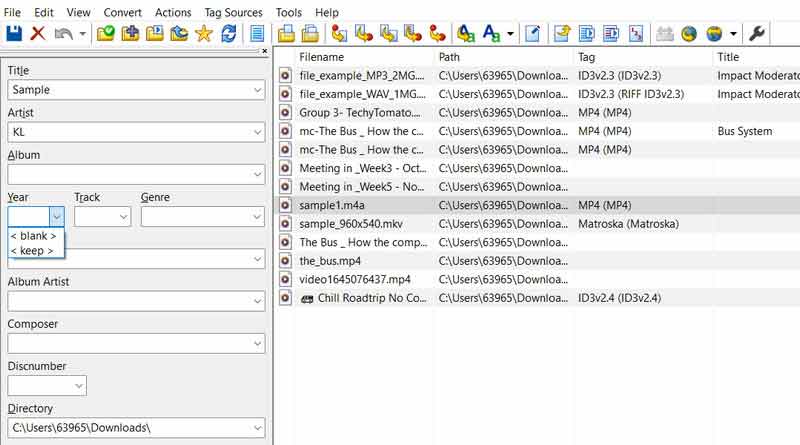 Step 4. Finally, tick the Save icon to ensure the changes are applied.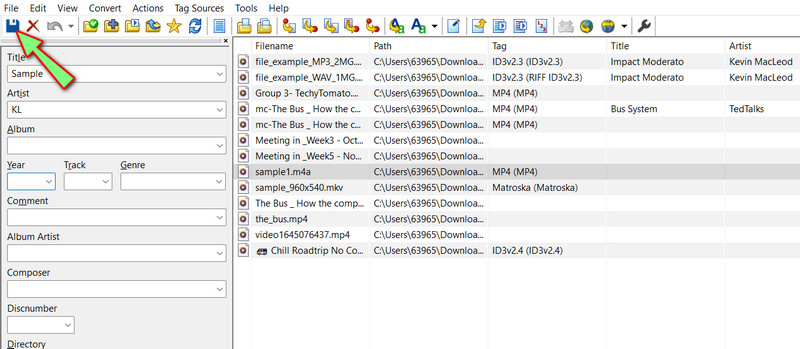 Part 3. Best Alternative to MP3Tag
Vidmore Video Converter is the best software for editing ID3 tags because it is simple and easy to use. The program's main purpose is to edit videos, but it still does a good job of editing metadata. It lets users make simple and complex changes to metadata, like changing the title, artist, year, and album or adding album art. The tool can also edit the tags of video files like MP4, WMA, and many others.
Also, Vidmore Video Converter stands out because it can work with many different types of video and audio files. This program is the best when it comes to its functions and features. It is infused with other tools that let users edit, change, merge, convert, and do a lot more. Check out the pros and cons of this ID3 tag editor to learn more about it.
Step 1: Get and run the program
First, get the program's installer. To do this, click any of the Free Download buttons below. Next, only get the installer that works with the operating system on your computer. After that, run it when you're done setting up.
Step 2. Open the metadata editor
As soon as you open the program, go to the Toolbox tab in the upper part of the screen. From here on, you can use any of the other tools that are connected to the tool. Choose the Media Metadata Editor to get to the metadata editor.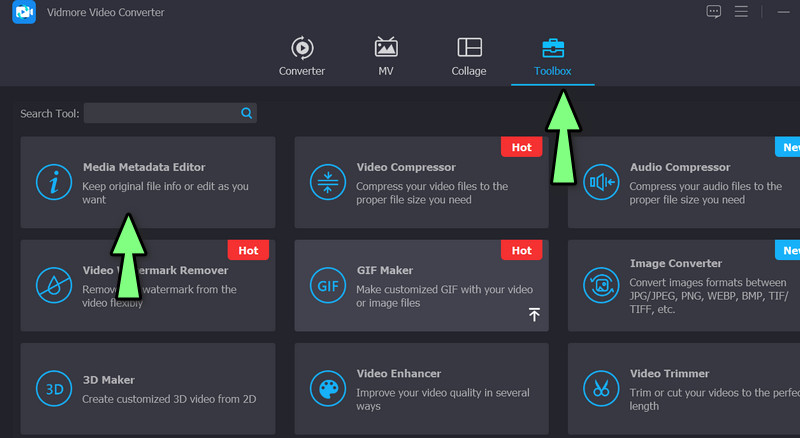 Step 3. Upload media
The Media Metadata Editor opens a dialog box where you can add your media file. Click the + symbol to find the audio file in your computer's libraries. You'll get a music panel when it's done.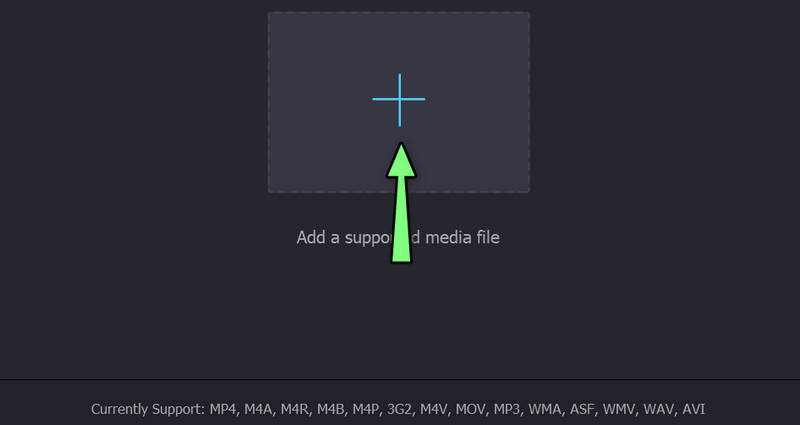 Step 4. Change and save tags
Change tags now that you have file metadata. Then, select the tag field. After clicking Save and accepting the changes, you're done.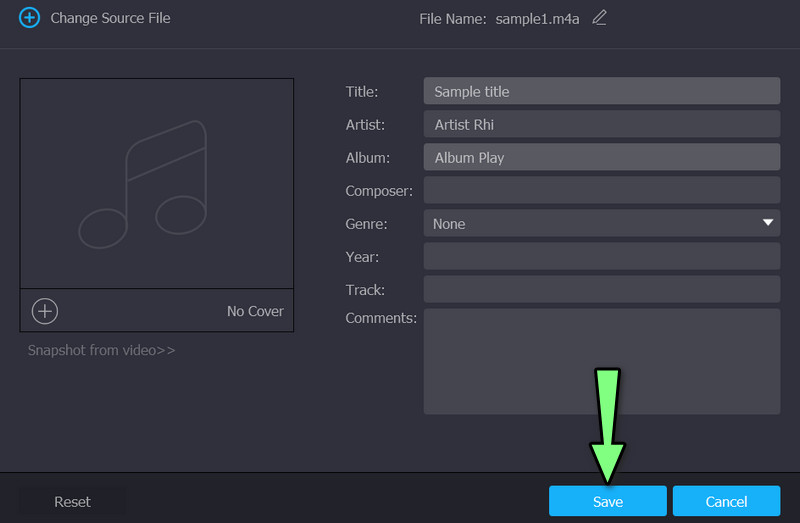 Part 4. FAQs about MP3Tag
Is there an end to its free trial?
Yes. Although MP3Tag is freeware, it does not mean that it is free forever. You will need to pay for extra time of usage
Is MP3Tag safe to use?
Yes. There is no doubt about the integrity and security of your files when using this program. As a rule of thumb, always ensure that you are getting the installer from the official websites.
Is it possible to edit video metadata with MP3Tag?
Of course! It accepts the universal video file format, which is MP4. So, when you are planning to edit video metadata, be sure to format it in MP4.
Conclusion
After reading the post, you learned about the potential and some drawbacks of the tool through the MP3tag review. In case you are in doubt about using the program or its features do not suffice, you can go with Vidmore Video Converter to help you with your audio and video tag editing.