Top 4 Best Video Editors to Rotate 180 Degree Videos on Mac and Windows PC
There will be cases where you are editing a series of video clips that are recorded from different angles. More often than not, you find videos that are upside down. That's why you need to rotate them by 180 or -180 degrees to reverse and fix the orientation. There are few yet effective ways to rotate videos 180 degrees which we will discuss in this post.
Moreover, we covered the programs that are GUI-based and a tool that uses CLI which performs tasks in a text-based interface. Check them out and find which one suits your preference well.

Part 1. Rotate Videos 180 Degrees on Windows/Mac
Vidmore Video Converter is a versatile desktop app that offers innovative features for editing videos. It gives you the capability to rotate, crop, flip, add watermark as well as filters to the video. In a nutshell, it has all the standard and advanced editing features that will suit every user's preference. Moreover, you can choose to rotate the video in 180 degrees both left and right. Also, it features a flip function where you could project the video upside down or backward depending on your requirements. The most captivating part is that it can process multiple videos or a folder of videos at the same time. The changes you made to a video can take effect on the rest of the videos. Provided that they are loaded into the tool along with the video that is under modification. On that note, here's how you can rotate video 180 degrees on Windows 10 or Mac computers.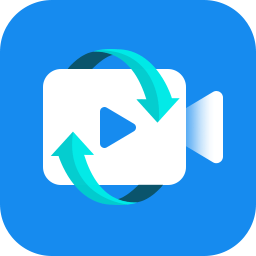 Professional Video Editor and Rotator
Easily rotate, crop, flip, trim, cut, etc.
Extensive support for video output formats
Comes with various useful visual effects
Facilitates batch operation
Effects can be seen before applying with live-preview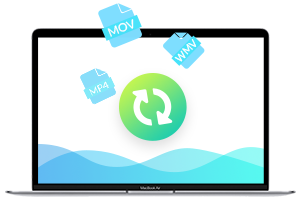 Step 1. Acquire Vidmore Video Converter
First and foremost, obtain the installer of the program by clicking on one of the Free Download buttons above. Install and launch the program once the download is finished.
Step 2. Import video file
From the main interface, import a video by clicking the Plus sign. You can also make use of the drag-and-drop interface to upload a video.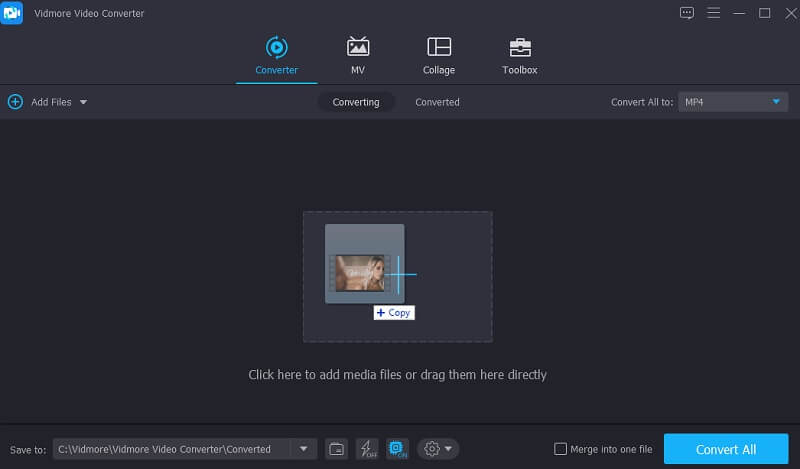 Step 3. Rotate your target video
After successfully uploading your target video, go to the editor by clicking the Edit icon located alongside the video thumbnail. Below the preview pane is the Rotate buttons. Simply rotate the video until you get your preferred orientation.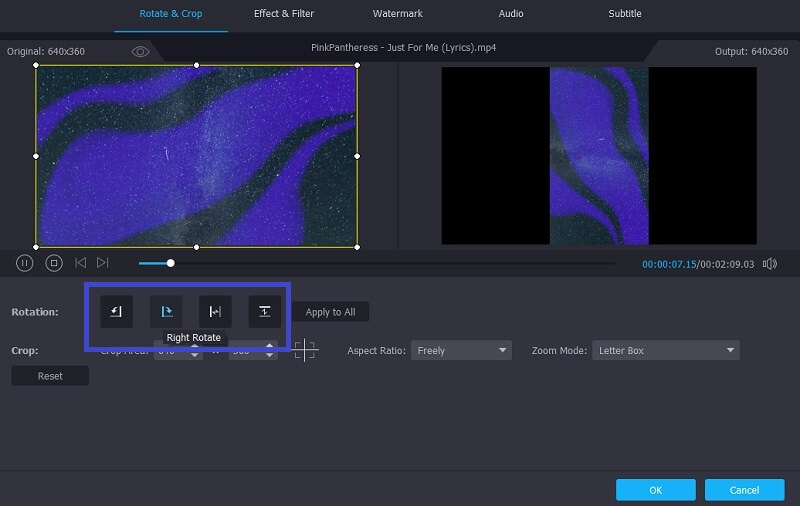 Step 4. Save the final version of the video
If you are happy with the results, click the OK button on the editor and go back to the Converter tab. Now to save the final version of the video, select an output format from the Profile tab and hit the Convert All button. The processed video will appear in the folder once the conversion is complete.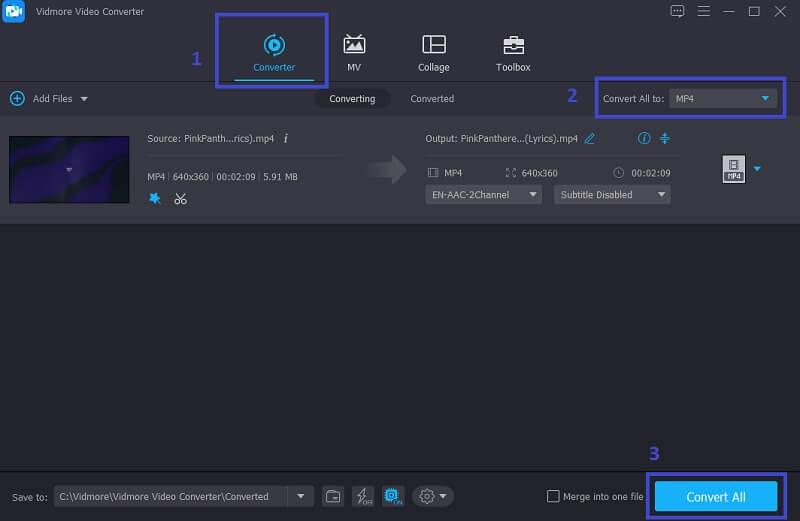 Part 2. Rotate a Video 180 Degrees with Windows Movie Maker
Another yet great program to flip videos 180 degrees is Windows Movie Maker. In case you didn't know, its latest version is called Windows Essentials 2012. There you can access Windows Movie Maker where you could edit photos and video clips. Aside from that, it also provided custom options for video aspect ratios like 4:3 and 16:9. Another notable feature is you have the freedom to share your work across social networking sites such as Facebook, Twitter, and the likes. To know more and use this media player classic to rotate video 180 degrees, check out the following instructions.
Step 1. Install Windows Essentials 2012 on your computer. In case it's already installed, launch the program to see the running interface.
Step 2. From the Home panel, click on Add videos and photos option to import a video file into the program.
Step 3. Next, click on Rotate left or Rotate right based on how you want the video to be rotated.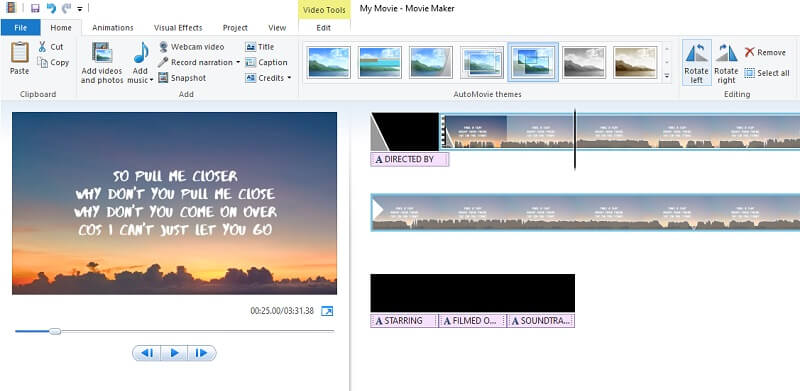 Step 4. Finally, click the Save movie button and set a file destination for the video output.
Part 3. How to Rotate a Video 180 Degrees in Premiere
Developed by Adobe, Premiere is also a good video rotator that you should consider using. It is capable of editing videos with the ability to rotate videos while retaining the original quality of the video. This is a wonderful tool to amend videos that are upside down or wonky. Apart from that, you can rotate a video clip in several directions. This includes 90, 180, 270-degree rotation. With that being said, here is how Premiere Pro rotates video in 180 degrees.
Step 1. Open the Premiere Pro app and go to Create and upload your target video. Or you can simply drag and drop the video directly to the timeline.
Step 2. Then you can immediately edit the video and apply effects. Select the video clip and open the option for Effects Controls.
Step 3. Head to Motion > Rotation and click the number alongside. Rotate the video by entering a number that is equivalent to degrees and see the result in the preview panel.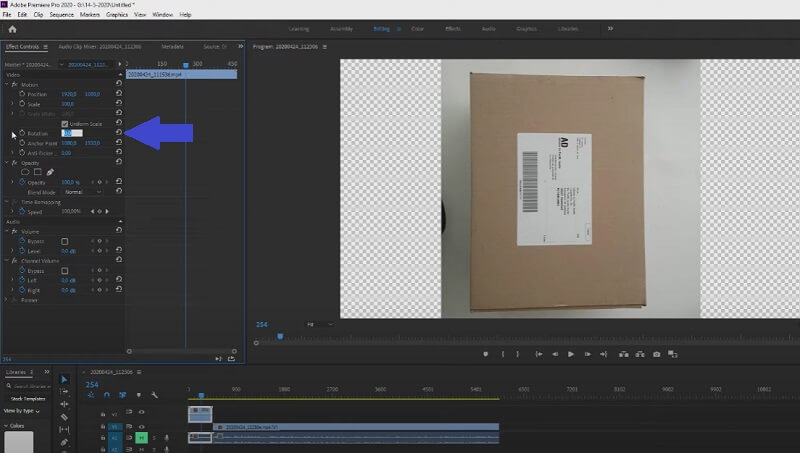 Step 4. Lastly, export the video from the Media menu. Specify the export quality and save it to your preferred file destination.
Part 4. How to Rotate videos 90 or 180 degrees using FFmpeg
The previously mentioned tools are obviously GUI-based. But if a command-line interface is your thing, FFmpeg is your go-to video rotating program. Despite this, it does not fall behind when it comes to editing your videos. By using it, you can perform video editing tasks such as rotate, convert, crop, trim, join or split. Well, let's proceed to how FFmpeg rotates the video 180 degrees.
Step 1. First, you need to install FFmpeg on your system. To make sure it is working, open the command prompt, type ffmpeg, and press the Enter key.
Step 2. After verifying the app, go to the directory where your target video is located, still using the command prompt. To do this, use the cd command followed by the path folder where the video is located. Type cd file path and hit enter.
Step 3. Now to rotate the video 180 degrees, you can use the following command. Type in:

To do this, use the cd command followed by the path folder where the video is located. Type cd file path and hit enter.
Step 4. This time, hit the Enter key on your computer keyboard then check the video where it is saved and see if the results took effect.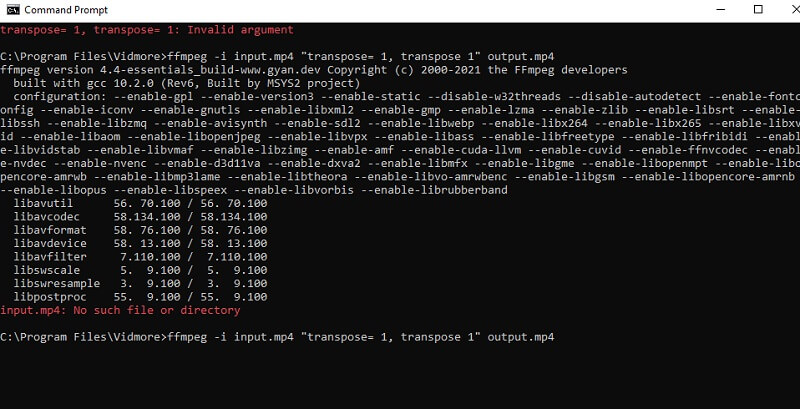 Part 5. FAQ of Rotating Videos 180 Degrees
Can I use Windows Media Player to Rotate Videos 180 Degrees?
Unfortunately, Windows Media Player does not support either rotate or flip functionality. It can only play videos or audio from your local drive. However, if you still want to enjoy your movies on Windows Media Player, you can use the above programs to help you rotate videos.
Is there any app I can use to rotate videos on Linux?
Aside from FFmpeg, you can also use Avidemux to do your video editing tasks. It is available for BSD, Linux, Microsoft Windows, and macOS. Also, Avidemux rotates video 180 degrees without any problem. That means if you are having trouble with your upside-down videos you can use this free and open-source program.
Can I rotate any video by 180 degrees?
Yes. If you are rotating videos on a desktop, you can take the tools above for your reference. As for mobile, you can install video rotating apps from your app store or use an online solution instead.
Conclusion
Bringing up rear, it is absolutely possible to rotate video 180 degrees using the tools that are discussed above. As mentioned, there are GUI and CLI-based interfaces. If you want an easy and simple way to rotate videos by interacting with graphical icons GUI-based apps are for you. On the other hand, you should go with CLI-based apps if you want to interact with programs by entering commands with texts.