Guide on How to Edit Audio on iPhone, Android, Windows PC, and Mac
There are certainly reasons why you want to edit your audio files. You can't leave them unedited knowing that there are flaws or imperfections that need to be dealt with. It could be that the introduction of the audio file is too long and that seems to be irrelevant. Or, you consider making a ringtone, an audiobook, changing the track information, or converting sound files. Whatever your purpose may be, you need an audio editor to assist you in accomplishing these tasks. Therefore, we made a list of the best possible solutions to edit audio files offering excellent features. There are programs for both computer and mobile devices. Learn more about them after the jump.

Part 1. How to Edit Audio Files on Windows and Mac
1. Vidmore Video Converter
Step 1. Obtain the Audio Editor's installer
First, download the program by clicking any of the Free Download buttons presented underneath. Open the file and follow the onscreen setup to install the app. After that, run it on your computer.
Step 2. Load an audio clip
Now upload an audio file that you like to edit by clicking the Plus sign button from the main interface of the app. It also features a drag and drop interface so you can easily add an audio file to the program.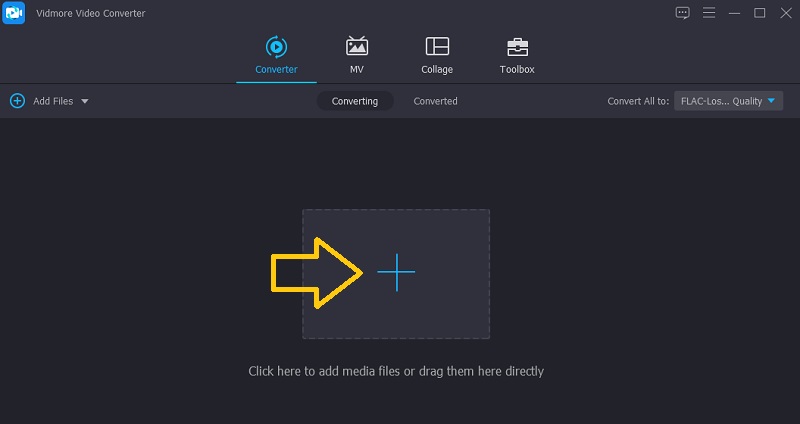 Step 3. Edit the uploaded audio track
After uploading your target audio, click the Cut button to make some changes to the audio file. From the editing interface, you will see the handles for cutting the music file. Move the handle to the position of the track that you wish to keep. You may also trim the beginning part of the audio by moving the Playhead and refer to the time indicator that displays as you hover the mouse cursor to the track. Click on the Save button once you are satisfied with the results.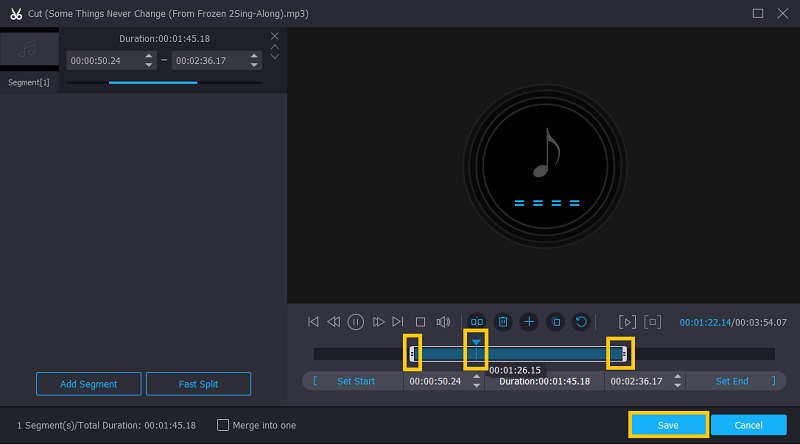 Step 4. Save the output file
After all the changes, head back to the Converter tab to save the final version of the audio. Prior to that, you can change the format of the audio from the Profile menu or leave it unchanged by selecting the same audio format. Tick on the Convert All button to start rendering the file and it should be done in a short while.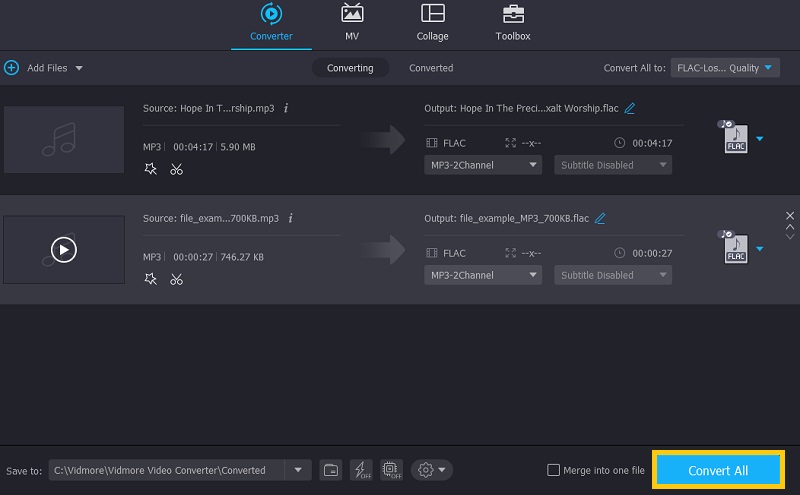 2. Adobe Premiere
Another tool that can assist you in manipulating audio files either on your Windows or Mac computer is Adobe Premiere. The software is packed with useful features that will enable you to make changes to your audio files. It provides an audio waveform view to help you visualize the sound file. This is particularly helpful for locating specific audio parts as well as for precise and accurate audio editing. Aside from that, it also incorporates a duplicate feature that is designed to quickly copy an audio clip instead of browsing through your media files. However, learning how to edit audio in Premiere can be a bit challenging at first. But when you get the hang of it, it would be all worth it.
Pros
1. Mure an individual clip on the timeline
2. Combine pieces of tracks together
3. Audio waveforms display
4. Separate audio from a video
5. Create and edit audio recording
Cons
1. Has a steep learning curve especially for beginners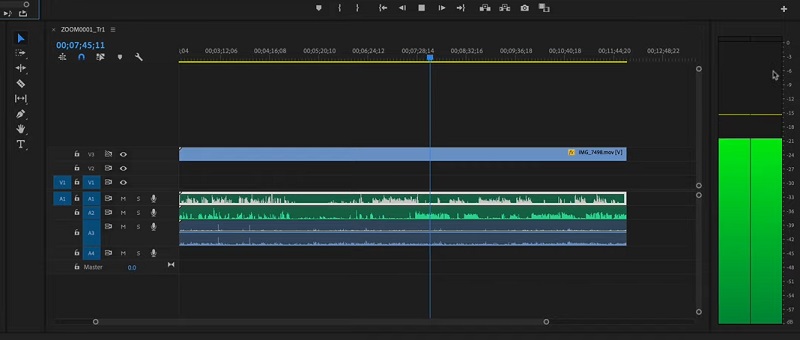 Part 2. Best Mobile Audio Editors for iPhone and Android
Using a mobile application is necessary when you want to edit audio files from the comfort of your smartphone. Through these apps, you don't need a computer and transfer your audio output back to your mobile device. On that note, you can try the two excellent programs to edit audio on iPhone and Android.
1. iMovie
iMovie is a native program on Apple devices including Mac, iOS devices, and tabs. However, the mobile version is somewhat limited with features. Nevertheless, you can selectively remove irrelevant parts of the audio by splitting the clip. Furthermore, you can detach tracks from the video and change the volume according to your requirements. Similarly, it can display audio waveforms allowing you to compare volume levels and visualize whether the sound audio is distorted or loud. On top of that, you can apply fade-in and fade-out effects to your audio clip using the easy-to-manipulate fade handles of the tool. You don't need to be an expert to learn how to edit audio in iMovie because it features an intuitive interface perfect for both beginner and advanced users.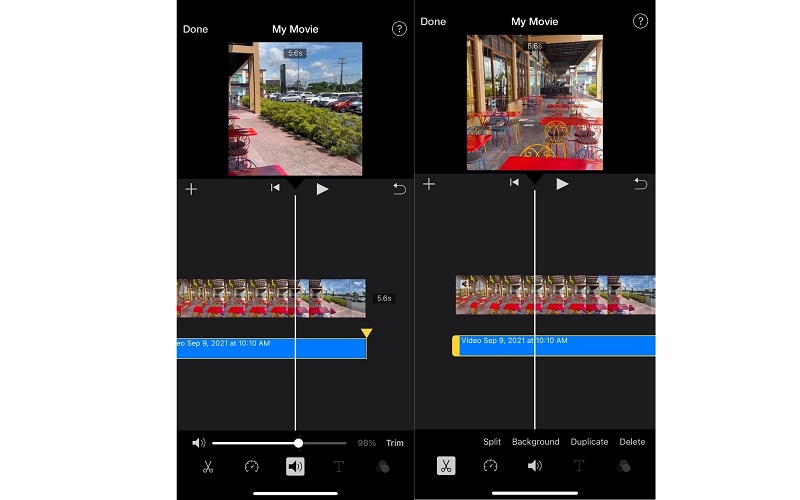 Pros
1. Library for sound effects
2. Increase and decrease audio volume
3. Split, duplicate and delete audio
Cons
1. Can only edit audio from a video
2. WavePad
If you are looking for an Android app to edit audio files, you should look no further than WavePad. It comes with all the basic and necessary audio-editing tools including copy and paste, cut, silence selection, and so much more. Another impressive feature is its ability to add various effects to the audio. You can amplify, normalize, and reduce audio noise. Unlike a similar program, its user interface is not ad-laden. That means, it is not loaded with pesky ads that might disturb your work. You can accomplish your task of converting, trimming, recording, and other tasks without worrying about ads.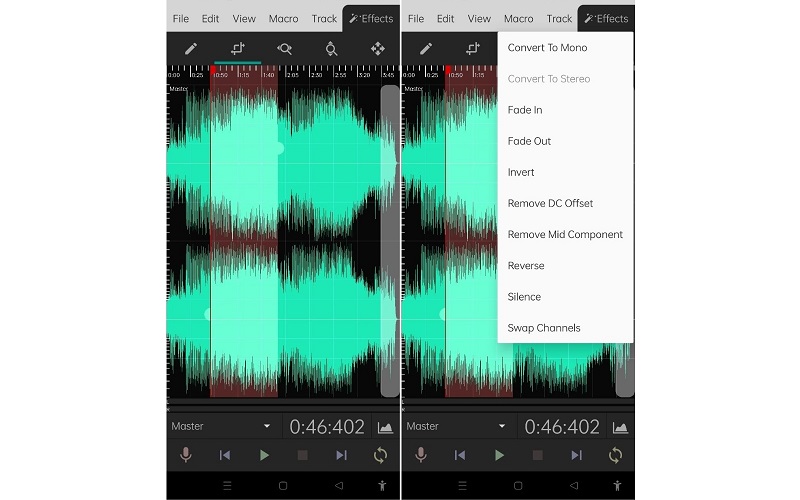 Pros
1. Noise reduction feature
2. Audio effects to equalize, amplify, or normalize audio
3. Edit recordings including voice
Cons
1. Difficulty in selecting the start and end points
Part 3. FAQs of Editing Audio Files
How can I edit audio files on Mac?
There is no need for you to look for a program as this post provides the best audio editors which are introduced above. For easy and simple audio editing, you should try using Vidmore Video Converter. Yet if you want more advanced features and functions for an in-depth editing task, Premiere might be the best program to use.
Can Garageband edit audio files?
Definitely! It comes with powerful editing features for audio files. With it, you can create projects from templates or build grids from scratch using Apple Loops provided by the tool. You can also take advantage of the virtual drummer and add it to your song. Recording and mixing effects like virtual equalizers are also supported.
How do I edit audio files online?
There are tons of web-apps that are capable of editing audio files. This also means that you don't need to download and install an additional app. Some of the great tools to assist you in editing audio files include Audio Trimmer, MP3Cutter, Aconvert, and many more. Otherwise speaking, you have lots of choices to edit audio files online.
Conclusion
The post presents the great tools to edit audio files for Windows, Mac, iOS, and Android devices. Each program offers useful editing functions to help you achieve your goal of editing your audio files. To give you a piece of advice about choosing the right tool, it would be better to try every tool and see which fits your needs. Editing from your desktop can be done with the help of Vidmore and Premiere. But if you are new to audio editing, you should go with Vidmore. For simple and casual audio editing, mobile apps are obviously the app you should be using.