Compress Your OGG File With These Easy-to-Use Programs
Due to the outstanding quality of an OGG file, it is no wonder that it is one of the most popular file formats used in different devices. However, due to this file's excellent quality, users can't help but lack space on their devices. And if you are one of those having a problem with the file's large size, you better use an audio file compressor. With that, no need to worry about finding the right tools to compress OGG because we will give you an online and offline solution in this post. Without further ado, read this post and see the means you can count on.

Part 1. General Knowledge About OGG
We all know that OGG is one of the most used audio files, and we didn't know about the rest. The Vorbis format is also known as OGG. OGG is a free and open-source format comparable to MP3 and AAC; however, it is less popular. It can only be played on a few media players when it comes to compatibility. As a consequence, it is disliked by a large number of users. OGG has been one of the oldest audio formats available today. Because of their high compression level, OGG files are suitable for holding data such as the artist, track information, and metadata. Aside from that, it's a container that can carry audio and video.
Part 2. Best Way to Compress OGG
Having an excellent yet easy-to-use audio compressor is a bit hard to find. Good thing Vidmore Video Converter was created. It is a professional program that supports audio and video editing. This tool also allows you to cut, trim, merge, convert and compress your most loved files. Even if it has many editing features, many users still patronize it because of its friendly interface. The great thing about Vidmore Video Converter is that it doesn't require you to know about editing features because you will quickly understand them. Aside from that, you won't have to worry about your file being compromised because you can take control of the audio settings. To give you a better understanding of how to compress your files in Vidmore Video Converter, take a glance at these step-by-step processes below.
Step 1: Get the OGG Compressor
First and foremost, you must download the program. You may get the software by clicking on the links below. Then, after the program is installed, please open it and start using it.
Step 2: Upload the OGG Files You Want to Compress
Once the program is running, click the Add Files or Plus button to add files. Then choose the file you want to compress from your device's storage.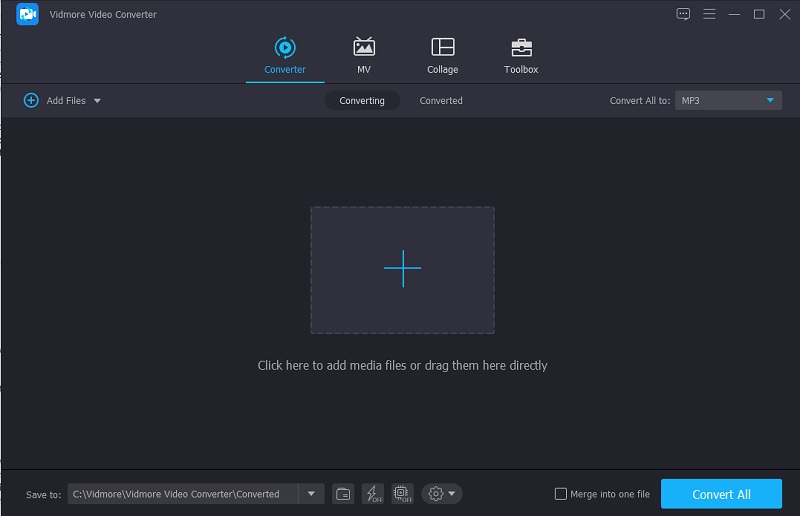 Step 3: Go to the Audio Settings
After entering your OGG file, go to the Audio area in the right-hand drop-down menu. For your project, you must choose a file format. Then, choose a low or medium bitrate from the available quality options.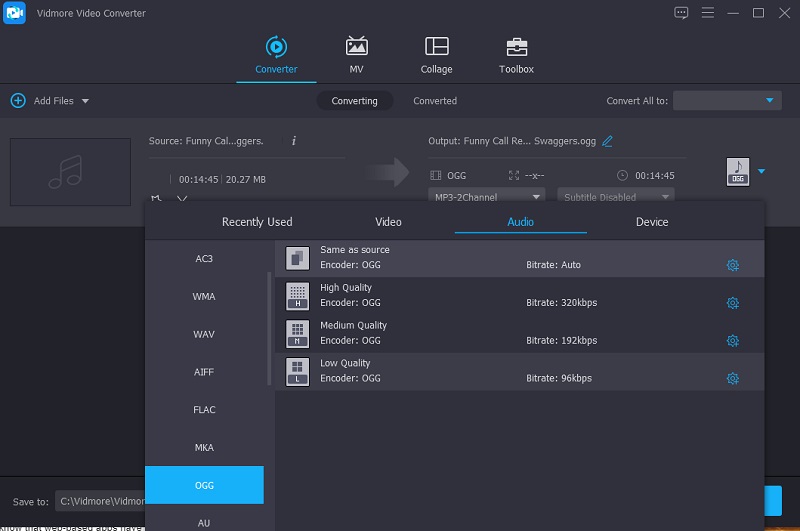 Step 4: Convert the OGG File
Navigate to the Convert All tab to compress your audio file after selecting a bitrate. Everything else is a piece of cake after a few seconds of waiting! To conserve storage, your file has been compressed.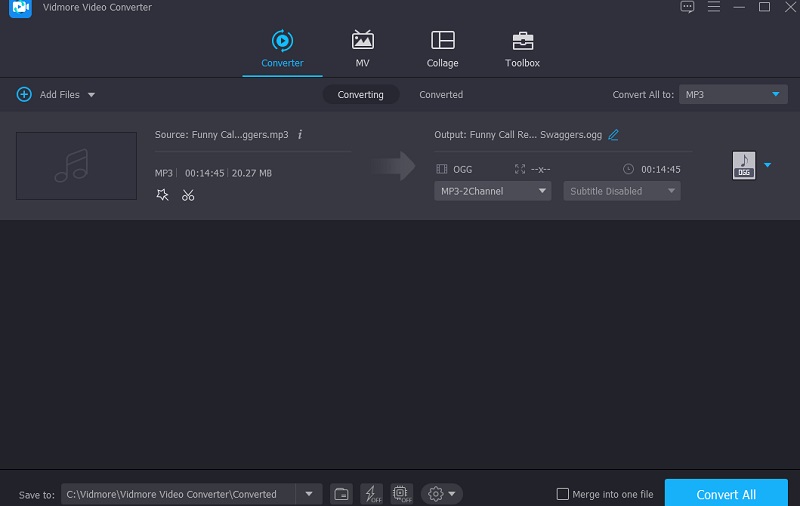 Part 3. Two Ways How to Compress M4A Files Online
If you can't afford to download another software on your device, there is still a solution for that. You can use an online tool to compress your OGG files. Here are the most recommended tools you can use online.
1. Vidmore Free Video Converter
If you are looking for an online tool that converts without restrictions, Vidmore Free Video Converter is the best fit. This online tool is very user-friendly. It can compress FLAC files without a problem. That is why this easy-to-use application enthralls the majority of users. This online program has an advantage since we all know that web-based apps have limitations, especially when it comes to conversion. It can convert forever. Additionally, here is a short lesson on minimizing the size of your FLAC file.
Step 1: Type Vidmore Free Video Converter into your search engine, click the Add Files to Convert and download buttons to get the app's launcher.
Step 2: When you start the launcher, click the Add Files to Convert again. It will open a folder containing all your files and then import the appropriate file.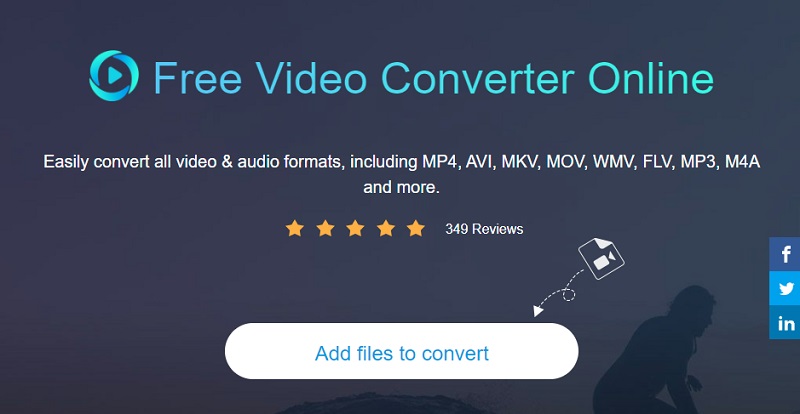 Step 3: By selecting the Music icon, choose the file's format. Then, click the Setting button from the Bitrate drop-down option and choose the lowest number. Then, to save your changes, please hit the OK button.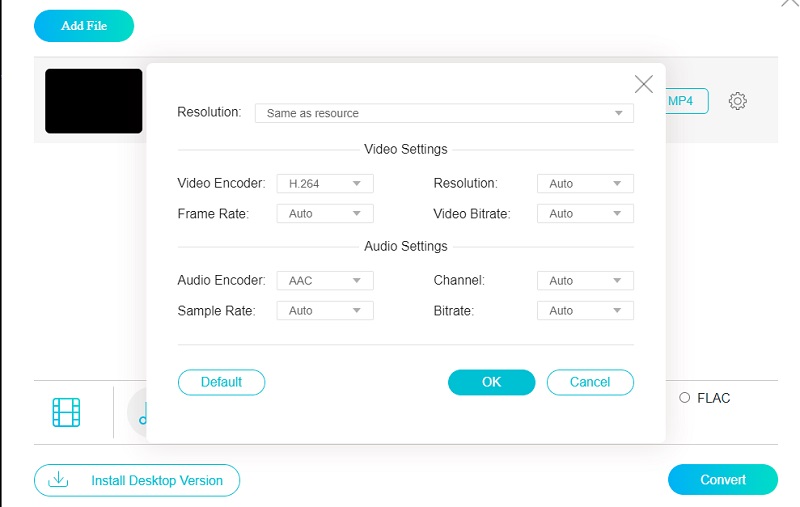 Step 4: After you've finished the steps, click the Convert button. It will open a folder to choose the file's destination and convert it by clicking the Select Folder button.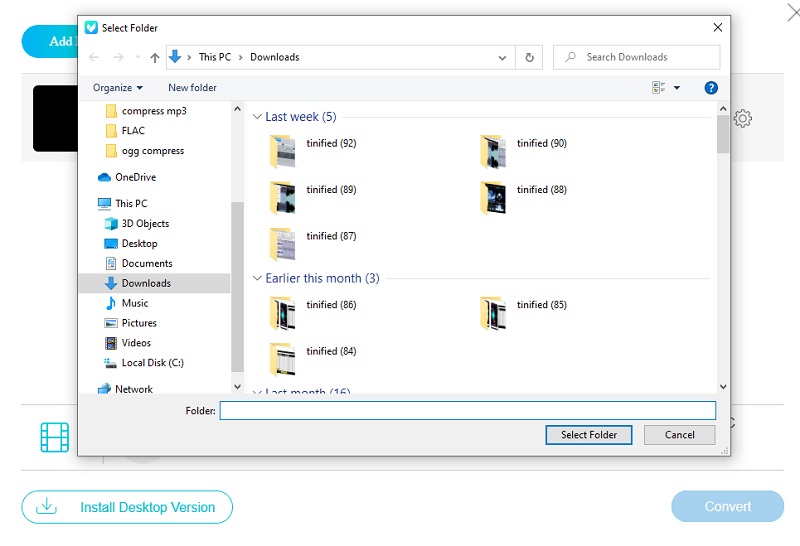 2. Audio Converter
The Audio Converter is one of the most popular and secure web-based OGG compressors. This online service allows you to convert or compress any file format for free. On the platform, you may customize many audio and visual experience elements using a variety of options and complex settings. If you're a newbie, though, you could find this too complicated. Overall, it will assist you in achieving the file reduction you desire.
Step 1: When you access the link, choose the Open File option on the screen. You may upload files directly to the site's interface using Google Drive or Folder. Then sit back and wait for your file to upload.
Step 2: Select Advanced Settings to change the audio file's bit rate and sampling frequency next. Additionally, you will be able to edit the track data using the tool.
Step 3: Select the Convert option to finish the process, and the audio track will be compressed and changed correctly.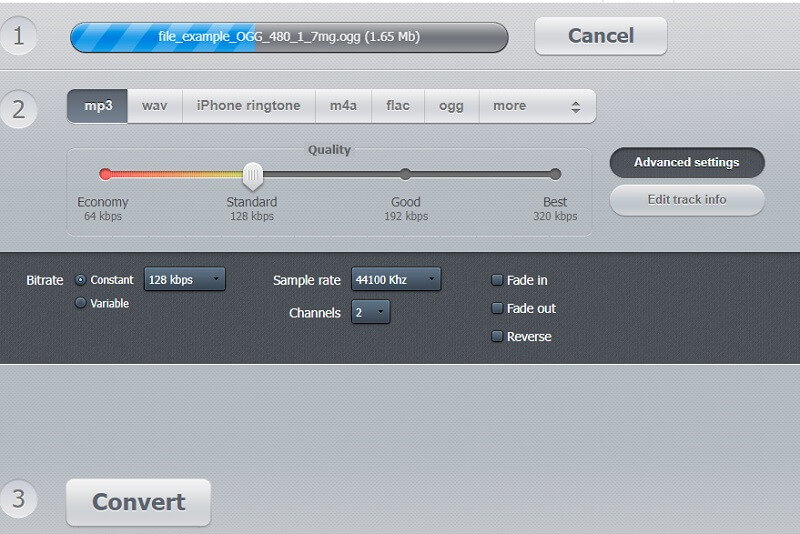 Part 4. Comparison Chart
Take a look at the benefits and limitations of the audio editing tools described above in this quick comparison table.
Key Features

Windows and Mac Compliant

Rich in Audio Editing Tools

User-Friendly Interface

Can Edit Both Audio and Video
| | | |
| --- | --- | --- |
| VIDMORE FREE VIDEO CONVERTER | VIDMORE VIDEO CONVERTER | AUDIO CONVERTER |
| | | |
| | | |
| | | |
| | | |
Part 5. FAQs About Compressing OGG Files
Is OGG superior to MP3?
The sound quality of OGG Vorbis is superior to that of MP3. The compressed file in OGG Vorbis format is smaller than the MP3 compressed file.
How can I make an OGG file smaller in the most accessible manner possible?
Lossy compression is the most straightforward and efficient approach to reducing an audio file's size.
What is an OGG file suitable for?
The Ogg format was created to make high-quality digital multimedia easier to broadcast and edit.
Conclusions
You will not run out of storage space on your device with the aid of this article. You may instantly reduce the size of your favorite files by utilizing the OGG audio compressor. As a result, if you wish to save your files, start compressing them using OGG audio compression tools. So, what exactly are you waiting for? Choose the instrument that you believe will be most beneficial to you.