Find Ways How to Compress WMA Files With Online and Offline Solutions
Have you ever experienced sending your file by email, which ended up not sending it because it exceeded the file size? Annoying right? Worry no more because from now on, you can send your audio files because we will teach you how to compress WMA files for email. By reading the post below, you will know the proper tools you can use online and offline for compressing your most loved files. Take a look at the most reliable WMA audio compressors.

Part 1. Why Compress WMA
Before anything else, let us first know the definition of a WMA file. Windows Media Audio (WMA) is the abbreviation for WMA. Microsoft introduced the .wma extension in 1999. MP3 and Real Audio formats were established to compete with this format. However, it could not hold its own against MP3. Windows Media Player can play WMA files, which come pre-installed on Windows. There are various reasons why we need to compress a WMA file. It can be because we lack space on our device, or it is not compatible with the device we are transferring. As we've all heard, compression degrades the audio quality. WMA standard compression, on the other hand, provides good sound. You may utilize WMA's lossless compression if you require better sound quality. In general, the sound quality of WMA files is superior to that of MP3 files.
Part 2. Best Way to Compress WMA
In this part, we will give you the most commendable offline tool to compress WMA files. Please take a look at them and see their step-by-step process below.
1. Vidmore Video Converter
When it comes to a professional and easy program to use, Vidmore Video Converter is the clear winner. It is the first and most common method of reducing the size of your WMA files. This incredible program supports Windows and Macintosh. So you may use it on any device. You don't need to be an expert in compressing WMA files because of the simple interface. When compressing a file, you don't have to worry about the file's quality since you may change its settings. Finally, the conversion process is straightforward. Here is a step-by-step guide to help you understand how this program works:
Step 1: Download the WMA Audio Compressor
To begin, you'll need to get the software. The program may be downloaded by clicking on the links below. At this moment, open and use the program that was installed.
Step 2: Upload the WMA Files You Want to Compress
Start the software and then click Add Files or Plus to add files. Then choose the file you want to compress from your device's storage.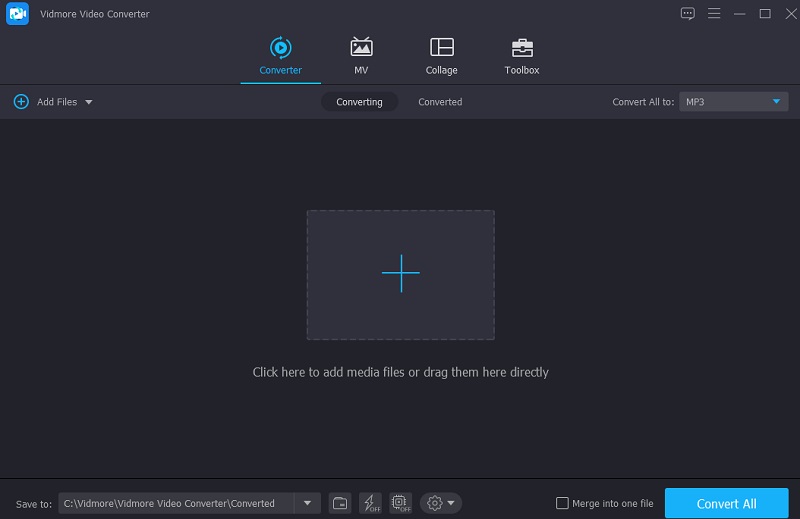 Step 3: Proceed to the Audio Settings
After you've added your WMA file, navigate to the Audio area in the right-hand drop-down menu. Before you begin, you must choose a file type for your project. Choose a low or medium bitrate selection from many quality alternatives.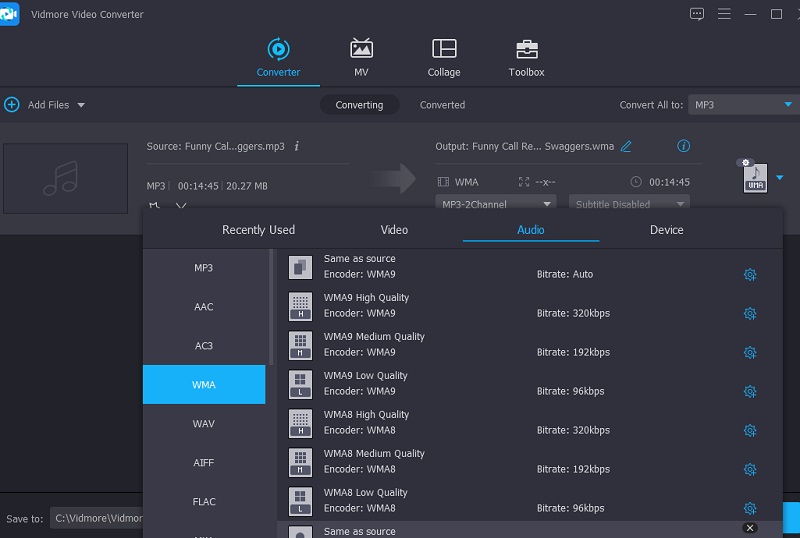 Step 4: Compress the WMA File
To compress your audio file, navigate the Convert All tab once you've decided on a bitrate. After a few seconds of waiting, everything will be fine! Your file has been compressed to save space.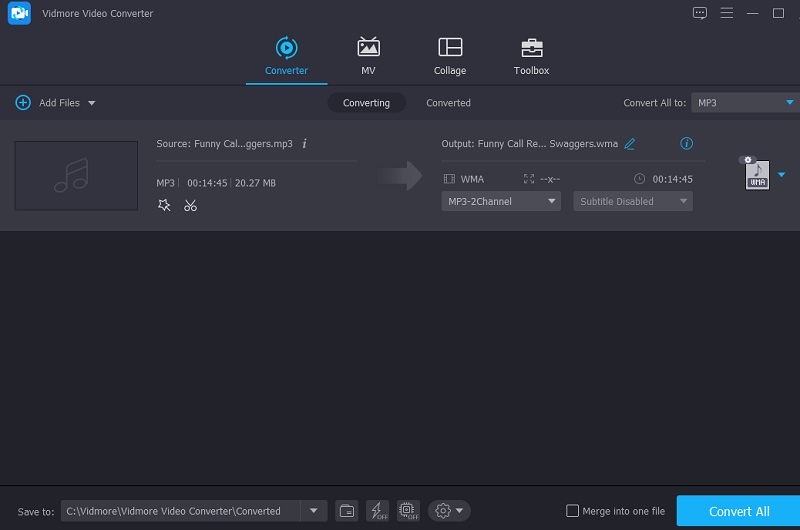 Part 3. Compress WMA Online
If your device cannot absorb another tool, you can give an online tool a go. With that, here are the two ways to compress a WMA file online.
1. Vidmore Free Video Converter
Vidmore Free Video Converter is the most acceptable option if you want an internet program that converts without limitations. This online tool is straightforward to use. It has no trouble compressing WMA files. That is why the majority of users are enthralled by this simple-to-use tool. Because we all know that web-based programs have restrictions, particularly when it comes to conversion. This online software offers an edge. It may convert indefinitely. In addition, here's a quick tutorial on how to make your WMA file smaller.
Step 1: To get the app launcher, enter Vidmore Free Video Converter into your search engine and click the Add Files to Convert and download buttons.
Step 2: Click Add Files to Convert again after launching. It will open a folder containing all of your files and then import the file you want to work with.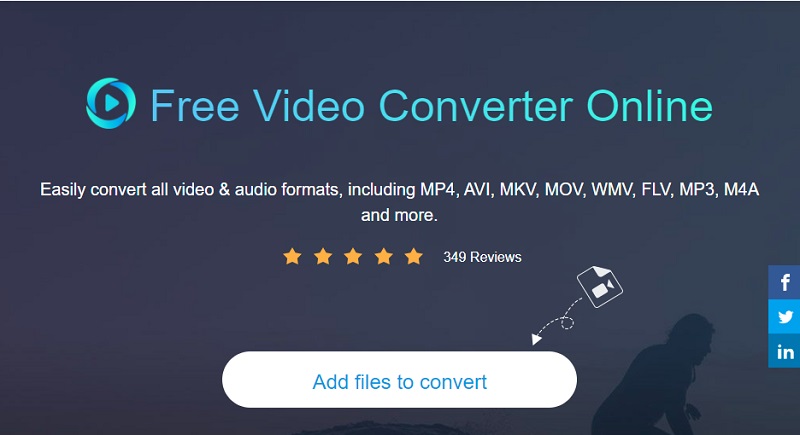 Step 3: The file's format can be selected by clicking the Music button. Click the Setting button in the Bitrate drop-down menu and choose the lowest value. Please press the OK button to finalize your changes and save your progress.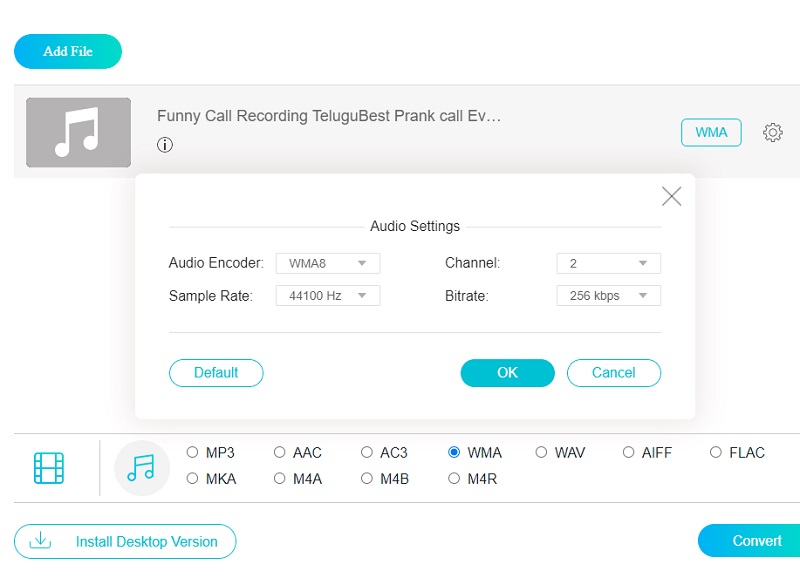 Step 4: Click the Convert button when you've completed all of the stages. A new window will emerge by selecting the Select Folder option, allowing you to choose a new location for the converted file.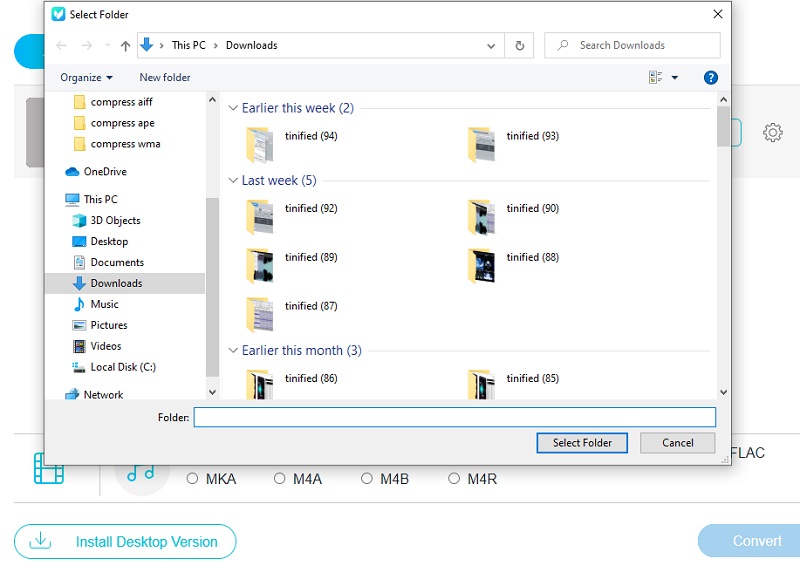 2. Audio Converter
One of the most widely used and safest web-based WMA compressors is Audio Converter. You may use this service to free convert or compress any file type. Using a wide range of choices and complicated settings, you may adjust the audiovisual aspects of your experience on the platform. Inexperienced users may find this to be too difficult. As a whole, it's going to help you cut down on the number of files you have.
Step 1: Select the Open File option on the screen when you open the link. Google Drive or Folder may be used to upload files directly to the site's interface. After that, all you have to do is sit back and watch your file upload.
Step 2: To adjust the audio file's bit rate and sample frequency, go to the Advanced Settings menu and choose that option. As a bonus feature, the tool lets you alter the track data.
Step 3: Converting the audio track is done by selecting the Convert option, and it will be compressed and altered accordingly.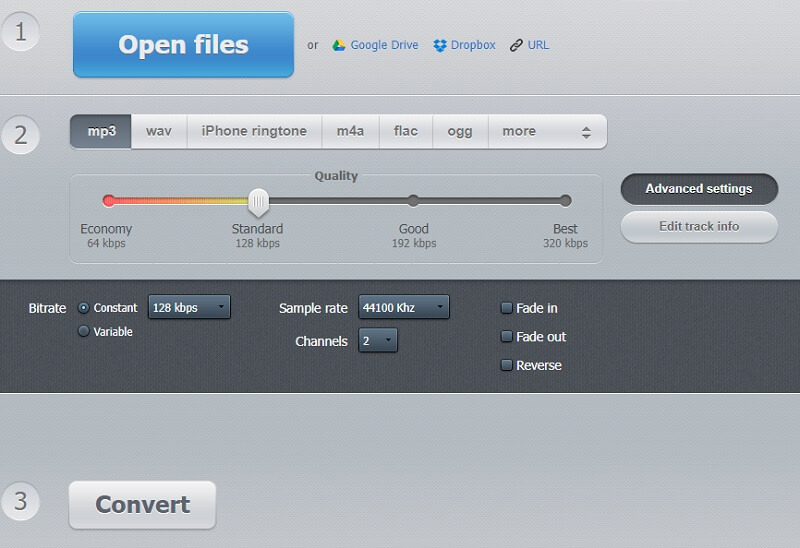 Part 4. FAQs About Compressing WMA File
Is WMA better than MP3?
Compared to MP3, WMA offers better sound quality at lower bitrates, resulting in reduced file sizes. Lame is the encoder used by MP3, whereas WMA has its own. It may be possible that you need to convert between WMA and MP3.
Is WMA the same as WAV?
No, WAV stands for uncompressed audio, and WMA stands for compressed audio. WAV commonly uses LPCM to encode data, while WMA saves encoded data like MP3 files.
Can WMA files be played on phones?
Unlike MP3, which is widely supported by mobile devices such as Android phones, it can only play WMA on Windows. Or you need to apply for a WMA player.
Conclusion
Now you won't have a hard time sending your WMA files by email. You have to read the post above and learn how to compress a WMA file with the online and offline tools above. So hurry up and start compressing your most loved WMA files!