Top 3 Best WMA Metadata Editor For Mac, Windows, and Mobile Devices
If you have recorded an audio file and it is in the WMA format, you can easily adjust it with the help of the WMA metadata editor. In this post, we have listed the most trusted metadata editor for Mac and Windows devices. However, if you are concerned about not having a full-blown computer device and you are really desiring to edit your WMA file's metadata, be at ease because you can still change WMA metadata using an Android and iOS device. Take a look at the data below for you to easily change your file's information.

Part 1. Best WMA Metadata Editor on PC/Mac
If we list down all the WMA metadata editors that are compatible with Mac and Windows devices, we can say that there are a lot. However, not all of them have a professional yet easy-to-navigate interface. That is why Vidmore Video Converter stands tall among them. It is the best audio and video editor that you can use for your collection of music or favorite video footage. If you are particularly interested in the editing features, you can definitely go with this software because it offers a bunch of useful editing features. You don't need to have full knowledge about a metadata editor before you can use it, unlike other tools.
What makes it even more amazing is it is not just a typical metadata editor, you can also edit your audio's quality with just a few adjustments in the audio settings. Or you can cut out the parts that you wish to remove on your audio tracks. This WMA metadata editor still works at its best even though there is no internet connection. And when it comes to the conversion process, you can get the file easily as it offers a faster conversion process on both audio and video files.
Pros of the WMA Metadata Editor
Converts audio and video files at a faster rate.
Even with a poor internet connection, it still performs effectively.
It has an easy-to-use interface.
Over 200 video and audio file formats are supported.
Compatible on Windows and Mac.
Cons of WMA Metadata Editor
It still does not have an Android or iOS version.
For a better understanding of how to edit your audio files with the help of the WMA metadata editor, here is a quick glance at the step-by-step process on the list of information below.
Step 1: Download the WMA Metadata Editor
Before you start, click one of the Download buttons below to get the WMA metadata editor. It must also be installed. Once it has been successfully installed, launch it on your Windows or Mac device.
Step 2: Insert the WMA Audio Files
You can now upload the WMA audio file you have in your Library once the software is fully operational. To add it to the Timeline, simply click the Add Files button in the upper left corner of the screen, or tick the Plus icon in the center. You are free to add as many files as you want.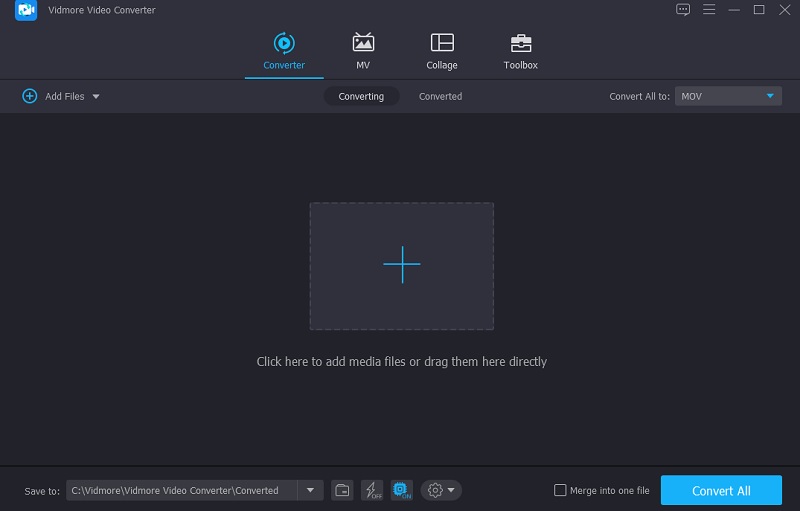 Step 3: Go to the Editing Section of Metadata
After that, you can proceed to the metadata editing section after you've added the WMA files to the Timeline. Simply click the letter i symbol on the right side of the WMA file thumbnail to open it. When you click the i symbol, a folder will appear, and you will need to fill in the necessary fields, such as the Artist, Title, Album, Year, or simply the data that you desire to upload.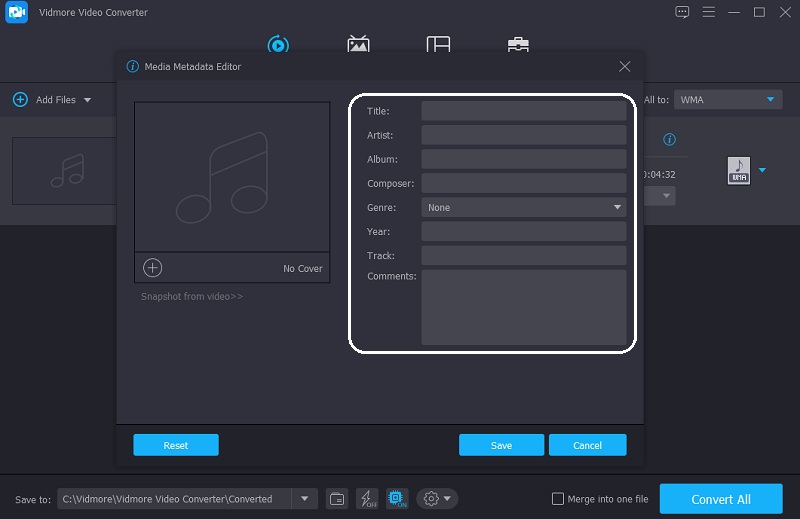 Another thing you can do to spice up your WMA files is to include a cover photo. You can add any photo you want to the tracks. Simply click the Plus sign in the lower right corner of the frame, and the file in your Library will appear; select the image that you want to use as a cover photo. When you're finished, click the Save button.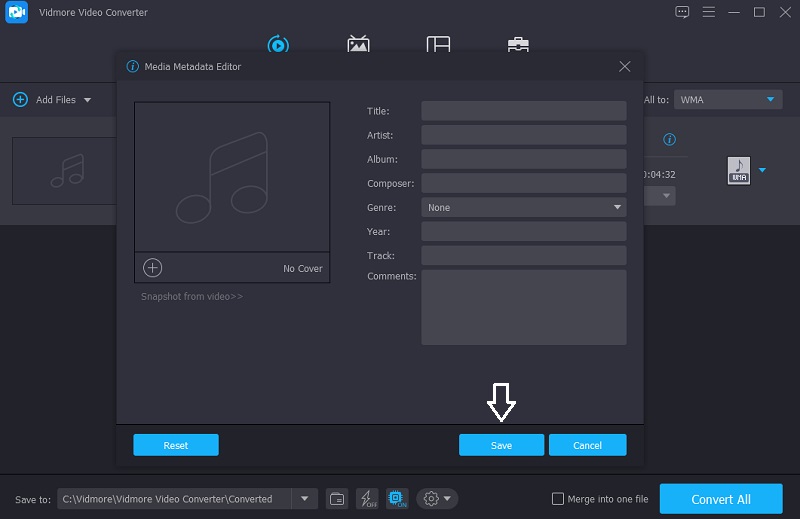 Step 4: Convert the WMA Audio Files
After editing the WMA file's metadata and adding a cover photo, you can proceed to the tool's main interface. Simply click the Convert All button in the lower right corner of the screen and wait for the conversion to complete. That's it! You now have updated metadata for a file.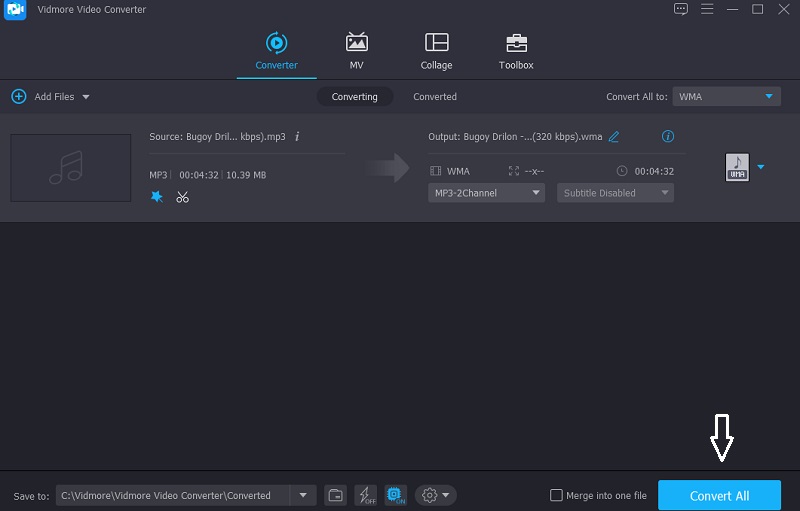 Part 2. WMA Metadata Editor on Android/iPhone
If you are having a hard time editing your MWA file's metadata because you are lacking in equipment, you can depend on this post as we will share the ways to change the WMA metadata on Android and iOS devices.
1. Star Music Tag Editor
You can rely on the Star Music Tag Editor if you need a WMA metadata editor that you can install on your Android device. The tool's interface is very friendly, and it is predictable due to its simple editing features. It provides SD card support during the editing process. Aside from that, unlike other metadata editors for Android, there are very few advertisements. Finally, this tool works flawlessly and saves space on your memory card. As a result, you will have no issues with this tool.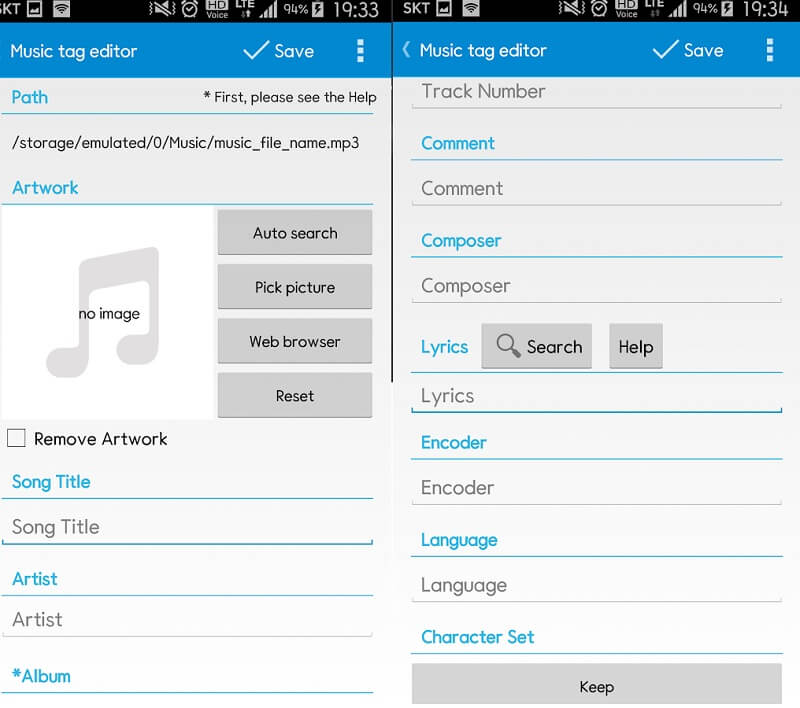 2. Evermusic: Offline Music
Having an iOS type of device is a bit hard because you need to find the best tool that will be compatible with your device. Good thing we have Evermusic: Offline Music. This tool is a music player and downloader for your iPhone and iPad. Aside from that, it is also a bass booster, metadata editor, and playlist manager. If there are cases that your metadata was corrupted, you can refer to Evermusic because it has the ability to edit and restore your file's metadata files here. The most popular formats it supports are MP3, AAC, M4A, WAV, AIFF, M4R, and so on.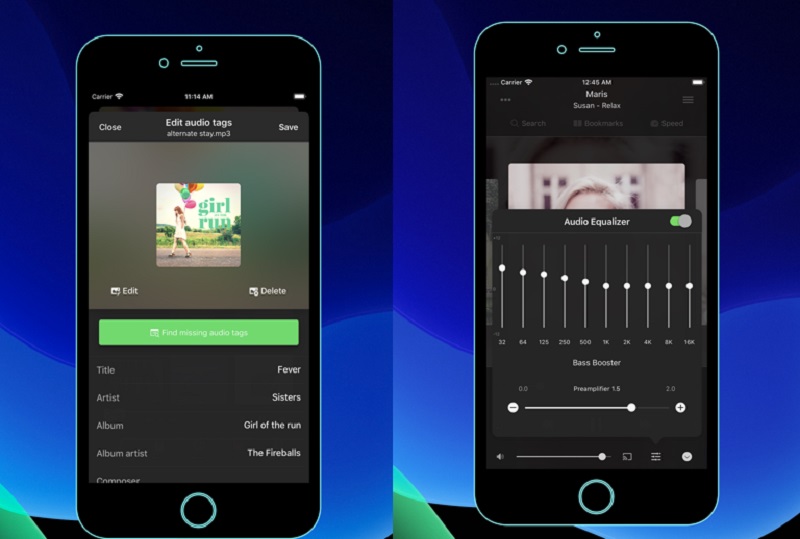 Part 3. Comparison Chart Of WMA Metadata Editor
In this part, we will give you a simple illustration for you to know the similarities and differences of the WMA metadata editor for Mac, Windows, and mobile devices.
| | | | |
| --- | --- | --- | --- |
| KEY FEATURES | Vidmore Video Converter | Star Music Tag Editor | EverMusic: Offline Music |
| Supports many file formats | | | |
| User-friendly interface | | | |
| Can Edit Audio and Video Metadata | | | |
Part 4. FAQs of WMA Metadata Editor
What is the meaning of a WMA file?
A file with the extension.wma is a Windows Media Audio (WMA) file. It was created by Microsoft to compete with MP3. It is mostly used for online music streaming.
Does Star Music Tag Editor only available for Android devices?
Actually, it is also compatible with iPhone devices.
Does Evermusic support FLAC format?
Evermusic was established to serve all standard audio files. So, if you don't need any additional audio formats and have only MP3, ALAC, or FLAC files, you can use Evermusic.
Conclusion
If you don't have a full-blown computer device to edit your audio track's metadata, you can count on the metadata editor for Android and iOS. However, if you want a professional WMA metadata editor, you better choose the software which is Vidmore Video Converter for your better experience.