Combine WMA Files with Free Web Tools and Superb Offline App
Imagine listening to incomplete tracks or separate WMA audio lectures stored on a CD. Everyone wants to listen to an uninterrupted playback, right? When the interruption is present, the momentum is interrupted as well. The ideal way to achieve an interrupted playback is by merging them into one file. With that being said, we will examine the best tools to combine WMA files covering both offline and online methods. Find out which tool serves your preferences well.

Part 1. How to Merge WMA Files Online
1. Aconvert
Aconvert is an online program that is specifically designed to convert audio files with the help of the internet and a web browser painlessly. In addition, it provides a feature that allows you to merge or combine audio files like WMA. Aside from that, it comes with various import methods, including local, online, Google Drive, and Dropbox. That means you can choose to upload from your local drive, from an online source or website, and from the cloud. Moreover, the maximum file size with which it can upload is 200M. Take a look at the steps beneath to learn how to combine WMA files into one.
Step 1. Begin by visiting the website of the program. Simply type its link on your browser's web address field, and you should land on its main interface.
Step 2. Go to the audio interface by clicking the Audio option on the left side panel. Next, click the Merge option at the top menu bar.
Step 3. This time, click the Choose File button and select the WMA files you wish to upload and combine.
Step 4. Then, click the Submit button, and the merging process will commence. Depending on the sequence you add them, that is the order they will play.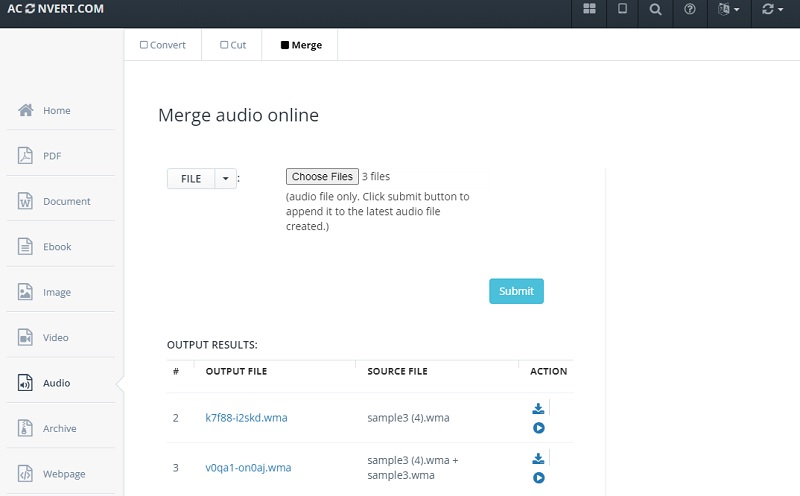 2. Clideo Audio Merger
All-around online audio editor is how we describe Clideo Audio Merger. The reason being is that it offers diverse tools. You can find audio cutting and cropping tools, converter, recorder, merger, and so much more. Furthermore, the output is highly customizable as it enables you to arrange the sequence of the songs. You may also add effects like crossfade and several audio formats for your converting needs. Here's how to merge WMA files into one using Clideo.
Step 1. Please access the website of the tool by typing its web address on the link bar on your browser.
Step 2. Browse through the Clideo tools and choose the Merge Audio option.
Step 3. Then, upload your target WMA files. Click the Choose files button and load your desired WMA files. The audio merging interface should appear afterward.
Step 4. Organize the order of the songs accordingly and apply effects as necessary. To initiate the merging process, click the Export button at the bottom right corner.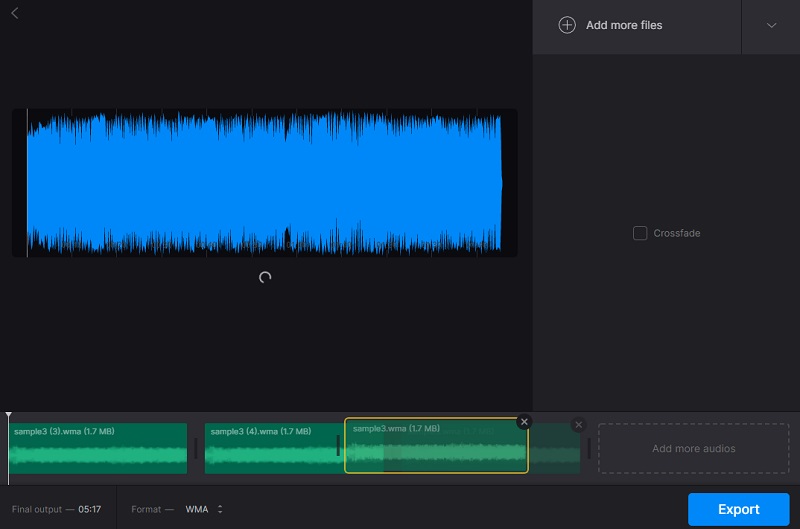 Part 2. Professional Way to Combine WMA Files
There is no doubt that online tools are convenient since you don't have to install any software and merge WMA files for free. The biggest flaw of this type is that they are dependent on the internet. This could cause interference with the upload and merging process, whether you like it or not. Better yet, switch to offline tools like Vidmore Video Converter.
This is a piece of application that packs powerful features to merge and edit media files professionally. It can join audio files of the same format regardless of the number and length of the audio file. More importantly, it allows you to trim, cut, or splice audio in a few simple clicks. Acquire the knowledge of the operation to merge WMA files in the list of steps below.
Step 1. Run the WMA Converter
Firstly, download the program on your PC or Mac. Simply choose between the Free Download button to get its latest version. Install and run this powerful audio merging program.
Step 2. Upload WMA files
Click the Plus sign button to add audio files. Alternatively, you may drag and drop the audio tracks to the program as another way of uploading files.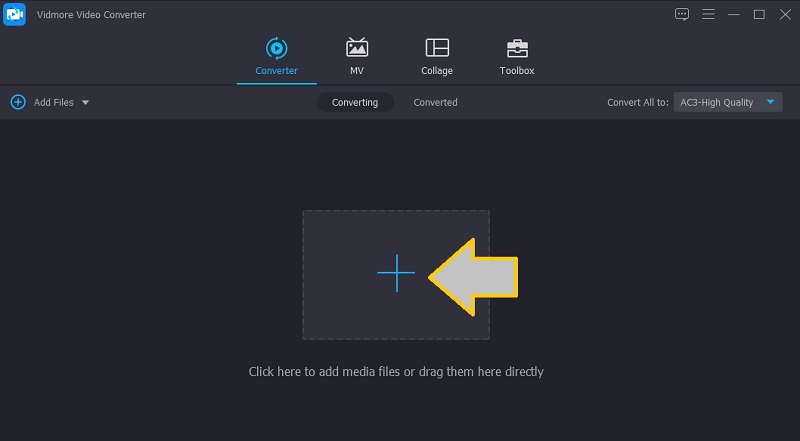 Step 3. Trim audio file
From the list of audio files, choose the one you would like to edit and click the Cut button. Drag the audio handlebars to trim the file or set value in seconds to cut the video into parts on the editing interface. Hit the Save button to confirm the changes.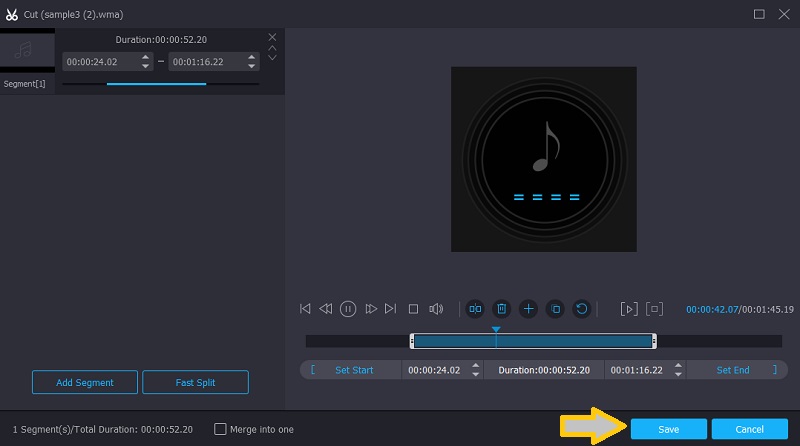 Step 4. Combine WMA files into one
At this point, mark the Merge into one file option with a check. Then, unfold the Profile menu and open the Audio tab to choose the appropriate output format. Lastly, click the Convert All button to merge the WMA files together.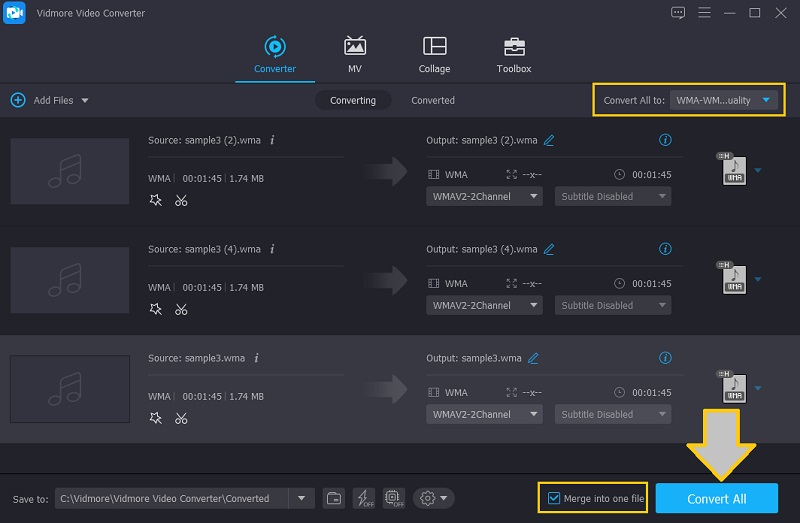 Part 3. Comparison Among the 3 Tools
For a visual comparison of the 3 tools reviewed above, here is a table illustration that might help you.
Tools
Fast-speed
Tool Box
Windows and Mac Compatibility
Editing function
Aconvert
Clideo
Vidmore Video Converter
Part 4. FAQs of Merging WMA
How do you convert WMA to MP3?
Assuming you already ripped the WMA files CD, you can now easily change WMA files to MP3 files using a converter. You can choose to do it offline using desktop tools like Vidmore, which offers merge and split WMA capabilities. You may also convert online using web tools.
What do you mean by WMV WMA?
If the file has an extension .wmv, it is compressed using Windows Media Video codec. On the other hand, the file is compressed using Window Media Audio codec if it has a .wma file extension.
Which is better, WMA or FLAC?
They are both lossless, and there is little to no distinction in the sound difference. But if you are choosing a file that is smaller in file size, go with WMA format.
Conclusion
You can now enjoy a playback that does not have pauses, for you may join WMA files into one using the above programs. You can use these methods even for future listening. Yet, the most advisable tool for long-term use would be Vidmore Video Converter. There is no limitation or restriction. Plus, you can enjoy combining and converting files without internet interference.