Top FLAC Metadata Editors to Update Music Tags Efficiently
Are you fond of downloading music files, like FLAC, online? Then, you look at the metadata or music tags and need to be more accurate. Isn't that frustrating? Instead of downloading and seeing them organized without your intervention, you will have to worry about their music tags. Lucky for you, there are tools developed for this kind of need. At the present time, you can edit the metadata of any media file using the right program.
In this article, you will learn what the popular and most sought-after FLAC metadata editors to modify the music tags of your OGG files effortlessly are. To cut to the chase, check out these programs below.

Part 1. Recommended Metadata Editors for Windows and Mac
1. Vidmore Video Converter
One of the best audio metadata editors that allow you to view, remove, and update metadata on your file is Vidmore Video Converter. The tool supports multiple formats, including FLAC, OGG, WMA, and many other audio formats. In addition, it accepts MP4, MKV, FLV, and AVI to edit your video metadata. Furthermore, you will have an easygoing experience in doing your tasks because of its user-friendly interface. Even if it is your first time using it, you will get the hang of it in no time.
What is more, you can do other essential editing, such as cutting audio into segments, syncing audio, rotating video, adding filters, and many more. In a sense, you have an all-rounder program. Meanwhile, here are some advantages and disadvantages you may look into about this tool.
Pros
View, edit, and remove metadata of FLAC files.
Insert a thumbnail into the audio file.
It is a great choice for Mac and Windows users to edit metadata.
It comes with a user-friendly interface.
Cons
It cannot edit multiple-files metadata.
The free version is limited in features and functions.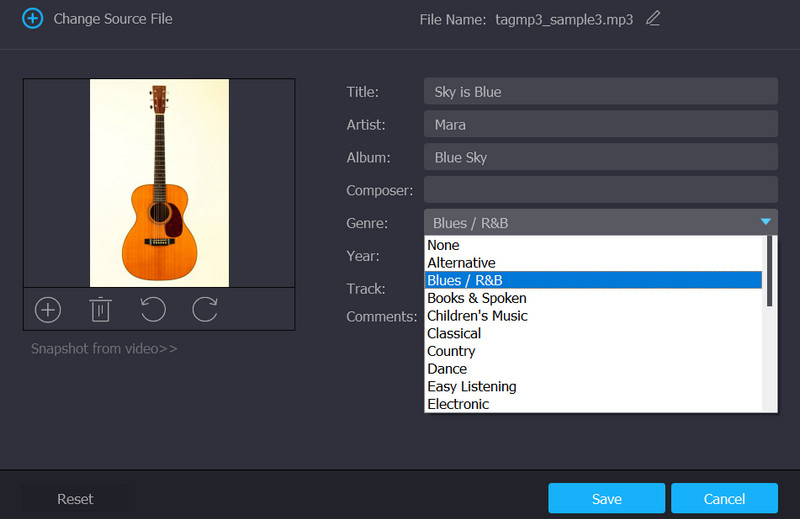 2. VLC Media Player
VLC Media Player is a cross-platform digital player that offers metadata editing tools for your audio and video files. The program is compatible with Windows, Mac, and Linux computers. Not to mention, it supports almost all media file formats, such as FLAC, MP3, WMA, and many more audio files. Meanwhile, editing the Title, Artist, Album, Genre, Date, and Track number is possible using the VLC Media Player. You may also view extra metadata with this program as it allotted an extra panel for this case. Learn more about this tool through the pros and cons.
Pros
It works on all operating systems.
The program comes with a user-friendly interface.
It is an open-source program to edit metadata.
Cons
The interface has never been updated.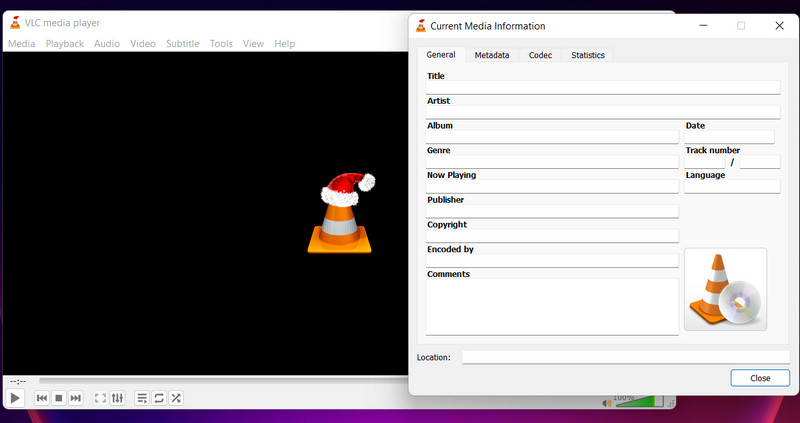 3. Metadata++
Another open-source FLAC metadata editor you can consider using is Metadata++. This is a convenient tool for those who like to operate with hotkeys. Yes. The tool supports hotkeys, so you do not have to use your mouse to execute the tasks of editing metadata. Aside from editing, it can also add and delete metadata from your video and photo files. On top of that, you can change the language of the tool you are comfortable using. If English is not your native language, you can switch to French, Spanish, Russian, etc.
Pros
It comes with a Unicode display.
Fast process of editing metadata with the help of hotkeys.
It is available in different language settings.
Cons
The GUI needs an update.
Overwhelming setup of tools and functionalities.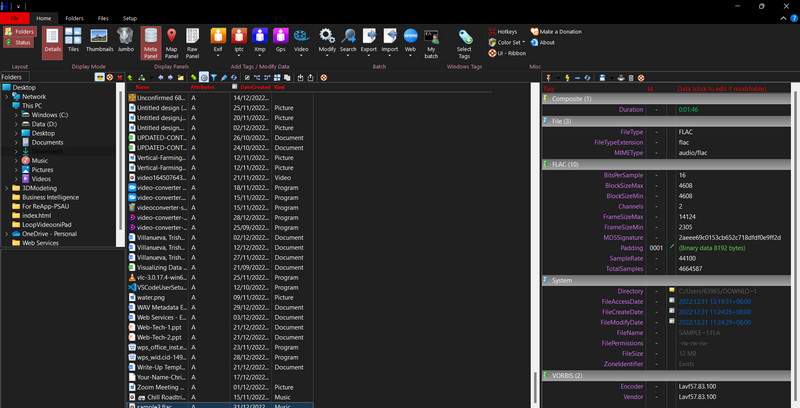 Part 2. Bonus: Tutorial on How to Edit FLAC Metadata
If you are elated and want to start editing the metadata of your FLAC files, then you should see the guidelines below. Here, you will learn how to edit FLAC metadata with Vidmore Video Converter.
Step 1. Grab the installer of the app and install
First off, grab a copy of the program's installer for the latest version by clicking the Free Download button below. Once downloaded, open the installer and follow the setup wizard. Next, install and launch the tool on your device. Circumnavigate the tool and get yourself comfortable with using it.
Step 2. Run the Metadata editor
Upon launching the tool, you will notice the tabs in the upper portion of the interface. Go to the Toolbox tab, and you will see a set of tools the program is offering. Now, select the Media Metadata Editor to launch it. You should see another panel.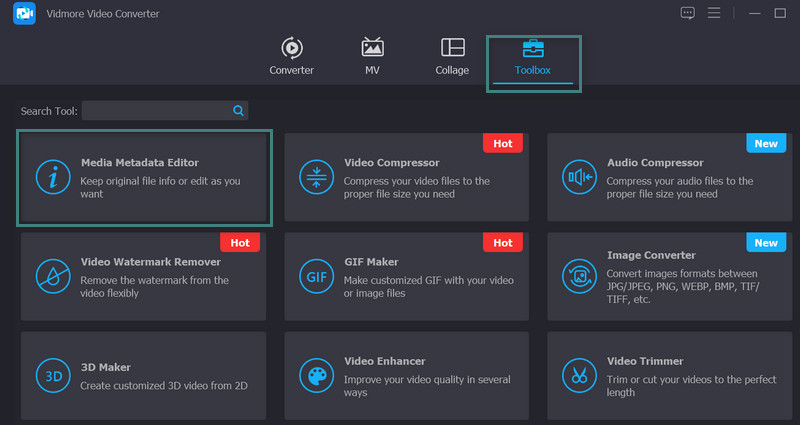 Step 3. Load a FLAC file
This time, tick the plus sign button in the middle of the upload interface. It should open Windows Explorer on your PC or the Finder on your Mac. Now, select the FLAC file to edit the metadata. Then, hit the Open button to load it into the program. Once done, it will redirect you to the actual metadata editor of the tool.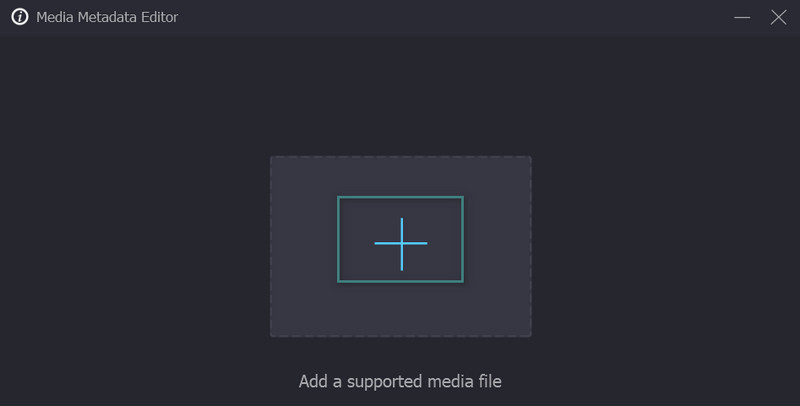 Step 4. Edit the metadata of the FLAC file
At this point, you can edit the metadata of your FLAC file. Notice the different categories. Each category comes with a text field. To edit them, tick on a specific field and enter the right information. After that, you can choose to add a thumbnail to your music file. Finally, smash the Save button and preview the file using the Properties menu on Windows.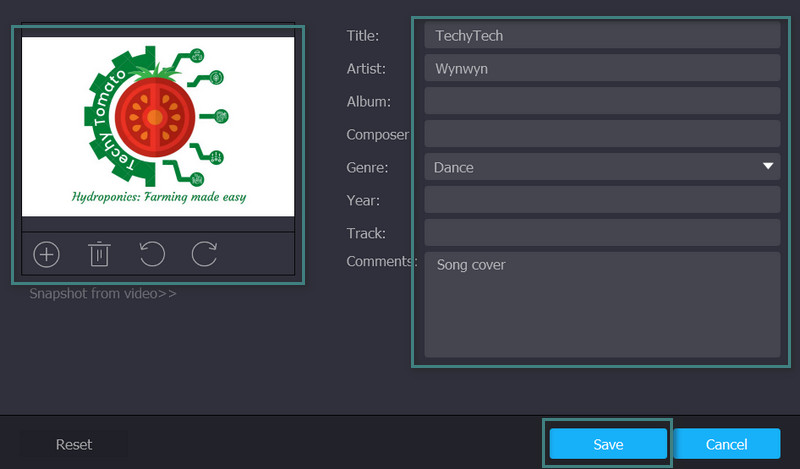 Part 3. FAQs about FLAC Metadata Editors
How do I modify the album art of FLAC?
There are programs that offer the feature of adding or editing the thumbnail of a song. Like Vidmore and VLC, you can choose to edit the album art of your FLAC file using these tools.
Can I view FLAC metadata online?
There are a few online tools that allow you to view the metadata of your media files. If there is, only a few file formats are supported. FLAC is not one of the supported files by web-based metadata viewers, though.
Can I open a FLAC file on Mac?
Mac and Apple devices do not natively support FLAC playback. Nonetheless, you can get a FLAC player compatible with your Mac and play your favorite FLAC file.
Conclusion
There you have it! The list of proven FLAC metadata editors is listed above. For further scrutiny, we have included their pros and cons. In other words, we have done comprehensive research for you. If you are asking which is the best tool to use, Vidmore Video Converter stands out among the rest. See for yourself by downloading the program and find yourself having pleasure editing your FLAC metadata.