Edit Your Sound Track's Metadata with These M4B Metadata Editor
You may be wondering what information that you are seeing on your M4V files in your media players. Well, that is metadata. Metadata is the information you see in your audio tracks or video clips whenever you play them. The metadata contains the title or artist name, track length, BPM, or genre if the music file itself represents the data. In comparison, the metadata in videos is vital information such as the theme, the actors, and even the location.
And if you desire to edit your M4V metadata, you can also refer to this post as we will help you take control and navigate the M4V's information through the most recommended editor for Mac and Windows.

Part 1. Best M4V Metadata Editor on Mac
1. Vidmore Video Converter
If you are a typical individual aspiring to be a movie maker or create a slideshow and looking for a tool to edit the information or metadata of your video clip on your Mac device, you better refer to Vidmore Video Converter. You may be thinking about how to navigate this. The good news is it offers a user-friendly interface. Therefore you will not have a hard time anymore exploring the editing features.
Vidmore Video Converter is a one-stop shop as it contains an audio and video editor. You can use it to change the file format and cut/trim the audio and video clips at ease. Aside from that, if you are a person whose time is precious, you can count on this tool as it offers a faster conversion process, no matter how large the file size is. One thing that makes Vidmore convenient to use is its ability to work best even if the internet connection is poor. Here is a simple step-by-step process to better understand how to edit M4V metadata using this fantastic program.
Step 1: Acquire the M4V Metadata Editor
Before anything else, click one of the Download buttons given below to get the metadata editor. After you acquire the tool, you can now install it and let it run on your device.
Step 2: Insert the M4V Files
As soon as you open the tool, you will see the main interface. To add your M4V file, you need to click the Add Files on the left upper part of the screen, or you can just tap the Plus icon located on the center screen of the tool.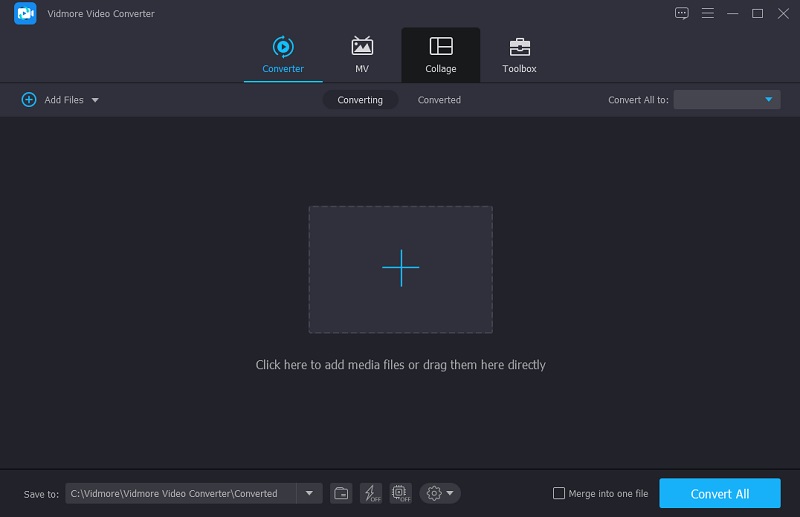 Step 3: Edit the M4V Metadata
Then, you can now change the information after you've added the M4V video to the Timeline. Simply go to the blue-colored letter i icon on the right side of the M4V file. Then you'll see the fields that need to be filled in, such as Title, Artist, Genre, and so on. Simply place the information you want to be visible on your M4V file.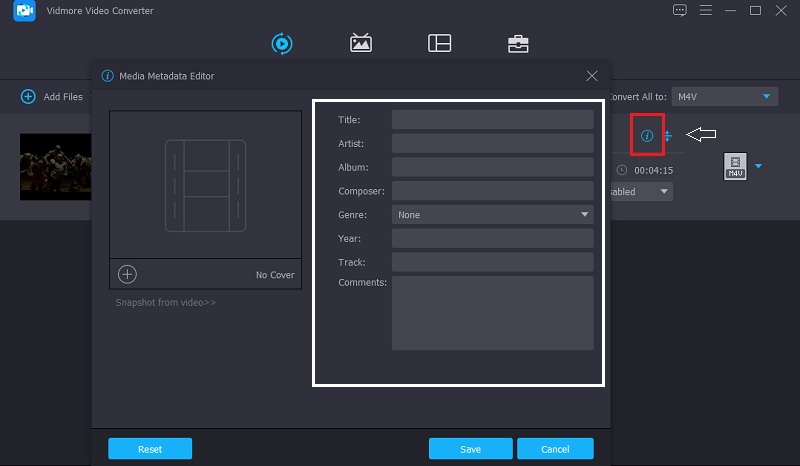 In addition to that, you can change the cover photo for the audio tracks. Simply click the Plus symbol that appears below the frame and select the image you wish to view every time you play your M4V files on your media player from the Library. After that, press the Save button.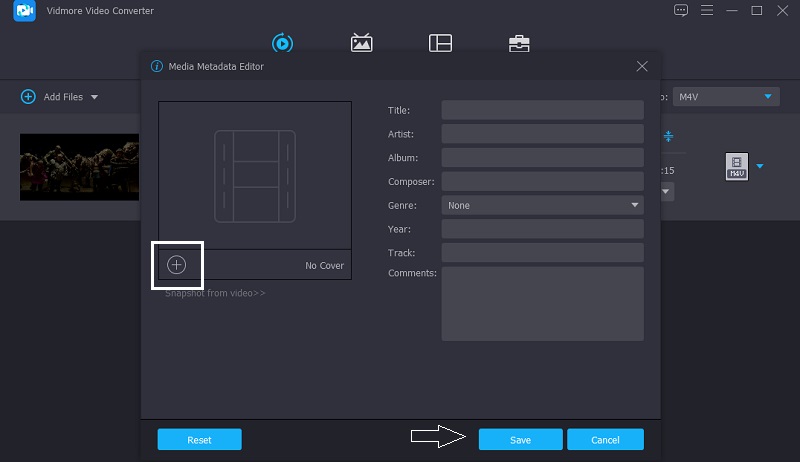 Step 4: Convert the M4V File
Finally, you can begin the conversion process after entering the information on the M4V files and inserting a cover photo. To make the changes take effect, click the Convert All button and wait for the conversion to complete.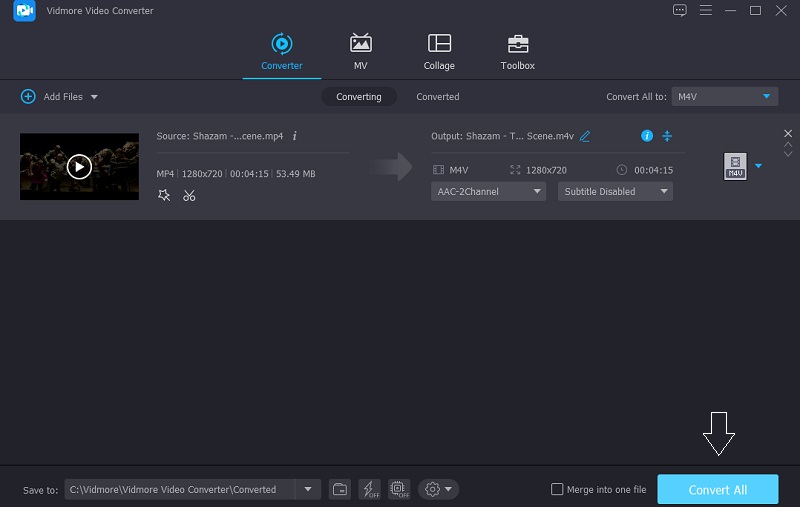 2. iTunes
Another software that is compatible with Mac and iPhone devices is iTunes. It is a type of software that will allow you to add, organize and play your media collection on your device. It is a free app that manages your music library and music video playback. Aside from that, you can use this to play your music even without an internet connection. It is mainly being used for downloading, playing, and editing audio and video files.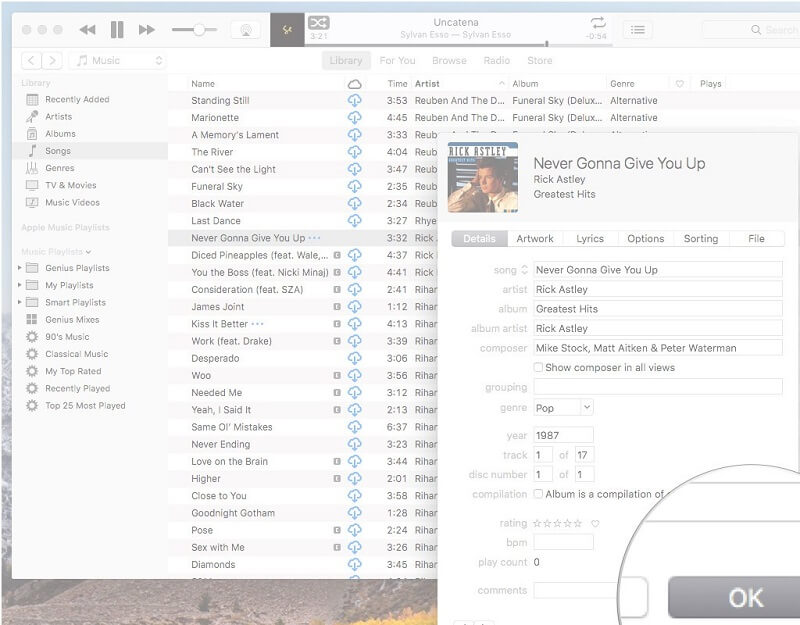 Part 2. M4V Metadata Editor on Windows
So far, we have shared the M4V metadata editor on Mac, and at this point, we will share the most recommended M4V metadata editor on Windows devices. Take a look at them and see which tool suits your taste best.
1. TagScanner
TagScanner is software that allows you to change metadata while also storing audio recordings in a chronological sequence. TagScanner, like other file editors, will enable you to rename and modify audio and video files, as well as a large number of different files. What makes this software so worthwhile is its ability to change the metadata of large files quickly. In addition, metadata can be obtained straight from the computer's library.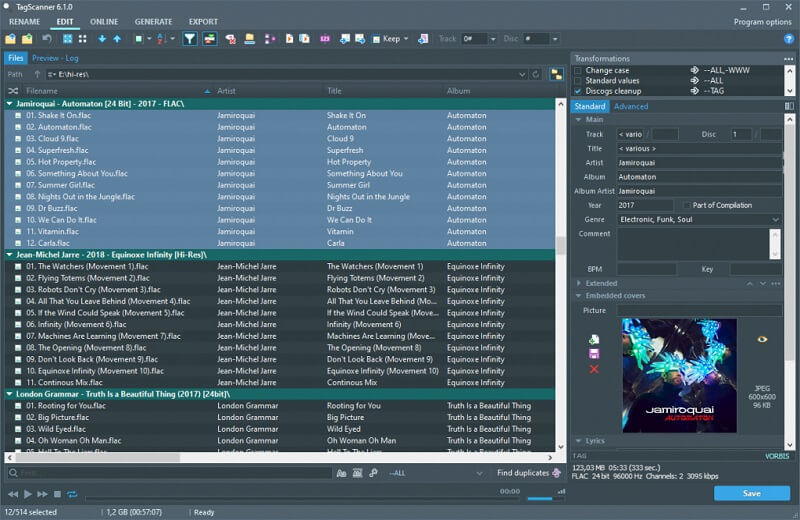 2. TigoTago
You can rely on TigoTago if you're seeking a simple M4V metadata editor for Windows. Its system's editing tools are incredible, and it lacks a lot of complexities, making it run smoothly and efficiently. As a result, if you are unfamiliar with editing software, you will appreciate this software's user-friendly design.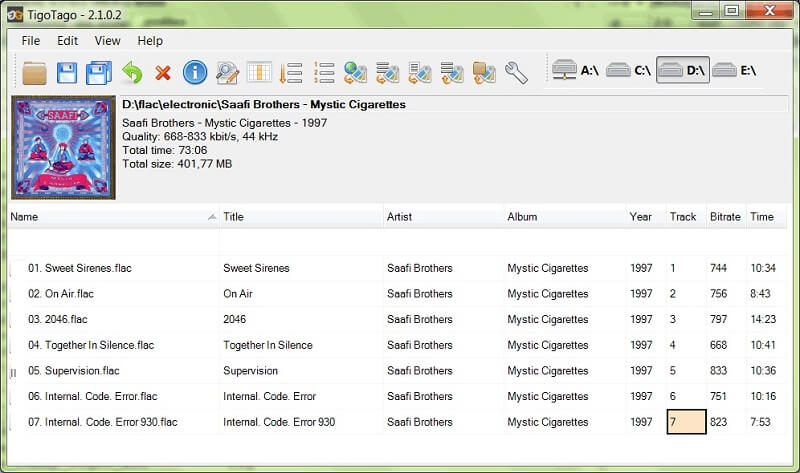 Part 3. FAQs About M4V Metadata Editor
What is an M4V file?
M4V files are MPEG-4 files that are used to carry video from the Apple iTunes store, such as TV episodes, music videos, and full-length movies.
How to edit metadata on iTunes?
Choose Music from the pop-up menu at the upper left of the iTunes software on your PC, then select Library. Then, on the left, select Songs from the sidebar. After that, choose the item, then Edit, and then Song Info. Finally, type in the updated data and press Enter.
What are the benefits of video metadata?
It simply adds context to video material, allowing viewers to find what they're seeking more easily. Not just that, but it also allows you to navigate effectively within the content, similar to how you would search within a typically written document.
Conclusion
Editing M4V metadata will help you to organize your files and contain information in your Library. And if you are a typical individual desiring to create your content, either audio or video files, you better take control of your file's metadata. Aside from taking ownership of it, it will help you to organize your files easily. What are you waiting for? Start editing your M4V metadata by depending on the M4V metadata editor on your computer devices. But if you prefer software that is compatible with both Mac and Windows devices with an easy-to-use interface, you better try the Vidmore Video Converter.