2 Easy Ways to Compress M4V to a Smaller File Size
Want to compress M4V to reduce its file size?
M4V is a popular Apple video format that optionally protected by DRM copy protection. Compared with MP4, an M4V file usually carry a larger file size. That will be a problem, whether for sharing, uploading or storing. So, in many cases, you want to compress an M4V to a smaller file size. Do you know how to reduce the file size of an M4V file?

Many video compressors, including online free ones claim that they can help you compress a video file like M4V. However, some of them will not compress M4V that much. Considering that, this post shares 2 effective ways to help you compress M4V on Mac, Windows PC and online free. Both methods allow you to freely control the compressing degree.
Part 1. How to Fast Compress M4V to Smaller File Size Without Damaging Much Quality
To quickly compress an M4V file to smaller file size without damaging much quality, you should turn to the professional solution. Here we strongly recommend an all-featured video editor and converter, Vidmore Video Converter for you to make your M4V file smaller. It is equipped with a specific Video Compressor to help you reduce M4V file size with ease.
Professional Video Compressor to compress M4V
Step 1. This M4V compressor tool enables you to compress M4V on both Mac and Windows 10/8/7 PC. You should choose the right version based on your system, and then free install it on your computer. When you enter it, click Toolbox on the left to show more tools.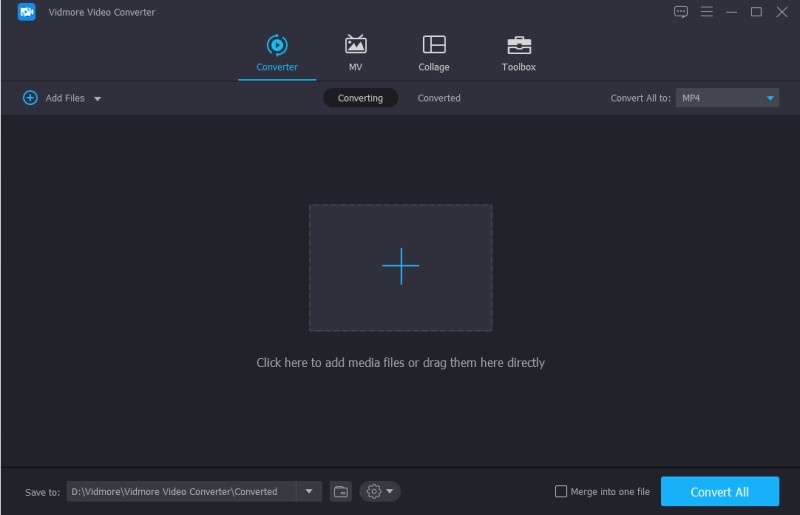 Step 2. Select the Video Compressor to compress your M4V files. As you can see, it also provides you with other useful tools like Media Metadata Editor, 3D Maker, GIF Maker and Video Enhancer.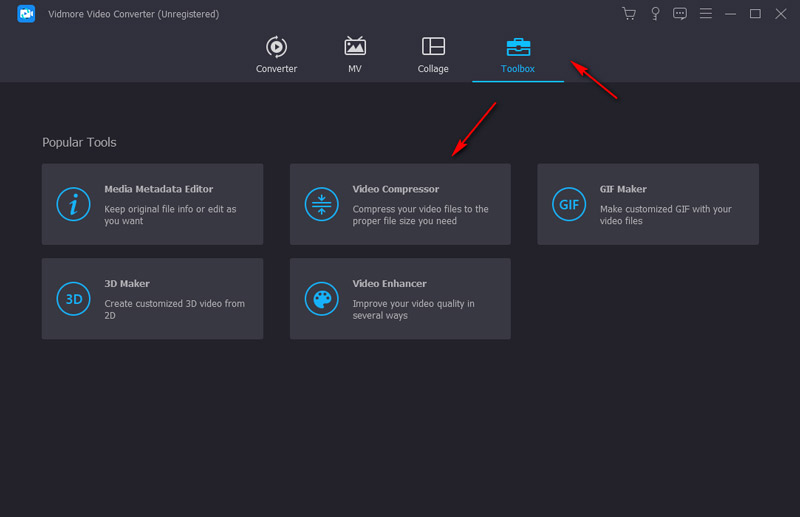 Step 3. Click + to import the M4V file you want to compress. Now you can handily drag the compressing slide bar to control the M4V compression.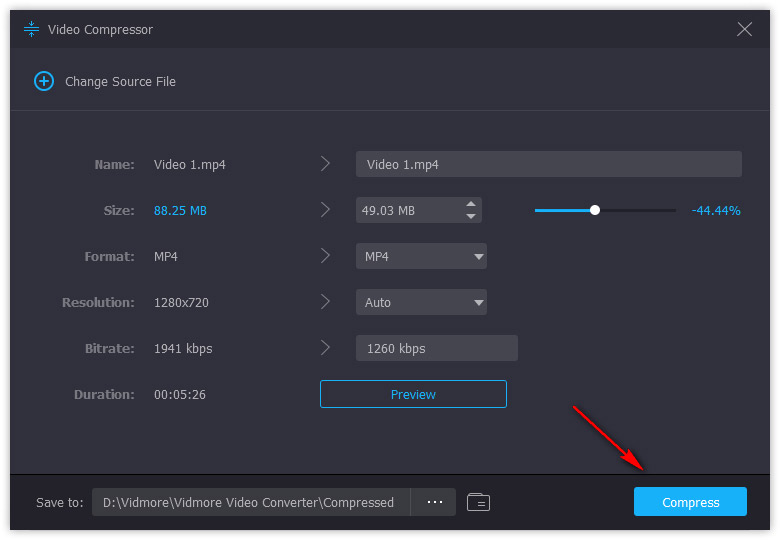 This M4V video compressor has a Preview feature for you to directly view the compressed video effect. You can custom the compressing degree based on that.
Step 4. After all these operations, you can click the Compress button to start compressing M4V to a smaller file size.
This way is capable of compressing WMV, FLV, SWF, and other formats, when you import the video files in other formats.
Compress M4V to a smaller file size without quality loss
Besides the video compressing feature above, you can also choose to remove the unwanted part to reduce the M4V file size. In that case, you can use its Cut function.
Step 1. Back to the home window of this Video Converter. Make sure you are using the Converter feature. Then click Add Files to load your M4V file(s). When the M4V file is listed in the interface, click on the Cut icon.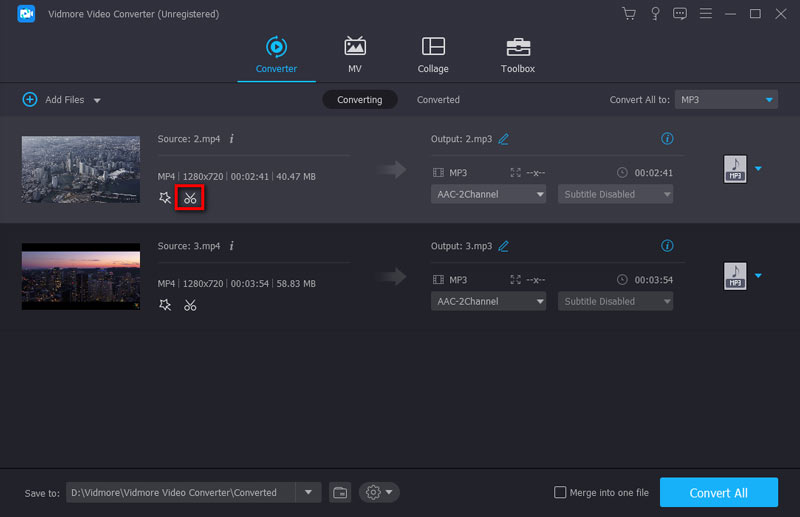 Step 2. Now you can freely trim the video based on your need. The built-in player allows you to remove some unwanted parts with ease.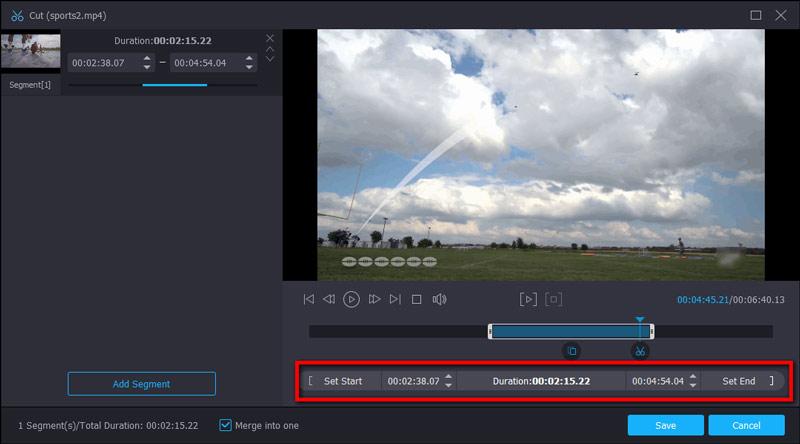 Step 3. After cutting, click on Convert All button to export the M4V file on your computer. During this step, you are also allowed to convert M4V to MP4, FLV, MOV, AVI, or another output format you need.
Note that, when you are selecting an output format, you can custom various video and audio settings of this format. For instance, you can set the output video quality, resolution, frame rate, encoder, sample rate, channel, and more.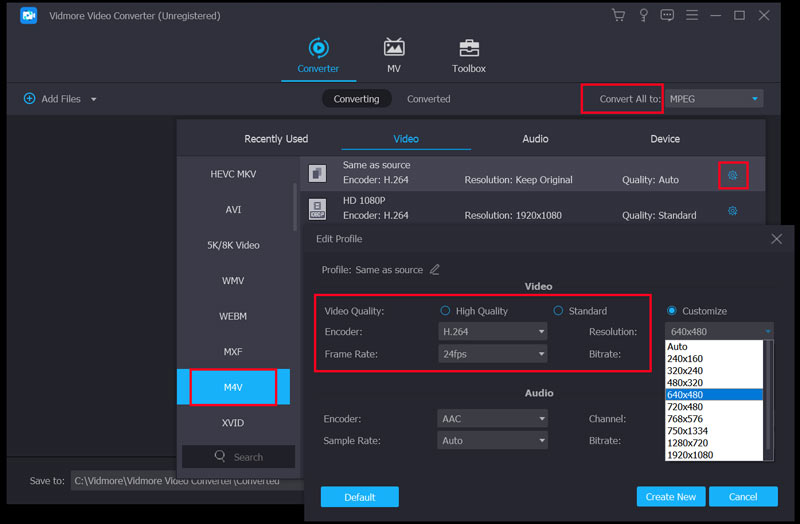 Part 2. How to Compress M4V Files Free and Online
If you prefer a free online way to compress M4V to a smaller file size, you can use Free Online Video Compressor. It supports any popular video formats including M4V, MP4, MOV, AVI, FLV, and more. You can rely on it to compress M4V online and free.
Step 1. Go to this Free Online Video Compressor site on your browser. It is compatible with all frequently-used web browsers like Chrome, Safari, IE, Firefox, and Yahoo.
When you get there, click the Compress Now button to install a small launcher file. After that, you can upload your M4V file through the pop-up window. If there is no pop-up window appears on the screen, you can click Compress Now button again and then add your M4V video.

As a free online M4V compressor, it has no limits to the file size, video resolutions, bitrate, quality, and more.
Step 2. Now you can drag the slide bar to compress your M4V file. It shows clearly about the compressed video size. Also, you can custom M4V file quality, video resolution and more settings to compress M4V.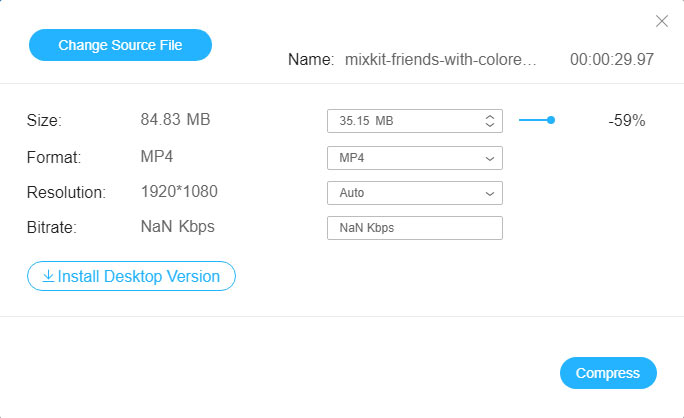 Step 3. Click Compress button to start reducing the file size of your M4V.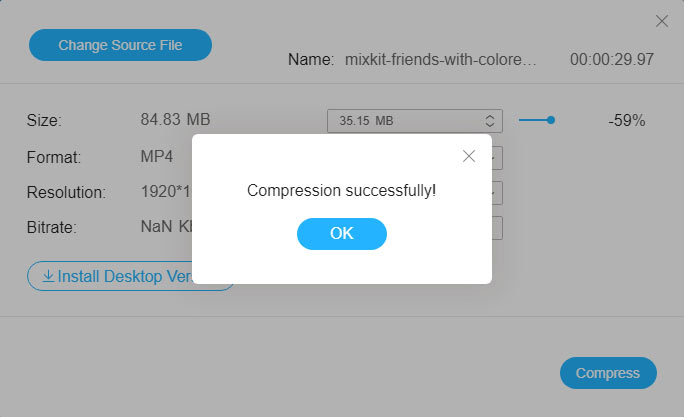 Part 3. FAQs of M4V Video Compression
Question 1. Can I compress M4V on Mac with iMovie?
Yes. iMovie has the capability to edit video like M4V. It does not offer a specific compressing feature. But it allows you to export your M4V with a lower resolution. By doing so, you can compress M4V with iMovie on Mac.
Question 2. How do I convert M4V to MP4 online?
There are many online video converters offered on the internet that can help you convert M4V to MP4. If you don't which one you should use, you can give the popular Free Online Video Converter a try.
Question 3. Does VLC support M4V?
No. VLC Media Player doesn't support M4V format by default. Because M4V has the DRM copyright protection.
Conclusion
When you want to compress M4V and reduce its file size, you can use the recommended online free tool or professional video compressor to change your M4V video to a smaller file size.