Top Four Highly Recommended OGG to AAC Converter for Audio Tracks
Due to the emerging numbers of audio tracks in the music industry, there are also lots of audio file formats that are being produced. However, some files are having a problem with the compatibility. That is why sometimes, we need to convert a file for it to be converted into a different format. For instance, an OGG file is an old format and it is not being used as a format by many, aside from that there's a problem when transferring it to another device.
That is why in this post, we will teach you to convert OGG to AAC to enjoy your most loved files.

Part 1. How to Convert OGG to AAC on Mac/Windows
Now that there are many audio converters that are being produced by the market, we tend to have a hard time choosing the right one. But if you are looking for a software that is available on Mac and Windows, Vidmore Video Converter is the most recommended one!
This software has friendly editing features which makes it easier even for beginners to navigate the tool. So there will be no problem if you are a beginner who only wants to convert your file in a different format. You don't have to read manuals and tutorials about the tools that this software possesses as you will easily understand it. And if you want to navigate the bitrate, sample rate and channel, you can modify it in just a snap of an eye!
Sounds convenient right? Well, if you are excited to convert your OGG to AAC, here's a simple guide that you can follow.
Step 1: Get the OGG Converter
You must use one of the download options provided below to obtain the software. Then, on your device, install and launch it. You can now open the tool after the software has finished running.
Step 2: Insert Your OGG Files
Once you open the tool, you will see the main interface so you just need to click the Add Files on the left upper part of the tool or you can just directly tap the Plus icon at the center interface of the tool. Once you click that, choose the OGG files from the folder.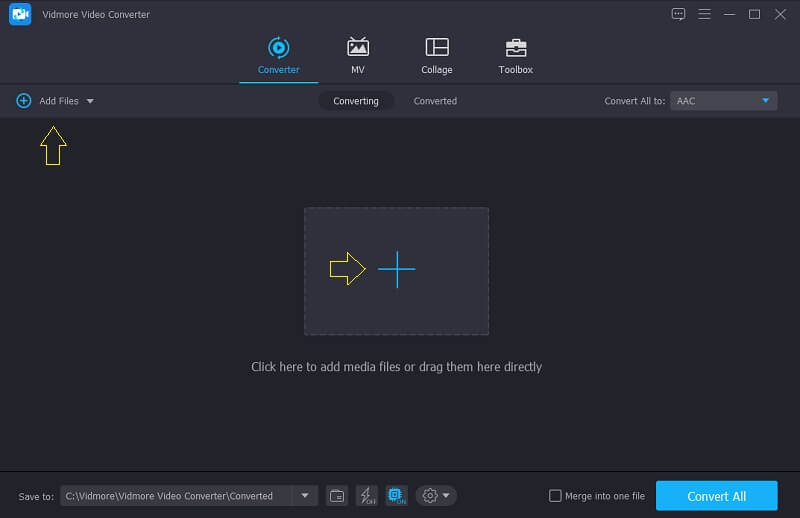 Step 3: Choose AAC Format
After adding the OGG file on the Timeline, click the dropdown menu on the right side of the audio and it will show you the different audio and video format. Simply click the Audio section and look for the AAC format.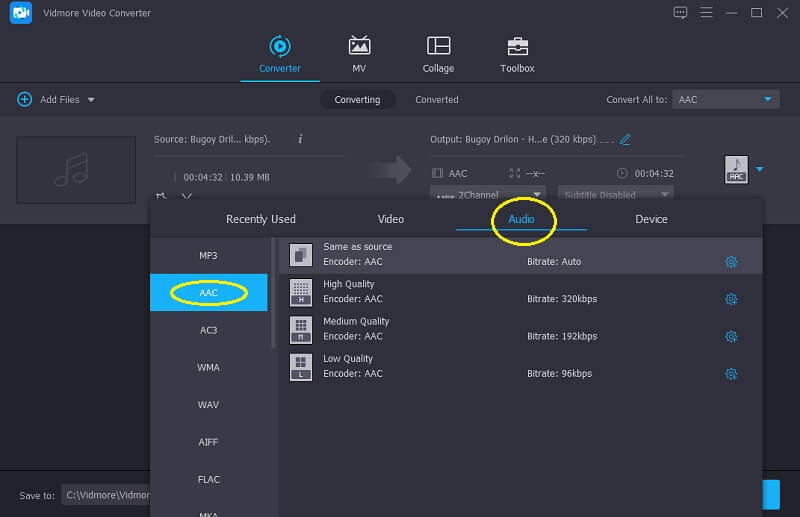 After you click the AAC format, you can take control of the Audio Settings. Just click the Settings icon and navigate the Bitrate, Sample Rate and Channel if you want to reduce the size of your file. Once you are done, just click the Create New and apply it to your audio track.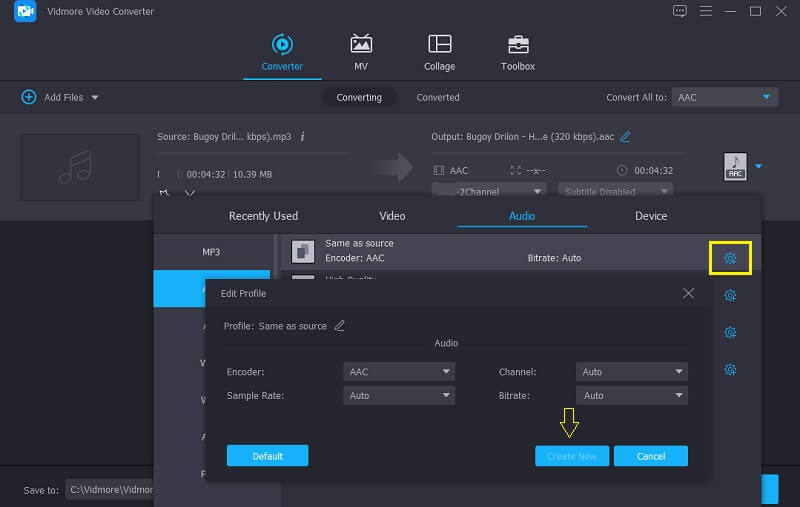 Step 4: Convert Your Audio Tracks
Once you are done in modifying the Audio Settings, you can now convert your file into your desired file. Just click the Convert All button and wait until the conversion process is done.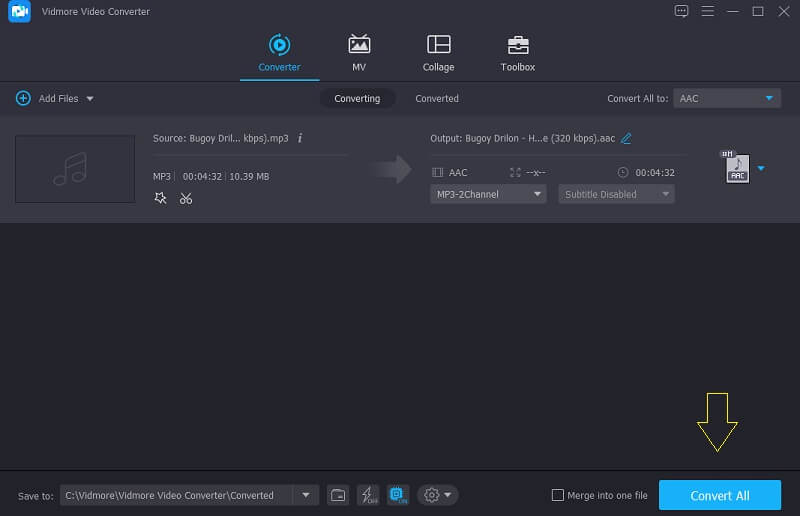 Part 2. How to Convert OGG to AAC Online
If you want to convert your OGG files to AAC yet you don't have the space on your device to download another tool, you can count on these browser based apps. Read the following tools below along with their steps so you can decide which you prefer to use.
1. Vidmore Free Video Converter
First on the list of the most helpful online converters that you can use is the Vidmore Free Video Converter. It is a web-based application yet it doesn't require you to subscribe on their page before you can fully use it. Aside from that, there is no restriction when it comes to conversion of the file size. Actually it has faster conversion speed on audio and video. It also offers a friendly interface for the user to easily navigate it.It just doesn't possess other audio editing features like cutting and trimming , which other online tools have. But if you want to know how to convert using this tool, you can refer to the steps below.
Step 1: As you reach the official page of Vidmore Free Video Converter, click the Add files to convert and install the launcher.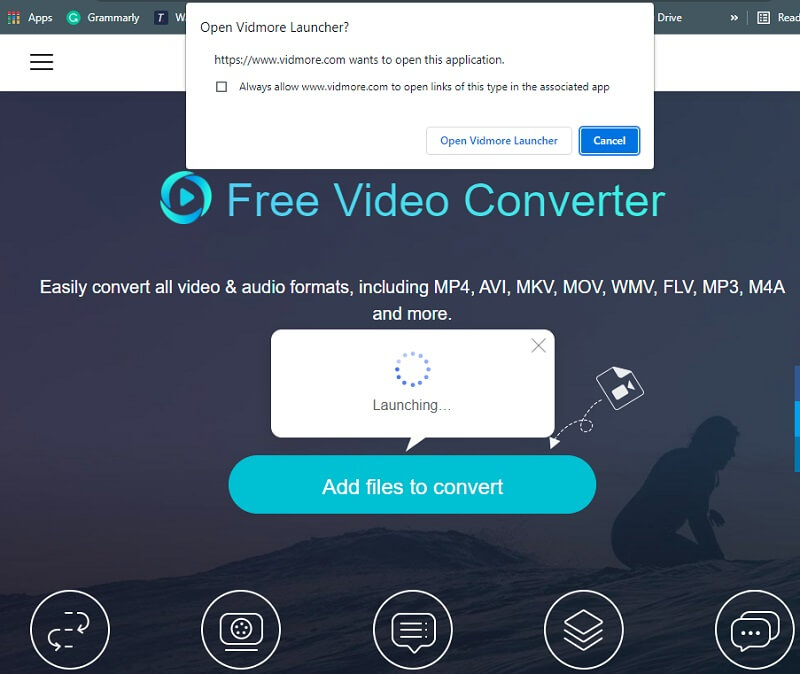 Step 2: Once the launcher is running, tap the Add files to convert again and choose the OGG files. After the file is reflected on the Timeline, click the Add File if you want to convert multiple audio tracks.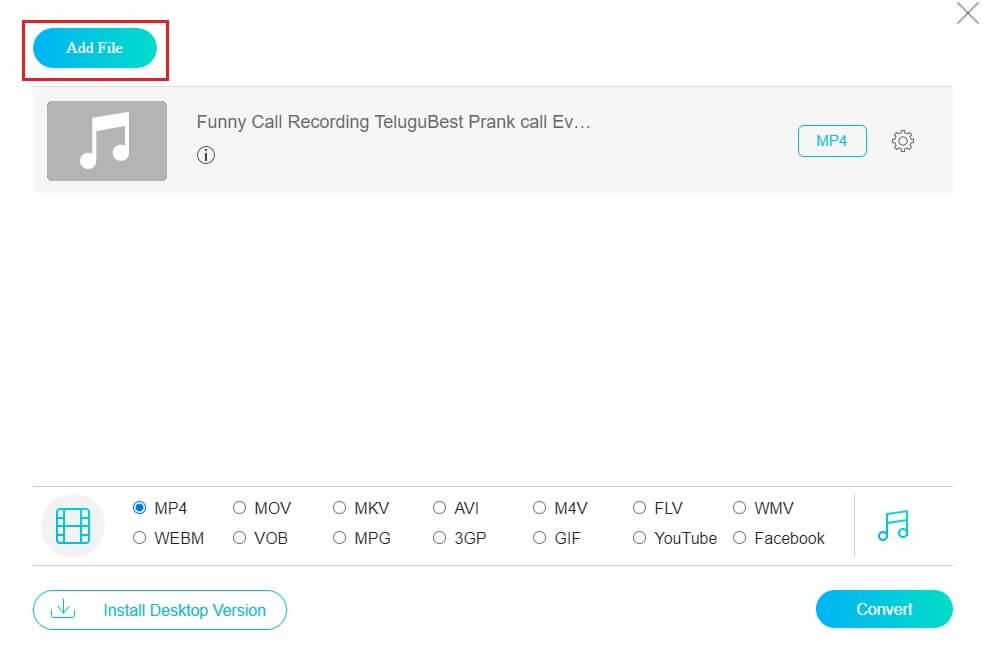 Step 3: After that, click the Music icon on the lower part of the screen and the different audio file format will appear, then click the AAC then.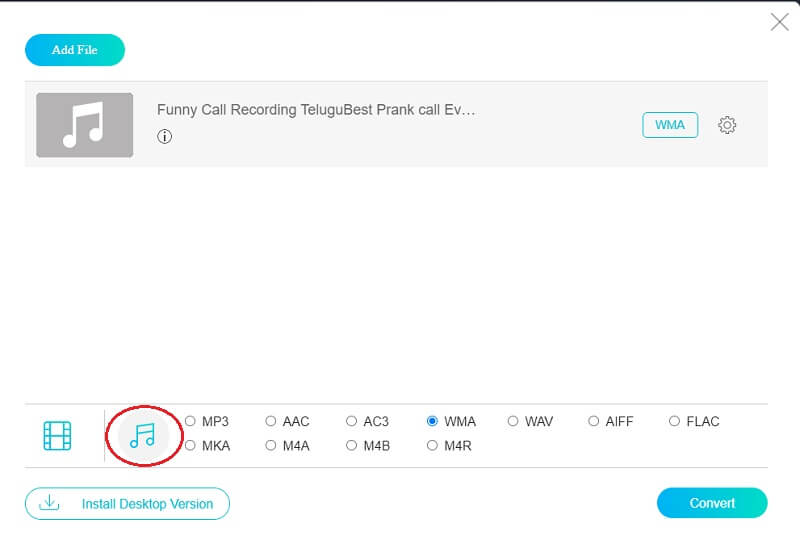 If you want to take control of the file size, simply click the Settings icon at the right side of the audio and adjust the Bitrate, Sample Rate and Channel. When you are finished, click the OK button.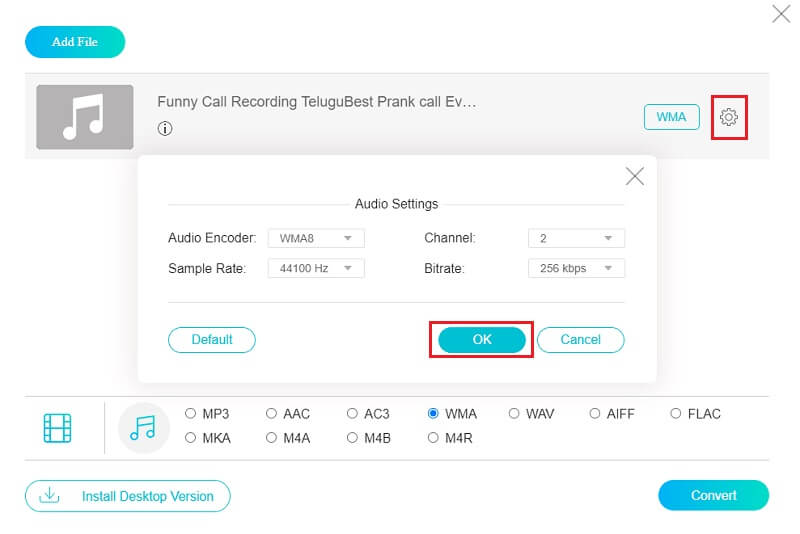 Step 4: To apply the changes on your audio track, you can now proceed in the conversion process, simply click the Convert tab and choose the destination of your file then tap the Select Folder and wait for a few seconds to successfully convert your audio tracks.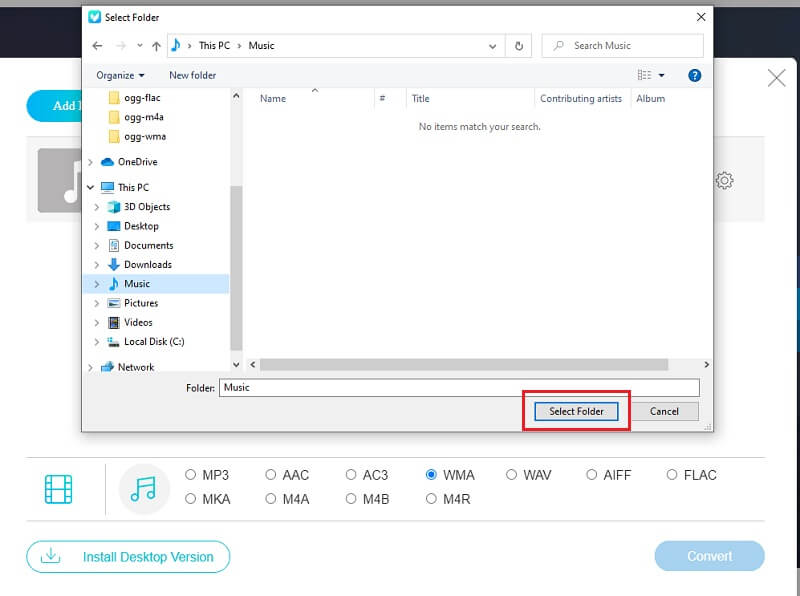 2. FFmpeg
This is a free application and is compatible on Mac, Windows and Linux. It also allows you to record and edit audio, video and streams. The drawbacks of this tool is, it is not a user friendly application. And if you are a beginner, you may find it hard to navigate. If you want to know how FFmpeg converts OGG to AAC, here are the following instructions.
Step 1: Install FFmpeg on your device, then use the Terminal to find files on your desktop by choosing the in cd desktop.
Step 2: Next, enter the code that you require for FFmpeg to start running.
Step 3: Save the audio by finding the proper format of your file depending on if it is an audio or video file.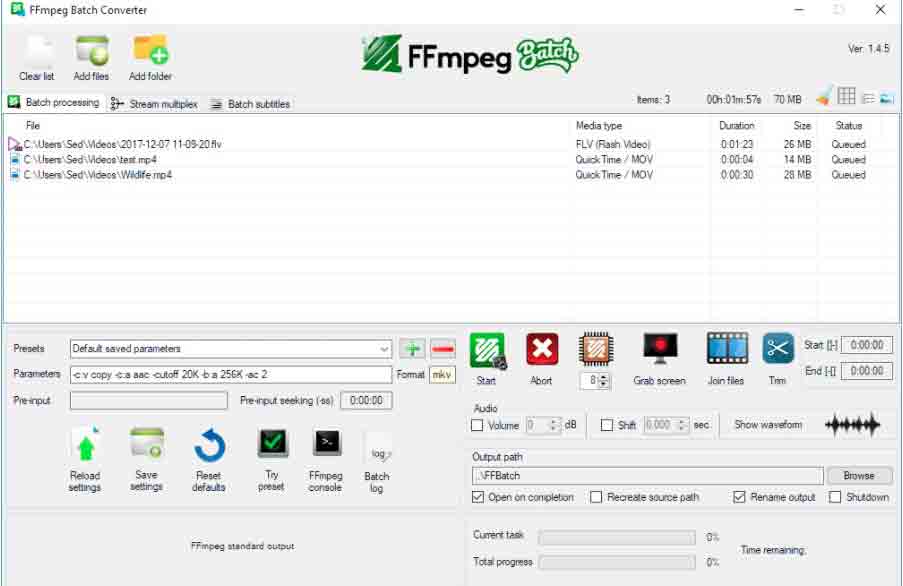 3. Convertio
Another browser-based application that you can count on for converting OGG to AAC is Convertio. This application also works for all platforms and you can acquire it for free, only with a limitation of 100MB file size. It also offers an easy conversion as it has an easy navigation feature. Aside from that, it also supports different audio and video formats that you can use. To better understand how this web-based application works, here is a glimpse of information on how to navigate it.
Step 1: Go to your browser and look for Convertio. Click the Choose Files tab after you've been sent to its official page. You will be given a choice of where to obtain the file.
Step 2: After you've added your file, select AAC as the new format by clicking the dropdown arrow.
Step 3: Once you've decided on a format for your file, click the Convert button and wait a few minutes for it to convert.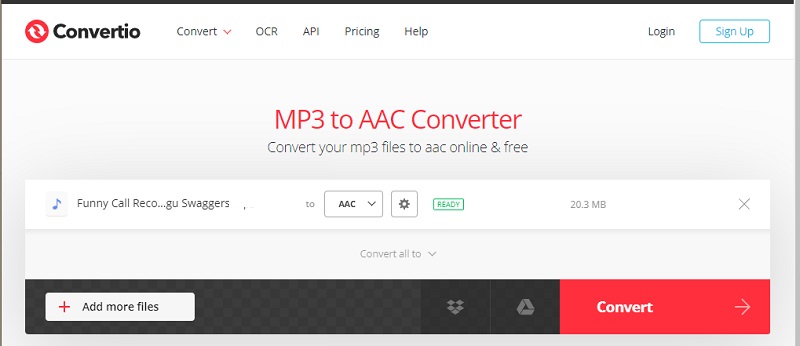 Part 3. FAQs on How to Convert OGG to AAC
1. Is AAC better than AAC?
Even though AAC uses lossy compression, it provides greater quality than MP3 at the same bitrate. MP3 has a lesser quality than AAC.
2. Is Convertio a safe site to use?
This site is safe and free of charge. You don't have to share your personal information before you can use it.
3. What is the meaning of FFmpeg?
FFmpeg stands for Fast Forward MPEG (Motion Picture Experts Group).
Conclusion
You can now easily convert your most loved audio tracks into your desired format. All you have to do now is to choose from the online and offline OGG to AAC converter.