5 Best WMA Cutter Online and Offline (Mobile and Desktop Apps)
WMA stands for Windows Media Audio, is remarkably one of those audio files that contain high-quality audio while requiring less space storage. The thing is it does not share support with other operators or players due to its proprietary nature. This can be a burden especially when you need to edit your WMA files.
Consider when you need to shorten WMA files to cut unwanted parts or merge tracks into one seamless audio file. Despite this, you could still edit this audio format using some practical methods and solutions available on the internet. You just have to be diligent in finding the right tool. We simplified your work by researching the right fit WMA cutter and editor that you can use immediately.

Part 1. Best WMA Cutter and Joiner
1. Vidmore Video Converter
First on the list is Vidmore Video Converter. This is a powerful media file cutter, converter, and editor for both your audio and video streams. The tool lets you cut, trim, copy and paste with so much ease. It supports a large number of formats that include WMA, WAV, OGG, MP3, FLAC, and many other audio formats. While editing the audio, there is a real-time preview that you can take advantage of to check the results. Apart from that, you don't need to re-encode the file and leave it as it is. Yet you can always configure the parameters according to your requirements.
Best and Professional Audio Editing Software
Split a track into individual tracks
Increase and decrease audio volume
Combining many audio files is just a click away
Trim files to perfection for making ringtones
Available on Windows PC and Macintosh OS
Modify parameters like sample rate, bit rate, etc.
Pros:
Supports nearly all audio file formats
Export audio to another format quickly
No limitations with regard to audio length or number of files
Cons:
Does not support sound effects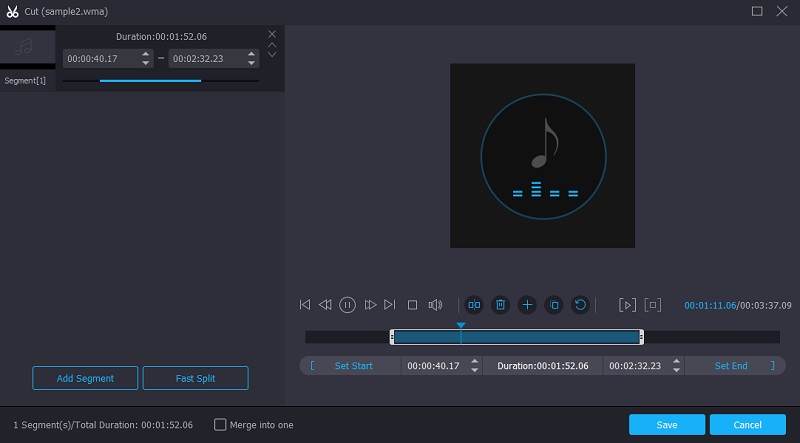 2. Audacity
There are obviously lots of approaches and WMA trimmer available online. Yet if you are looking for a popular and totally free program, you should look no further than Audacity. This offers a lot of useful tools including the capability to cut audio portions in the middle of the song. With it, you will be able to remove the dead air or silence parts on the audio. You will also achieve professional WMA files using this free WMA cutter as it possesses the ability to remove noise and apply special audio effects.
Pros:
Multi-platform audio editor
Enables recording audio on PC as well as live audio
Easy to install and lightweight
Cons:
Needs a plug-in to access advanced features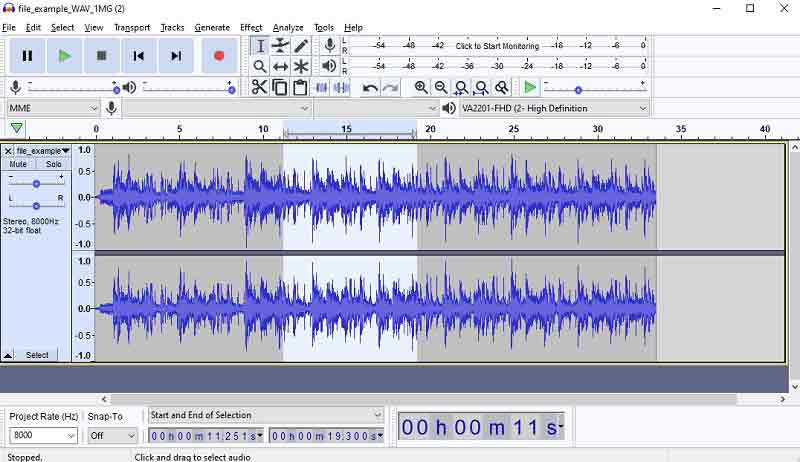 3. Clideo
If you are wondering how you can cut WMA files without installing additional software, this is definitely possible with the help of Clideo. This is a web-based program that has a set of tools for your audio editing needs. Using this WMA cutter online, you will be able to rip, cut, merge, export the audio to another audio format. Even better, this lets you import from Dropbox and Google Drive.
Pros:
Import media files from the cloud storage
Add tracks to merge without limitation to the number of songs
Compatible with mobile devices like iPhone and Android
Cons:
Slow down to upload files
4. Aconvert
The next audio editor is also a web-based WMA cutter and joiner is Aconvert. It is an extremely handy and simple online tool that has no complicated menu which might confuse green-hand users. This enables you to set the start position and duration to effectively cut audio files. It follows the format of the hour, minute, seconds to help you precisely cut sound files. In addition, the tool provides support to popular audio formats like WMA, WAV, AAC, AIFF, FLAC, M4A, and OPUs with the benefit of uploading audio files of up to 200M. Plus, this tool comes with an audio merger to join WMA files while allowing you to import from cloud storage and online via URL.
Pros:
Online and offline import options
Conversion format function
Import from Dropbox and Google Drive
Cons:
Ad-laden interface
Not intuitive audio editing interface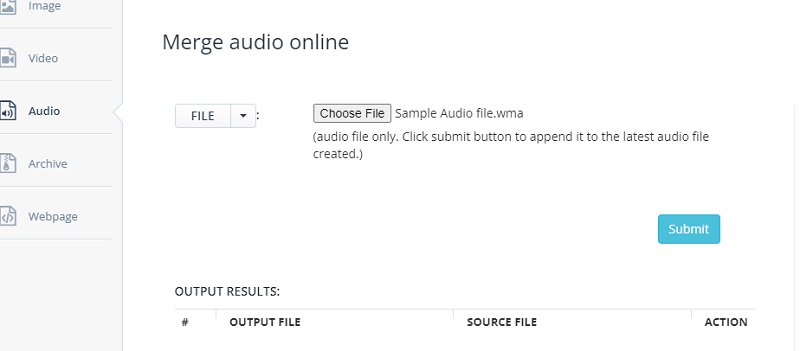 5. Lexis Audio Editor
In case you want to edit at your fingertips, you can also choose to edit from the comfort of your mobile phone using Lexis Audio Editor. This is a comprehensive piece of software that allows you to immediately trim, split, copy and paste parts of the song. Aside from that, you can apply fade in and fade out effects, silence parts of your track, modify the tempo, pitch, and a lot more.
Pros:
File compressor
Reduce noise and normalize
Band equalizer
Cons:
Eats up too much memory space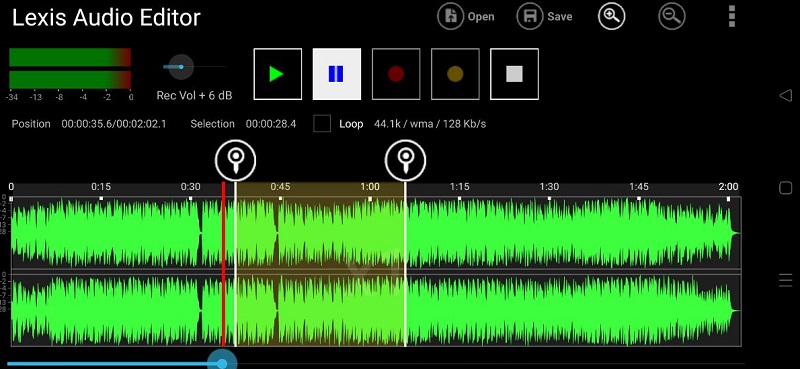 Part 2. Which one is the best?
Here is a simple illustration of the WMA cutter and editor programs that will help you compare and contrast them. This will help you easily determine which app is for you if you are still wondering.
| | | | | | |
| --- | --- | --- | --- | --- | --- |
| KEY FEATURES | Basic Audio Editing(cut, split, merge) | Sound Effects | Music Library | Supported OS | Configure Parameters |
| Vidmore Video Converter | | | | Windows & Macintosh | |
| Audacity | | | | Windows, Mac, and Linux | |
| Bear Audio Editor | | | | Windows & Macintosh | |
| Aconvert | | | | Windows & Macintosh | |
| Lexis Audio Editor | | | | Android | |
Part 3. FAQs of WMA Cutter
How to merge the WMA field into one?
There are a lot of methods that you can use for combining audio files. The basic steps for this are uploading them on an audio editing tool. Then there should be a function on the program that will enable you to merge all the uploaded songs. With Vidmore, it is just a click away. It is also an easy MP3 to WMA cutter and converter due to its intuitive interface.
Which is better between WMA and WAV?
WMA files by nature, are compressed format or use lossy compression. Whereas WAV files are uncompressed formats that retain the original quality of the file. You can convert WMA to WAV if needed.
Can I edit WMA on Windows Media Player?
By default, you can only stream WMA files on Windows Media Player. But if you want to access basic editing functions like trimming, you can do so by integrating its plug-in called WMP Trimmer Plugin.
Conclusion
There you have it. Those are some of the most practical and decent WMA trimmers available on the internet that you can use immediately. They can help you split, cut, merge files on all platforms including your mobile device.