5 Best Ringtone Cutter to Edit a Song for a Ringtone
Having the same default ringtone on our device whenever we receive a notification is somehow annoying, right? That is why others just tend to put their phone on a silent mode rather than hearing their ringtones over and over again. But luckily, the mobile device has a lot to offer. They are now offering ringtone cutter applications on both Android and iPhone.
And if you are looking for those apps who can make some awesome ringtones, check out the list of apps that are available to help, but here are the four most recommended Android and iPhone ringtones!

Part 1. Best Ringtone Cutter for PC and Mac
Sometimes there is a part of a song that will make us want to hear it again and again. And you may wonder if it is possible to make it a ringtone, the answer is yes. To help you cut the songs that you want, Vidmore Video Converter is here to extend a hand.
This multi-purpose application supports both Mac and Windows devices and it doesn't only come as a video and audio converter but a ringtone cutter as well! It has a beginner-friendly feature that is why you can easily cut, trim and merge your most loved file and make it a ringtone. Interesting right? Therefore without further ado, here is a simple step by step by step on how this ringtone cutter works.
Step 1. Get the Ringtone Cutter
Download and install the Vidmore Video Converter by simply clicking the download button for Mac and Windows below. After you installed the app, run it on your device.
Step 2. Add Your Audio File
After that, open the app and click the Add Files located at the left upper part of the interface or the Plus sign at the center of the screen and choose the audio file that you want to cut.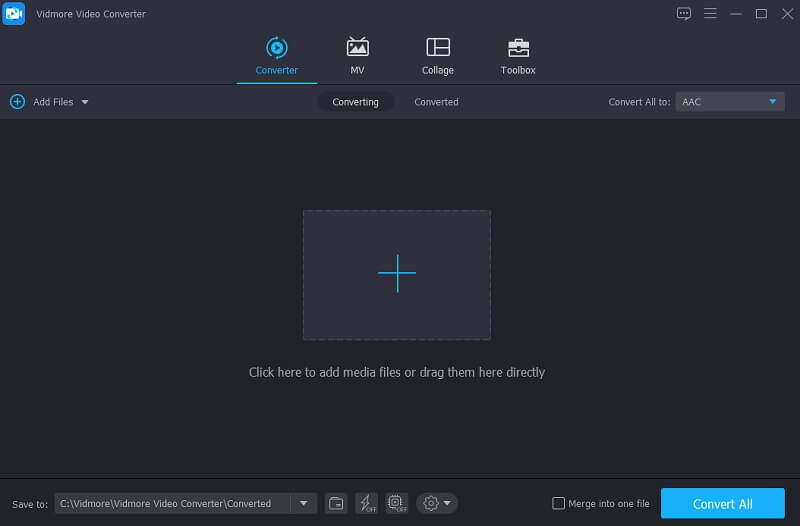 Step 3. Cut the Audio File
After you added your file, hit the Scissor icon located on the lower part of the audio for you to be led on the editing option. Move the start and end point of the audio and choose the region that you want to make as a ringtone. Once you are done cutting the audio file, click the Save button.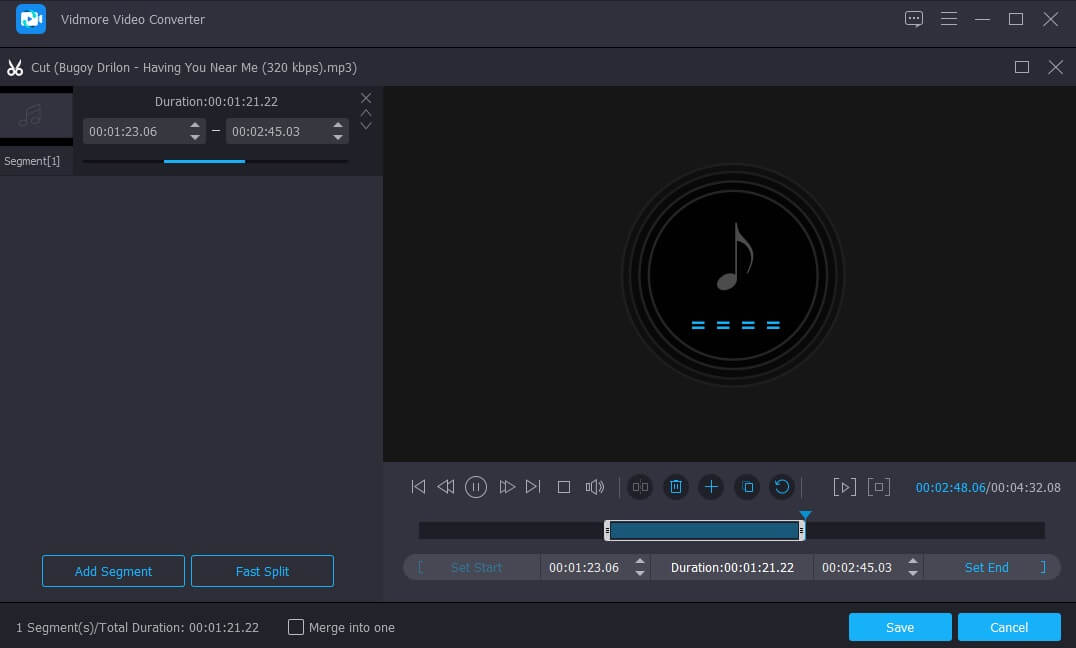 Step 4. Save the Edited Audio File
Once you are satisfied with the changes of your file choose the file format that is for the ringtone which is the M4R. Then hit the Convert All button to successfully cut your file. And wait for a few seconds for the conversion process. And that's all!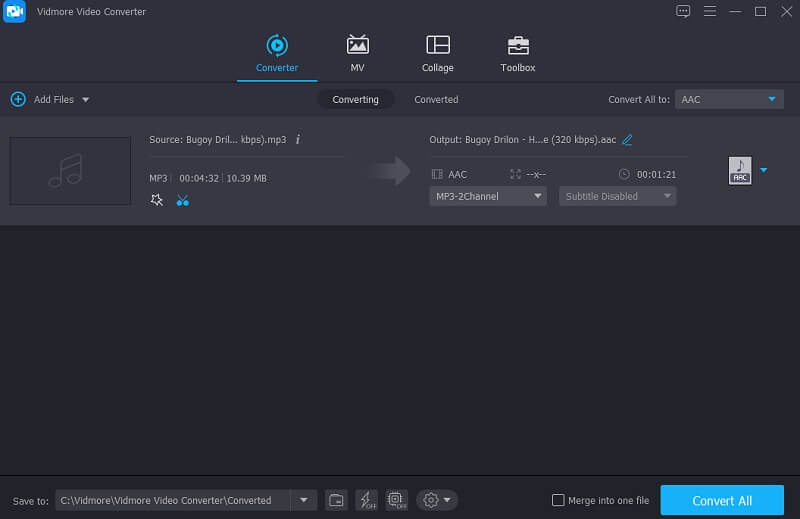 Part 2. Best Ringtone Makers for Android and iPhone
A while ago we shared the most recommended ringtone cutter that you can install in your Windows or Mac device. And now, we will teach you how to make ringtone for iPhone and Android. No need to look for the tons of apps being offered by the Google and App store, just choose from the list of best ringtone cutters for Android and iPhone devices below.
1. Ringtone Maker
First on the list of applications that you can rely on is the Ringtone Maker. This tool is applicable on an Apple device. It allows you to customize your ringtones, alarms and even notification. It has a friendly interface which makes it easier for users to create their own ringtones. Aside from that, you can take account of its volume. Ringtone Maker cuts, trims and even merges your most loved files to make it even more favourable to users. And to complete the information given, here are the steps provided below.
Step 1: Download and install the Ringtone Maker on your mobile device. After that, open it and after that, choose the file that you want to make as a ringtone by sliding it to the right.
Step 2: Then it will lead you to the waveform, then press the Start and End time to emphasize the region that you want to make as a ringtone. Or you can just easily type it.
Step 3: When you are done selecting the region that you require, take control of the Fade and Volume Setting then click the OK button. After that, hit the Save As and click the Ringtone from the menu. Then click the Save tab.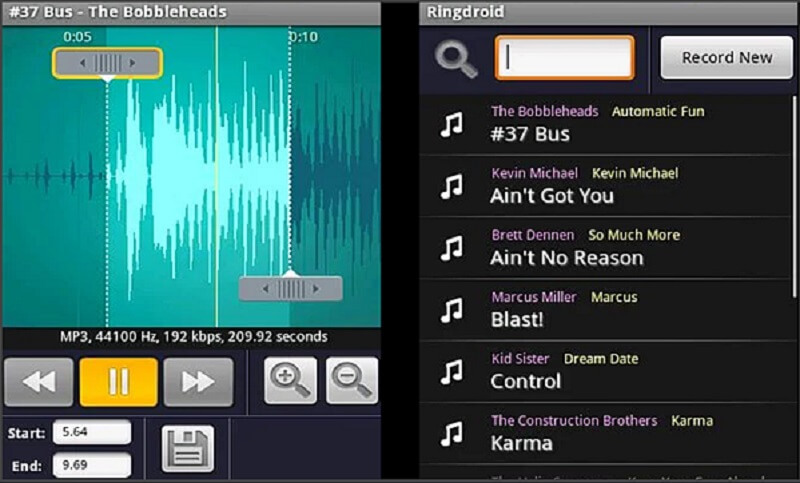 2. Music Cutter
If you are looking for a ringtone maker that will be compatible on your iPhone device, you can rely on Music Cutter. This app is one of the most recommended music cutting apps because of its modern and easy-to-use interface. You also don't have to take a lot of effort in navigating this app because you can cut music without any hassle, just cut the song and make it as your personal ringtone or you can use it as a ringtone to one of your contacts. And to give you a better understanding how this application works, here is the list of approaches you can follow.
Step 1: Go to Google Play and download and install the Music Cutter. After that, on the main interface of the app, click the Plus icon then choose the Pick an Audio File.
Step 2: Once you added your target file, click it then from the options that will appear, hit the Trim Audio. After that, move the cursor on the start and end of the file then choose the region that you require.
Step 3: After cutting the audio, click the Save as then choose the type Ringtone. Then rename the file. Once satisfied, click the Save button.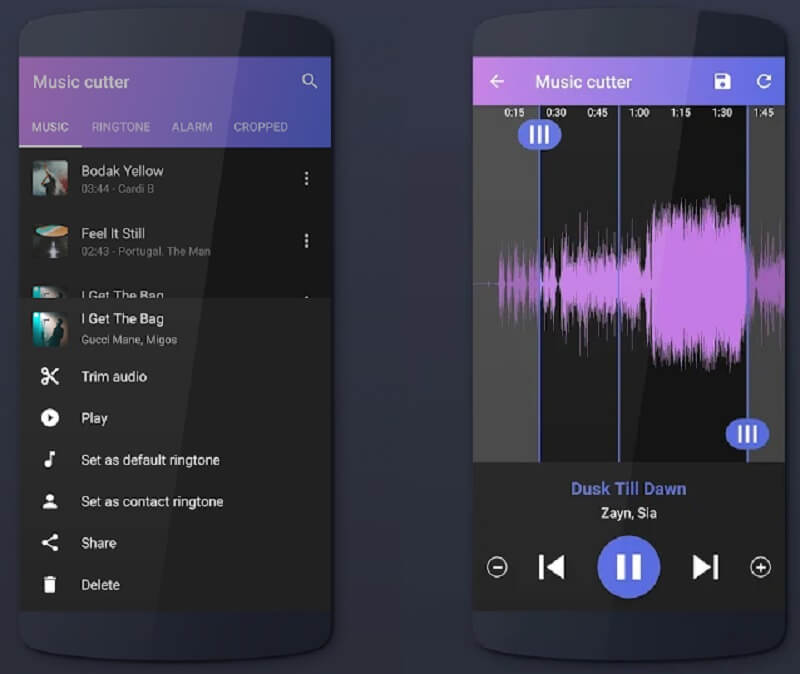 3. MP3 Cutter and Ringtone Maker
Through the help of MP3 Cutter and Ringtone Maker, you can easily cut out your most favourite part of the music and make it a unique ringtone. With this app, you can also make your own alarm and notification as well as to take control of the volume and bitrate if you want it to be in the highest quality melody for you. MP3 Cutter also allows you to edit the Audio's name and even its format. And to make it more convenient for you, the guide information below will teach you how this ringtone cutter works.
Step 1: Download and Install your file. Open it and choose your target audio from your library.
Step 2: After that, select the time span of the audio that you require to cut. Then, click the Edit tag to take account of the title, bitrate, volume and many more.
Step 3: Once you are done applying the changes, hit the Save button and save it as a Ringtone. That's it, you now have your customized ringtone.
4. Ringtone Maker 2021
Last on the ringtone cutter that is being used nowadays is the Ringtone Maker 2021. This app supports MP3, OGG, WAV, AAC and AMR to be edited and create a ringtone for notification, alarm, and many more. Nothing to worry about its technicalities because it can be used even by beginners. And to see how easy this application works, here are the guide steps below.
Step 1: Go to Google Play, download and install this app. After that, choose a file from your SD Card or Library then let it play on the screen.
Step 2: Once you have chosen an audio, tap the Start and End region that you want to make as a ringtone.
Step 3: After that, click the Save icon at the top of the screen then choose where you want the file to be located.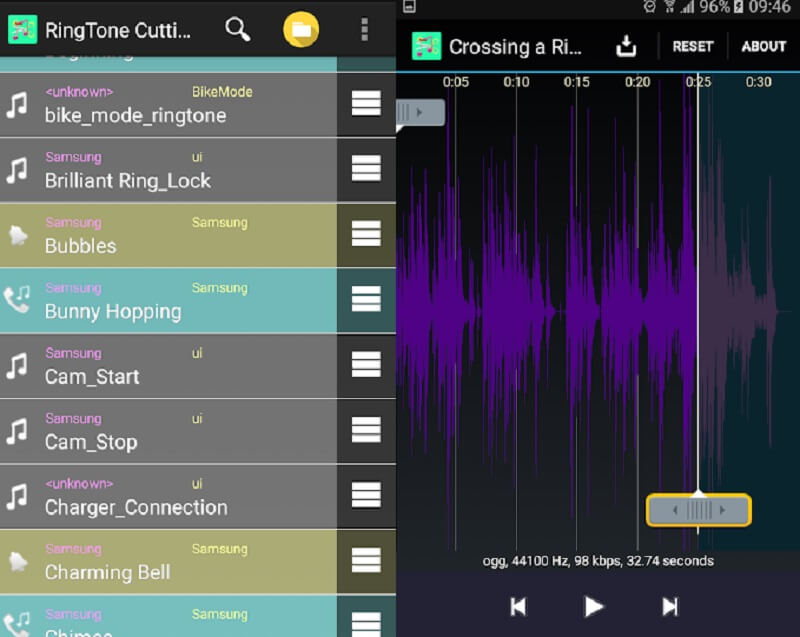 Part 3. FAQs about a Ringtone Cutter
Can I extract an audio from a video and make a ringtone from it?
Yes, this is possible. One of the apps that can do this is Vidmore Video Converter. With this app, you will just need to choose the format that is intended for Audios for you to get the audio file.
Can I edit a file in Ringtone Maker using WMA format?
Unfortunately no, because Ringtone Maker only supports a few formats for now like MP3, AAC/ MP4. Formats like WAV, 3GPP, WMA and OGG are not supported by now.
Can I edit audio files from Vidmore Video Converter using a different format?
Absolutely yes! That is one of the most amazing things about Vidmore because it supports over 200 formats.
Conclusion
Now, you will not have to wonder if it is possible to make your most loved audio tracks a ringtone because through the help of this post, it is now possible. The list of tools above are the best ringtone cutter for Android and iPhone. All you have to do is choose which one you prefer.