Top 5 MOD Editors to Enhance Video's Look and Quality
Are you searching for MOD editors? Well, as technology continuously innovates, finding something is possible. However, the dilemma is that various video editors are available, and judging which is good or bad is difficult. Moreover, look for a tool that can provide your needs to make a video more impressive. This article will present five video editors that can help you enhance the appearance and quality of your video. In addition, it will provide the advantages and disadvantages of each program. Without further ado, rely on the following details.

Part 1. What is MOD and How to Open MOD
What is a MOD File
JVC and Panasonic created the MOD file format to contain video recordings with digital camcorders. The recorded videos are instantly saved in this format for various models of camcorders manufactured by Canon, JVC, and Panasonic. The MOD file format is similar to the MPG format, in which any system that supports MPEG-2 video can also play MOD files. In addition, MOD files are compatible with DVD players and can be renamed MPG and used as an MPG file. Besides that, MOD files generally contain standard-definition videos with a resolution of 480 x 576, which is a maximum resolution. Compared to other modern video container formats, this file format needs to catch up, but still, much can be done.
How to Open MOD Files
This section will present various audio players to help you open and play your MOD music files. These audio players support MOD file format and can be accessed depending on your preferred device. Without further discussion, proceed to the following details.
Operating Systems
MOD File Player
Windows
KMPlayer
Nullsoft Winamp
MikMod
MilkyTracker
Schism Tracker
VLC Media Player
Mac
Cog
MikMod
MilkyTracker
Schism Tracker
VLC Media Player
Linux
Extended Module Player
Gxine
MikMod
MilkyTracker
Schism Tracker
UModPlayer
VLC Media Player
XMMS
Android
VLC for Android
Xmp Mod Player
iOS
PureModPlay
VLC For Android
Part 2. Best 5 MOD Editors
This section will present the following MOD editors you can rely on. It will help you edit further your MOD video file to produce the impressive video you wish to have. However, they offer different user experiences and basic and advanced editing functions. Please, take a look at them.
1. Vidmore Video Converter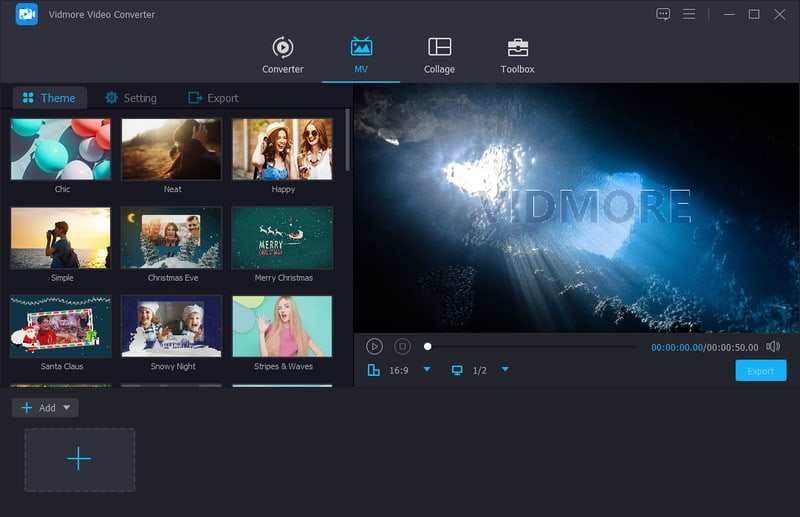 It would be easy to accomplish your task using a dependable, easy-to-use program with editing options. The program should offer basic and advanced editing options beneficial for video editing. Most importantly, it should meet your expectations and standards because it must provide a better user experience. One thing is for sure, Vidmore Video Converter checks all the mentioned qualifications.
Vidmore Video Converter supports many input video formats, such as MOD, MP4, MKV, AVI, MOV, WMV, M4V, FLV, MPG, VOB, and more. This program can open and play your MOD video file, edit it further, and convert it into another format if desired. In addition, you can rotate, crop, add a watermark, ready-made themes, effects, filters, texts, and background music. Indeed, Vidmore Video Converter is the best MOD editor to help you edit and transform your file into a professional-looking video.
Supported Operating Systems: Mac and Windows
Pricing:
1 Month License - $19.95 /Month
Lifetime License - $49.95
Pros:
It supports various audio, image, and video file formats.
It is infused with a converter, movie maker, and collage maker.
It offers twenty-one toolkits located in one section.
It provides several editing options, like crop, rotates, trims, etc.
It can help you produce high-quality videos.
It lets you change the video's quality, resolution, frame rate, etc.
Cons:
It is a subscription-based program, requiring users to purchase it to access the full features. However, a free-trial version may allow users to test the program before availing.
2. Avidemux
Avidemux has been a popular video editing program on the internet for many years. It has a straightforward interface and is commonly used for basic cutting, filtering, and encoding tasks. It is recommendable for first-time users to make quick editing. Besides that, you can edit your MOB video file, which you can crop, cut, rotate, flip, and filer-adding. This program supports various video formats and offers excellent built-in features and seamless user functions.
Supported Operating Systems: Linux, Mac, Windows
Pricing: Free and open-source
Pros:
It is easy to use and is recommendable for first-time users.
It offers basic video editing functions.
Cons:
It needs an updated interface.
The program crashes at any moment, making it difficult for users to start their working projects again.
3. Free Video Dub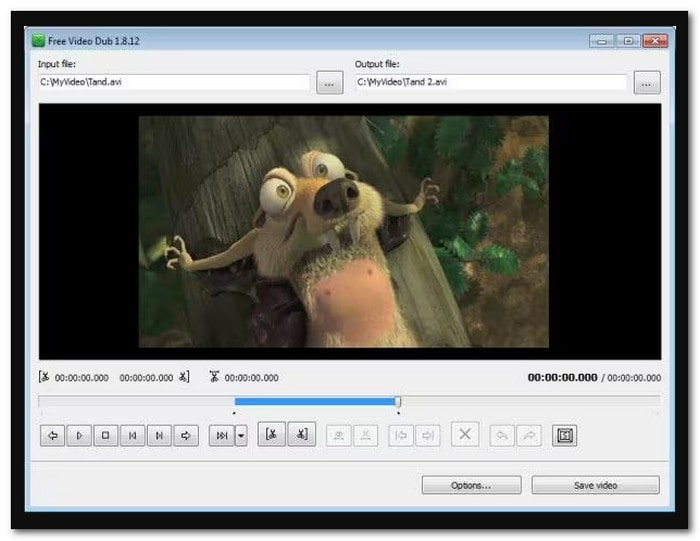 Are you searching for a lightweight and beginner-friendly video editing program? If so, Free Video Dub is recommendable for you. It supports many video formats, like AVI, FLV, MOV, MKV, MTS, M2TS, MOD, and more. With it, you can edit your video files by detaching the unnecessary section of your video files hassle-free. The impressive part is that you do not need to re-encode anything, which will not sacrifice your video's quality or resolution.
Supported Operating Systems: Windows
Price Free
Pros:
Its simple interface makes it easier for beginners to access its editing options.
Users only need to spend a little of their time editing their videos.
It supports numerous video formats.
The program adapts to various file types.
Cons:
It is challenging to incorporate visual effects.
Users can only edit short video productions.
Users are encountering various issues with installation.
Users are experiencing lag, crashes, and bugs at any moment.
It is not suitable for specific file types.
4. MPEG Streamclip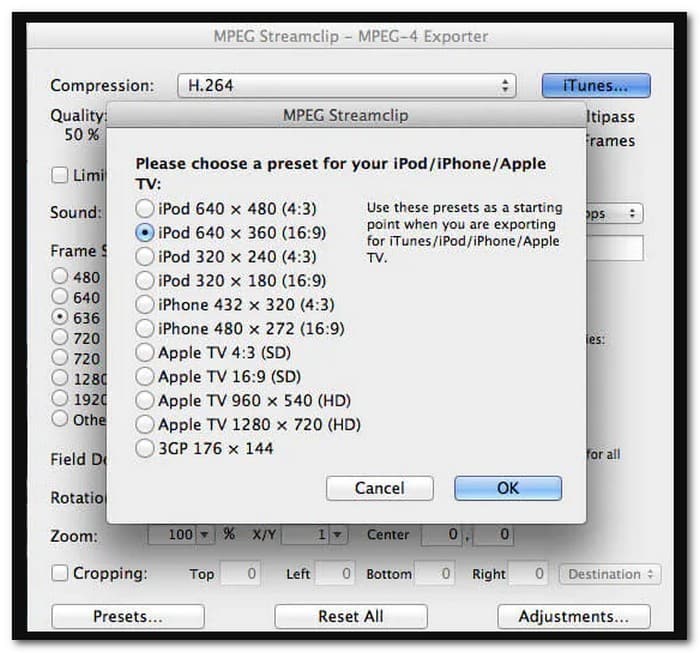 There are converter that can do more and offers more built-in features and editing options; one is MPEG StreamClip. This program is an excellent video conversion packed with many built-in features that it can offer users. It supports numerous video formats, like MMV, M2T, TS, MP4, AVI, DV, DAT, VRO, MOV, M2P, PS, VOB, and MOD. This program can help you edit, compress, and convert video projects. It is a versatile program infused with tools to modify your video clips' appearance, file type, and compression.
Supported Operating Systems: Mac and Windows
Price Free
Pros:
It can convert a range of other video file formats.
It has a glitching button and window.
Cons
It restricts your file sizes to 600 megabytes.
5. VSDC Video Editor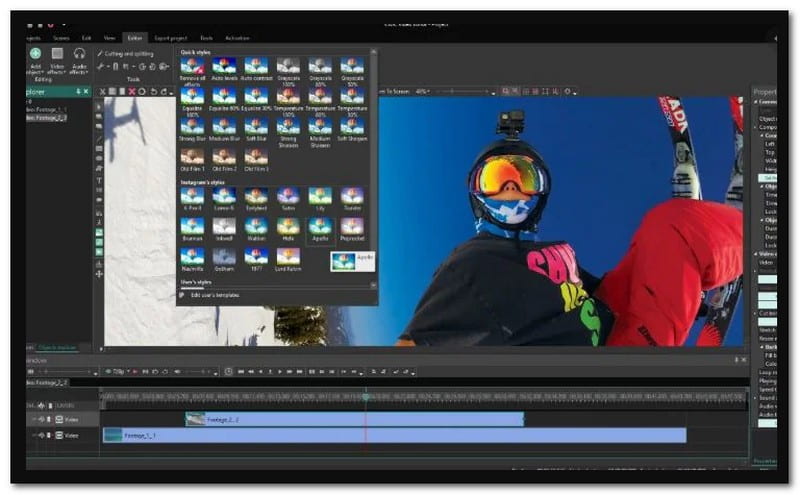 VSDC Free Video Editor is an excellent free and popular video editing program. It supports many video file formats, such as MP4, AVI, MKV, WMV, MPG, FLV, 3GP, and MOD. It provides basic video editing options, like filters that can transform your video into a classy pro-quality movie. Besides, it has thousands of audio and video effects conveniently categorized into four, making your video appear and sound more dynamic.
Supported Operating Systems: Windows
Price $19.99
Pros:
It provides useful editing options to make your footage looks more professional.
It can convert video to other file formats.
Cons
It crashes during testing.
Many editing options are hidden in the sub-menus.
There is no full-screen video preview.
Computer resources, such as a central processing unit and random access memory, are required at a high level.
Part 3. How to Edit MOD Files
Vidmore Video Converter is here and ready to help you edit MOD files by providing a step-by-step procedure you can rely on. Are you ready to know how it can edit your video file? If so, please continue reading.
Step 1. Download and Install Vidmore Video Converter
Download the program from the official website. After that, a file will be placed on the lower left of your screen, click that and follow the installation process. Once installed, proceed to run the program to get started.
Step 2. Select MV tab
Select the MV tab on your main interface from the top menu bar. You will see the (+) icon, the button you will use to import your MOD file. Now, click that icon, and import the video clip you want to edit further.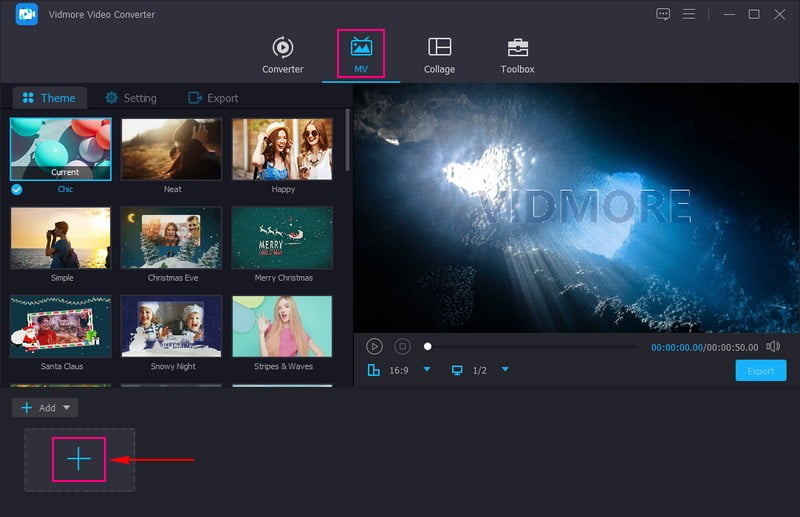 Step 3. Edit MOD File
Hit the Edit button once the video file is imported. You will see editing options like Rotate & Crop, Effects & Filters, and Watermark. Head to Rotate & Crop if you want to correct the video presentation and leave out unwanted parts. Move to Effects & Filters to adjust the basic effects and apply a specific filter. Head to Watermark if you want to incorporate an image or text watermark. Click the OK button to save the changes in each editing option.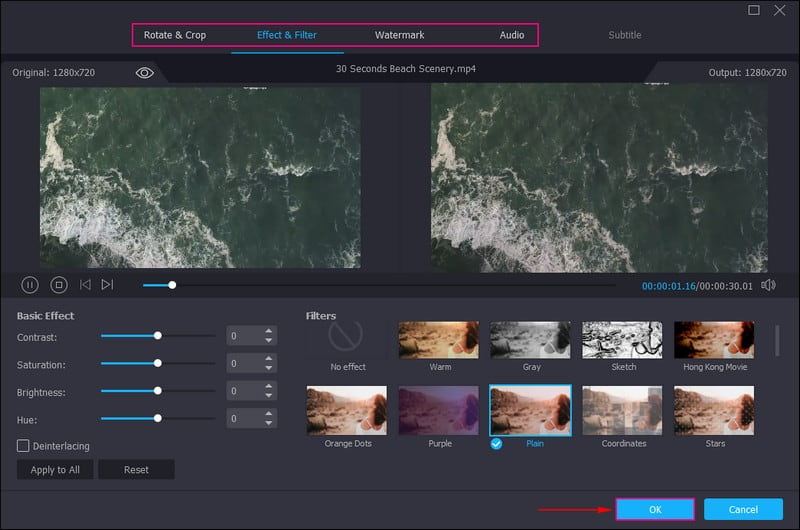 Step 4. Apply Theme, Text, and Background Music
If you like to apply a ready-made theme to your video clip, you can do that. Under Themes, pick your desired theme from the list. Move to Settings to add text in your video's beginning and ending parts. Besides that, you can add background music by importing an audio track from your local drive.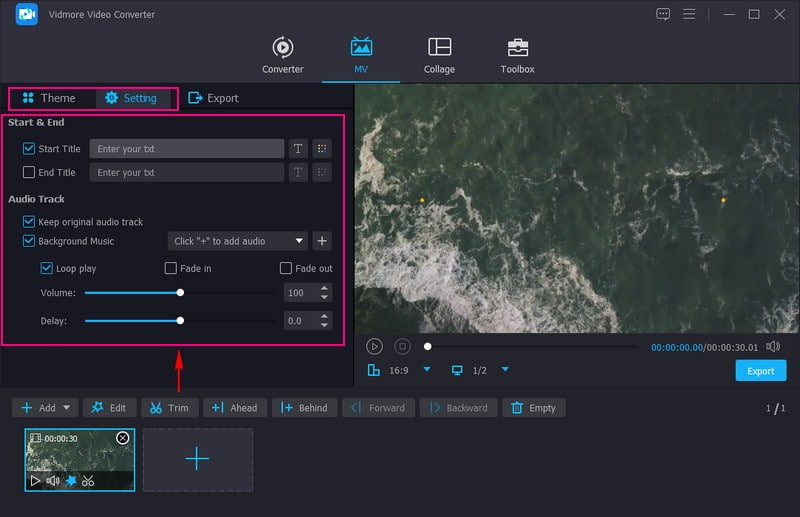 Step 5. Save Edited MOD File
Head to Export to change the video's format, quality, resolution, and more. Once satisfied, hit the Start Export to begin the process, and save your edited video output on your desktop folder.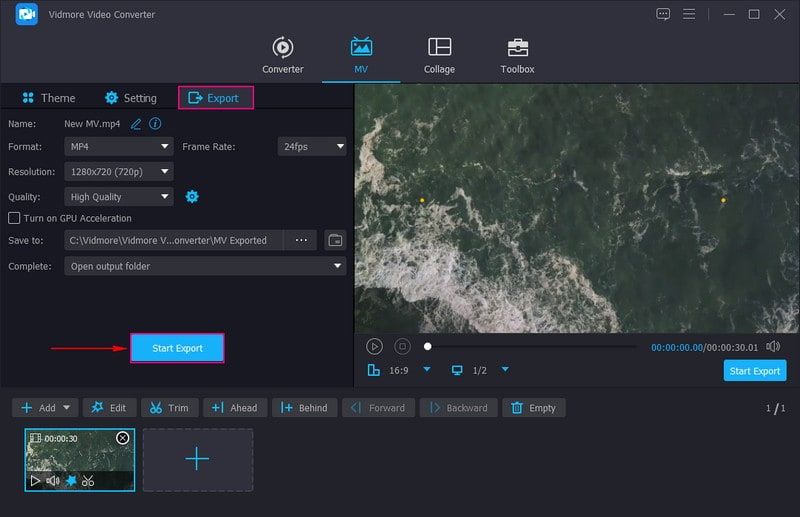 Part 4. FAQs about MOD Video Editor
Can you convert the MOD file to MP4?
Absolutely! You can convert a MOD file to another MP4 using Vidmore Video Converter. Besides MP4, you can convert MOD files to other video formats, as this program supports numerous output formats.
Is Vidmore Video Converter can enhance MOD video quality?
Yes! Vidmore Video Converter has an option where you can enhance the quality of your video by upscaling the resolution, removing video shakes, and more.
How do I open a MOD file in VLC?
If VLC is opened, head to Media, then Open File, and search the MOD file. Afterward, click the OK button to open the MOD file successfully.
Conclusion
You have grasped five video editors that can edit MOD files from above. Use your preferred one now and begin editing your videos. But if you prefer a video editor that offers basic and advanced editing options, you can rely on Vidmore Video Converter. It can meet your needs and expectations, and editing is easy and hassle-free.