Top 3 Time Lapse Video Editor: Online, Offline, and Apps
Time-lapse photography is a method that involves taking images or films at a slower frame rate and then replaying them at a quicker or regular speed. A time-lapse movie is a kind of time-lapse photography in which the gradual transformation of an item or scene is sped up to provide a stunning, blurred image. It's often used in filmmaking for various uses, including day-to-night transitions, urban and natural settings, and more. However, the time-lapse feature is not standard on all cameras. Therefore, it is necessary to shoot several photographs and use time-lapse software to edit them into a film. Plus, this post has handpicked several excellent time-lapse video editors for your perusal.

Part 1. Top 3 Time Lapse Video Editor
1. Vdmore Video Converter
You can create a time-lapse video in a matter of seconds using Vidmore Video Converter. It is an alternate method for creating time-lapse videos that may be done using the software. Don't worry if you don't have a time-lapse movie on your mobile device yet; you're not missing out on anything. Creating one without this program won't be difficult for you. The Vidmore Video Converter comes with several speed levels, allowing the user to modify the speed level by up to 8 times.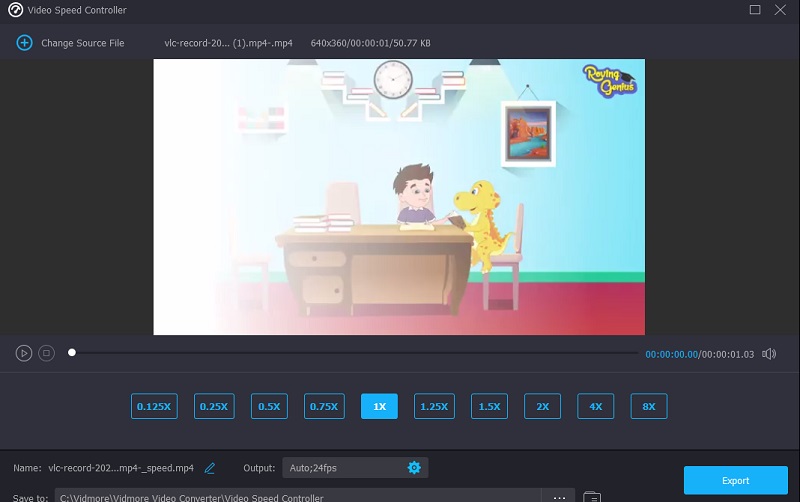 Pros of Vidmore Video Converter:
It allows speed enhancements of up to 8 times the average rate.
The application provides various tools for editing audio and video footage.
It comes with a section dedicated to controlling the speed of videos.
It is not difficult to use.
The output quality is unaffected by the conversion process while using Vidmore Video Converter.
Cons of Vidmore Video Converter:
Because of the tools' apparent lack of complexity, experienced editors may find using them tedious.
2. PowerDirector
PowerDirector is equipped with every tool a professional time lapse filmmaker could require. It is simple enough that even a novice might utilize it successfully. Time-lapse videos may have precise edits made to each frame by professionals, who also can choose an exact replay speed. It may simplify the process of editing for beginners by providing them with a selection of pre-made templates. There are almost infinite ways to customize the effects, including animated names, computer animation, keyframe settings, blending modes, and many more. Brightness, intensity, color, sharpening, and white balance may all be adjusted separately for precise color correction.
Moreover, video stabilization may correct the shakes inherent in shooting with a handheld camera. You may choose from many choices to soften the cuts between the sped-up and regular speeds of the movie. Complete your production by selecting an instrumental track from the included royalty-free stock music collection. When you're satisfied with your final edit, you can share it with the world through Facebook or YouTube or export it in stunning 4K HD. PowerDirector is compatible with both Apple and Google's mobile operating systems.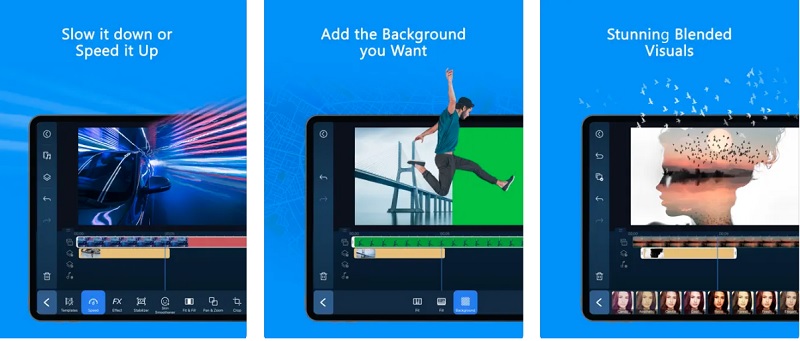 Pros of PowerDirector:
The best part of PowerDirector is the over one hundred high-quality audio and video editing tools it provides.
Even when drawing numerous layers at once, it does it quickly.
It is equipped with the most cutting-edge capacity for editing 360-degree videos.
Because of its compatibility with so many media file types may reach various distribution channels and users.
Cons of PowerDirector:
It has an excessive amount of ads.
The price of the program is a little bit steep.
A watermark is present on the item.
3. FlexClip
The video speed may be easily adjusted using FlexClip, a web-based video editor. You may create a time-lapse video by first uploading the clip, selecting the video speed, and then uploading the clip. The entire procedure is straightforward and uncomplicated. Moreover, it offers many robust editing options that allow you to level up any video by adding effects, text, and backdrops. The most significant aspect is that FlexClip does not place any watermark on the video you upload. Creating a time-lapse movie won't cost you a penny. FlexClip enables you to optimize your films following the platform's requirements on which you want to distribute them. When you export the video, you will have the option to change the resolution and the aspect ratio so that it will be more suitable for various devices.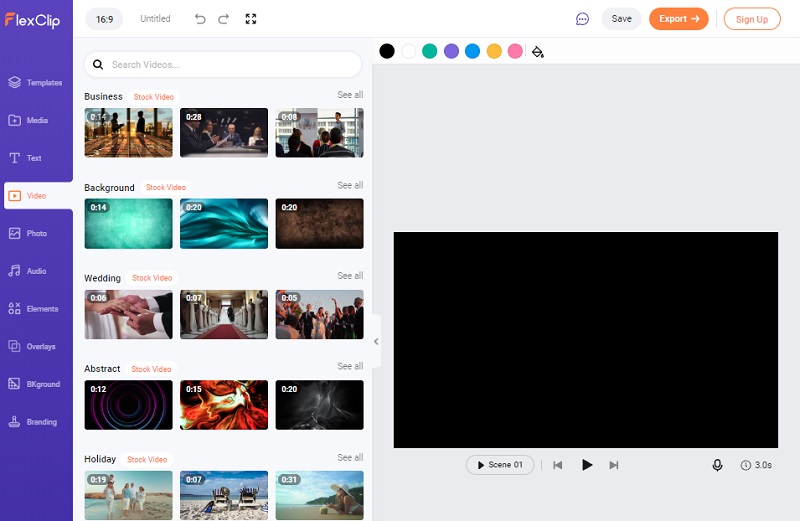 Pros of FlexClip:
It is a user-friendly editing tool that provides a lower-cost option.
It comes with thousands of different clips and templates.
It includes various animations, transitions, and components to choose from.
The categories are simplified for first-timers.
Cons of FlexClip:
The maximum duration of a video that you may upload is simply thirty minutes.
Part 2. Which Program is More Convenient?
It depends entirely on the users' requirements regarding which of these programs is the most convenient. If you want to pick software to install on your device, you have to choose the one that is downloadable on both Mac and Windows. If such is the case, then there will be no difficulties for you to deal with. On the other end, if you want a portable video editor that you can take with you everywhere you go. You will need to choose the program developed for mobile devices. And lastly, if you do not own any of these devices, you may still use the available software. If you have this, you can complete your assignment even if you do not have access to any technical devices.
Part 3. FAQs About Time Lapse Video Editors
What kind of time-lapse functionality does Android have?
You should be able to find the time-lapse function in the built-in camera of your Android phone if you have one of the more recent versions. To get access to it, all that is required of you is to look for it in your camera settings. Start the camera app on the mobile device you are using. To switch to video mode, choose the Video option.
How can I create a time-lapse movie on my smartphone?
To create your time-lapse movie, you must open the camera app on your phone, tap the Time-Lapse option, and start shooting. The following is how it appears when viewed on an iPhone device: Make sure your phone is stored in a safe location where it won't be subject to much motion. After that, you'll want to start recording your time-lapse by tapping the record button. When you are finished, tap it one more.
How long may a time-lapse video be?
It takes around 1,500 pictures to create one minute of time-lapse video. Despite this, estimating how much time will be required to accomplish the objective sequence is not difficult.
Conclusions
You may rely on the time-lapse video editors online and the tools you can download on Windows, Mac, and mobile devices. The video editors described above have been tried and tested by many people. Because of this, we are sure it will also be helpful to you while you are creating a time-lapse film.