6 Great and Online Movie Trimmer Apps You Should Know
Video sharing has a significant impact on people, hence the rise of editing tools that will help you make brilliant videos. These days many video uploaders and sharers utilize video cutters that will help them cut video parts that are unnecessary or unimportant. What's so good about cutting videos is that you can cut the irrelevant parts while having the benefit of reducing the video's overall file size.
In other words, you are hitting two birds with one stone or accomplishing multiple purposes with just one gesture. Yet another issue to address is what is the best movie trimmer to download or utilize? Fortunately, the internet is a vast collection of information. You could search and try tools developed for this kind of need. But to get through this very easily, a list of movie trimmers is reviewed below. Dig deep and learn more about these programs.

Part 1. Noteworthy Movie Trimmer App
To carry out the necessary change and editing on your videos, you need the Vidmore Video Converter. This video editing program can turn your simple video into a brilliant video by cutting the unnecessary parts of the video. There are diverse methods to help you cut videos. You could use the slider to easily select the start and end points and trim videos. Apart from that, it comes with a splitter that enables you to cut the video into your desired segments. Then you can select, edit or delete the one you don't need. Moreover, it infuses added features like GIF maker, MV maker, apply effects and filters, adding subtitles, watermarks, etc. You may follow this movie trimmer's steps on utilizing it for an instructional guide.
Pros
Supports a wide array of video/audio formats to edit.
Provides various video cutting options or methods.
Retains the quality of videos up to 4K Ultra HD.
Cons
Requires reformatting to save the output.
Free version has limited features.
Step 1. Open the Movie Trimmer
Acquire a copy of the tool's installer by clicking the Free Download button provided underneath. Install the program by following the on-screen setup and then run it on your computer.
Step 2. Import a movie or video
Next, click the Plus symbol to select the start and end points easilyin the tool's main interface or Converter tab. Once you click it, you will see that your computer folder will pop up. Now, browser the movie you wish to cut and upload it into the program. Next, drag and drop the movie clip into the tool's main interface if you wish to upload media files quickly.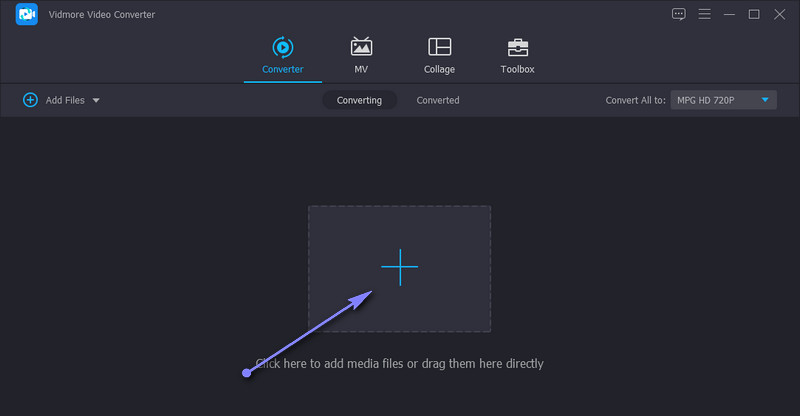 Step 3. Cut the uploaded movie
At this point, click on the Cut button from the video thumbnail. Then it will load the editing window of the tool. From here, you can select which method you want to utilize to cut the video or movie clip. Simply drag the sliders either left or right on the track bar to choose the portion you wish to retain. After that, hit Save to confirm the changes.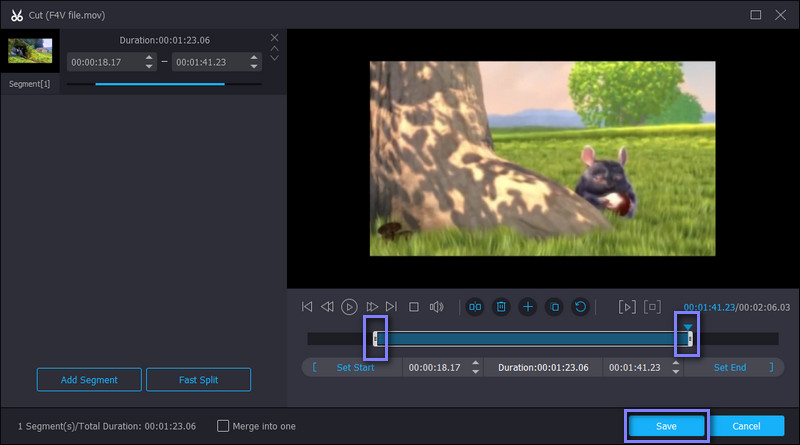 Step 4. Edit the video (optional)
Suppose you wish to enhance the video with this movie trimmer app. In that case, you can do so by going to the editing panel provided in this program. Resume to Converter tab and hit the Edit button from the video thumbnail. Then, you can modify the video. Crop the video, rotate, add filters and watermarks, adjust the audio volume, etc. Hit OK to save the file.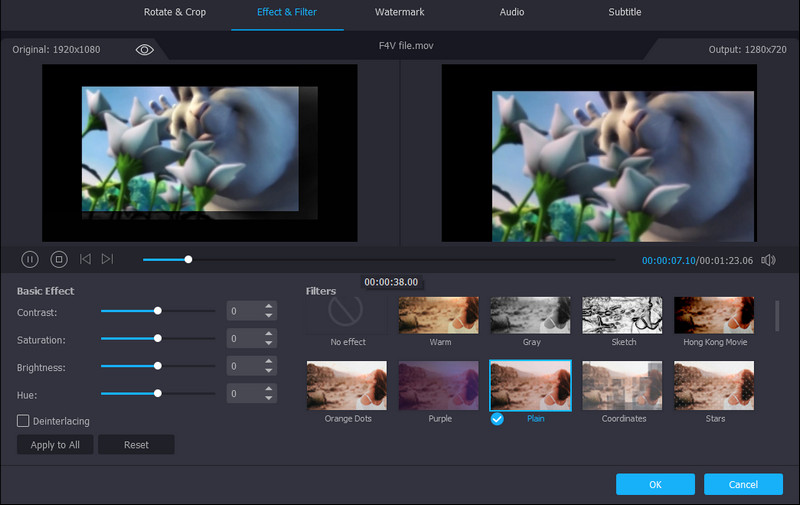 Step 5. Save the trimmed movie
Once you are all set, go back to the Converter tab and select an output format by opening the Profile tray. Head on to the Video tab and choose a suitable format. Once done, click the Convert All button to apply the changes and save it. You shall receive the output from the folder that will automatically appear.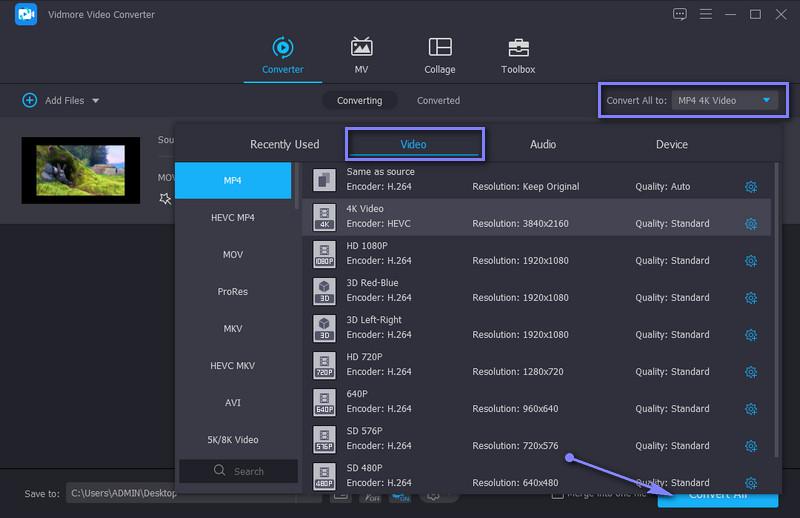 Part 2. More Efficient Movie Trimmers
1. VLC media player
VLC media player is a well-known player offering support to almost any video and audio format. Also, it is fully workable on platforms like Windows, Macintosh, and Linux. What's captivating about this program is that it enables video editing like cutting, rotating, and converting files. This free movie clip trimmer is good for a video creation from another angle. Something to look forward to? It is capable of downloading videos from video-sharing sites using just the URL or link of the video.
Pros
Compatible with different platforms and devices.
Comes with a video downloader.
Cons
The app may crash occasionally.
Not a straightforward way of cutting videos.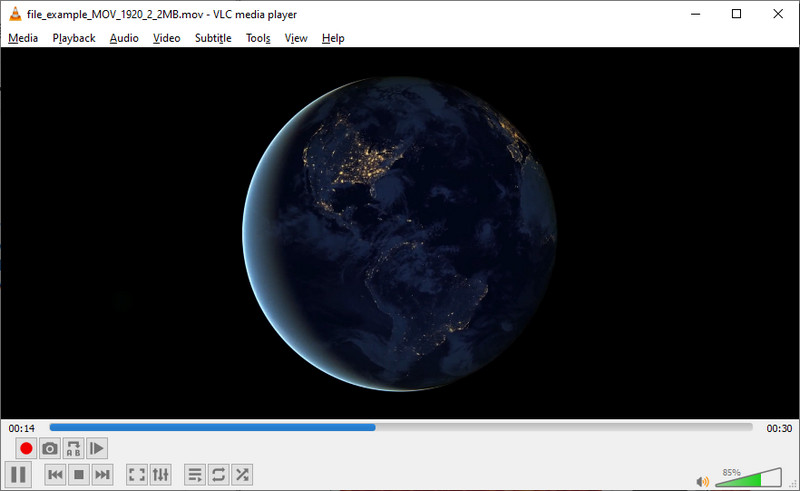 2. Gihosoft Video Editor
Gihosoft Video Editor is one of the best free movie trimmers regarding the simplicity and straightforward manner of cutting videos. This editor can help you cut certain video parts without reformatting. Every second of the video is under your control, allowing you to cut by seconds and freely enter the start and end times. Apart from videos, this enables you to cut audio formats such as WMA, M4A, MP3, APE, AIFF, and many more.
Pros
Trim videos while preserving the original quality.
Integrates drag-and-drop feature.
Cons
No added features for editing videos.
Can only do basic video cutting.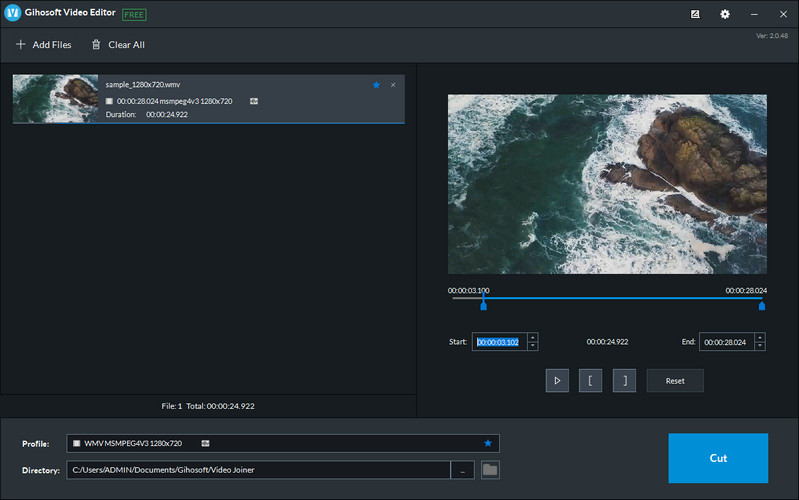 3. Pavtube
Yet another good free movie editor trimmer alternative to trim and cut videos is Pavtube. It can accurately cut videos by trimming frame by frame. Moreover, there is no restriction regarding the number of videos to convert, along with the video's file size. Besides this, you can also utilize the program to crop the video, adjust audio, add subtitles, watermark, etc.
Pros
Provides a split-screen interface for the original and output preview.
Different video and audio editing tools are supported.
Cons
Does not have an intuitive interface.
Need installation before using the program.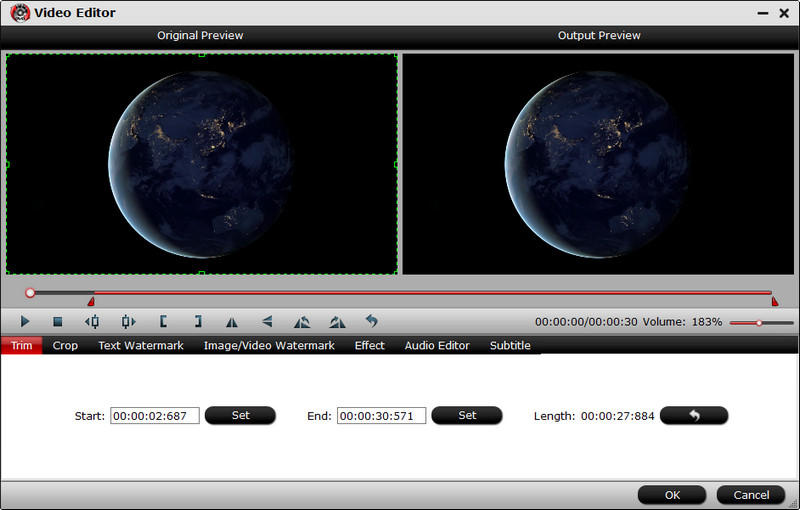 4. Clideo
Get your video cutting task done with a free online movie trimmer named Clideo. This web-based program allows you to trim or cut long videos into shorter versions. You could trim videos using the handlebars to select the range of cutting or set the beginning and ending times by seconds. Furthermore, the tool enables you to choose an output format for the final video.
Pros
Users can use the program even without registering for an account.
Apply fade-in and fade-out effects on the video.
Cons
Loads videos at a relatively slow speed.
Solely depends on the internet connection.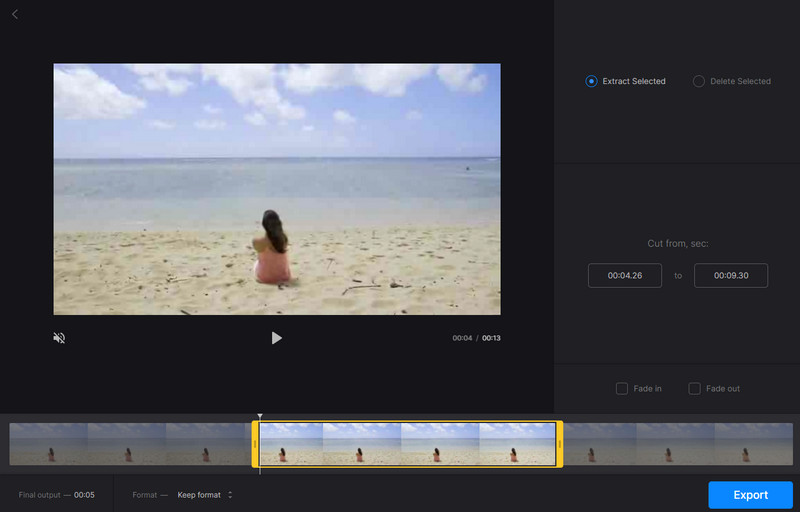 5. Aconvert.com
The following free movie clip trimmer you may utilize is Aconvert.com. This tool enables you to cut videos without installing any software. It supports formats including MP4, MKV, MOV, WEB, WMV, and a lot more. Aside from video cutting, it also lets you edit videos by merging, cropping, rotating, and converting. Best of all, users can upload media files from Dropbox and Google Drive.
Pros
Upload videos from online storage services like Drive and Dropbox.
It comes with different video editing tools.
Cons
File size is limited to 200MB only.
It does not provide a video preview.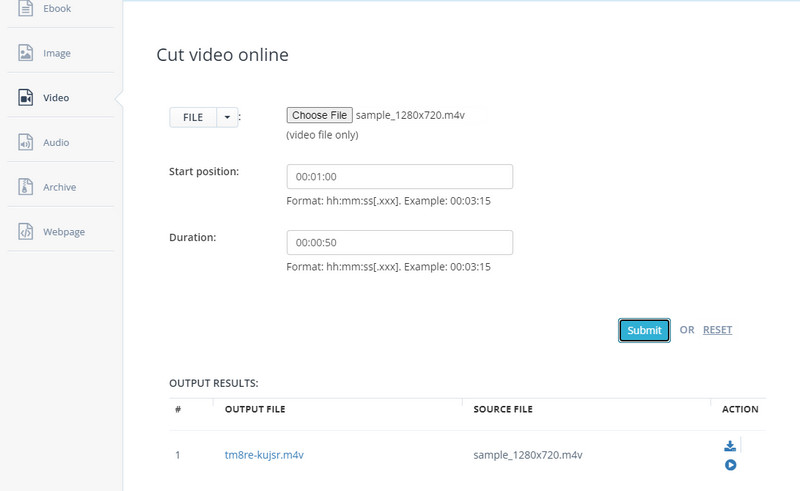 Further Reading:
Top 10 Free Movie Maker to Make Movies on Windows/Mac
Learn on How to Make Your Own Action Movie
Part 3. FAQs on Movie Trimmers
Is it possible to cut out parts of a video?
Yes. Actually, there are different approaches to achieve this. You may split the video into multiple parts and delete the unwanted parts. Also, some programs allow you to use handlebars to get the range for video cutting quickly.
How can I split a large video into multiple parts?
There are fantastic video splitters you can use to split your large videos into multiple parts. As an example, you can use Vidmore Video Converter. Simply upload the video you wish to split. Click the Cut button and click on the Fast Split button to quickly divide the video into separate parts. After that, you can decide whether to delete or retain the split parts of the video.
What is the best movie trimmer for Windows 10?
Choosing the best movie trimmer may be subjective. It usually depends on your personal preferences. You can pick from the tools above after scrutinizing their features and functions.
Conclusion
The earlier movie trimmer apps can help you trim movies with little to no hassle. To choose the app for your needs, you can try each tool and see which is beneficial. But looking closely, Vidmore Video Converter stands out because of the various editing and cutting options it provides. Moreover, it is easy to use. Even a green hand user without prior experience can navigate the tool quickly.