Helpful Programs to Trim WAV Files on Web and Desktop
So you have spotted a good-sounding WAV file fit to set as a ringtone. However, it's no surprise that WAV files are large in size, and most of them are too long. As we know, ringtones should be no longer than 30 seconds. In this plight, you want to trim your target media file to reduce the file size and duration to fit as a ringtone. On that note, we listed some of the excellent programs that will enable you to trim WAV files online and offline. Learn further information about these programs and see how they are helpful.

Part 1. Best Way to Trim WAV on Windows and Mac
Vidmore Video Converter has a diverse set of features for both your audio and editing needs. With this software, you will be able to cut long WAV files into individual tracks in a matter of seconds without configuring complicated setups. As a matter of fact, it provides a convenient way to retain or remove portions of the track using the music handles or sliders. The best part is the tool is equipped with automatic splitting capability. Using this feature, you can split audio files by average or by time in seconds. There is also a converter that lets you change the format of the original audio into your desired output format. On the other hand, here's a step-by-step procedure on how to split a WAV file using this app.
Step 1. Get the installer of the app
Firstly, acquire the software's installer by clicking the Free Download button below. Make sure to choose the appropriate operating system for your computer and then follow the onscreen setup to install the app. Run it afterward.
Step 2. Import WAV file
Secondly, import a WAV file by clicking the Plus sign button. It should open a folder where you will locate the WAV file. From here, select the target WAV file and click the Open button on the window.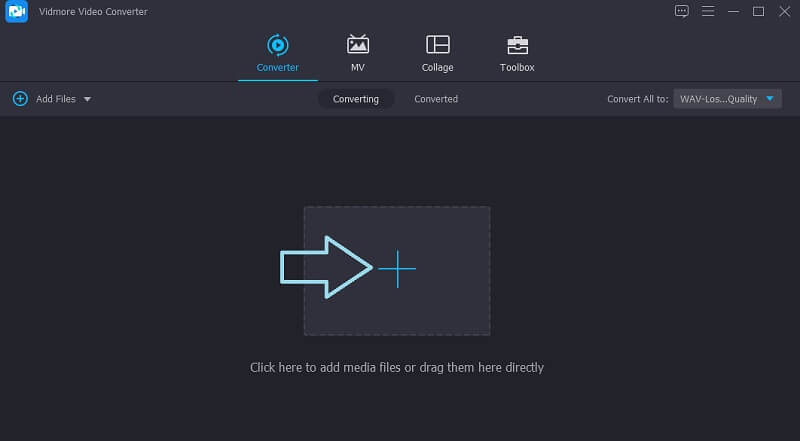 Step 3. Trim the WAV clip
Thirdly, click the Cut button and it will launch the music editor of the program. Now move the left handle to where you would like the audio to start. On the other hand, move the right handle to choose which part of the audio you would like it to end. Click the Save button if you are satisfied with the results.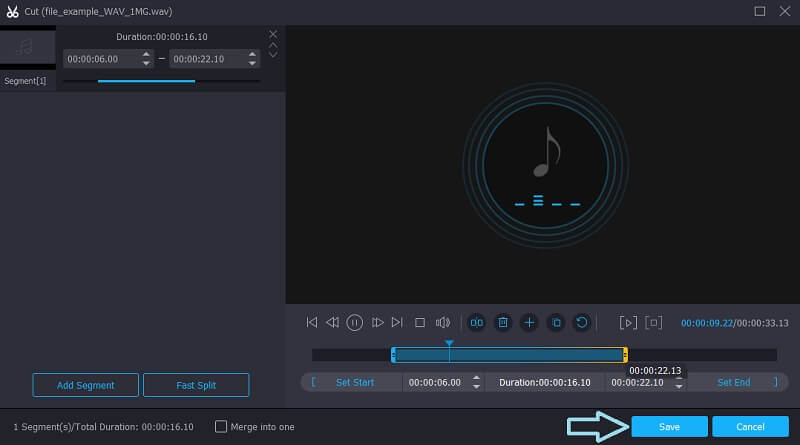 Step 4. Save the trimmed music
Finally, after applying all your desired changes, go back to the Converter tab. From here, you may keep the original format or convert it to another depending on your needs. Once done, click the Convert All button and it will initialize the conversion process.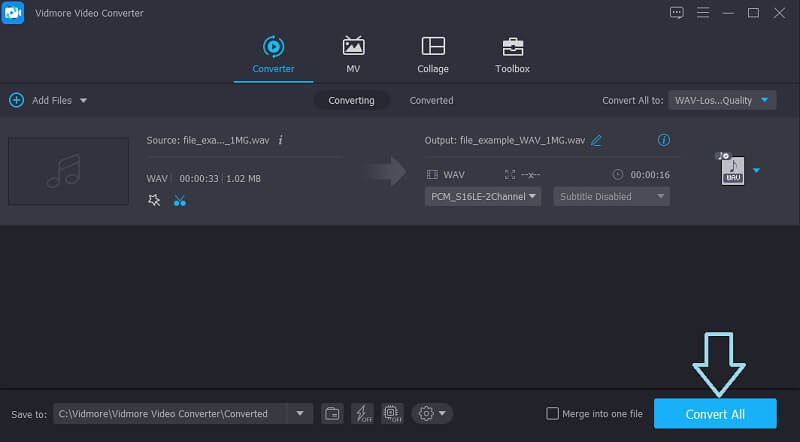 Part 2. How to Cut Trim Files Online
Included also in the list are the best online audio cutter programs that feature the ability to split a WAV file or any audio file into multiple tracks without installing a separate app. Through these programs, all you need is a working and reliable internet and a browser to conveniently cut WAV files online. Have a glance at the tools introduced below and see which tool best suits your preferences.
1. Clideo
Clideo is a well-known online program that offers lots of editing features available for audio and video editing needs. By using this program, you can cut WAV files into separate tracks. In addition, you can upload files from different sources including cloud storage and local computer folder. What's fascinating is that you can accomplish all these tasks even when you are only using a mobile device. On that note, here are the steps on how to split a WAV file using Clideo.
Step 1. Open your favorite browser and access the tool by going to its official webpage.
Step 2. On the main page, click the Choose file button if you would like to upload from your local folder. On the other hand, you may upload from Dropbox or Google Drive from the options on the drop-down menu.
Step 3. By then, it should go to the music editing interface where you can cut the WAV file. Use the left and right audio handles then choose the appropriate action to execute. You can choose between Extract Selected to keep the selected portion or choose Delete Selected to remove the selected part.
Step 4. Before exporting the file, you may apply fade in and fade out effects to the audio file. Once satisfied, click the Export button.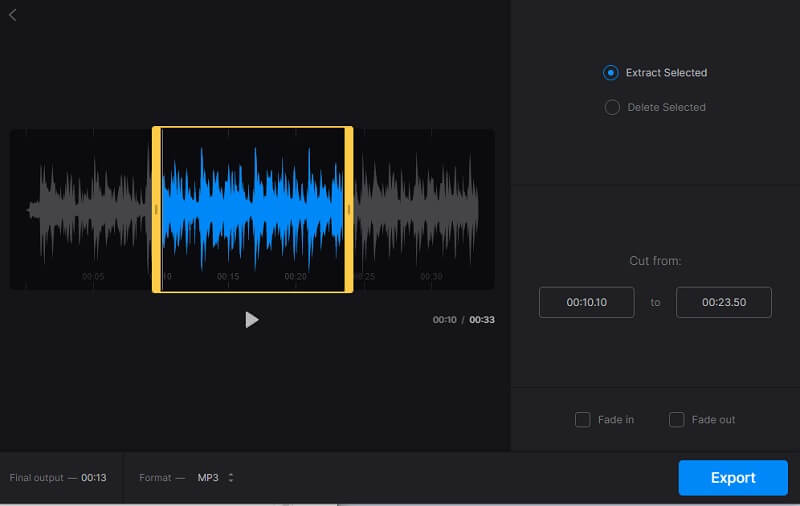 2. Aconvert
Another online alternative that you should consider using is Aconvert. This tool also comes in handy if you are not willing to install another program on your computer. Besides its user-friendly interface, this tool enables you to trim WAV files with high precision by entering the cut duration in seconds. Aside from that, you can also import files from cloud storage and via the URL of the file if the file comes from audio-sharing sites. To help you maneuver this app, you may refer to the instructional guide provided.
Step 1. Visit the main website of Aconvert using any browser. Whether you are using Mac or Windows PC, you may access this tool from all major web browsers.
Step 2. Select Audio on the left-side menu and click on the Cut button at the top menu of the interface. By then, you should see the music editing interface of the program.
Step 3. To upload a file, hit the Choose File button. Set the start duration to where you would like audio to start cutting. Also, set the end duration to where you'd like the audio to stop. Hit the Submit button if you are happy with the changes.

3. Audio Trimmer
If you wish to have a good audio cutter, Audio Trimmer deserves a try. This is a completely online tool that enables you to split WAV files into multiple tracks without any complicated setup. With this program, you can also create a ringtone out of WAV, MP3, OGG, WMA, and other audio formats. Likewise, this is a mobile-friendly tool wherein you can access the same feature as the browser on your computer. If you have the same question of "How do I trim a WAV file," find out below how this is done.
Step 1. On a web browser, you can reach the main interface of the tool by visiting its official webpage.
Step 2. Once you reach its main page, click on the Choose File button and select the WMA file that you desire to cut.
Step 3. Using the sliders, move the left slider to the part of the audio wherein you want to start the trimming. As for the end of the trimming, you can move the right slider. If you wish, you could also set the duration in seconds to precisely cut the WAV file.
Step 4. When you are done with reworking the WAV file, click the Crop button to permanently save the changes.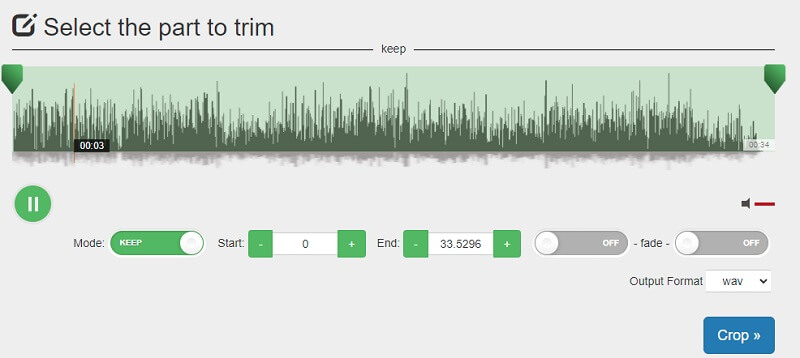 Part 3. FAQs of Cutting WAV
How to cut WAV files using a mobile device?
You have two options to accomplish this task. You may choose to do it online or offline using a mobile app. As mentioned, Audio Trimmer is compatible with mobile browsers.
Is there any quality loss when trimming WAV files?
If there's any quality loss, there is but very minimal. Unlike when you are converting files while configuring the parameters like bitrate, there would probably be significant loss of quality happening in the process.
Is it safe to cut WAV files online?
All online tools are safe unless they ask for your credentials and confidential details.
Conclusion
The listed solutions above are guaranteed to help you trim WAV files. Just choose which method fits your preferences well. If you don't see yourself installing another app, you should pick the online tools. Yet these programs are bound to limited features. Hence, desktop apps like Vidmore might be the right pick if you are into a functional program.