7 Best and Free WAV Converters for Desktop and Mobile Devices
WAV or also known as Waveform Audio File Format is one of the most popular audio formats around. It was developed by Microsoft and IBM intended for Windows users. But for some reason, you want to convert your WAV into another audio file format. It could be that you want to listen to the audio playback of your WAV files on a different media player, be it on mobile or desktop. Other concerns include wanting to save more audio files on their device since WAV files consume too much memory space.
Whatever your reason is for converting WAV into another audio file format, we researched the best tools that you can use for this kind of need. Worry not because you can get your WAV files converted in a jiffy. Find out which of the WAV file converters works best for you.

Part 1. Professional WAV Converters for Windows/ Mac
Vidmore Video Converter is a user-friendly desktop program that allows you to convert your audio/video into any format at a high speed. The quality of the converted files stays that of the original file. In other words, you can quickly convert files without sacrificing the quality of the audio or video file.
Assuming that you want to store more music files onto your device, then this tool might be your best WAV to MP3 converter app. As we know, WAV files are uncompressed while MP3 is highly compressible allowing you to save more music files compared to WAV. Aside from that, it can also work the other way around. That means if you are looking for an MP3 to WAV converter on Mac or Windows PC, Vidmore is your go-to software app. You may refer to the below guide to use it.
Step 1. Acquire the WAV Converter
First of all, download the program by clicking the Free Download button above. Pick the appropriate OS for your computer and proceed to installation afterward.
Step 2. Upload a WAV file
Next, click the Plus icon at the center of the main interface to upload your target WAV file. For your convenience, you can also choose to drag and drop the file onto the program.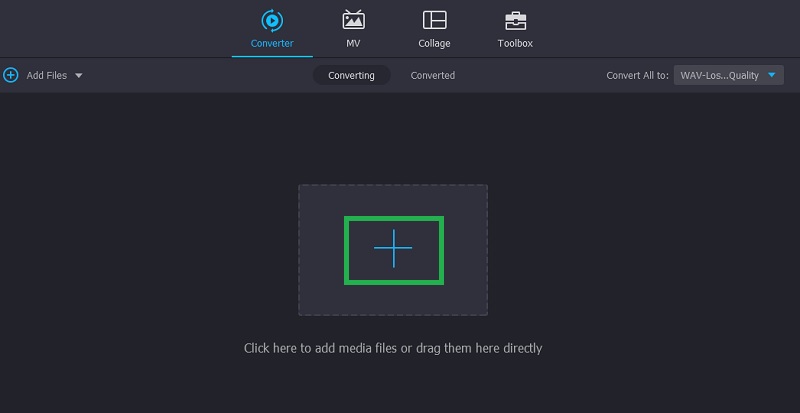 Step 3. Select an output format
Once you are done uploading, go to the Profile menu and choose an output format that matches your needs or requirements.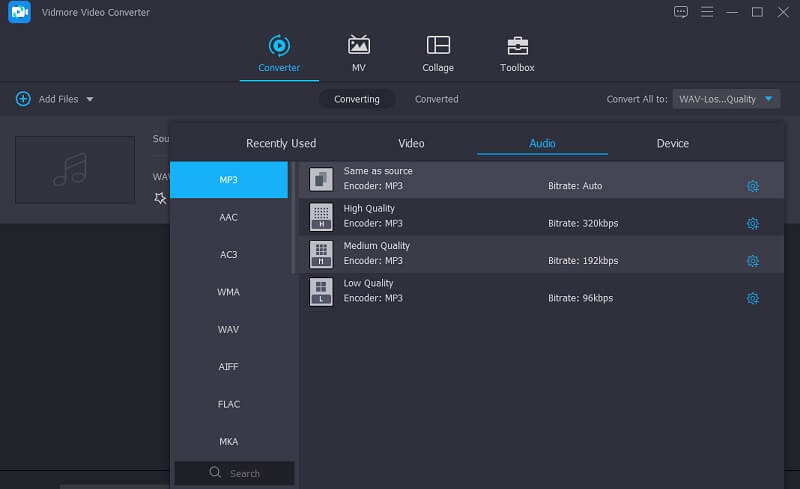 Step 4. Convert the WAV to another format
Before the conversion process takes place, set a file location for the converted audio file. Simply click the Folder icon at the bottom of the interface and choose the folder where you want the file to be saved. Hit the Convert All button to finally start converting the file. By then, it will show a folder of the converted files for you to get the audio playback.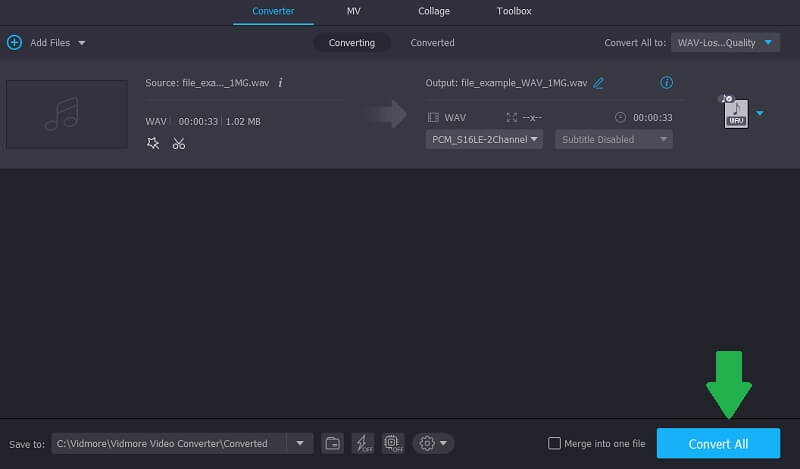 Part 2. Free WAV Converters
Not all users tend to use a paid application to fulfill their conversion needs. With that being said, we prepared a list of online and WAV to MP3 converters free to download on Windows PC and Mac. Take a look at the given programs below.
1. Vidmore Free Online Audio Converter
For basic audio conversion, Vidmore Free Online Audio Converter is an excellent app you should consider using. The intuitive interface of the program makes it easier for you to navigate it even if it is your first time using the tool. The best part is you can convert as many audio files as you like right from the browser. It offers support to the audio formats including MP3, WMA, OGG, FLAC, M4R, M4A, and so much more.
Pros
Multiple file conversion at the same time.
Supports many audio file formats.
Can extract audio from a video.
Lets you modify the quality of the converted file.
Cons
Does not work without an internet connection.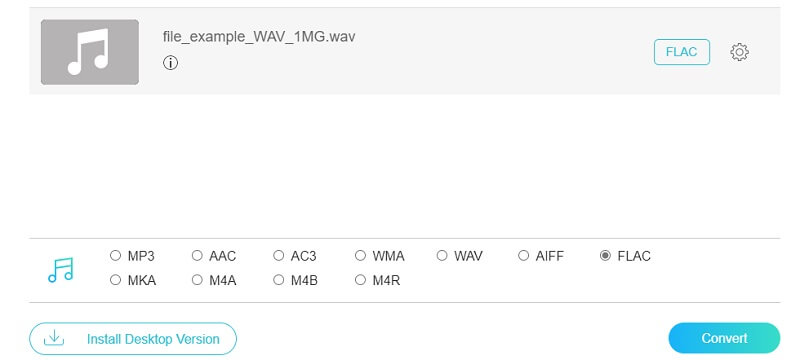 2. Freemake Audio Converter
Another free MP3 to WAV converter that you can use is Freemake Audio Converter. It has preset available for various devices including Mac, PC, smartphone, and even tablet. Moreover, it enables you to customize the quality of your MP3 file by adjusting the bitrate. Hence, if you're looking for WAV to MP3 free to download, then opt for Freemake Audio Converter.
Pros
Supports converting files in bulk.
Save output in cloud storage.
Enables editing channel, sample rate, and bitrate.
Cons
Can only convert audio files that are less than 3 minutes.
Conversion options are limited to a few formats.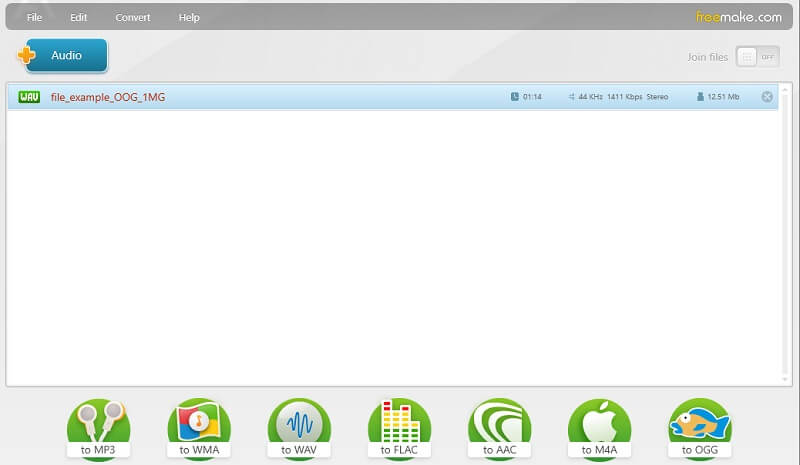 3. FileZigZag
FileZigZag is also an online converting program that lets you turn your WAV files into another format right from your web browser. This tool utilizes the drag-and-drop feature making it easier for users to upload their files. Some of its popular format conversions include MP3 to OGG, FLAC to MP3, and even works as an audio converter WAV to MP3 online. Aside from audio, it also allows users to convert documents, archives, videos, and images.
Pros
Can perform different conversion methods.
No installation needed.
No installation needed.
Cons
Conversion capping at 10 conversions a day.
Conversion process usually take time.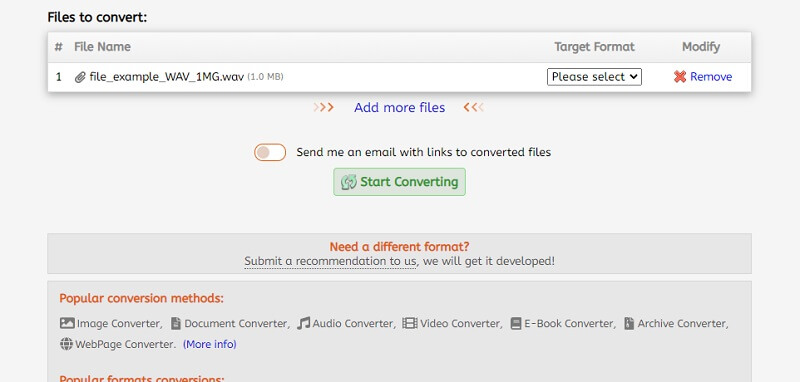 4. Convertio
Convertio is a simple tool that you can use to convert your audio files to WAV and vice versa. It provides users with different methods for uploading audio files that need to be converted. You can choose to load a WAV file via URL, from Dropbox, Google Drive, or simply upload from your local hard drive. There will also be instances that you need to convert your OGG files to WAV online. In this case, you can consider using Convertio to get this job done.
Pros
Allows customizing output settings.
Output settings can be applied to all other audio files.
Available on Mac, Windows, Android, and iOS.
Cons
Registration is needed to remove restrictions.
Uploading speed is relatively slow.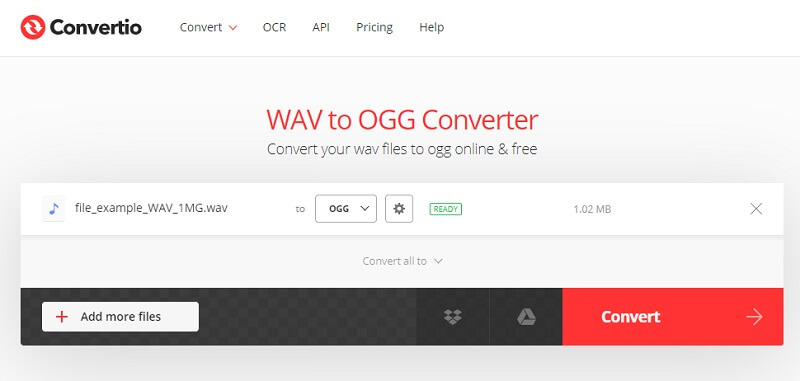 Part 3. WAV Converter apps for Mobile
If you wish to accomplish your conversion tasks on your smartphone, you can do so using some mobile WAV converting programs. Depending on the device you are using, you can choose from the below option which app best fits your needs. Through these tools, you can enjoy your favorite audio files on another media player or device.
1. The Audio Converter
The Audio Converter is primarily designed for converting audio files on Apple devices. You can choose from audio output formats it supports that include AAC, FLAC, OGG, WAV, WMA, AIFF, M4A, etc. It is also a handy program to convert files from MOV, MP4, WEBM, and many others. What is more, all the process is done on a secure cloud server allowing you to save battery and do more tasks than conversion. While the conversion happens on the cloud, it immediately deletes the converted files after the conversion process. Yet for security purposes, it's better not to use it for processing your confidential files.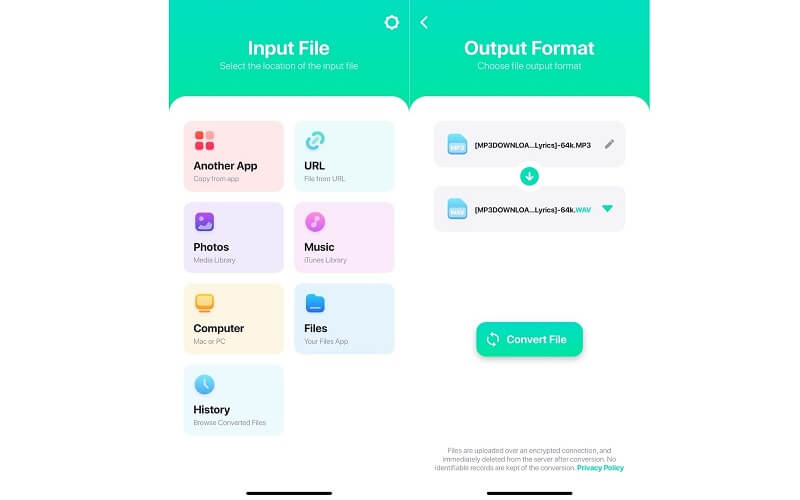 2. MP3 To WAV Converter
Another yet helpful WAV converter is MP3 To WAV converter. This app is compatible and best for Android devices. Similarly, it can perform one file conversion at a time or bulk conversion that is why it is included in the list. Prior to converting, it lets you adjust the quality such as the audio bitrate, audio sampling, and channel options. You can also leave the app running in the background when converting, allowing you to do other tasks at the same time.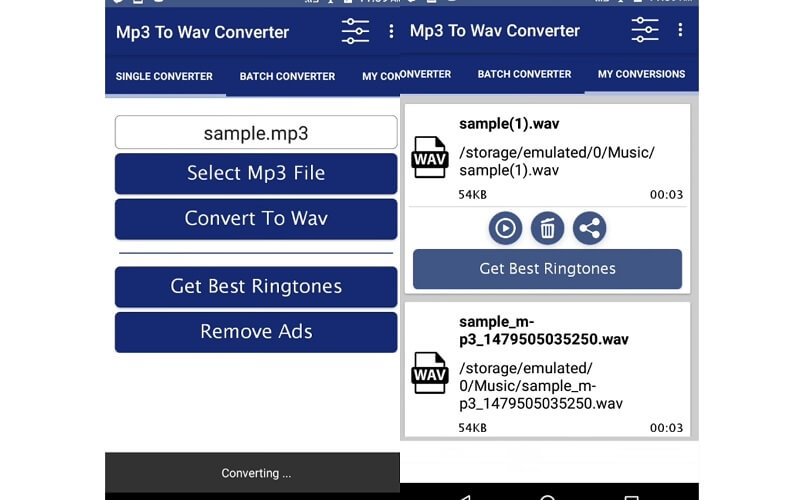 Part 4. FAQ of WAV Converters
Which player can I use to play WAV files?
You may use VLC Media Player if you really want to listen to your WAV audio files. For your information, VLC is available on Windows, Mac, iOS, and even Android devices. That means you will be able to play your WAV files on whichever platform.
Can I play WAV files without using third-party programs?
Yes. For Mac users, WAV files can be opened using iTunes and Quicktime. On the other hand, Windows Media Player supports WAV files allowing you to listen to the audio playback of your WAV files.
Is it possible to convert WAV files to any format?
Yes. There are tools that support multiple output formats. You may take Vidmore as an example. This lets you convert your WAV files into any audio format and vice versa. You can download it as a free MP3 to WAV converter and enjoy most of its features.
Conclusion
These are the WAV converters that can help you change your WAV files to other audio files or vice versa. For simple conversion, you could get by with freeware and online solutions. Yet if you are looking for something else, Vidmore is worth the try. It comes with advanced video editing features and can convert videos to any format.