Review of WavePad Sound Editor and Its Top-notch Alternative
More often than not, you already encounter WavePad, especially when you need to edit audio files. Whether on your Windows, Mac, or mobile devices, you can use this app to change your audio files. It is regarded as a feature-rich program with an extensive toolset to fulfill various editing jobs. All in all, it is a good audio editing program to satisfy the needs of every level of user. Moreover, we will have a comprehensive review of WavePad and the renowned alternative if you are concerned about looking for another app before upgrading to the premium version.

Part 1. What is WavePad?
WavePad is a free audio editor available for Windows and Mac computers. It provides a great selection of editing tools that you can access on its easy-to-use interface, perfect for every user level. Also, you have excellent control over the audio field with tons of great features you can employ. You can apply effects like echo, normalize, and reverb. Apart from that, there are compressions, auto-trim, cut, and copy and paste features. On top of that, it enables users to process files in batches which is helpful when you need to edit multiple files at once.
For precise editing, you can also use the scrub, search and bookmark features of the program. In this manner, you can recall and rearrange segments of long audio files. It supports audio formats including MP3, WAV, VOX, WMA, RA, OGG, AAC, etc. Continue reading to explore the main functions of the WavePad free app.
Part 2. Comprehensive Overview of WavePad
Suppose you wonder about its primary functions or haven't discovered some of them yet. Below is a list of the significant features and functions of WavePad.
1. Various Audio Editing Tools
To accomplish a professional audio output, it allows you to cut, auto-trim, copy and paste, delete, compass, or shift pitches.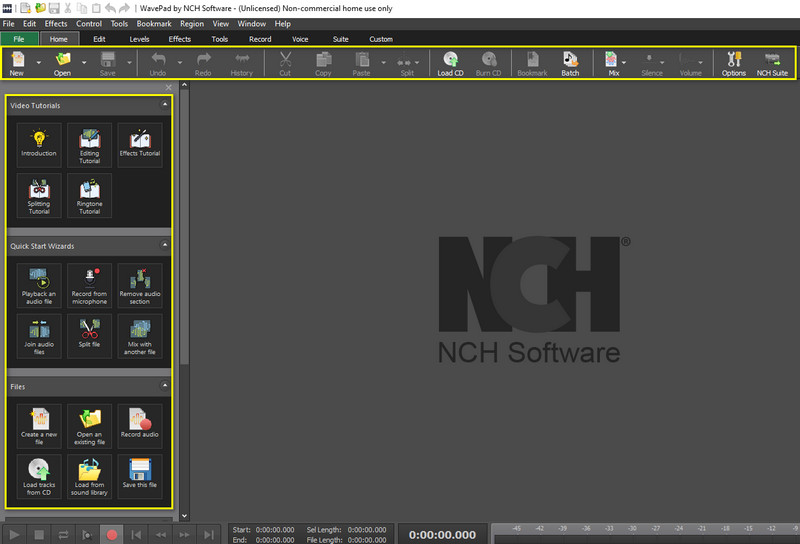 2. Process Files in Batch
WavePad provides a quick way to edit multiple ways. With it, you will be able to upload and edit clips one by one or edit them all at once.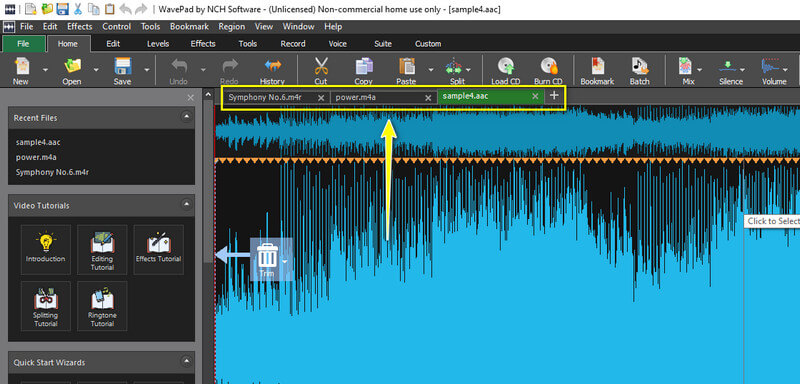 3. Apply Amazing Audio Effects
WavePad sound editor voice effects are also available. It allows you to apply normalization, reverb, echo, reverse, equalizer, amplify, and more audio effects.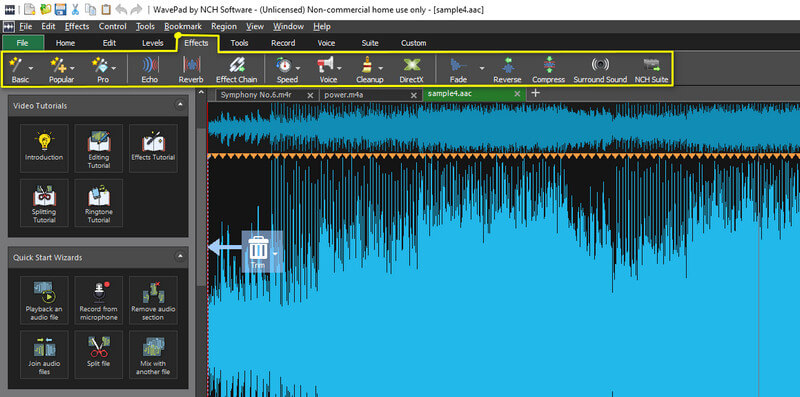 4. Supports Many Audio Formats
The program supports many audio formats, including MP3, AAC, FLAC, FLV, M4A, M4R, MP2, OGG, AIF, AU, and many others.
5. Restore Poor Recordings
WavePad integrates audio restoration that can help you fix several audio issues. You can remove unnecessary noise like hiss, pops, cracks, and hums. Essentially, it comes with unlimited undo and redo, which is helpful for tracks that need many editing processes to undergo.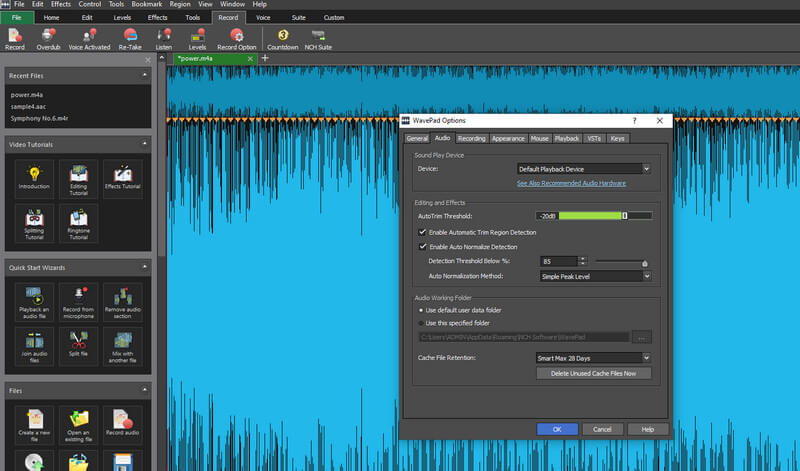 Advantages:
Users can edit by cutting, trimming, copying, pasting, and deleting recordings.
Music restoration that includes click pop removal and noise reduction.
Enables creating bookmarks and regions for easy recalling and assembling audio segments.
Comes with spectral analysis and speech synthesis.
Offers sound effect library and royalty-free music clips.
Disadvantages:
No fixed toolbar on Mac operating system.
Blocks the waveform overview in WavePad Mac.
It Takes a while when rendering the audio restoration effects.
Part 3. Best Alternative to WavePad
Suppose you are not satisfied with the performance of WavePad or you are looking for something else, Vidmore Video Converter could be of great help. This is mainly a converter but equips various helpful tools like cutting clips into multiple segments. In addition, it supports an abundant amount of audio/video files where you can convert and edit nearly all audio formats.
Also, you can modify the output before the conversion takes place. With Vidmore, you can edit audio parameters such as channel, sample rate, and bitrate. Moreover, it comes with a volume booster which is very important if you need to increase the audio volume to make it audible. For further features, below are some details: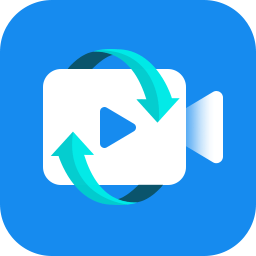 Vidmore Video Converter
Convert audio files including MP3, WAV, Audio CD, MP2, etc.
Edit metadata such as title, album, year, add comments, and artwork.
Edit the audio from video files like audio sync, adding another audio, etc.
Single and batch conversion.
Increase and reduce audio volume.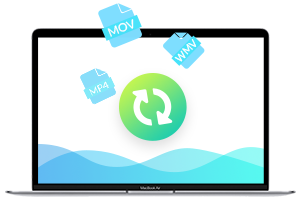 Find out how this WavePad alternative works through the steps below:
Step 1. Install the WavePad Audio Converter Alternative
First, you have to download the Vidmore Video Converter by clicking the Free Download buttons above. Launch the tool, and you will arrive at the main user interface.
Step 2. Add an audio clip to edit
Next, click the Plus icon from the app's main interface to import the audio file you wish to edit. You may also drag and drop the file to add an audio clip.
Step 3. Choose the editing option
When you upload the audio, you will choose whether to cut the audio or edit it. Suppose you are trimming the audio file, click the Scissors icon, and you will arrive at the music editor. From here, you can Fast Split the clip by time and average depending on your needs.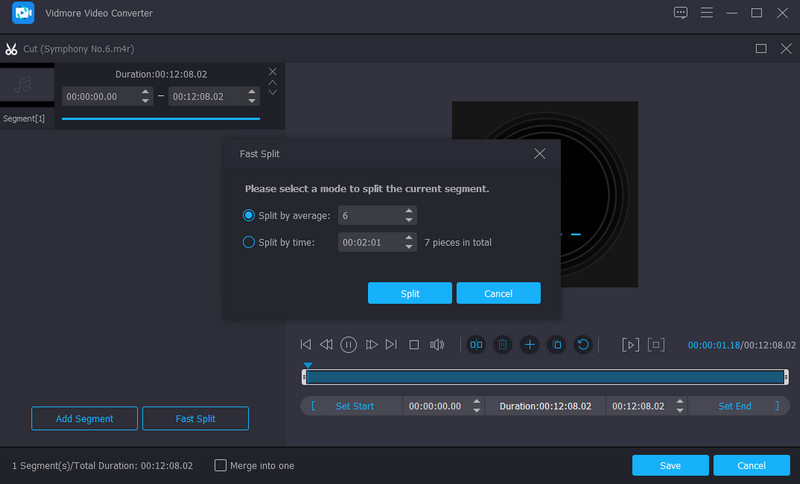 Step 4. Select audio format and export
Once done, open the Format tray and select the export format for the output file. Then select an audio profile. Finally, click the Convert All button at the bottom right corner for the conversion process to take place.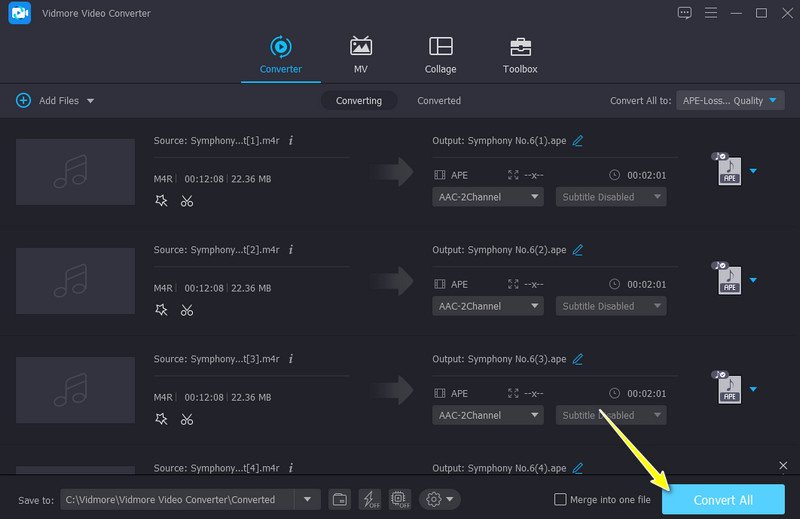 Part 4. Which is the Better Audio Editor?
Perhaps you are undecided about getting a Vidmore or WavePad download; here are some points to help you compare through a table illustration.
WavePad Audio Editor

Vidmore Video Converter
| | | | | |
| --- | --- | --- | --- | --- |
| Platform | User Interface | Supported Format | Editing Tools | Other Features |
| Windows, Mac, Mobile | A bit complicated, especially on Mac OS | Over 50+ supported formats | Cut, auto-trim, copy and paste, delete | Recorder and audio restoration |
| Windows and Mac | Easy-to-use | Over 200+ supported formats | Split, cut, and merge | MV Maker, Metadata Editor |
Part 5. FAQs of WavePad
How to add WavePad sound editor voice effects?
That is easy to accomplish. You have to add your target audio file. Click on the Effects option from the toolbar and go to the Voice option. Then, apply the voice effects that you need.
WavePad vs. Audacity, which is the better audio editor?
WavePad is a good app if you are a novice in audio editing. But if you are an advanced user, you should go with Audacity.
How to remove vocals from a song using WavePad?
Under the Effects tab, select the Voice option and click on the Reduce Vocals. It will display a panel where you can reduce the vocal level. You will be given options to different settings like pan position, pan width, and vocal level to remove the vocal from this panel.
Conclusion
WavePad Audio Editor is indeed a great app to quickly edit audio files, recordings, convert files, and many more. Meanwhile, there are also excellent alternatives that you can check out that offer simple and advanced features as WavePad. Hence, the Vidmore Video Converter review is an outstanding and leading alternative to WavePad.