How to Fix Low-Resolution Photos [Online and Mobile Programs]
These days, people take photos for documentation, reminisce moments, share them online, and even use them to make some profit. As a rule of thumb, getting clear and sharp pictures is recommended. Yet, not all the time can we capture perfect shots. Due to some human error or wrong camera settings, photos can look blurry. Sometimes, you cannot retake another shot because you cannot go back to the venue anymore. That is quite frustrating.
Do not fret. There are workable means that can help you fix low-resolution photos. To learn how to fix low-resolution photos, we prepared a detailed tutorial you may follow to get this done. Along with that, we will introduce the best programs that will help you. Get the necessary information by reading below.

Part 1. What Makes Pictures Blurry
Your photos might have smudges or slight blur throughout. Many causes make a photo blurry or have smudges. It could be due to the wrong camera settings. You did not have a good grip on your device, or your performed edits that ended up in a smudged photo. In other words, it is sometimes inevitable to get blurry shots. Nevertheless, you can still repair blurry or low-res photos. Therefore, we will demonstrate how to make a picture less blurry using the best programs.
Part 2. How to Fix a Blurry Picture on Windows and Mac
Online applications are your go-to solution if you wish to work on your PC but are not fond of downloading apps. Please find out how to make pictures less blurry as we break down the list of online programs that will help you fix blurry photos on your Windows and Mac.
1. Vidmore Free Image Upscaler Online
Vidmore Free Image Upscaler Online is a free web service app with essential features to help improve the appearance of a damaged photo. It can help you fix pixelated, smudged, or blurry pictures by zooming in while simultaneously enhancing quality. With the program's AI technology, the enhancement process is boosted, so there is less human intervention. In other words, you can improve your photo without tweaking any complicated settings.
Furthermore, the program comes with magnification factors responsible for further enhancing your photos. You can select 2X, 4X, 6X, and 8X upscale factors, creating the best quality images. Learn how to make an image less blurry by following the steps below.
Step 1. Visit the program's website
Firstly, open your favorite browser and visit the program's website using its link. Then, you should enter the homepage of the tool.
Step 2. Import a blurry photo
Hit the Upload Photo button from the main page and select the blurry photo you wish to upscale from your file folder. After finding your desired photo, double-click on it to upload it into the program.

Step 3. Enhance the photo
The photo will be enhanced with a 2X upscale factor by default. If the results are unsatisfying, you may adjust the photo's resolution by selecting another magnification factor. You can choose between 2X, 4X, 6X, and 8x. To see the changes, hover your mouse cursor over the image preview.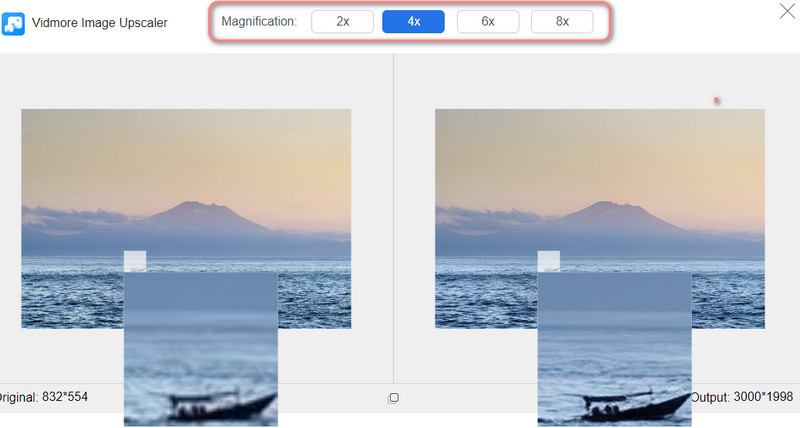 Step 4. Save the upscaled photo
After successfully upscaling the photo, hit the Save button at the bottom right corner to download it on your computer. You can edit another photo by clicking on the New Image button at the bottom left corner.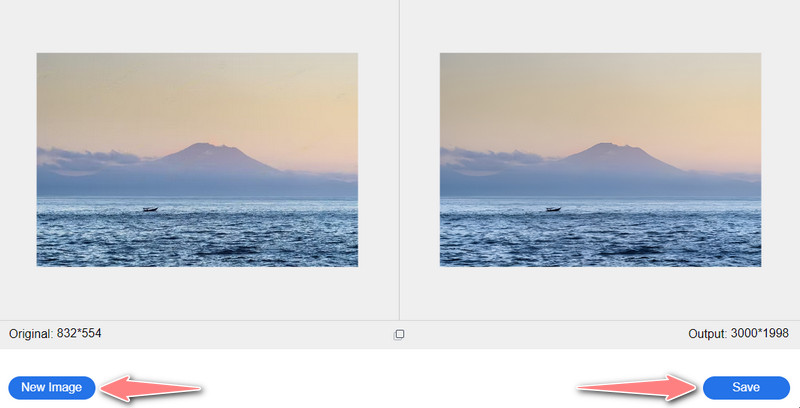 2. BeFunky
BeFunky is also an excellent image editor that can help you fix pixelated or blurry pictures. The program offers basic editing features, including cropping, resizing, removing the background, and touch-up tools to enhance photos. You may also apply effects, from B&W tones, warmer tones, analog tones, and much more. Overlays are also available to make your photo personalized. If you are into graphic designing, you can take advantage of its Cartoonizer, Enhance DLX, and Digital Art. On the other hand, here is how to fix a blurry photo using BeFunky.
Step 1. Head on to your browser and visit the official website of the program. From the homepage, click Get Started to access its photo editor.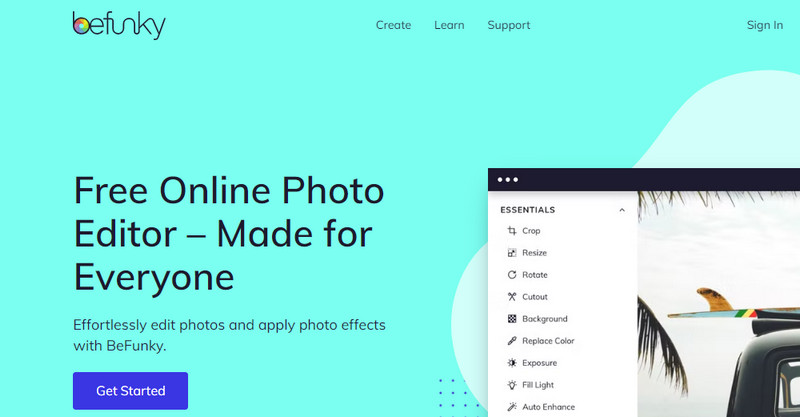 Step 2. Now, upload a photo by clicking the Open button on the top menu. Optionally, you can drag the photo directly to the editing interface of the tool.
Step 3. On the left side panel, hit the Edit icon to access the editing tools. Tweak settings like Sharpen and Smoothing until you get your desired outcome. You may also use the AI Image Enhancer to boost the quality automatically. However, it will leave a watermark afterward.
Step 4. Lastly, hit the Save button and choose a saving location where you wish to store the edited photo. You just learned how to fix a blurry photo on BeFunky.
3. Pixlr
Blurry pictures can also be fixed with the help of Pixlr. It is a web based photo editing program that is also available on both iOS and Android devices. It contains a wonderful collection of photo editing tools and features that will allow you to fine-tune your photo's appearance. More importantly, it comes with a sharpening tool to get you to fix the blurry appearance. You may pump the sharpness to an extreme amount. Yet, the distortion is less visible. See the instructions below if you want to learn how to make a photo less blurry using this tool.
Step 1. First, get to the program's page by typing its link on your browser's address bar.
Step 2. On the main page, click the Start a photo editing project, and you will arrive at the editing panel.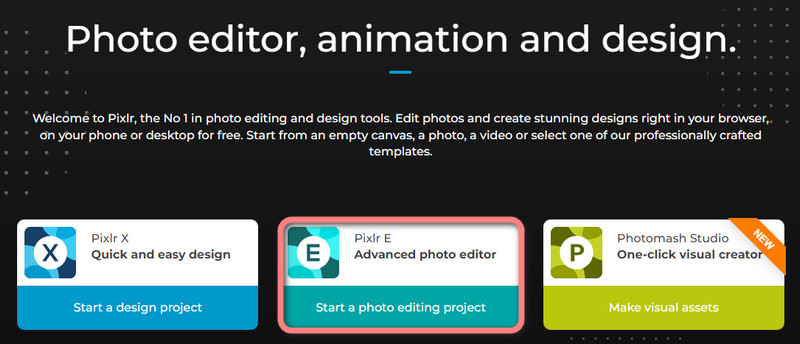 Step 3. Next, click the Open Image button and upload your desired photo from the file folder.
Step 4. On the top menu, navigate to Filter > Details > Sharpen. Following this, a dialog box will appear where you can adjust the value for sharpening. Set your desired amount using the slider and hit Apply to confirm the operation.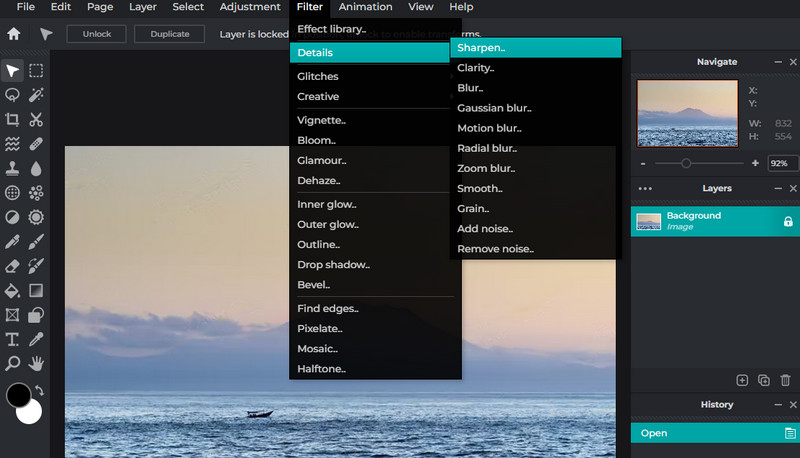 Step 5. Finally, click the File menu and select Export. From here, you can select a file format.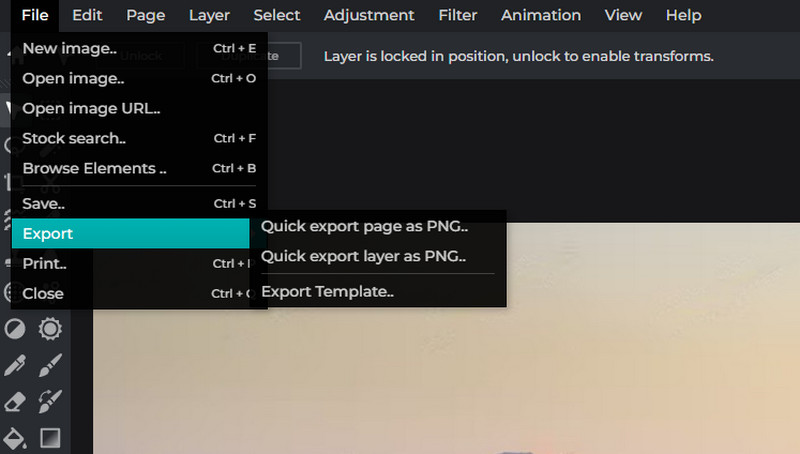 Part 3. Guide How to Fix a Blurry Picture on Android and iOS Devices
When using smartphones to take photos, there are instances where the camera has unwanted smudges. You did not discover it immediately because you rushed to take photos of the special moment. Worry not. There are apps for touch-enabled devices, like iOS and Android, allowing you to fix blurry pictures at your fingertips.
1. Remini (iOS)
Remini is great for restoring damaged, grainy, pixelated, low-quality photos to convert them into clear photography. Like Vidmore Image Upscaler, the program is infused with movie-grade AI technology that will ease up the process of enhancing photos. Here is how to fix a blurry picture on iOS.
Step 1. Look for Remini from the App Store and install it on your device.
Step 2. Launch the tool and permit your photo album. After that, you will have your photos loaded on the home screen.
Step 3. Select a photo to enhance and tap on the Enhance button. Then, wait for the tool to process the photo.
Step 4. Right after, it will show you the original and new photos. At the bottom of your screen, the enhanced areas of the photo will be shown. Finally, tap the Download icon at the top right corner to save the edited photo.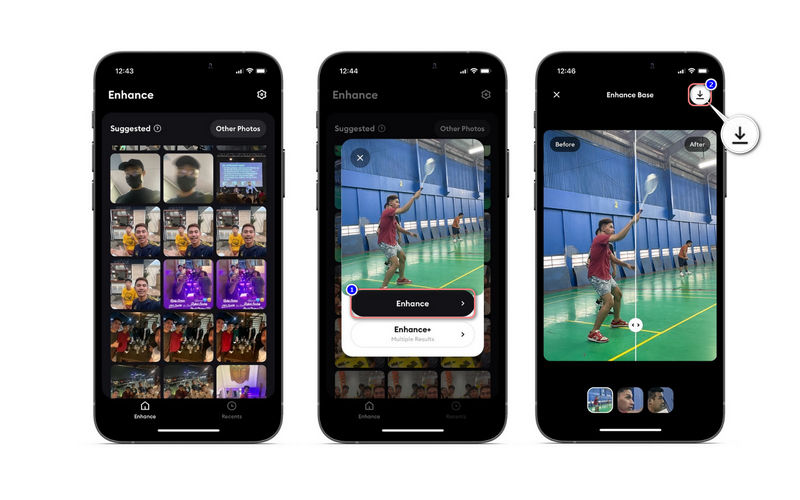 2. Snapseed (Android)
If you want to learn how to fix a blurry picture on Android, you can use Snapseed. It comes with the Details option tool similar to Pixlr to help you unblur your photos. Moreover, the program can help you crop, fine-tune, expand, apply glamor glow, and much more. On the other hand, here is how to make a picture not blurry.
Step 1. Install and launch the mobile app on your Android device.
Step 2. Tap on the Plus button from the app's home screen and allow permission to access your photos.
Step 3. Now, tap on TOOLS and select HDR scape from the menu. Configure the settings and hit the checkmark icon at the bottom right corner to save the changes.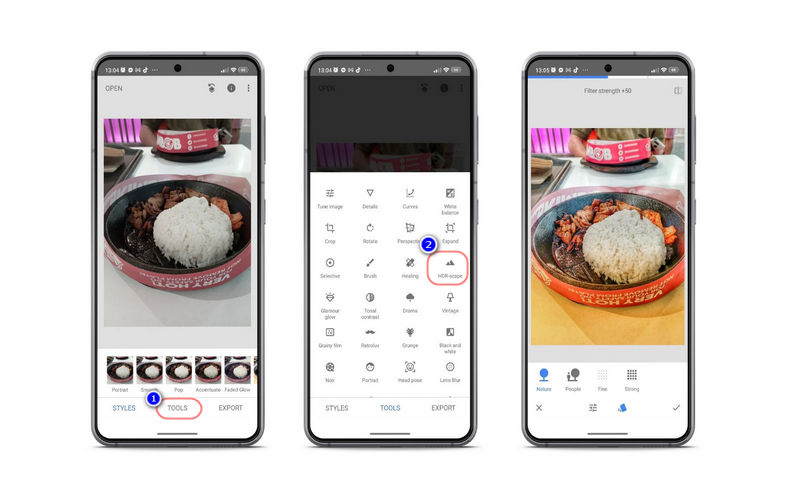 Part 4. Tips for Taking Clear and Sharper Pictures
If you wish to learn how to make a picture not blurry, you can take these knacks or tricks to help you.
◆ When shooting with a hand-held device, find a tripod for stable and still photo capture.
◆ You can try to shoot in burst mode to make several shots at a time. For sure, 1 or 2 will be sharp.
◆ Remote control or cable release can also help you take clear and sharper pictures.
◆ Many cameras and lenses have an inbuilt vibration reduction system. You can use it to reduce the shaking and make a stabilized capturing.
◆ You may also lower your ISO to eliminate digital noise.
Part 5. FAQs About Blurry Pictures
What is the most typical cause of blurry pictures?
If there is one common cause of blurry pictures, that is motion blur. It is a situation in a photo capturing where the subject moves at the time of capturing.
Why are my phone pictures blurry?
Try to check your phone's camera because it might have smudges from fingerprints. It could also be because of your shaking hands when you took a photo.
What is the best way to make the picture have better quality?
You can enlarge the photo's size provided it has the optimal pixel density. It should increase the resolution of your photo resulting in a better quality photo.
Conclusion
It is frustrating to capture a special moment only to find out the picture is low-resolution or blurry. In such instances, you can learn how to fix a blurry picture. Hence, this post is created. Try each method and see which way works for you best.