Remarkable List of 3D Movie Maker this 2023
The 2000s is the century where filmmaking was enhanced and developed. Filmmakers and entertainment industries innovated their way to craft award-winning movies, films, and animated series. One of the technologies that directors use is by filming 3D films. 3D movies are motion pictures made to give an illusion of three-dimensional viewing. Examples of the films created in 3D are Avatar, Shrek, Ice Age, and many more. As the film industry grew more extensive and better, technologies creating 3D films became more available for public use. The general public, animators, frustrated film directors and novice users can easily access different software to create 3D films. However, are you having a hard time looking for the best 3D Movie Maker? Worry no more because this article gathered and congregated the finest 3D maker that the internet has to offer.

Part 1. Eight Best Free & Paid 3D Movie Makers
Distinctive Feature: It has a multicore processor that allows users to convert a video file, create 3D films, and make GIF with different cores, accelerating each file conversion.
License: $19.95 1month/1PC
Vidmore Video Converter is one of the most comprehensive and influential multi-format video converters and 3D maker software due to its intuitive navigation. It is a simple yet powerful 3D making software due to its built-in lightweight video editor. Also, this software tolerates users to create and personalize 3D films using its editing options such as trim, rotate, crop, apply effects, and many more. Furthermore, Vidmore Video Converter enables users to create and save 3D videos to all standard media formats like AVI, MP4, MKV, MOV, etc. Additionally, this software can craft 3D videos accessible on different devices, including the latest iPhone, iPad, Samsun, Sony PlayStation, TV, and more.
Key Features:
It has a Video Compressor that can compress video files on the user's preferred size.
It has a Media Metadata Editor that can keep original file info and edit it as well.
Its GIF Maker can customize GIF using your videos.
Video Enhancer that can improve video quality in several ways.
Here are the following procedures on how to make 3D movie using Vidmore Video Converter:
Step 1: Install and Download Vidmore
To utilize this Windows 3D movie maker, first, you have to click the download button below or visit Vidmore Video Converter. Let the system run and install the software. Then, within a few minutes, the software's interface will pop up and be ready to use.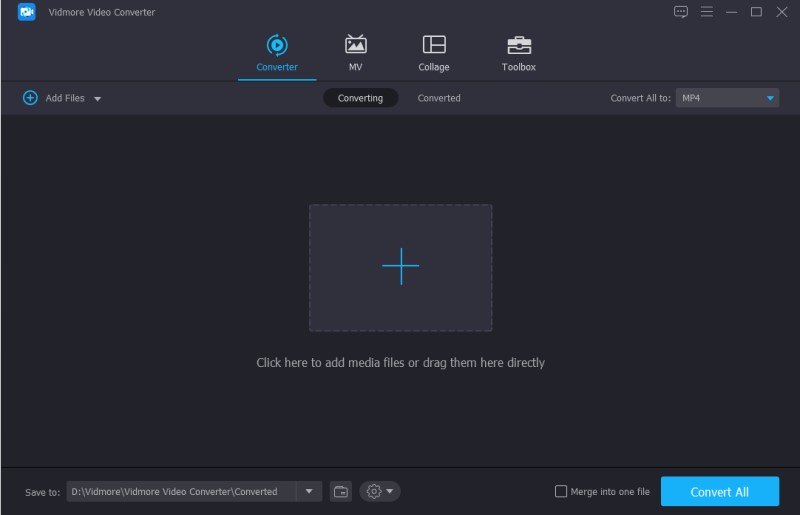 Step 2: Prepare for 3D Making
After installation, prepare your desired video for 3D-making films. You can download from other video-sharing platforms like YouTube, or you can create your videos. Make sure it is in 2d animation ready to be converted as 3D.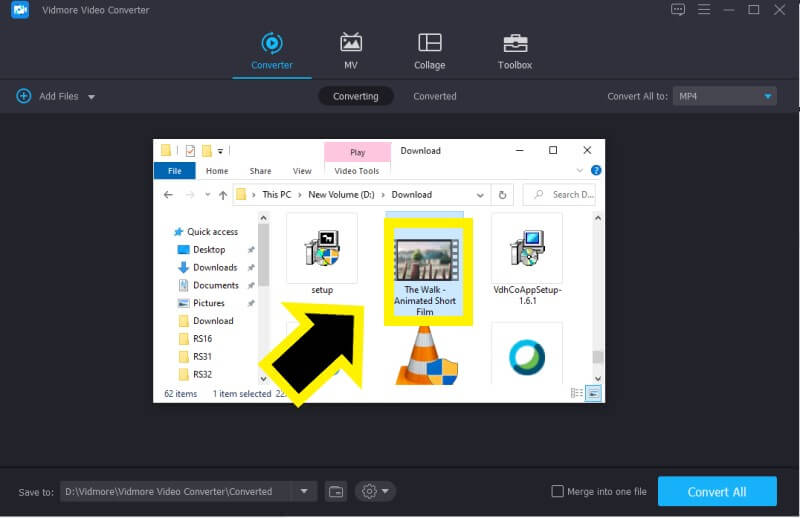 Step 3: Convert Video into 3D
Then, at the top part of the software's interface, go to Toolbox. Click the 3D Maker option, then tick the Plus Icon. To import your selected videos, simply browse their location. Once chosen, click the OK to import your video.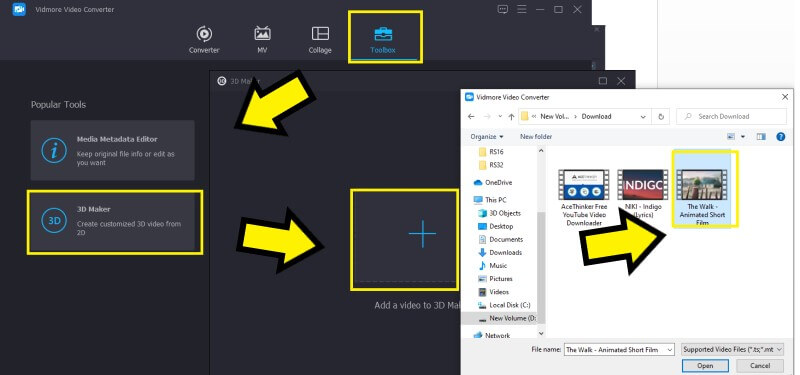 Step 4: Generate 3D
The system will automatically load the video that you have chosen. Before conversion, users can modify and select among the file formats such as AVI, MP4, etc. Moreover, users can handpick the quality up to a high standard format. Once all is settled, click the Generate 3D button and wait for the system to polish the video.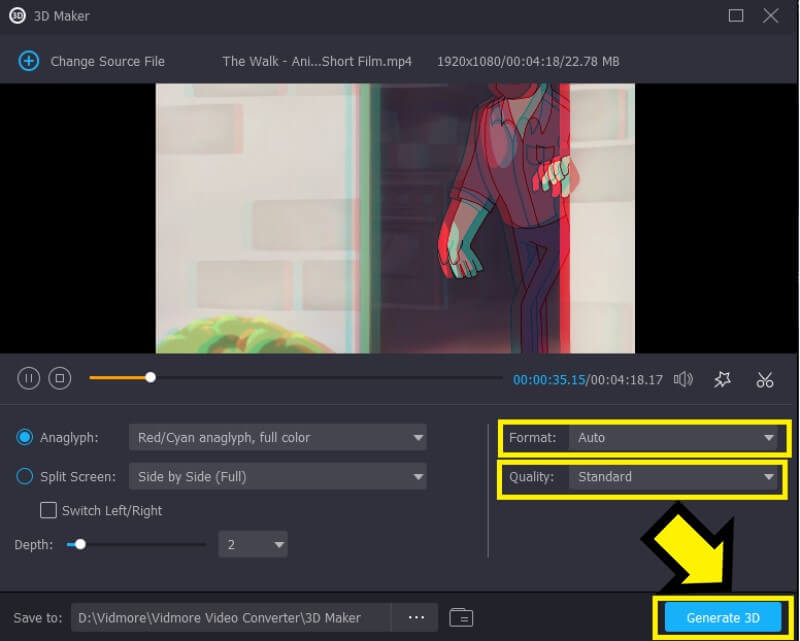 Step 5. Play 3D Videos
Finally, once the system finishes the conversion, go to the video location and play the 3D video. To convert another 3D video, just repeat the steps above.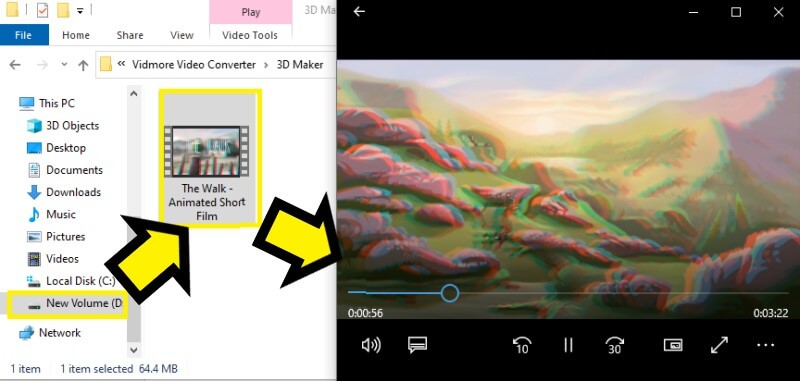 Additionally, this tool enables you to convert any video or audio file to over 200 formats, such as VOB to MKV, AVI to MP4, and more.
2. Aurora 3D Animation Maker
Distinctive Feature: It has templates and pre-loaded effects so users can easily create and craft cool animations.
License: $69.95
This Windows 3D movie maker software is fully equipped with advanced features perfect for professional and even non-professional video makers. It has a lot of creative scenery and award-winning special effects perfect for creating virtual worlds and 3D dimensions. Additionally, it has 3D Graphics Mode wherein users can quickly change the animation mode; 2 D or 3D settings. Moreover, it has a Key-Frame Animation feature that enables users to control all aspect animations such as the length, playback speed, and many more.
Key Features:
It has bevel effects for shape and text animations.
Users can set size, preview, and export 3D animations.
It can change the hue and texture of an object.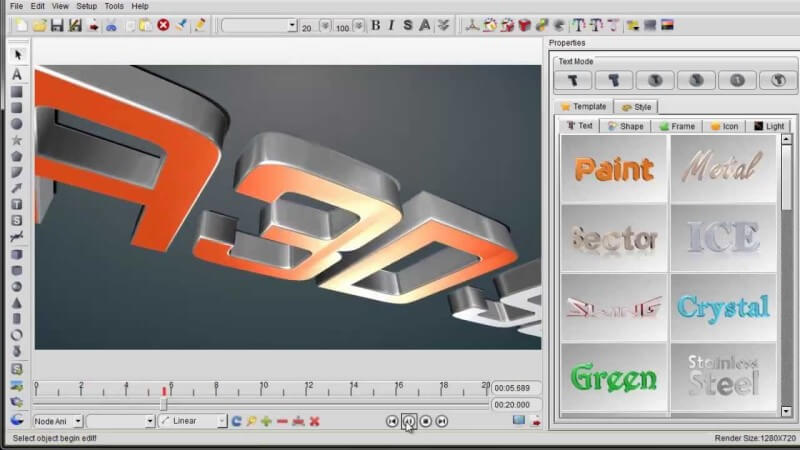 3. Maxon
Distinctive Feature: This software is fully equipped with GPU-accelerated rendering allowing users to create and convert 3D films faster and smoother.
License: €85.99/ month
This Microsoft 3D movie maker tool is an easy and extremely powerful tool due to its intuitive and logically arranged interface. This software can easily maneuver and be taken over by professional or non-professional 3D filmmakers. Additionally, this tool is perfect for editing 3D videos, VFX, and Motion Design due to its fast and reliable system. Moreover. This software can render in 16-bit, and 32-bit color depth for high dynamics range images.
Key Features:
It has global illumination, which provides a more accurate and realistic representation of light scenes.
It has Caustics effects that stimulate the refractions and reflection of light.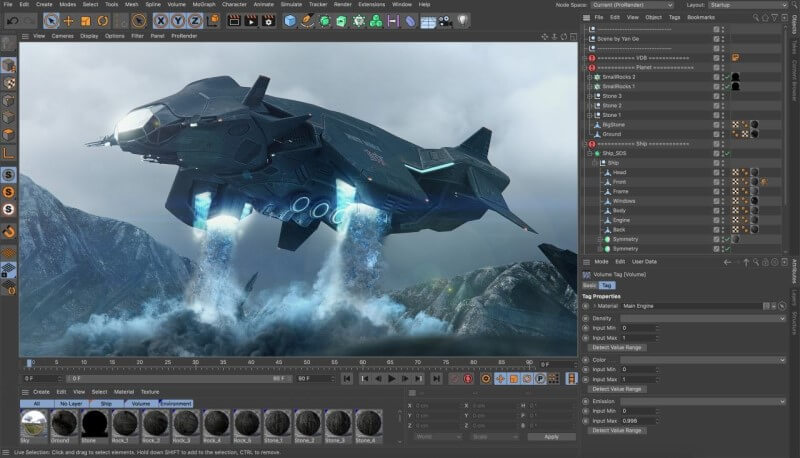 4. Adobe Character Animator
Distinctive Feature: It allows users to create animated characters using their faces and facial expression.
License: $54.41/month
This software is intended for creating 3D graphic animation as professional as Nickelodeon 3D movie makers. Users can utilize their webcam to match the expression of the animated character. Also, users can use a microphone to add voice lines or lip-sync tracks to animate in real-time. Additionally, this software can control gestures like waving with users' keyboards or MIDI devices. This movement can also be saved as Trigger, thus they are easier to remember than key commands.
Key Features:
This software allows users to have accurate lip-sync using Adobe Sensei.
It has ground detection and the ability to pin limbs to the scene.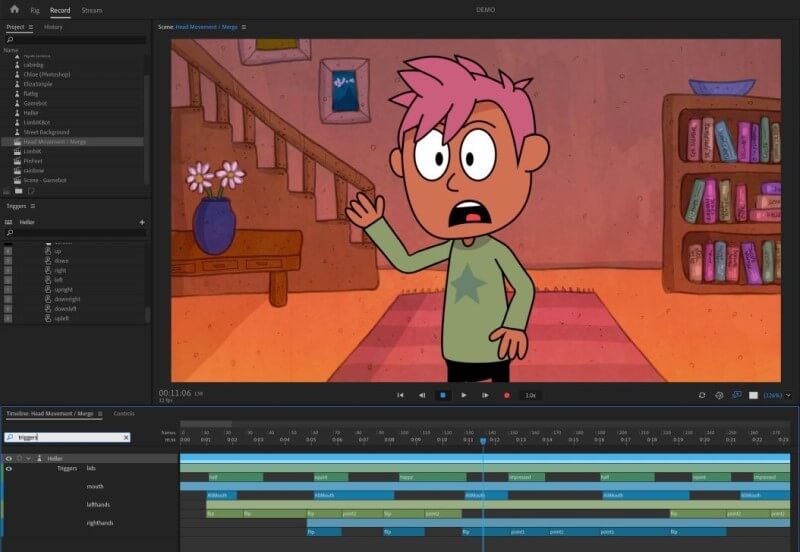 5. MotionBuilder
Distinctive Feature: It has a 3D non-linear editing system which is a form of offline editing for audio, video, and images.
License: $1,950 per year.
Motion builder is a 3D movie maker developed and produced by Autodesk. It has facial and skeletal animation that is helpful to create animated characters and animals. Also, it has a real-time animation 3D engine that can create realistic character actions and movements. This software also has smooth interoperability that enables users to exchange data and files from other 3D applications. Moreover, this software is compatible and well-matched to Windows and Linux OS.
Key Features:
Inverse kinematics.
It saves FBX file format for easy access data transfer.
It has an uninterrupted connection to other Autodesk digital content software and tools.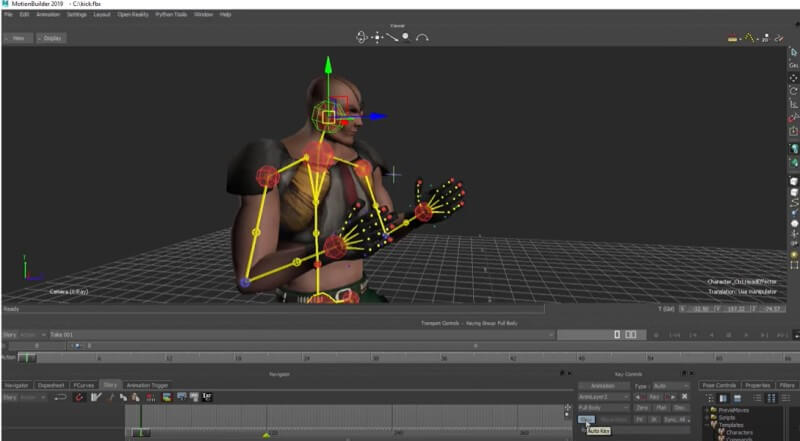 6. Blender
Distinctive Feature: It supports various geometric primitives, including fast subdivision, polygon mesh, and an n-gon modeling system called B-mesh.
License: Free
One of the leading free 3D movie makers exists on the internet; Blender is open-source 3D computer graphics software developed by Blender Foundation. It has a lot of features to offer; one of these is Simulation that can simulate smoke, rain dust, fluids, and various effects. Also, it has Keyframe animation tools such as Skeletal animation (Armature), inverse kinematics, vertex weighting, and many more. Moreover, it has a Grease Pencil tool that allows users to draw 2D and 3D animation and objects. Grease Pencil tool allows users to draw 2D and 3D animation and objects.
Key Features:
It has built-in real-time visuals and logic engines with features such as collision detection, etc.
It has an internal render engine with scanline rendering.
It has a non-based compositor for post-production output.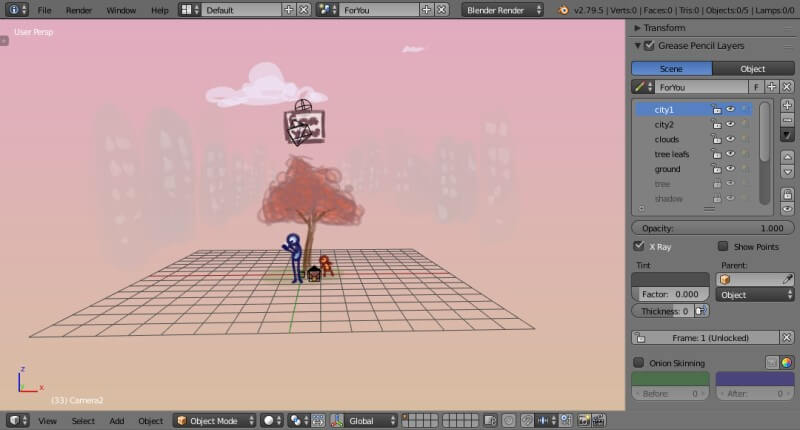 7. Wax
Distinctive Feature: It has the Chroma Keyer effect, which enables users to put visual effects and post-production techniques to put two images or videos together based on the same hues or Chroma range.
License: Free
Wax is a free 3D movie maker and open-source software for professional and non-professional film creators. This software allows users to create and put visual effects to create 3D movies and films. Also, it has a variety of features like zoom, crop, and pan image for video. Additionally, it can render and save video output in AVI file format. Moreover, this software can work and function in two modes – as a standalone 2D and 3D maker and as a plug-in to different video editors such as Adobe Premiere, etc.
Key Features:
Users can specify file name and save path.
It has video options, including video dimensions, frame rate settings.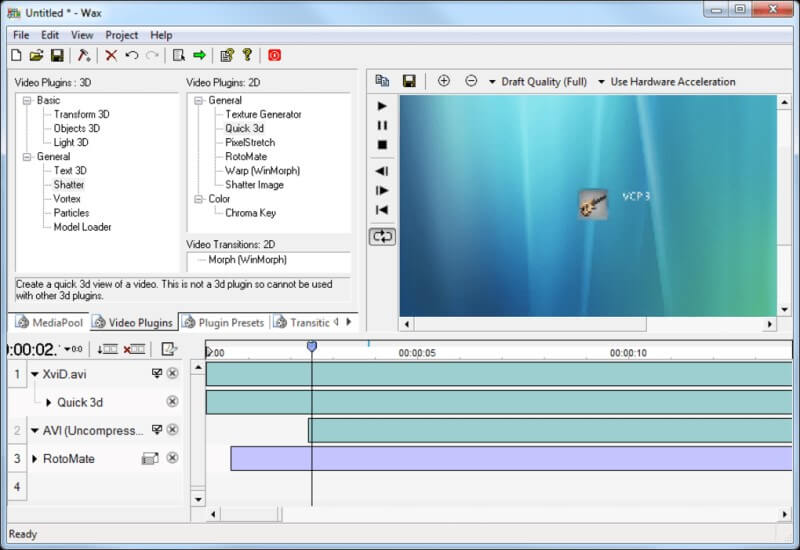 8. Jahshaka
Distinctive Feature: It has a pre-built and library of royalty-free scenes and assets.
License: Free
Jahshaka is an open-source, free 3D movie maker with real-time editing and effect system. This software empowers users to produce well-creative 3D films, VRs, and animations with its intuitive navigation. Additionally, it is made up of seven core modules, namely Desktop, Editor, Player, Assets, Effects, and Avatars. Moreover, the well-used among these seven is the Desktop feature which allows users to easily craft and manage multiple virtual worlds and dimensions.
Key Features:
It has powerful preview and playback controls.
It can enable users to create avatars and characters.
It is equipped with plentiful 3d content creation effects and materials.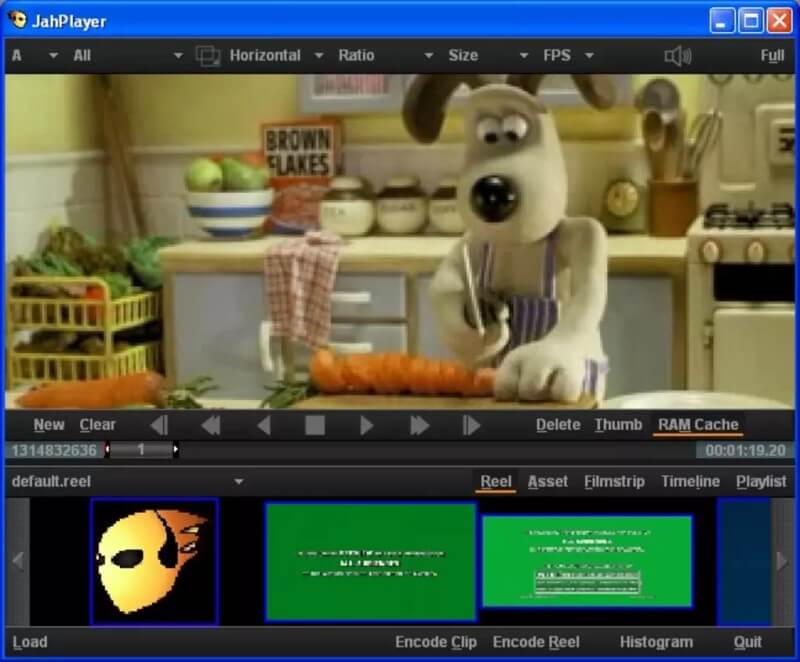 Part 2. Comparison chart
| | | |
| --- | --- | --- |
| Software | Size of the Setup file | Size of the Setup file |
| Vidmore Video Converter | 2.03KB | Windows, macOS |
| Aurora 3D Animation Maker | 43.30 MB | For Windows 7 / 8 / 10 | macOS 10.7 – 11.1 |
| Maxon | 10MB | Microsoft ,Windows, macOS, Linux, AmigaOS (Version 4.2) |
| Adobe Character Animator | 1.8GB | Windows 11 X64 only Version 1809 or later, macOS 10.13 and later |
| MotionBuilder | 891MB | Windows, Linux |
| Blender | 47–188 MB | Linux, macOS, Windows, Android, FreeBSD, OpenBSD, NetBSD, DragonFly BSD, Haiku |
| Wax | 2.5MB | Windows 7/8/10 |
| Jahshaka | 174MB | Windows, macOs |
Part 3. FAQs of 3D Movie Maker
1. What is a 3D Movie Maker?
3D movie makers are software that enables users to create and craft digitally and computer-generated animations. These animations are usually combined with motions, voice lines, and special effects. This kind of technology is frequently used in filmmaking, such as animated movies, CGI-based films, etc.
2. What is the best 3D movie maker software?
Above are the most reliable and highly demanded 3D Movie software. Though, if I had been given a chance to choose among these tools, I will prefer Vidmore Video Converter. This software stands out amongst its fellow solutions. With its intuitive navigation and comprehensive features, even novice users can easily maneuver and utilize this tool.
3. Is it safe to use a 3D movie maker?
Absolutely! The outputs on these programs are entirely safe and legal to produce. It is your personal creation and imagination, so do not hesitate to share and disseminate it on the internet.