Simple Photo Color Enhancer Methods You Should Employ
Cameras have indeed increased in technological advancements. Despite the good work, it sometimes struggles to capture vibrant and clear photos. The result can be dull and not portray the original color of the subject or element you are capturing. Luckily, there are a lot of programs developed to enhance the colors in your photo with a natural look.
In other words, we will introduce you with the best programs you can use to improve one of the important aspects of your photos. Here, we sorted out the best photo color enhancer apps you can use. Keep reading to learn more about these tools.

Part 1. Best 5 Photo Color Enhancer Apps
It is true, though, that many programs are built to enhance the color of a photo. However, only free ones deliver efficient results. Thus, we listed some of the best color enhancers for mobile apps, which you can use without hassle. Check them below for your reference.
1. Snapseed
Snapseed is a photo editor you can use to make a photo's color vibrant effectively. This color enhancer photo editor gives you access to various tools. The tune image enables you to adjust the exposure and color. In addition, you can do it manually or automatically, yet with precise and fine control on it. Furthermore, it comes with a white balance feature that will help you achieve the natural look of a photo. In other words, your photo will not look fake or processed using this feature. On top of that, you may also take advantage of its enhancer for a person's face. You can adjust the pose of portraits that are three-dimensional based.
Pros:
Apply vintage color style.
Add frames and resize according to needs.
Precise control on the styles offered.
Open raw or native camera photos.
Cons:
The program's interface is a bit outdated.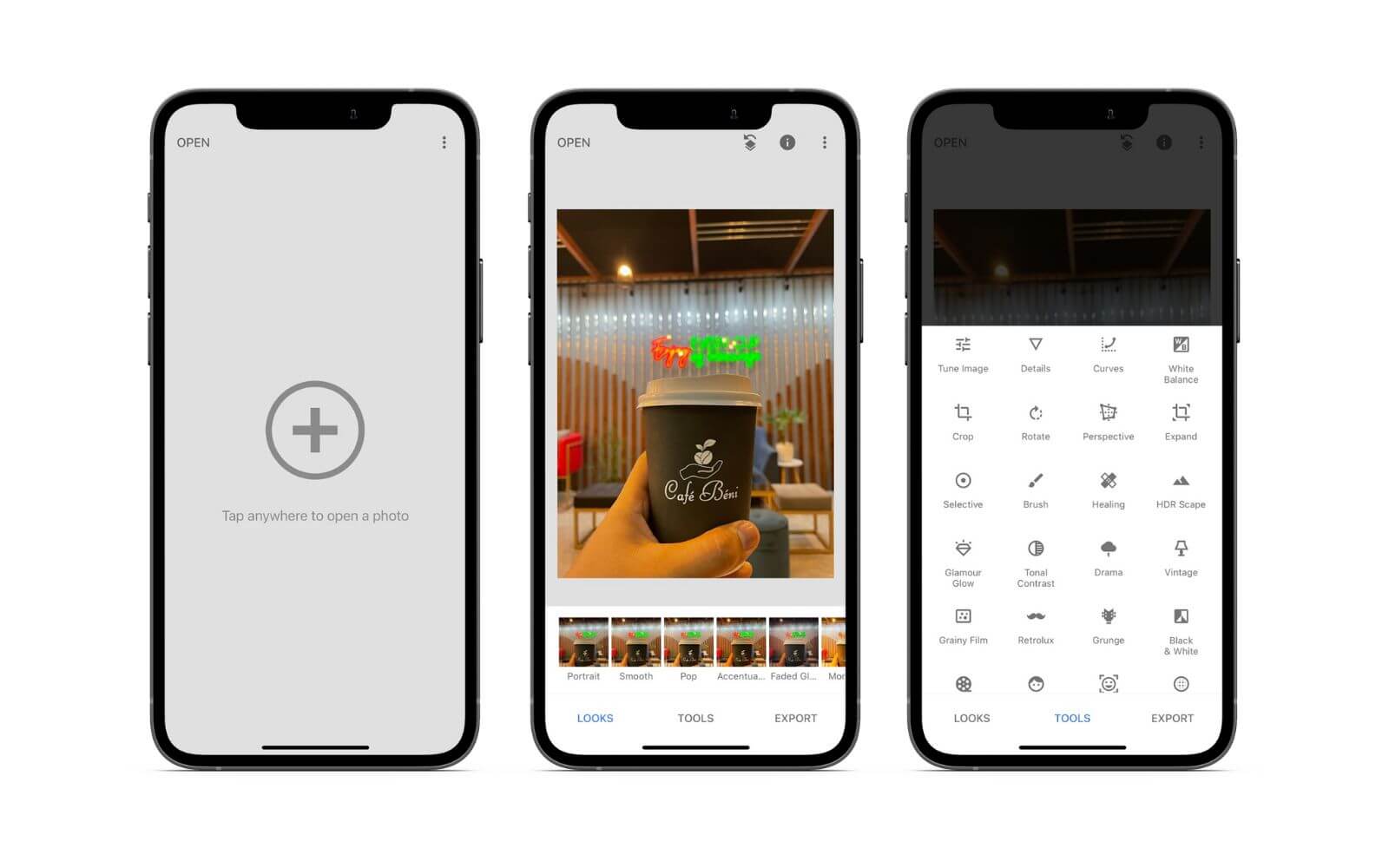 2. PicsArt
You will also have delight in using PicsArt due to the excellent features and functionalities this tool offers. The program allows users to add effects, edit filters, annotate, create overlays and masks, and adjust color. The tool does not only work as a photo editor. It can also be handy when editing videos and making a collage of your photos. Moreover, its AI-powered selection tool helps you make photos look less blurry. In this case, you can present a beautiful photo.
Pros:
Offer sticker maker and free stickers for users.
Outline selfies using sketch effects.
Cartoonize pictures in an instant.
Create a personal preset that can be applied to multiple pictures.
Cons:
Occasional glitching and lagging.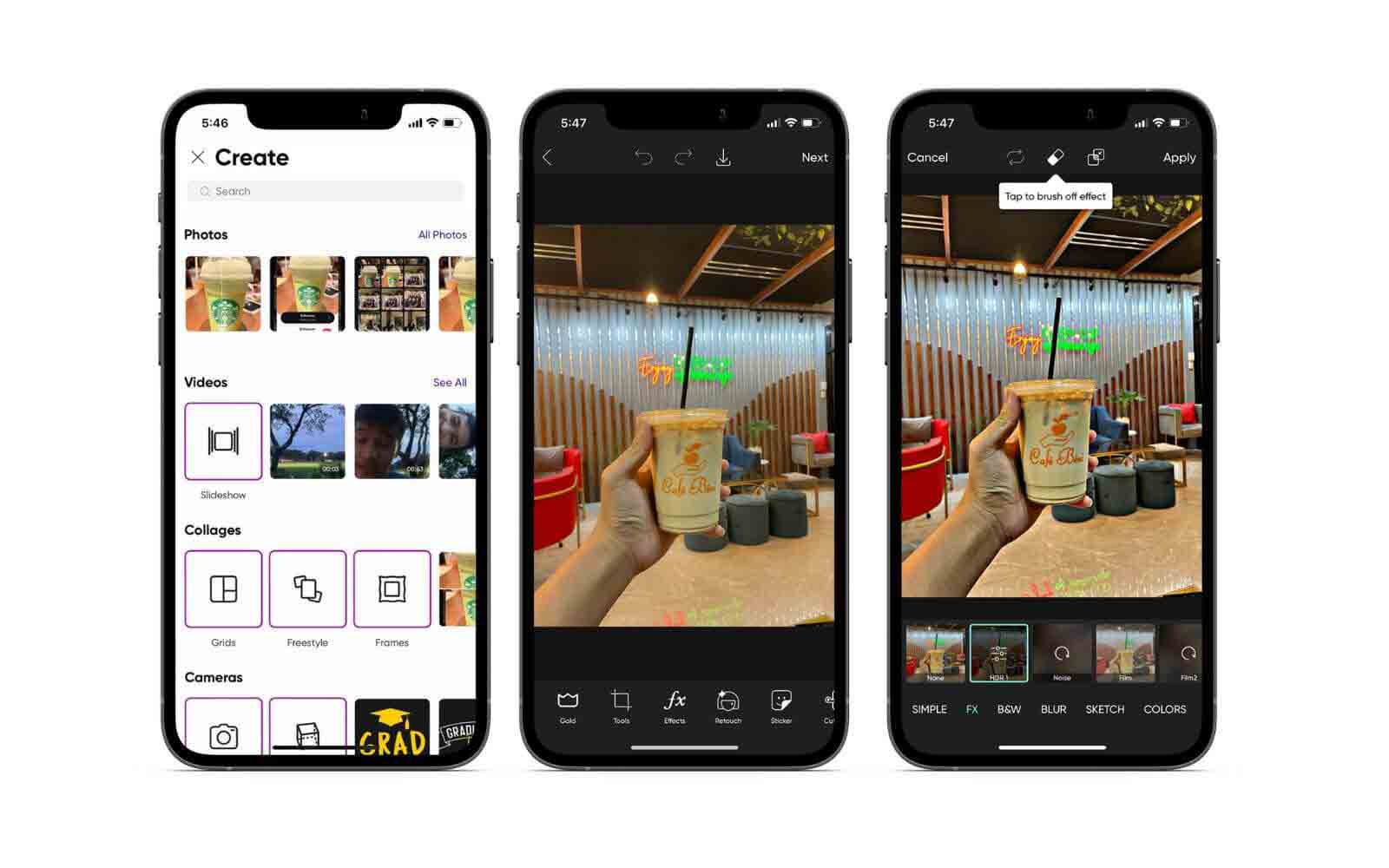 3. Remini
If you are seeking a popular yet efficient tool to enhance a photo's color and overall appearance, look no further than Remini. You can have this program on both Android and iOS devices. Therefore, no matter your device, repairing the color or fixing low-quality. Similarly, the tool is infused with smart AI technology that helps in enhancing photos automatically and instantly. It is also possible to convert facial photos into high-definition and make share-worthy photos on your social media accounts.
Pros:
Add details to the facial photo.
Make the color of the vintage photo vibrant.
Upscale the image quality and size.
Supports enhance a video.
Cons:
It makes users watch adverts.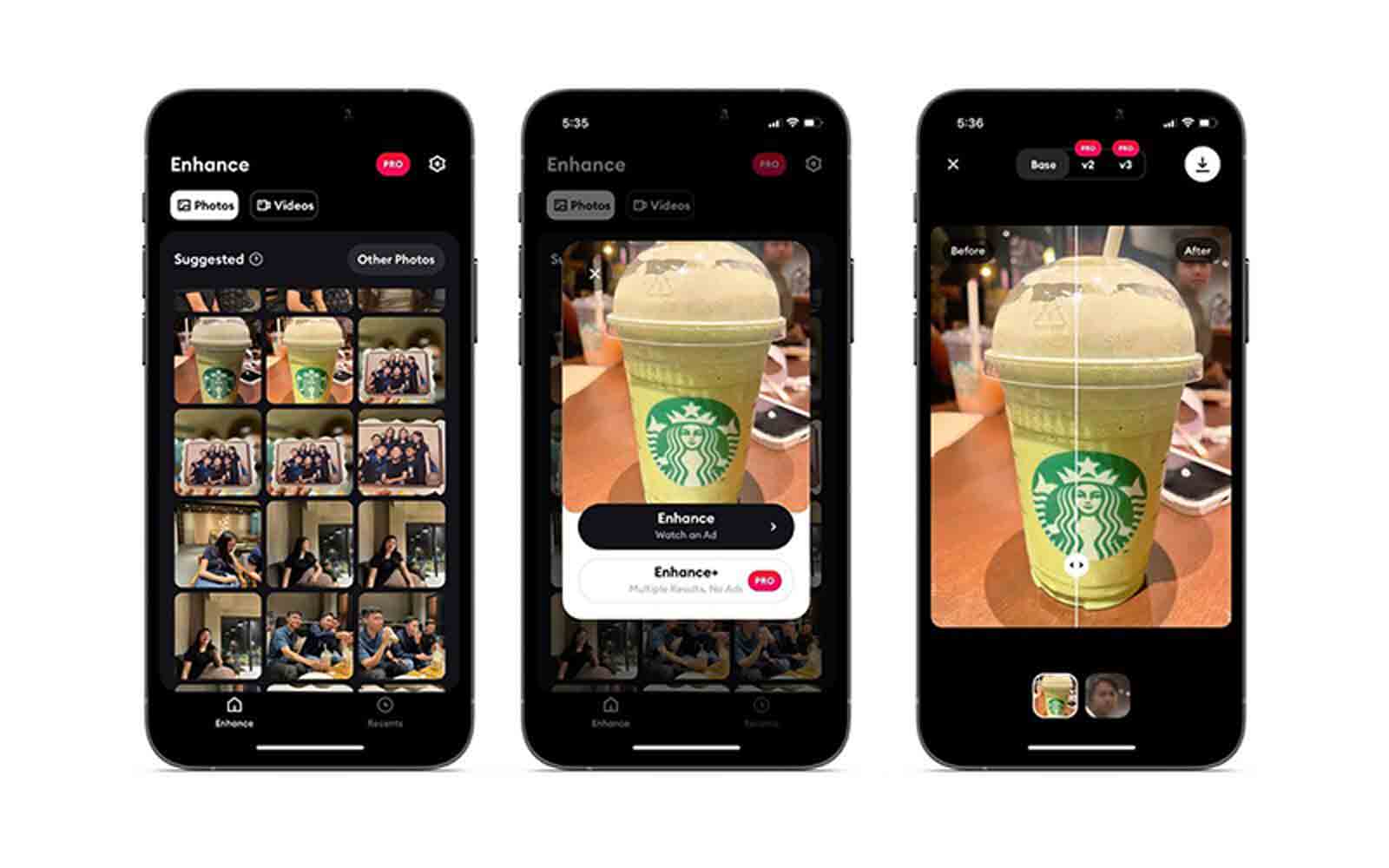 4. Enhance Photo Quality
Another program you can use to help you to improve your photo's color and overall quality is Enhance Photo Quality. It comes with lots of photo enhancer tools, allowing you to get a vibrant and natural look at the photo. In line with that, you can use the program to automatically recolor black and white or old photos. Over and above, your HD images can be shared on your social media accounts after making share-worthy photos
Pros:
It comes with a wide range of editing tools.
Bring back life to old photos.
It uses AI smart image enhancer.
Share HD pictures on various social media platforms.
Cons:
Noticeable crashing when saving a photo.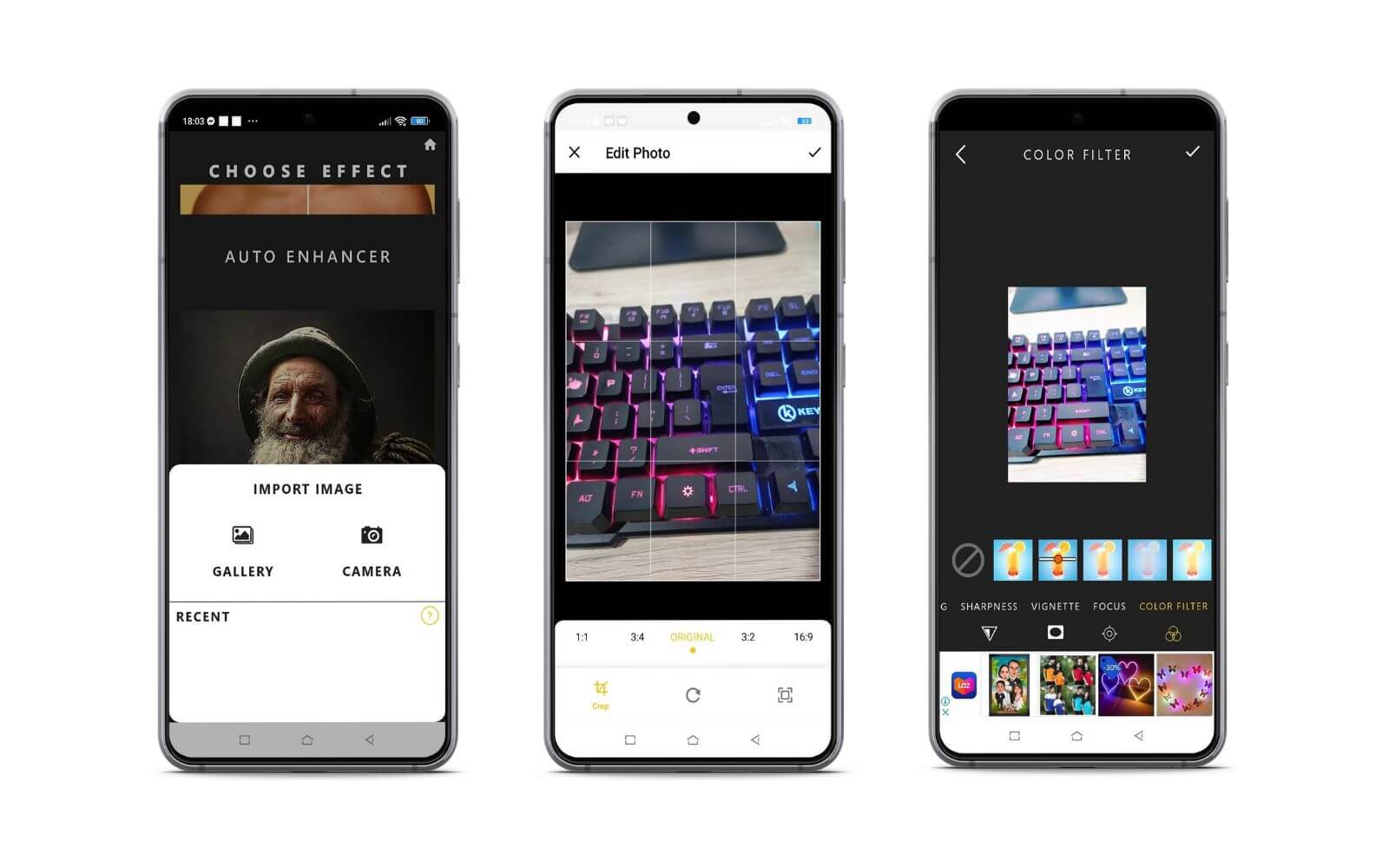 5. MintAi - Photo Enhancer
Lastly, we have MintAi - PhotoEnhancer. As its name suggests, this program is powered by AI technology, which makes the process fast and easy from the comfort of your mobile phone. Aside from correcting the color of a photo, it can also repair old or broken photos. In addition, this mobile-service program lets you turn your photo into a comic-style picture. In some cases, it can work as a free photo eye color enhancer.
Pros:
Unblur images automatically and instantly.
Convert low-res photos to high-res.
Apply a comic-style filter.
Add details to facial photos.
Cons:
Adverts keep popping out when using the program.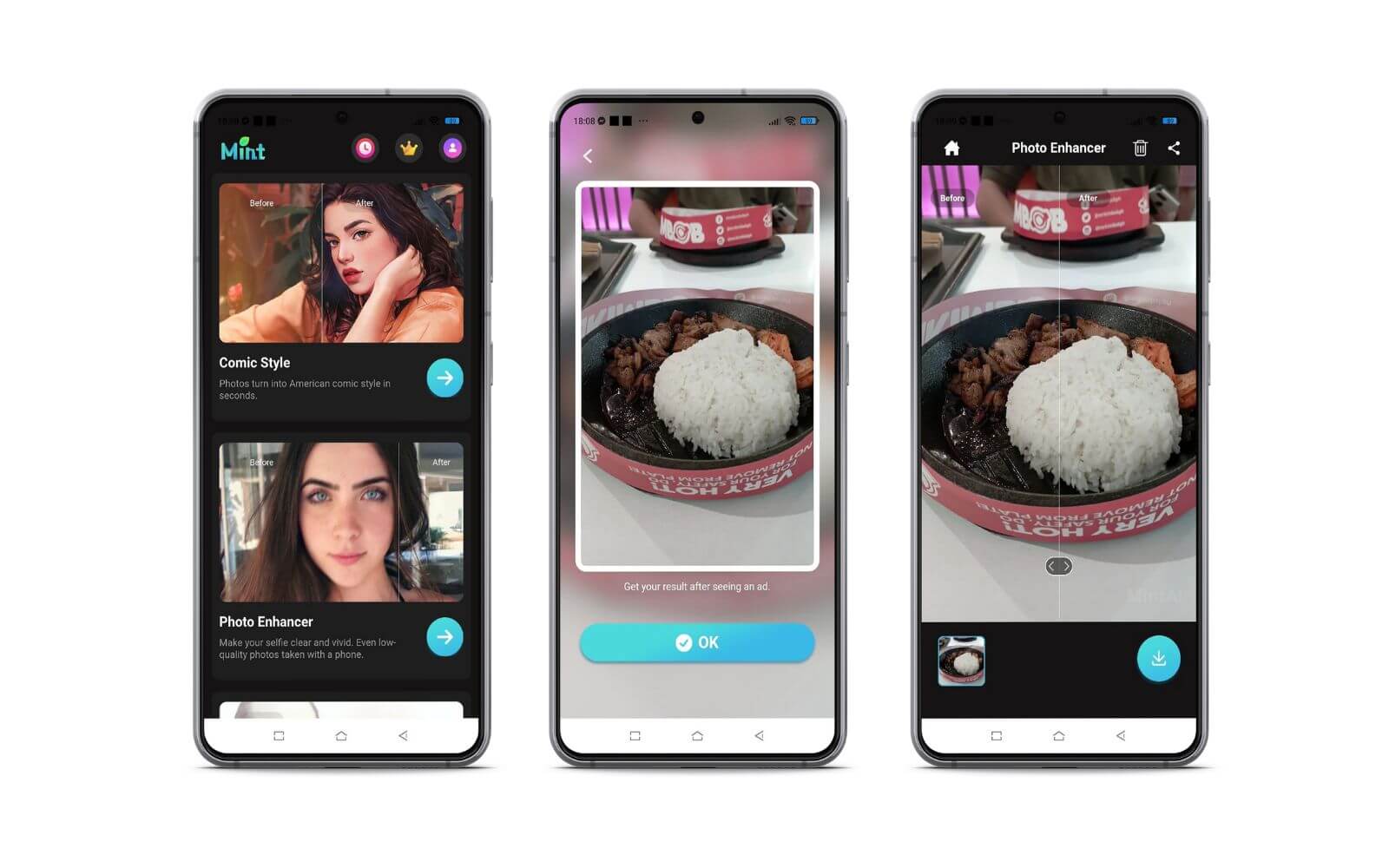 Part 2. Recommended: Best Online Photo Color Enhancer
You must also know a program to improve photos on your computer device. Vidmore Free Image Upscaler Online is a highly recommended tool that gives you four results in enhancing photos. Depending on your needs, you can upscale photos by 2X, 4X, 6X, and 8X upscale factors. It also means that the dimension increases, letting you generate quality results from small pictures when enlarging.
Furthermore, it also works for enhancing animated photos, and it can convert low-resolution images to higher-resolution pictures. That can be done with the AI technology infused with this fantastic color enhancer photo edit.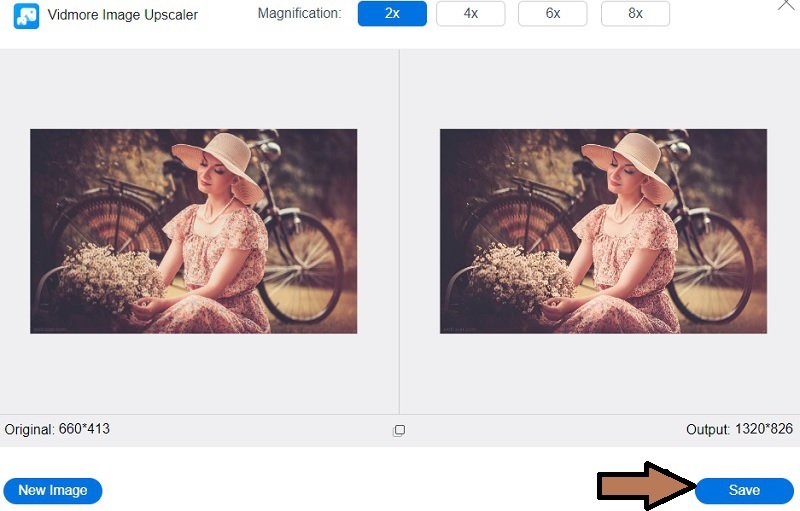 Part 3. FAQs About Photo Color Enhancer
How to enhance eye color in photos?
Enhancing the eye color can be very tricky. Yet, the only way to enhance it is to brighten it. You can use any program with a brightening feature or AI-powered programs that can automatically brighten the looks of the eye on your face.
How can I enhance photo color in Photoshop?
Photoshop comes with a wide range of photo editing tools. One of them is Brightness/Contrast. You may play around with it and see how it changes the appearance of your photo.
Is there any other way to improve the quality of a photo?
Aside from resizing the photo to a larger size, you can reshoot or scan the image to a higher resolution.
Conclusion
The above tools mentioned on this page are the best photo color enhancer apps you can use. In addition, they are helpful for photo editing, significantly when improving the quality of the photographs. Within a few seconds, you will be able to generate a wonderful photo the way you imagined. You can test these tools and pick which works for you well.