How to Make a Photo Collage on Computers and Mobile Devices
Beautiful shots with high image quality are sometimes not sufficient. Beyond the impressive shots and quality, you can put pictures together to depict a collection that will induce good vibes. This is especially true if you are taking a series of unforgettable moments. It would be a bright idea to compile them in one photo to bring back memories of when you had special events with a group of people you love. Or, when you want to share your experiences from a trip with your friends and family.
It all boils down to simply expressing or sharing your experiences and good moments in one single image which is an art known as a photo collage. In line with this, it can be a tough assignment to find the best app that will help you make a collage since there are a lot of choices. Being that said, we made a listing of the best photo collage makers that you can use. Read on to further learn about these programs.

Part 1. Great Photo Collage Makers for All
1. Vidmore Video Converter
Among the collage makers for photos, Vidmore Video Converter is one of the best tools you can find online. It can handle multiple tasks including the ability to combine photos in one image. There are numerous and stylish layouts that you can employ in your photos to produce a stunning compilation of pictures. This photo collage app does not offer the usual layouts you commonly see on other collage makers as it integrates playful shapes and figures. On top of that, they are highly configurable meaning you can move the elements and shapes to fit your preference and the style you want to achieve.
Pros:
Employ and customize various aspect ratios.
Customizable collage borders.
Extensive collage layouts and creative templates.
Flexible and resizable collage cells.
Hundreds of photo filters to apply.
Lets you crop, rotate, and flip photos.
Cons:
Only supports GIF for the image output format.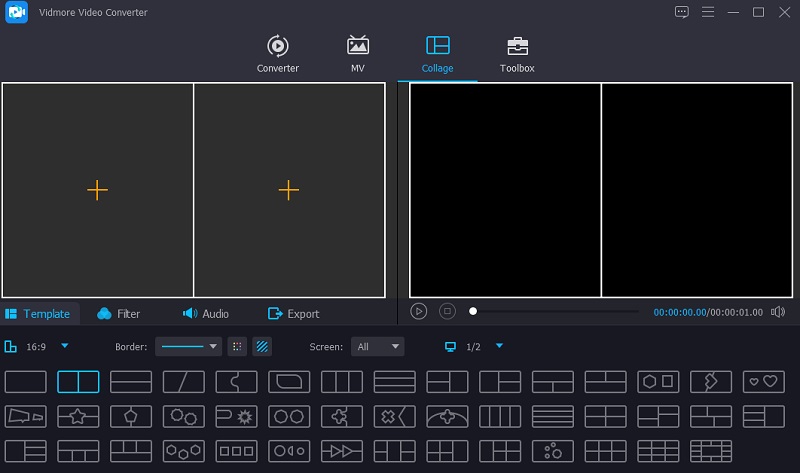 2. Fotor
Suppose that you are looking for a free photo collage app, you can rely on Fotor. This tool is available for Windows and Macintosh that offers a bunch of useful editing features for you to make a stunning photo collage. Just like the aforementioned tool, it integrates collage templates, customizable layout cells, and even borders. This additionally enables you to make adjustments to the visuals of the photo giving you different altering tools for brightness, contrast, saturation, exposure, and vibrance. Another highlight of this best free photo collage app is its additional features like zooming, undo and redo, pivot, and so much more.
Pros:
Cross-platform photo collage app.
Allows adding 30 pictures on the double.
Align pictures vertically, on a level plane, and free-form.
Share outputs via social networking sites like Facebook, WhatsApp.
Cons:
Does not save your last work when accidentally closed.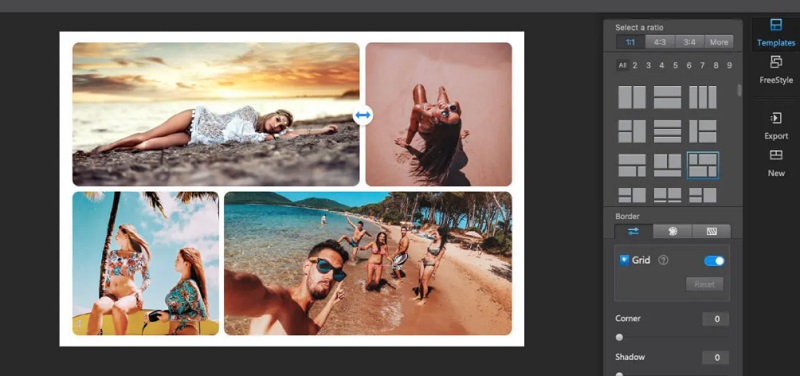 3. Befunky
This list will not be complete without Befunky. It provides the essential tools for editing and making photos to make an appealing collage for free online. This web-based program can automatically make impressive collages out of photos. Also, you can choose from a bunch of customizable layouts and trademark effects that will make your photo collage stand out. All you gotta do is to upload photos, modify the layout cells and borders including color, patterns, texture, etc. Make sure to add text, description, and a caption to make it more personalized.
Pros:
Lets you add 9 pictures in a collage.
Load images from Facebook and Google Photos.
Add pattern designs to the collage.
Beautiful layout presets.
Cons:
Additional functions are not free.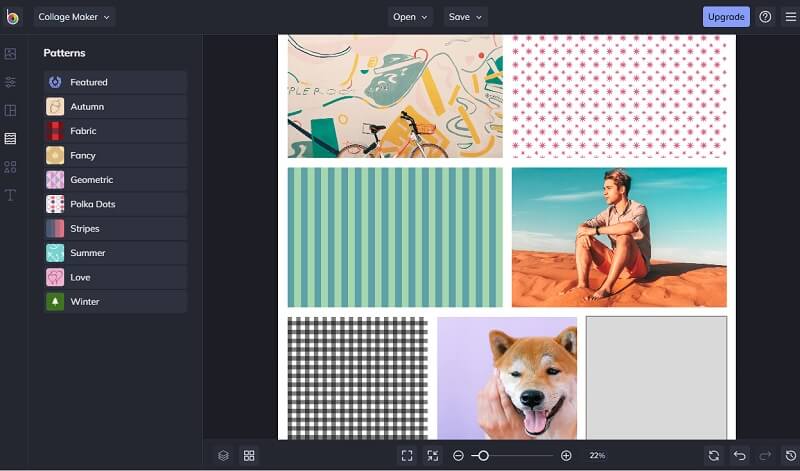 4. Pic Stitch
If you are into making a collage on a mobile device, you should consider using Pic Stitch to learn how to make a photo collage on iPhone. Affiliated with its photo collage capability, it enables you to edit photos allowing you to access quick enhancements like hi-definition, portrait, night mode, scenery, and many more. Moreover, there is an extensive library of layouts that you can choose from. Plus, highly customizable borders to personalize photos. Over and above, you are entitled to stitch photos and videos as well into a single framed image. Not to mention you can apply various aspect ratios that are optimized and designed for posting on social media networks like Instagram. Indeed, Pic Stitch is one of the best photo collage apps for iPhone.
Pros:
Personalize the borders of photos.
Apply effects like warmth, saturation, fade, exposure, etc.
Overlay text with a choice of fonts, colors, style.
Design collage with stickers from Giphy.
Cons:
Other features like Frames and Borders pack are not free.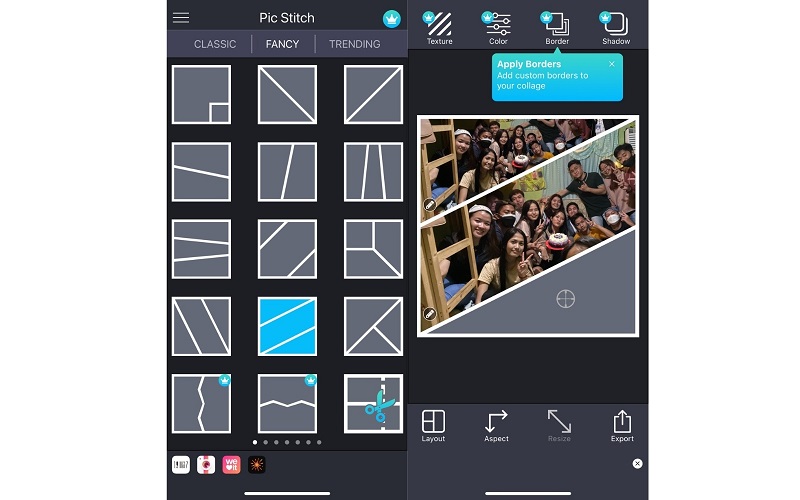 5. PicCollage
PicCollage is another worthy mobile app that can help you make extraordinary collages. It is a feature-rich Android photo collage app where you can access free templates and story layouts. In addition to that, you have the freedom to create your own template from scratch with the help of the freestyle mode. Similarly, there are preset layouts and collages so you'll just have to add photos from your gallery. To ensure it is creative, you can add trendy, occasion-specific stickers and backgrounds powered by the illustrators affiliated with this photo collage maker. Having that said, you can unleash your creativity and art with the help of this tool.
Pros:
Ready-made templates and frames for creating a distinct collage.
Customizable photo grid layouts.
Allows drawing or doodling on the project.
Enables creating unique messages with cards.
Cons:
In-app purchase for more stickers and backgrounds.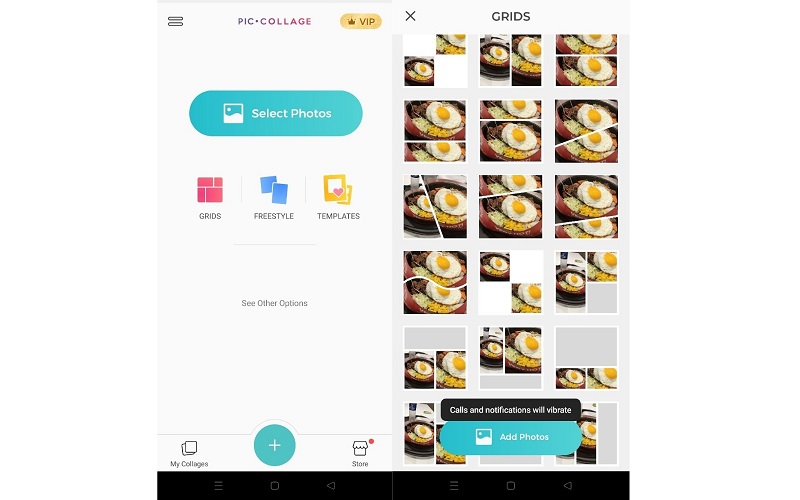 Part 2. Guide to Make a Photo Collage
In case you are unsure how to make a photo collage, here we will walk you through the step-by-step procedure. Vidmore Video Converter is feature-rich to make your photo collage stand out and make it distinct among others. The best part is it is easy to maneuver and there you don't need any technical skills to get your photo combined together. You can surely accomplish this in less than a minute. So without further discussion, follow the steps below to learn how to use this photo collage maker.
Step 1. Grab the Photo Collage Maker's installer
First and foremost, you need to download the app. To do this, simply click any of the Free Download buttons provided underneath. Once finished downloading, follow the onscreen setup to install the app and then launch it afterward.
Step 2. Go to the collage maker editor
Now click on the Collage tab which is one of the major tabs on the toolbar located at the top of the window. You should see the editor for making a collage that displays various editing functions.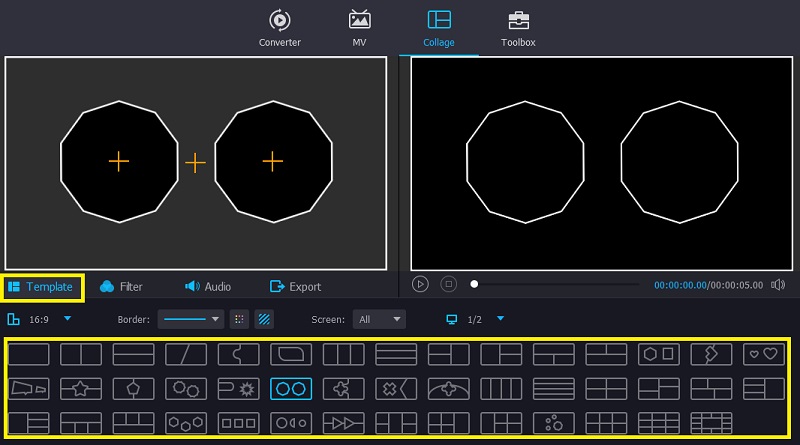 Step 3. Select template and upload photos
Now pick a template or layout appropriate for the occasion or event that you are trying to portray. After that, click on the Plus icon of your desired position for the photo and upload the selected photo.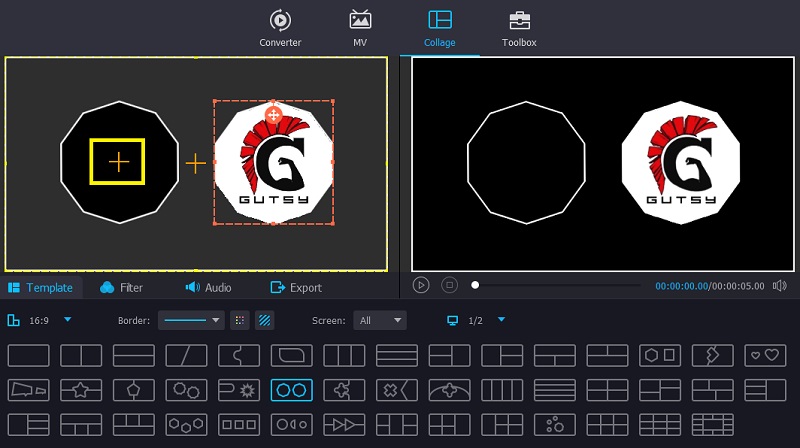 Step 4. Edit uploaded photos
Now that you have successfully uploaded your desired photos for the collage, you can proceed to decorate the collage. You can click on the Filter option and apply appropriate effects. You also have the option to adjust the position of the cells and figures present in the layout.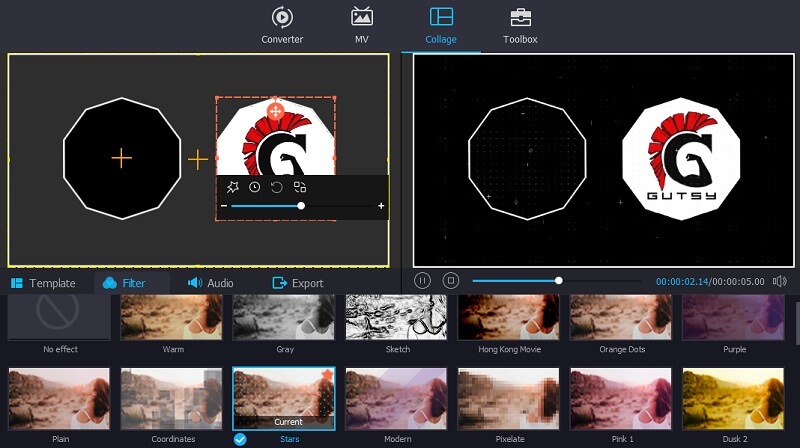 Step 5. Export the final output
Once you are done with all the changes, click on the Export option, choose a format, frame rate, resolution, and quality that fits your requirements. Then finally select an output folder and click on the Start Export button to process the file. After a short while, the output should be ready for preview.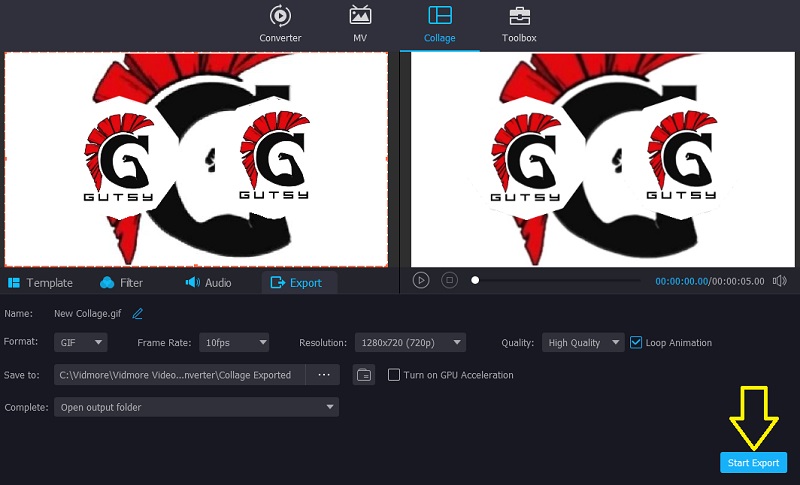 Part 3. Comparison Chart
Suppose you are still wondering which tool to use, you may refer to the illustration below to examine each tool's features and functions. In this way, you will be able to find the perfect tool for your needs.
KEY FEATURES
Photos that can be added
Creative templates
Photo effects
Supported OS
Vidmore Video Converter
Two or more photos
Windows & Macintosh
Fotor
Two or more photos
Windows, Mac, Mobile, Web
Befunky
Two or more photos
Windows & Macintosh
Pic Stitch
Two or more photos
iPhone
PicCollage
Two or more photos
Android
Part 4. FAQs of Photo Collage Maker
How to make a photo collage on Facebook?
Actually, Facebook does not have a feature for making a photo collage. In other words, you can not make a collage on Facebook directly. However, there is a simple work-around for this. You can try to download a photo collage maker that supports sharing on social networking sites such as Pic Stitch.
How do I make a photo collage without downloading an app?
You will also be able to create a photo collage app without downloading additional apps with the help of an online program. There are a lot of them actually but for your convenience, you can choose the one that we have tried using. That is Befunky which is a web-based app that features an easy-to-use interface so it can be navigated by beginners effortlessly.
Can I make a photo collage on Windows 10?
If you love to work almost all your tasks on your Windows PC and you are looking for a native photo collage maker app, you can't find one. Yet this is possible with the help of an application. Just like Vidmore which acts perfectly as a photo and video collage app with lots of editing tools you may use.
Conclusion
All in all, there are photo collage makers that you may have for your desktop app, use on web, iOS, and Android devices. Therefore, you can choose the best app that suits your requirements well and start creating beautifully framed collage photos. Whichever platform you decide to accomplish this task, you should have no problem at all.