What is a Watermark in Photo: 3 Tools to Remove Image Watermark
Picture taking has become a habit of every person these days. From waking up, they will take a selfie from the bed or a cup of their coffee. And from ending their day, they will also take a picture so they can post it on their social media accounts. However, you will notice that some images possess a stamp or what they call a watermark. Watermarks can appear in the form of an image, the date when the image is taken, or a logo. You will learn more about what a watermark is on a picture in this post. Along with these are the tools that will help you to remove it.

Part 1. What is a Watermark on a Photo
A watermark is a pattern, sign, or text picture that shows as the backdrop of a piece of paper. The initial goal was to demonstrate ownership or authenticity. You may also use it artistically. In other words, the artist uses it as a signature, making it impossible for someone else to impersonate them by putting off their work as the artist. It has also been used by artists who are concerned about unauthorized picture duplication in contemporary times.
You may occasionally view a watermark negatively because it makes the picture look of inferior quality. However, this is not always the case.
The latest development among photographers is to design their photographs so that the watermark draws attention to their work instead of detracting from it. Consider how your picture would seem with a watermark when adding one since it may be pretty hard to remove it after it has been placed.
Part 2. Best Image Watermark Removers
1. Vidmore Free Watermark Remover Online
You can also come across photographs that have watermark information on the side. And the good news is that you can get rid of it by using a watermark remover on the internet. Vidmore Free Watermark Remover Online seems to be the program you'll want to use when it comes to finding one. It is an app you can use off the internet without the need for a membership. This program allows you to remove brands, logos, and content from your photographs without leaving a trace behind.
And with the aid of artificial intelligence, it will eliminate the watermark in a matter of seconds. All that is required is to identify the watermark you want to delete. Vidmore Free Watermark Remover is compatible with a variety of file types.
You may follow this article to learn how to remove the watermark from your photograph quickly and easily.
Step 1: Open your search engine and go to the Vidmore Free Watermark Remover. Select the picture with the marking you wish to erase from your computer by clicking the Upload Image in the middle of the page.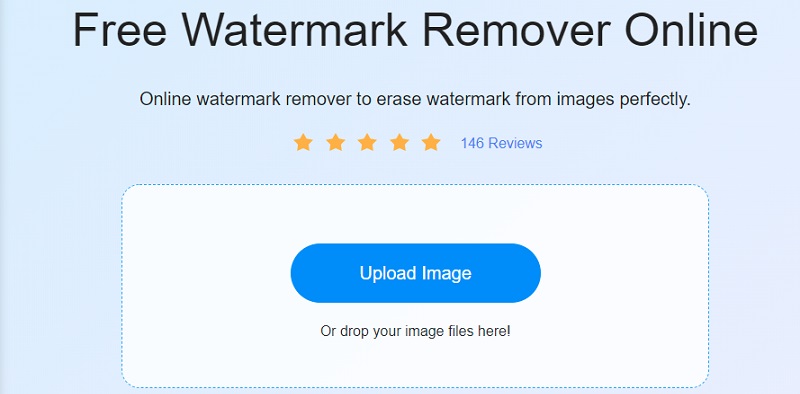 Step 2: Once the picture has been placed on the screen, select the Lasso button to the right of the image. After that, start looking for the watermark. Once the watermark has become red, select it by clicking on the Remove button in the top right corner of the picture.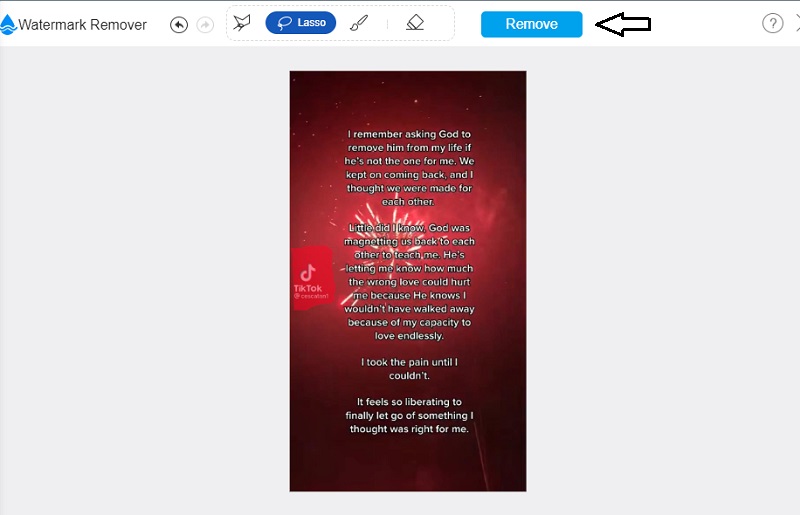 Step 3: After the watermark has been erased, you will be able to change the size of the picture to suit your needs. Click on the Crop and Save option, then adjust the size of the image or choose an aspect ratio from the drop-down menu above.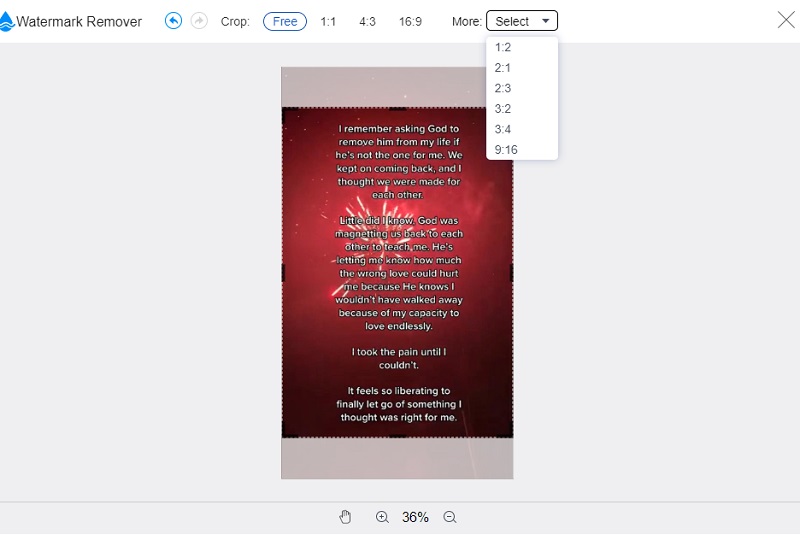 Step 4: Lastly, after you complete the cropping of your picture, click the Save option to the right and allow for your image to be saved to your folder.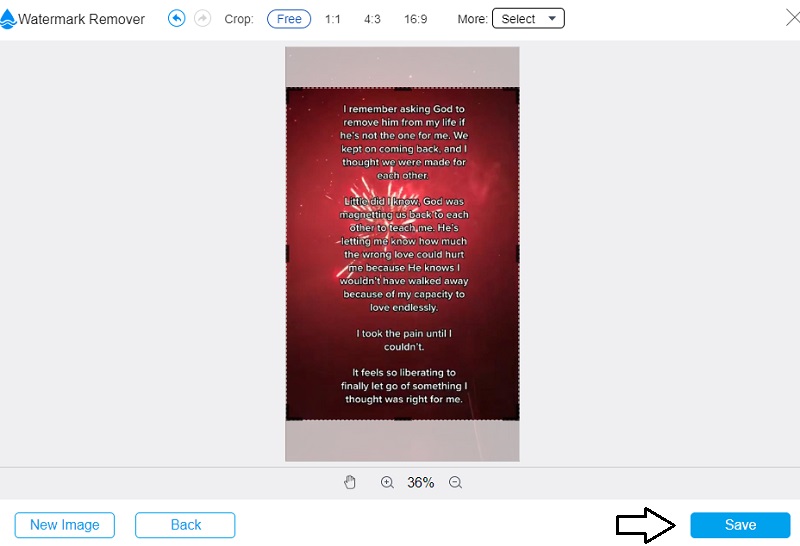 2. Watermark Remover.io
Another way to remove the watermark of an image online is through the Watermark Remover.io. This program has artificial intelligence, which automatically helps people remove the stamp of an image. It predicts where the watermark is located, and it segregates the colors of the watermark from the background of the image. This online tool doesn't also compromise the resolution of an image while it removes the watermark. Finally, it eliminates all the watermarks that are in the image. Here is a simple instruction on removing the watermark of an image.
Step 1: Visit the original page of the Watermark Remover.io on your preferred browser. Scroll it down and click the Upload Image below.
Step 2: Upon uploading the image with a watermark, wait for it to be processed. Once it is finished, it will inform you that all the watermarks are gone.
Step 3: If you are okay with the result of your images, you may now click the Download Image to save it in your folder.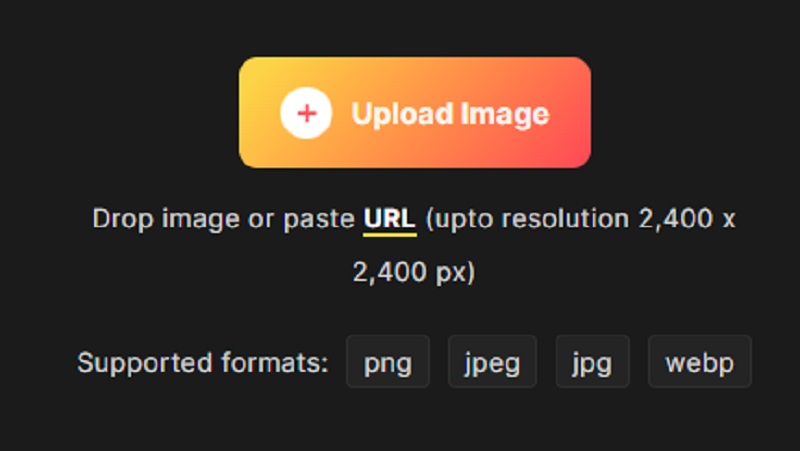 3. WatermarkRemoverTool.com
WatermarkRemoverTool.com is a fantastic program that professionals highly recommend. This watermark remover has a very rapid processing speed, which allows you to erase any watermark, such as a background picture or any item behind the image, in seconds. Aside from that, it is an entirely secure platform that provides you with excellent protection.
You do not need to install anything to use WatermarkRemoverTool.com. As an alternative, it works on any mobile or desktop browser; moreover, you will not lose any image quality after eliminating the watermark. It is compatible with any device, including Windows, Macintosh, Android, and iOS.
Step 1: Enter WatermarkRemoverTool.com in your search engine and click on the Remove Watermark from Image option to submit your photograph.
Step 2: When you click on that option, you will be prompted to wait for 15 seconds before proceeding.
Step 3: Finally, once you have waited for the specified time, you will also see the Download Now option, which you should choose.

Part 3. Comparison Chart of Image Watermark Removers
Features

Assisted by artificial intelligence

Shows the preview of the image

Usable on all platforms
| | | |
| --- | --- | --- |
| Vidmore Free Watermark Remover Online | Watermark Remover.io | WatermarkRemoverTool.com |
| | | |
| | | |
| | | |
Part 4. FAQs About Image Watermark Removers
What may a watermark be used to safeguard?a
Numerous items may be safeguarded using watermarks. It is also used in digital pictures such as photos and logos on internet movies so that they cannot be readily reproduced and reused without the owners' consent.
What is the use of adding a watermark to an image?
Watermarking safeguards your originality and prevents it from being pirated. If someone intends to take your photograph and use it for personal gain, watermarking prevents them from doing so.
How does Watermark Protection work?
You may safeguard your photos and text from unlawful usage using watermark protection. Anyone attempting to extract the original material will instead see a pattern or logo, which often incorporates marketing proof of ownership, such as their website link.
Conclusions
Now that you are fully aware of what a watermark on a photo is, you now know when and how to do it. And with the help of some image watermark removers in this post, you will be able to eliminate any watermarks you see on your images without being afraid of losing their quality.