Imglarger Software: A Detailed Evaluation You Must Know
In all honesty, a high-end camera is required if you want a high-resolution photograph. But not everyone has a high-quality lens for the camera. Some people depend on photo editing software to make necessary adjustments. A subscription is necessary for the usage of some of these editors. Fortunately, picture enhancers are available online that may be used without cost, such as Imglarger. This essay will cover the most critical aspects of the Imglarger software and its benefits and drawbacks. Please come and spend some time reading them.

Part 1. Overview of Imglarger
Imglarger is the most up-to-date picture solution. AL offers it for designers, bloggers, and others who want to expand and improve their photographs without going through the hassle of graphic design and other labor-intensive tasks. This program integrates ten different capabilities for improving pictures into a single platform, which enables you to do numerous photo editing tasks simultaneously. It is now possible for users to sharpen blurry photographs, repair damaged portraits, erase images BG, decrease noise, and transform photos into cartoons. It can also do many other cool setups with Imglarger. It is now accessible for both Windows and Mac. The artificial intelligence photo editor can make images up to eight times larger than their original size while maintaining their original quality.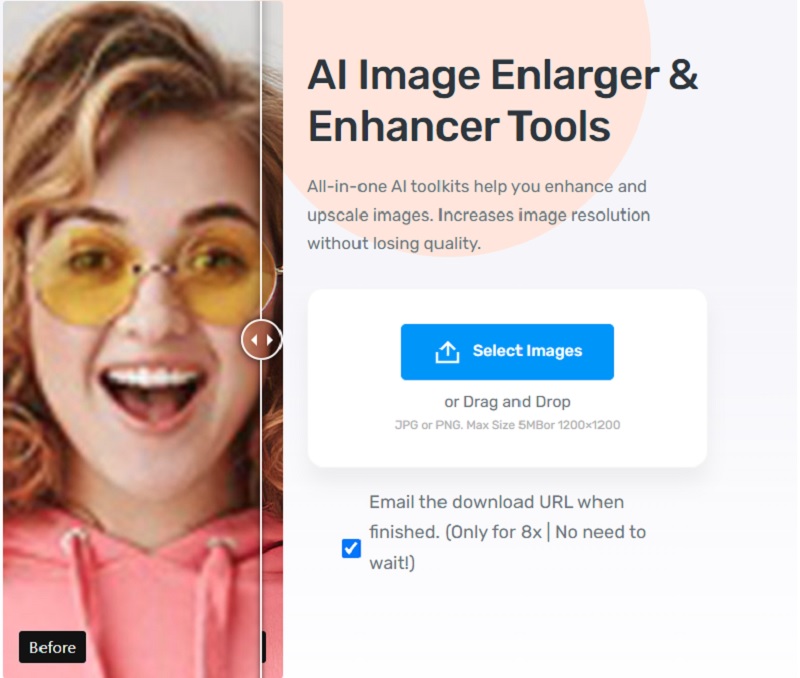 Features:
It may improve images by up to 800 percent while maintaining their original quality.
Denoising is a process that smooths out images by removing unwanted noise. Improve the image's clarity and texture by cleaning it up.
Deep learning can remove blurring from web photographs in a matter of seconds. It eliminates the blurring of motion produced by rapid movement or prolonged exposure.
Imglarger will do face retouching on your photographs, making you seem more attractive than ever.
Instantaneously and automatically, the background of the photograph will be removed. Eliminating the undesirable backdrop from the photograph will make it much simpler to examine and modify.
It generates upscaled photos in bulk that are both strong and attractive. It uses the most current ultra AI model, which is faster and better than more conventional methods of upscaling and earlier AI models. It is because it has a higher resolution at a lower pixel count.
It can improve and upscale anime or cartoon photographs to a maximum resolution of 16000px. Enhance the quality of your preferred anime wallpapers using this tool.
Pros of Imglarger:
It is a tool that is pleasant to users and simple to use, distinguishing it from other services that are difficult to use and need much mental effort.
Compared with other applications and services, the editing process takes a few seconds and clicks with this one.
This one is more affordable than the cost of other premium tools.
It never makes concessions when it comes to quality.
Cons of Imglarger:
The free edition only allows you to alter eight images every calendar month.
The use of tools is automated.
Part 2. Best Alternatives to Imglarger
1. Vidmore
You may want to give Vidmore Free Image Upscaler Online a go. It supports AI technology and has fewer restrictions than other similar tools. Imagine that we are ready to evaluate this technology in light of the previously described picture. In such instances, the assistance this tool provides for AI technology is superior. You can upscale and magnify the picture by up to 800% without causing any degradation to the initial quality of the image you submit to this site. In addition, You do not need to sign up to use this online tool, and there are no annoying advertisements or restrictions placed on the picture processing.
However, unlike the previous online tool we examined, this one is limited to expanding and scaling the picture you already have. It cannot do any additional functions. However, select the user's name to open it. You will be able to enhance and magnify your picture at no cost, and without being restricted in the number of times, you may use it.
Step 1: Use the button labeled Upload Photos to upload the image that you wish to modify the size of. It will then give you a directory, inside which you can either dump the file or browse for it to find it.

Step 2: Once you upload the file, the application will begin utilizing AI to determine what it is. You may now choose the preferred Magnification setting from a pull-down menu next to the image you desire to resize. Experimenting with each one is recommended to find the one that works best with your individuality.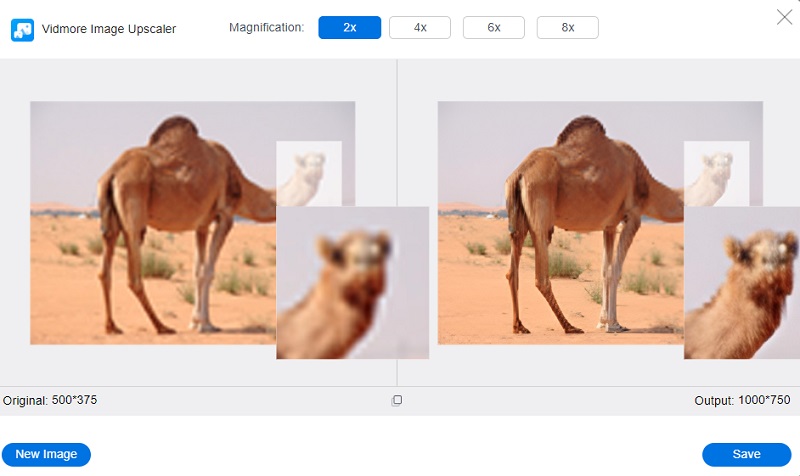 Step 3: To export your modified image at the new dimensions, click the Save button after you're done making adjustments.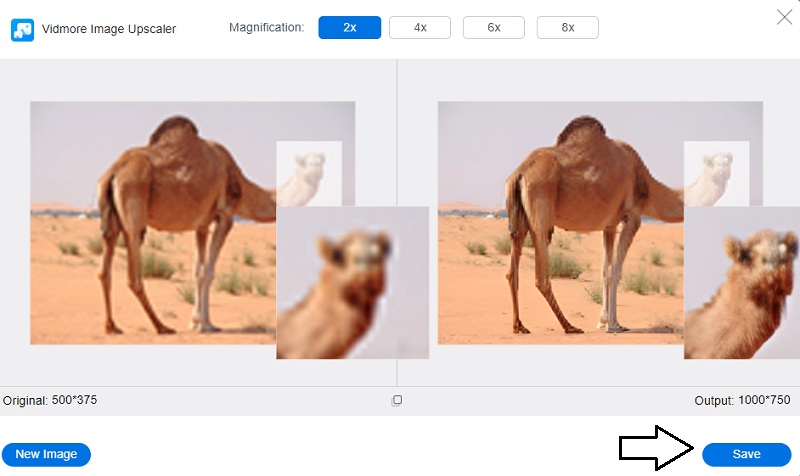 2. iLoveIMG
iLoveIMG is yet another excellent approach that you can use to modify the proportions of your images. Because it is an online service, you may upload content easily from both local and remote storage locations. In addition to the commonly used file formats, a few more are supported but are less prevalent. Bulk processing is well-organized, and you have several helpful tools. You may also tweak to avoid editing smaller photos and keep bigger ones' quality.
Step 1: Find the iLoveIMG and choose the picture you wish to resize from the drop-down option that appears when you press the Select Image button. After that, click the button that looks like a Plus sign.
Step 2: To resize your picture, you must enter the desired width and height values. You can resize it pixel by pixel or percentage by percentage.
Step 3: Click the Resize Picture button when you have finished resizing the image to apply the changes correctly.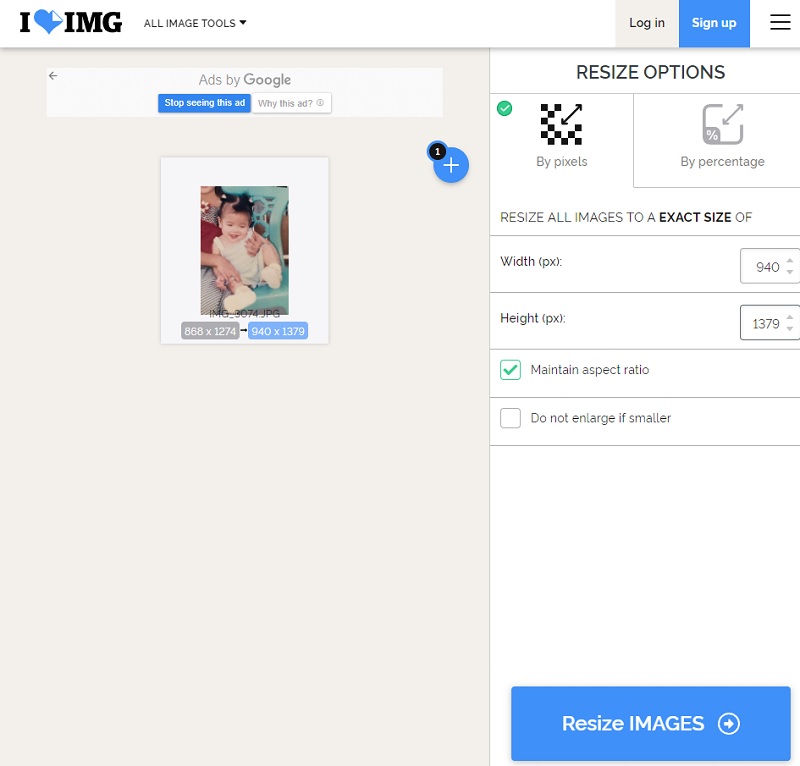 Part 3. FAQs About Imglarger
Is it worth it to use the free or premium plan?
The premium plan is the most cost-effective. Suppose you have many images to enlarge or enhance. In that case, we suggest you choose the Enterprise plan as it will offer you more monthly credits than other plans.
Can I also compress my image in Imglarger?
Yes, Imglarger can compress images because it has a feature where it can compress images to a smaller one.
Can I use the Imglarger on a mobile device?
Yes, the Imglarger service is also accessible on mobile devices for your convenience. You can access Imglarger mobile, and you may search for PhotoAI on either the Google Play Store or the App Store. One software that combines ten different ways to improve photographs is called PhotoAI.
Conclusions
Indeed, Imglarger offers a lot of valuable features. It is a handy tool, particularly for novices who are not familiar with the professional picture resizers that are available. However, since this program has restrictions regarding the maximum size of the files it can resize, you may want to explore other options for resizing images. An example of this is the Vidmore Free Image Upscaler Online. This application does not limit how you may make large photos.