How to Remove Background Image In Inkscape
Are you one of those who gets amazed by the aesthetically impressive pictures over the internet? Or, you might wonder how that product in that online shop application gets increasingly demanding as the day passes by. Whether you like it or not, we are living in a world where photo-editing can play a huge role in these things. Editing your images has a wealth of benefits, especially when you try to remove the background. It could be for a presentation, call-to-action, attaching a logo, or even changing a new layer for your selfie.
You need to find a reliable tool to lend you a hand, whatever the case. Well, you are on the right track! Our team has reviewed tons of background remover both online and offline and arrived with the best among them. Not only are they functional, but they are also for free! Without much chases, we will help you take your pictures to the next level by teaching you how to remove the background on Inkscape.

Part 1. How to Remove Background in Inkscape
Inkscape is an open-source and free program for making two-dimensional vector graphics like cartoons, logos, illustrations, and typography. Unlike rasterized graphics or what we know as pixels, you may need to use vector because it has lossless quality or infinite resolution. By Inkscape, the digital arts you create are rendered in a file format called SVG or scalable vector. So, whether you are a graphic illustrator, photo editor, web designer, and even somebody who wants to discover your creative side, Inkscape is for you.
Aside from that, this robust tool is also suitable for editing, such as removing background images. Moreover, almost anyone can have Inkscape because of its Linux, Windows, and macOS compatibility. Keep reading below and follow the steps on how to make a transparent background for your picture using the Bezier tool.
Step 1: Once the program is loaded, press Ctrl+I on your keyboard to access your computer folder. When you finally find the image to edit, select and click Open.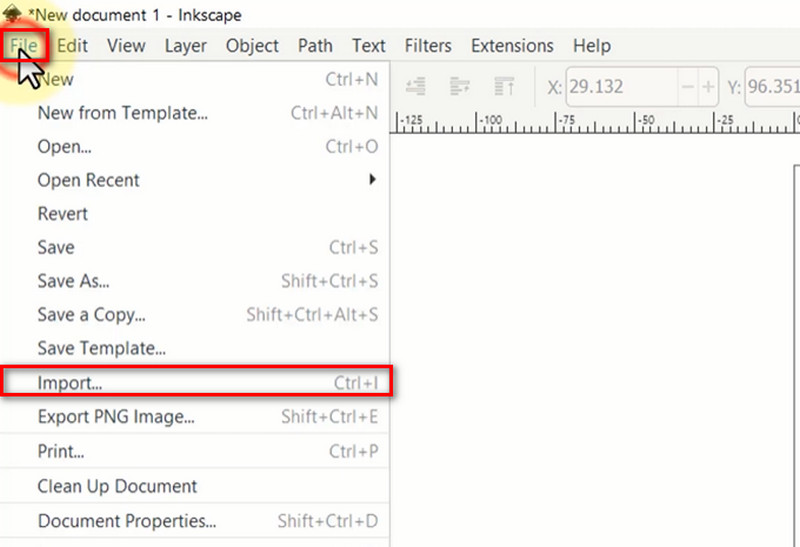 Step 2: After importing your file, press the Plus sign on your keyboard to zoom the photo. In that way, you will not have difficulty tracing the subject. Choose the Draw Bezier under the spirally looking icon on the toolbox panel. Then, move your cursor to the image and start tracing. Make sure that you will connect both points.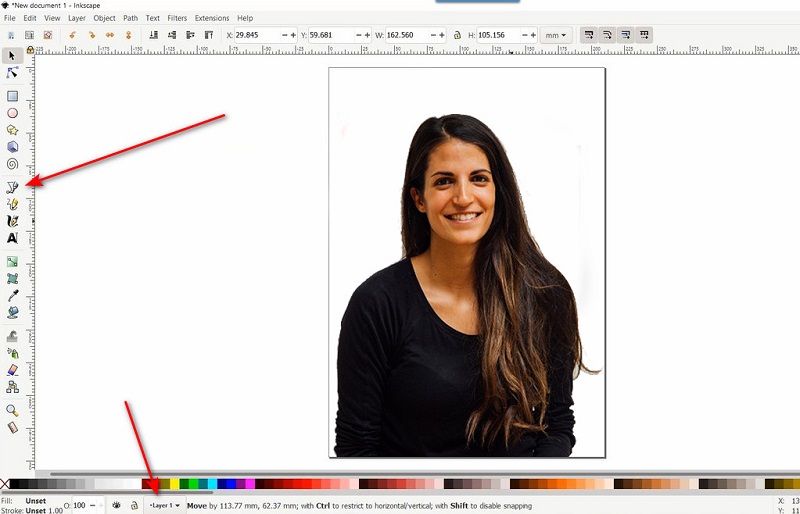 Step 3: Next, at the top of the interface, drop down the Edit tab and Select All. After that, move to the Object section > Clip > Set. You should see that the background is deleted.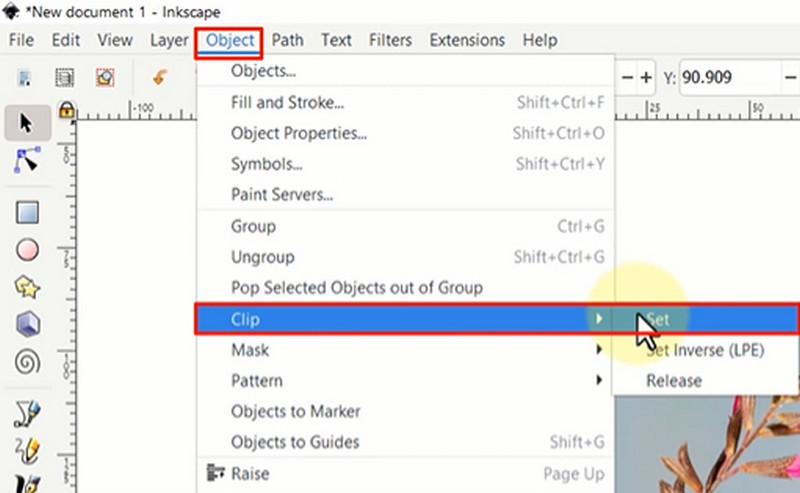 Step 4: To have the edited picture, drop down the File tab and select Save As. Choose the file format that you prefer and hit Save.
Part 2. Best Alternative to Inkscape
If you do not want to install Inkscape on your device, yet at the same time, you still want to make transparent background possible, we still got you. If this is the case, you should go for an online tool like none other than Vidmore Background Remover. This web-based program can be accessible for any search engine and is the most promising for its features and tools.
First, it does not require the user to have a one-of-a-kind skill through the help of Artificial Intelligence or AI technology. The algorithm processes the background and precisely removes it from the portrait or foreground. Second, it's more than just a background remover! You can also add a layer on your subject with plain solid colors or new image background to make your simple photos turn extraordinary. To prove that it is true, follow the simple steps below.
Step 1: Go to Vidmore Background Remover Online Site
To begin, you need to load the site on your search engine. You have to type the program's name from the search bar, and press Enter on your keyboard.
Step 2: Import the image
After that, hit on the Upload Image button that you will see on the main interface. Then, a pop-up window will appear where you can browse through your computer files. Select the photo you wish to edit and hit Open.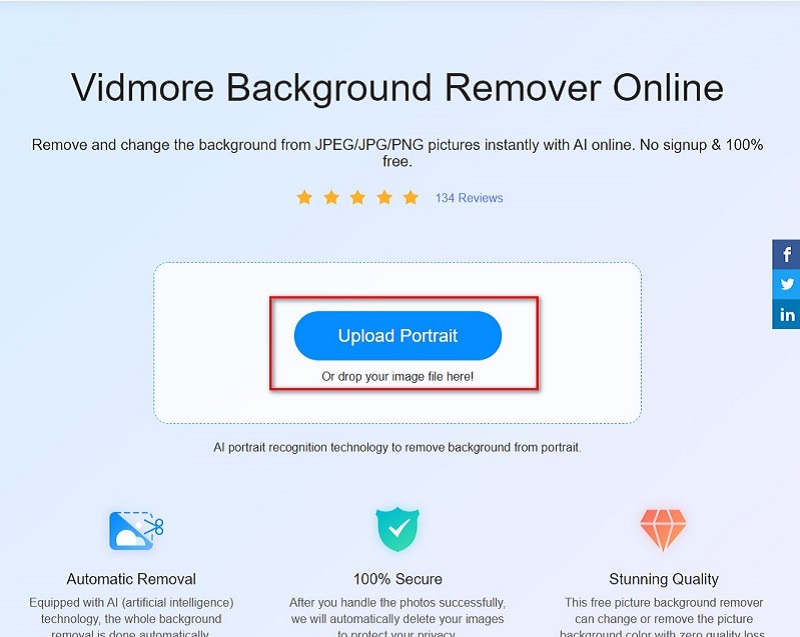 Step 3: Edit the photo
You should automatically see that the background is erased when the image is uploaded. If you want to tweak further details, go to the Edit tab. From there, you can modify the background in solid plain colors or upload another image to the layer. To retain a transparent background, select Clear BG.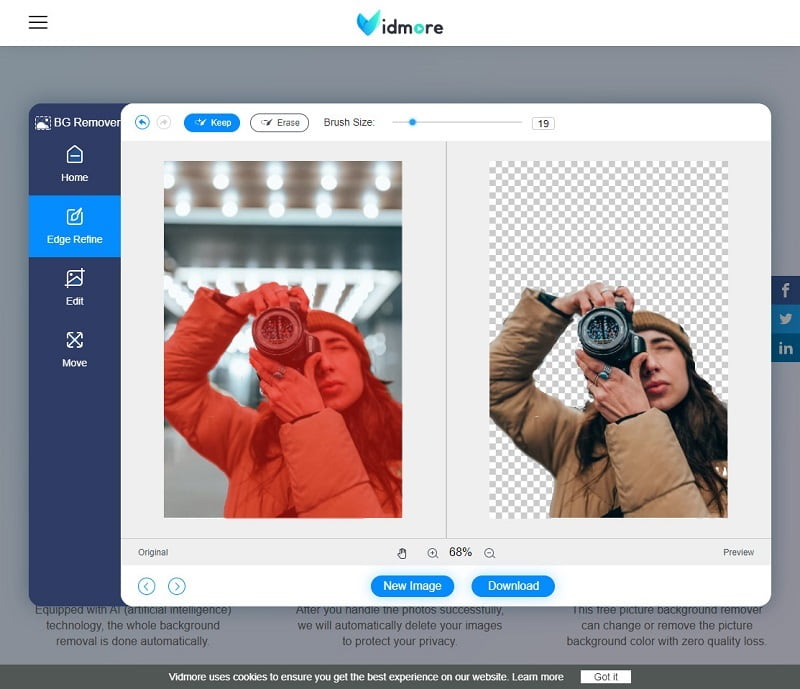 Step 4: Save the output
Once done editing your photo, tick the Download buttons below the interface. If you want to create another output, click the New Image button and repeat the process.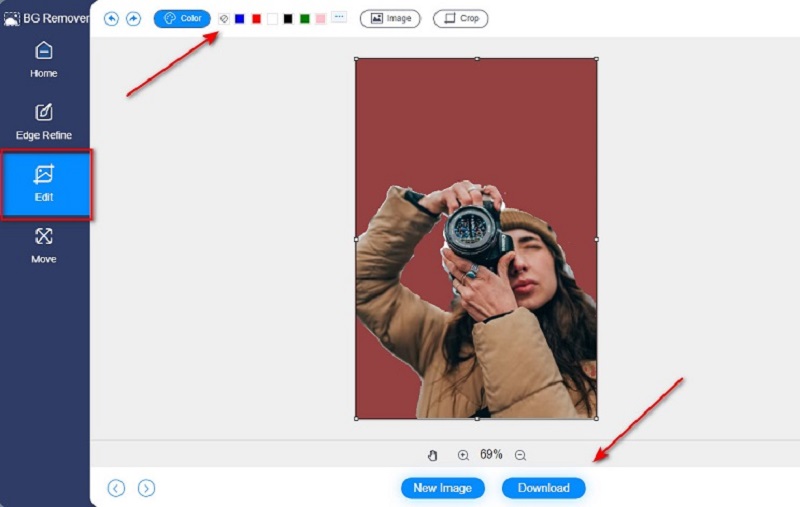 Further Reading:
How to Easily Take A Screenshot on HTC Phone
Best Ways to Add GIF to Text Conversation on iPhone/Android
Part 3. FAQs about Background Removal in Inkscape
How to remove the white background from an image in Inkscape?
You have to export your picture format in PNG. In this way, you can ensure that the image is transparent when saved.
Will I lose the quality of my photos after removing the background?
For most cases, you will not lose the quality of your picture after removing the background. If it happens, it will be hard for you to notice. Moreover, you have to keep in mind that the quality of your photos depends too on the file format you have saved them. If you pitch on for high-quality pictures, PNG format will do the work. On the other side, JPG will do if you do not need one.
I want to change the background of my image. Is there any way to do it on Inkscape?
Definitely, yes. After removing the background of your first photo, just simply import the picture you intend to use. However, both clips are now in the same layer, so you should create a new one for the background image. After doing that, select your subject picture, hit right-click, and Move to Layer. Select Layer 1 for your foreground, and it is simple as that.
Conclusion
And that's it! You are now acquainted with the offline and online tools that can help you spice up your photos. While Inkscape can remove the background effortlessly, you may want to try the Vidmore Background Remover Online too. One great reason is that you do not need to download any program which saves storage devices on your part. On the other hand, if removing the background is your sole purpose, this online tool is highly efficient and more than enough. If you find this article helpful, go and share this with your loved ones and friends and let them enjoy it too.