Do it Like A Pro: How To Transparent Background Using Canva
We live in a world where people always love to see something different. From the clothes we wear, the place we visit, even down to the photos we capture. Yes! Adding a bit of touch-up is like a million-dollar deal, especially when promoting your brand, showing t-shirt designs, creating a presentation, etc.
Meanwhile, there will be circumstances that you will need to extract the foreground and lay it over in a new environment. For example, you might need a compelling backdrop instead of a plain one when promoting shoes. By doing that, chances will be high for sky-rocketed sales. To assist you in this matter, we provided the steps on how to make the background transparent in canva.

Part 1. How To Make Background Transparent in Canva
Indeed, almost everyone has heard of Canva and its "cannot-be-denied" superiority among any popular programs you could think of. To give a little background, Canva is an online-based graphic designing program developed in 2013. This platform has a primary aim to help individuals create their projects for academic, business, social media endeavors, and others.
Going back to the previous case in removing the background image, thankfully, Canva is infused with a photo editor. Using artificial intelligence or AI technology, Canva can precisely remove the background of your image no matter how complicated it may be. That being said, get a hand of the tool by following the steps below.
Step 1: First, you have to import your image. After selecting a template, go to the tool panel and hit Uploads. Take note, if your file is on your device, hit Upload Media or use the search bar to take an image online.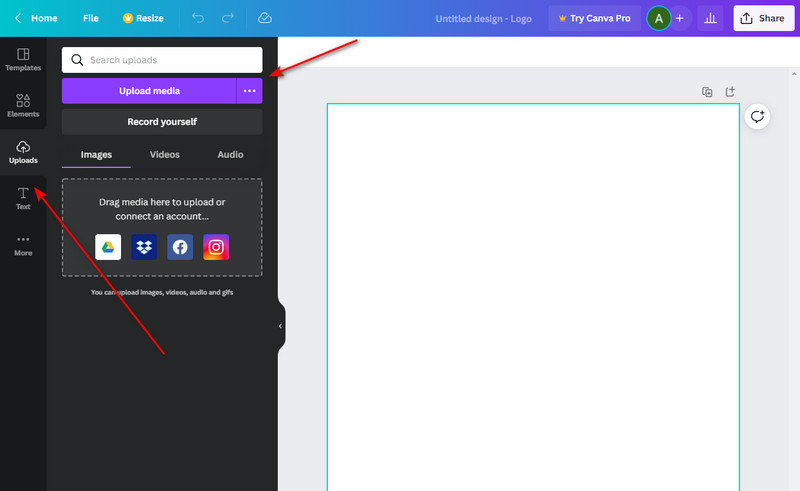 Step 2: Next, drag the image to the page area. After that, adjust the image size, depending on your preference. Next, select the image through your mouse and hit Edit Image > Background Remover.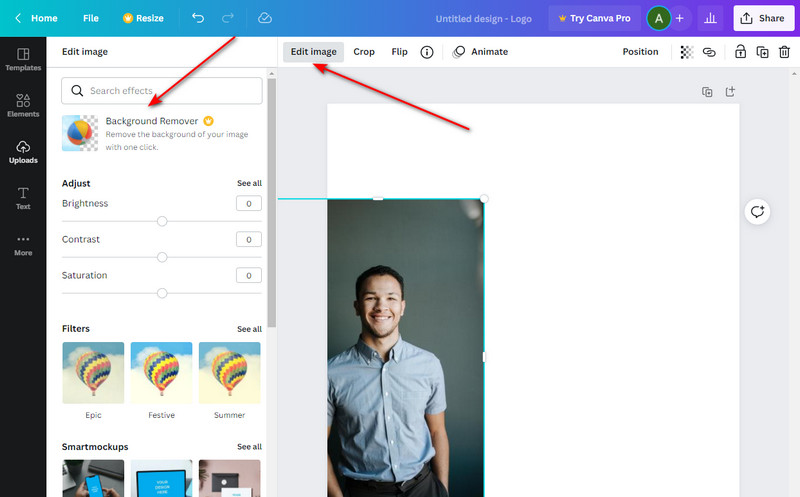 Step 3: After hitting the Background Remover command, wait for a few seconds. Then, you should see your image to have a precise cut out of your background.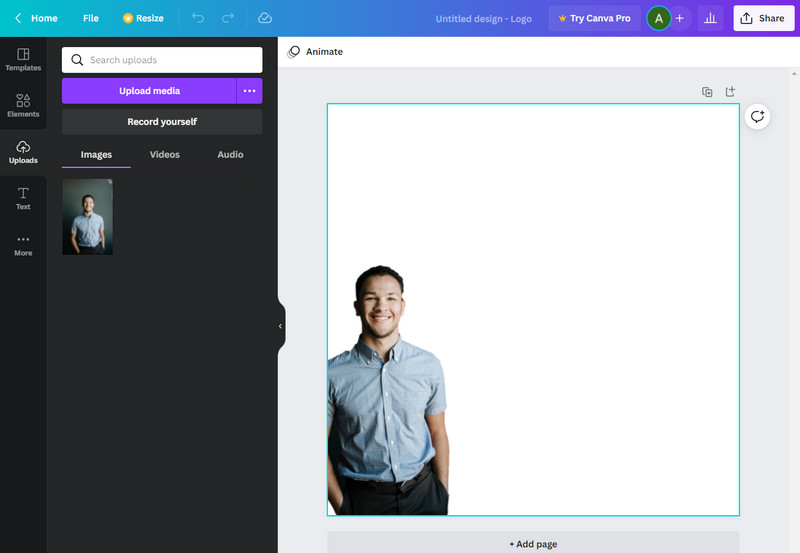 Pros
It offers a variety of templates
All around program
The free version has no time limit
Cons
It cannot be used without an internet connection
You need to upgrade to the Pro version for complete access to features.
Part 2. Alternative to Canva on Making Background Transparent
However, excellent tools come as well with a great price. Indeed, it's fair enough that you can have a well-done output with the accessible version of Canva. Still, one of the perks of upgrading it to Pro is utilizing the transparency command for your background images. In turn, tons of users have difficulty editing their subject to show the other layers in their works. And to solve this problem, they may look for other programs that can do this precisely.
Is the feeling mutual? In that case, a great alternative tool you can use is the Vidmore Background Remover Online. This web-based program is 100% free and allows you to make transparent background images as much as you want, anytime. Not only that, it is integrated with Artificial Intelligence or AI technology like what Canva offers in their pro version.
Without any chases, you may refer to the provided ways below in using this alternative tool.
Step 1: Access the alternative tool
To begin, open your default browser on your device and type Vidmore Background Remover Online. Then, press Enter on your keyboard and visit their official page.
Step 2: Import the image file
To locate your file on the page, hit the Upload Photo button in the main interface. Then, you will be directed to your computer folder, select the image, and click Open. While your image file is being uploaded, you may be required to wait for a few seconds because the program scans the background and removes them automatically.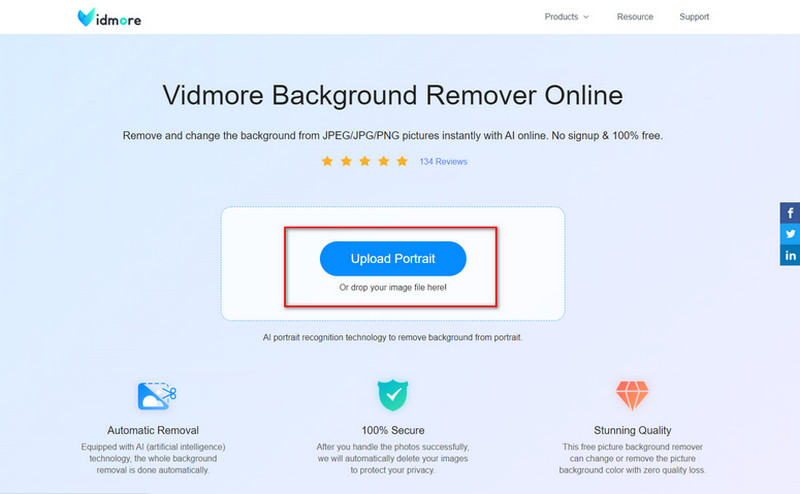 Step 3: Detailing the foreground
When your image has been uploaded, the program will direct you to the Edge Refine section, where two types of panels show up. The left side is where you enhance your work, and the preview panel on the right shows the output in real-time. In this section, adjust the Brush Size according to the detail you want to Keep or Erase.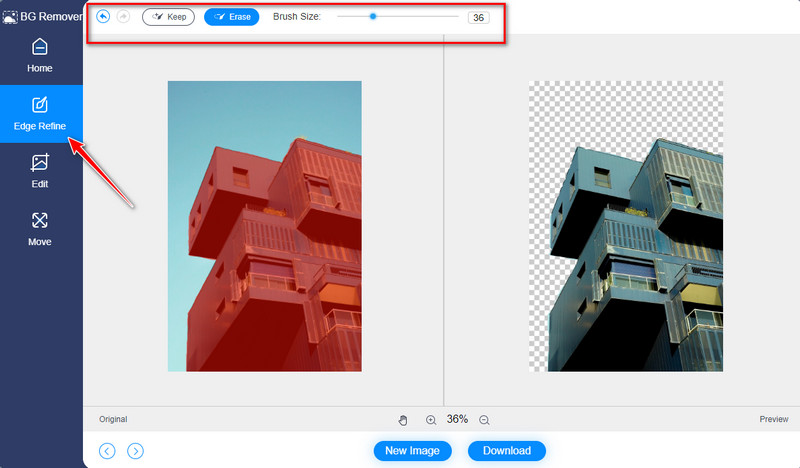 Step 4: Save the output
Keep in mind that the image you track will be highlighted in red when you hit the Keep button on the edit section. When you are already satisfied with your work, hit the Download button to save the file on your device.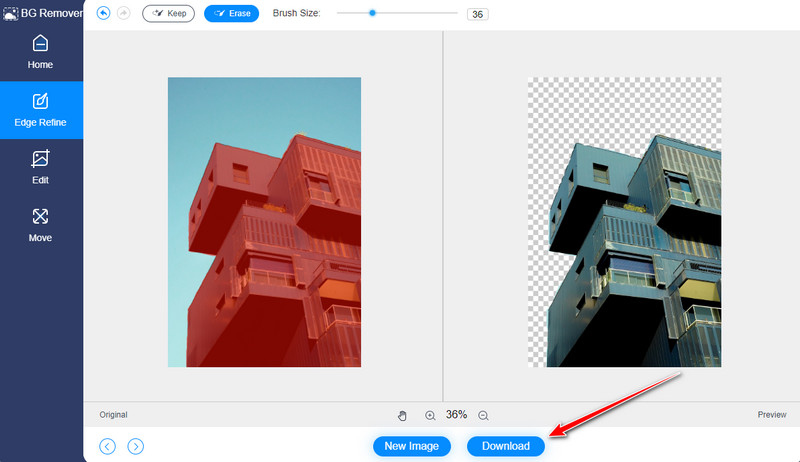 Pros
Sleek interface
Free to use
It contains a built-in photo editor
Cons
Supports pixels no longer than 3000
The program cannot be used without an internet connection
Further Reading:
Where Are Screenshots Saved on Windows 10/8/7 PC and How to Screenshot
8 Best GIF to JPG Image Converter Programs: Free and Using Photoshop
Part 3. FAQs about Making Transparent Image in Canva
What is the advantage of using Canva?
Many users go for Canva because of its notable features. First, you have more than 2500,000 templates to choose from that can match the theme of what you are working on. Second, it has the auto-save capability. Therefore, you do not need to dread your deleted projects due to unwanted technical crashes. Lastly, it is also infused with a photo editor, which can help you make your image background transparent.
How can I save my transparent background on Canva?
To save your picture from Canva, the following is what you should do. First, select your image on the page area and hit the Share button at the top of the interface. After that, hit the download button and select the PNG as your suggested file type.
Is Vidmore background Remover Online safe to use?
Definitely, yes! Like Canva, you should not have second thoughts in using Vidmore Background Remover Online. Not only do you have unlimited access to use the tool, you can also be guaranteed that all of your information or images are automatically deleted from the server once you exit the program.
Conclusion
You know that you successfully draw your audience's attention to the subject when everything else fades in the background. In this short walkthrough, you should know now how to make the background transparent in Canva. Since the Background Remove command is only available in the Cava Pro, Vidmore Background Remover Online can complement the free version you are using. But how? Here is a great tip you can apply. Remove your image background on Vidmore, save it on your device and upload the output again in Canva. And that's it. If you find this article helpful, kindly tag your friends along and share this with them.