4 Best Ways How To Remove Watermark From A Graduation Picture
Graduation is one of the most unforgettable events a person can experience. It results from your hard work after those sleepless nights and a bottomless sip of coffee to keep yourself awake. In other words, your hard work pays off when you graduate. Of course, you need to capture a memory of this special event in your life. Hence, you took photos and edited them.
The problem is that some photo editors leave a watermark on edited photos. As a result, you are hesitant to post online or share it with your friends and family. Worry not! In this post, you will learn to find four ways to remove a watermark from a graduation picture. You will find a solution for desktop, online, and even handheld devices. Read on to learn further.

Part 1. How To Remove A Watermark From A Graduation Picture
Getting rid of the watermark from a graduation picture or any photo can be challenging. But not with Free Watermark Remover Online. The tool is an online program that works well with streamlined browsers, allowing you to use any browser available on your computer. Besides, you can load almost all image formats without limiting the number of uploads and media size.
Moreover, this tool offers various selection tools, including polygonal, lasso, and brush. Using these, you can remove even those pictures with complex backgrounds. Aside from that, the program is infused with a cropping tool. That makes it easy for you to remove watermarks in the photo's corner. That means you do not have to trace static or dynamic watermarks. See the tutorial below to learn how to remove a watermark from a graduation picture.
Step 1. Access the online tool
Begin by accessing the online tool using any browser on your computer. Open a web browser, type in the tool's link on the address bar, and hit Enter to reach the program's main page.
Step 2. Import an image file
Now, you will see the Upload Image button on the main page. Click on it, and your device's folder will appear. Next, browse through your files and double-click on the graduation photo to upload.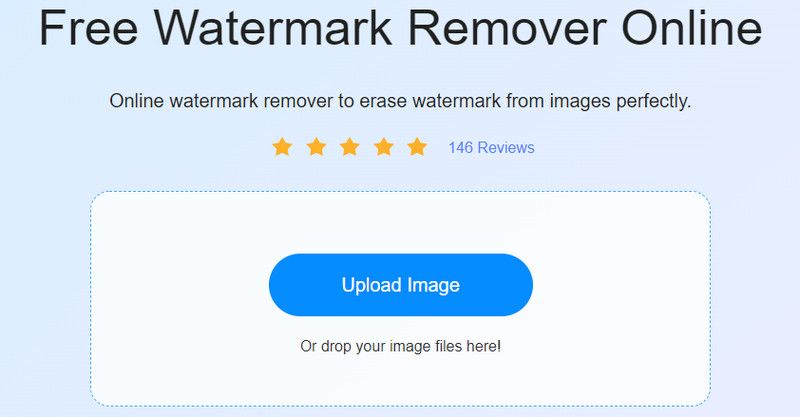 Step 3. Highlight and remove the watermark
This time, choose a selection tool and highlight the watermark from your graduation picture that you wish to remove. Smash the Remove button from the menu to get rid of the watermark. If there are some residues or leftovers from the process, keep doing this step until you get your desired outcome.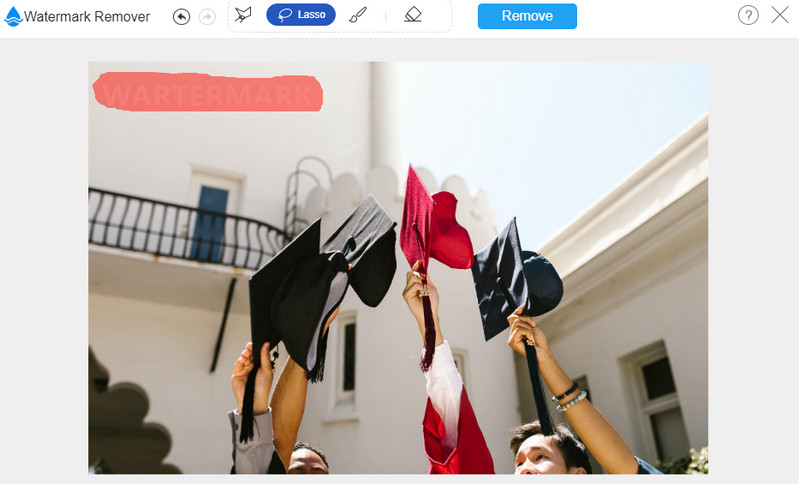 Step 4. Save the edited photo
Once you are delighted with the results of your photo, tick the Save button and select a file folder. Then, the photo should be downloaded automatically on the saving path you set.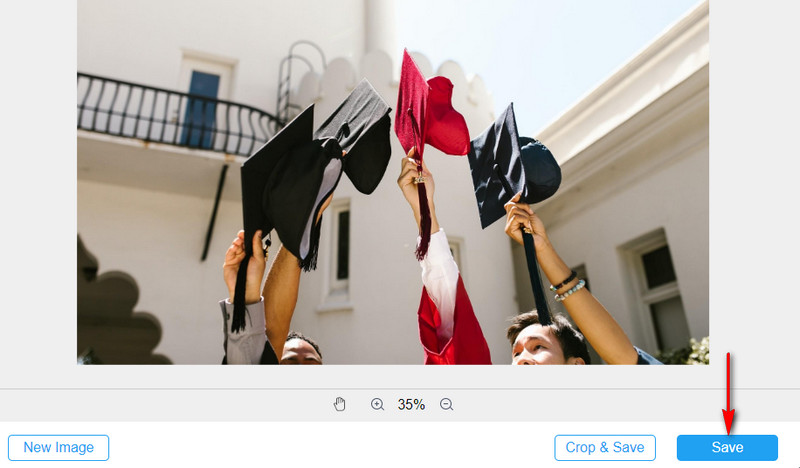 Part 2. How To Remove A Watermark From A Graduation Picture On Desktop
You can also utilize Photoshop to get rid of a watermark on a graduation picture. It comes with professional tools to fix picture issues. It can help you remove a person, object, logo, watermark, subtitle, or any undesired element from a photo. This program has a lot more to offer. It can blur and unblur, blend a background, crop, and many more. Now, here is a simplified tutorial on how to remove a watermark from a graduation picture.
Step 1. Obtain the program and install it on your computer. Right after, launch it.
Step 2. Now, load your graduation picture on the software. Go to File > Open, and select your target photo.
Step 3. From the left side toolbar, choose the Quick Selection Tool or press S to pick it.
Step 4. Hold the Alt key this time and take a sample near the watermark. Drag the arrow above the watermark to apply the cloned area.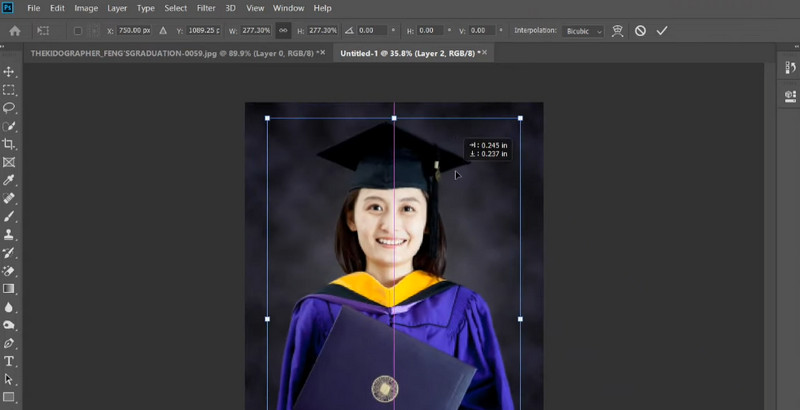 Part 3. How to Remove A Watermark From A Graduation Picture On Mobile
You can also work on your touch-enabled devices, such as iOS and Android smartphones, to delete a watermark from your graduation photo. For recommendations, we provided 2 of the most practical tools you should consider using.
1. Remove & Add Watermark (for Android)
If you use an Android device and wish to remove the watermark from your device, you may use Remove & Add Watermark. The tool has a straightforward interface, allowing you to easily process your photos. Besides this, you can also add watermarks to your images or photos using this program. Not to mention, you can animate the watermark to make it personalized. You can follow the steps below to remove a watermark from a graduation picture with this mobile app.
Step 1. Go to Google Play Store on your phone and install the app. Open the program afterward.
Step 2. From the main interface, tap on SELECT IMAGE followed by the REMOVE WATERMARK option.
Step 3. Now, select the graduation photo from your phone gallery. Once done, a selection tool should appear on the interface.
Step 4. Place the selection box above the watermark and tap the Save button in the top right corner. Wait for the process to finish.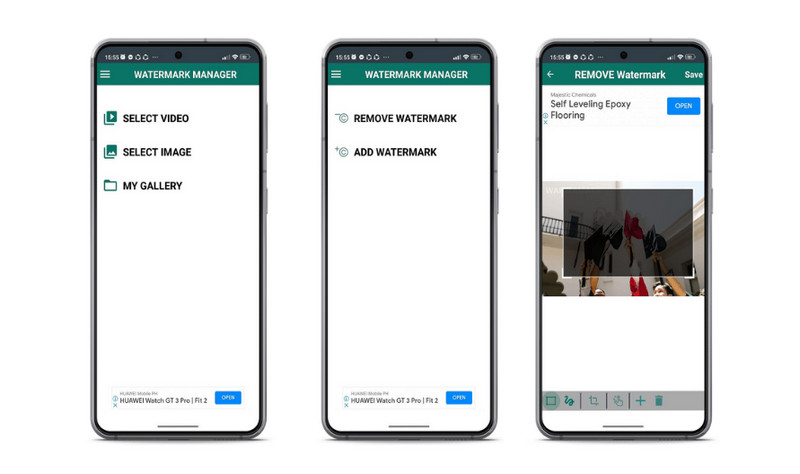 2. Photo Objects Eraser & Remover (for iOS)
Photo Objects Eraser & Remover is another tool that can help you remove watermarks from a graduation picture is Photo Objects Eraser & Remover. It works well with watermarks that have a solid background. Therefore, you will see no trace after deleting the watermark. Apart from that, you can also use the tool to blur out some areas of a photo. To understand how this tool works, follow the easy guide below.
Step 1. Install this mobile program by getting it from the App Store.
Step 2. Run the tool, and you will be welcomed with your phone gallery loaded in the software.
Step 3. Select the graduation picture you wish to edit and tap Erase at the bottom menu.
Step 4. After that, highlight the watermark, and it will automatically disappear.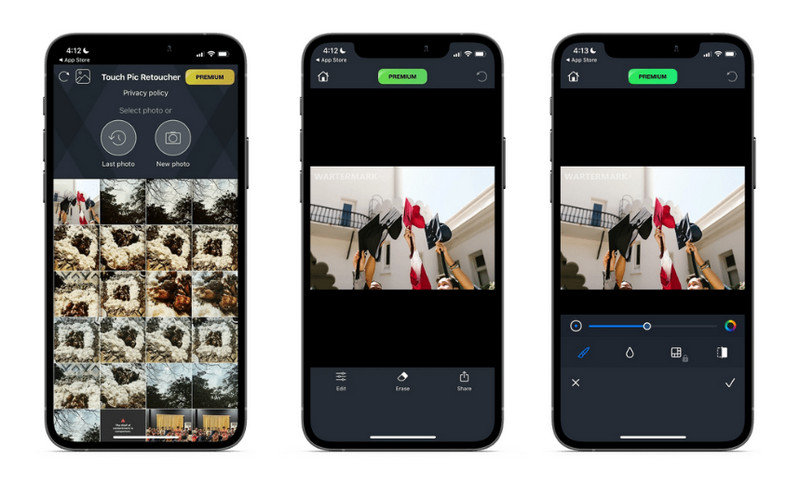 Part 4. Comparison Chart Of Watermark Removers
Now, here is a comparison chart you may refer to help you choose which one is best for you.
Tools

Free Watermark Remover Online

Photoshop

Remove & Add Watermark

Photo Objects Eraser & Remover
| | | | |
| --- | --- | --- | --- |
| Supports AI watermark method | Intuitive and fresh interface | Multiple watermark selection tools | Supports batch processing |
| | | | |
| | | | |
| | | | |
| | | | |
Part 5. FAQs About Graduation Watermark Remover
Can I remove the tiled watermark from the photo?
Yes. Selecting and removing the watermarks from the photo may just take a while. On the other hand, you may use any of the programs discussed above.
Is removing the watermark illegal?
Watermark removal is not illegal as long as you are using it for personal purposes. But when you are using it commercially, that can be considered illegal.
What is the best tool for editing graduation pictures?
You can take any photo editor, such as Photoshop and Lightroom. Provided the photo editor has the feature or function you need, you can use them to edit photos.
Conclusion
There are various ways in which you can remove a watermark from a graduation picture. Yet not all of them deliver efficient results. Therefore, we rounded up the most practical and efficient tools there are. Follow the tutorial, whichever method you may find simple and easy.