How to Unpixelate an Image With Online and Mobile Apps
The word pixelation refers to a picture that is fuzzy and difficult to differentiate between individual pixels. It happens when the resolution of a picture is exceedingly low, which causes the individual pixels to become big enough for the human eye to detect them. Getting rid of an image in a low-resolution picture is complicated. However, it is possible to cut down on the issue. In this post, you will learn how to unpixelate an image with the assistance of online tools and mobile applications.

Part 1. How to Unpixelate an Image Online
1. Vidmore
You may utilize Vidmore Free Image Upscaler Online, an AI-powered application, to unpixelate photos in an online environment for no cost. The artificial intelligence technology this application supports is one of its many beautiful advantages. It can recreate the pixels that have been removed from your picture so that they may return to their former splendor.
The result of this tool, which you may download, is of such a high professional standard that you won't even be able to fathom what this free application can achieve. Because of this, we are sure that we can provide you with the pixel-free picture that you want in the exact amount of time. Follow the procedures we've outlined in this article to swiftly unpixelate the photo you already have so that you don't have to wait any longer.
Step 1: Click the Upload Photo button to open the directory containing the picture you want to upscale. Then click Open once you've selected the file you want to upload and press it once.

Step 2: In this section, you will be allowed to choose the upscaling you want to apply. Select the Magnification that you wish to use on your photograph to remove the pixelation from the picture.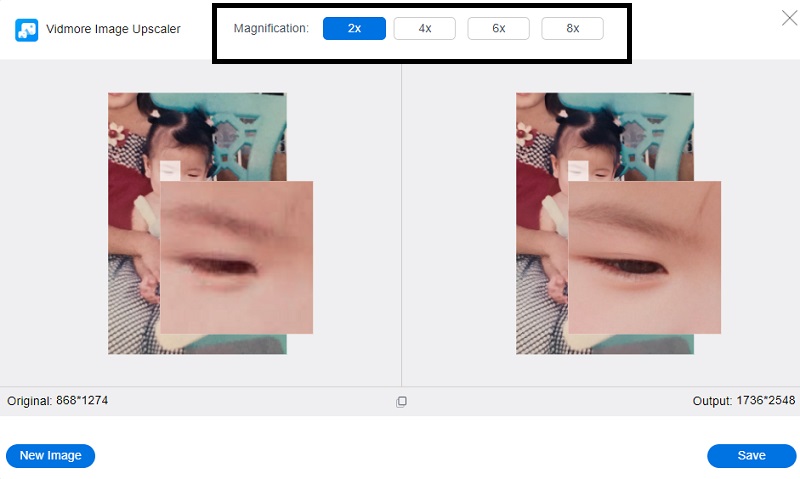 Step 3: Click the Save button to store the image in a format that isn't pixelated. You now have the picture in your palm that isn't pixelated, and you can appreciate it with a far higher level than you were able to before. It was as simple as that.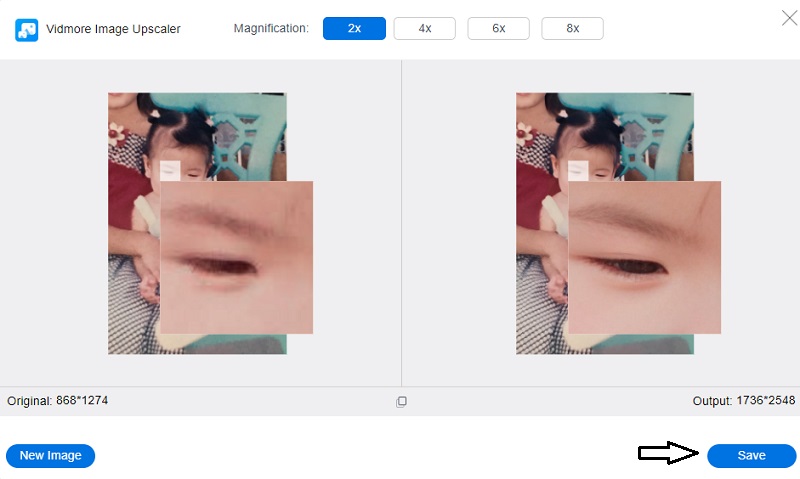 2. Let's Enhance
This image pixel enhancer, which is powered by artificial intelligence, will automatically correct any imperfections that are present in your photos. Improve the colors, turn off the compression, and scale the image up to 16 times its original size. It can detect an image as a JPG file and automatically apply a noise reduction algorithm. It would be helpful if it could improve the image quality on the website to the point where it could print without suffering any quality loss. The AI photo enhancer, on the other hand, does not have any other editing tools.
Step 1: When you go to the Let's Enhance website, choose the option that says Try it out for free once you're there. After there, you may either create a new account or use an existing one.
Step 2: You may drag and drop an image into position inside the editor, or you can upload a photo from your device straight into the editor.
Step 3: Using the tools on the right, you should now make any last edits to your photo that may be required. After that, in the lower-right-hand corner of the screen, there is a button titled Start Processing. Click on that.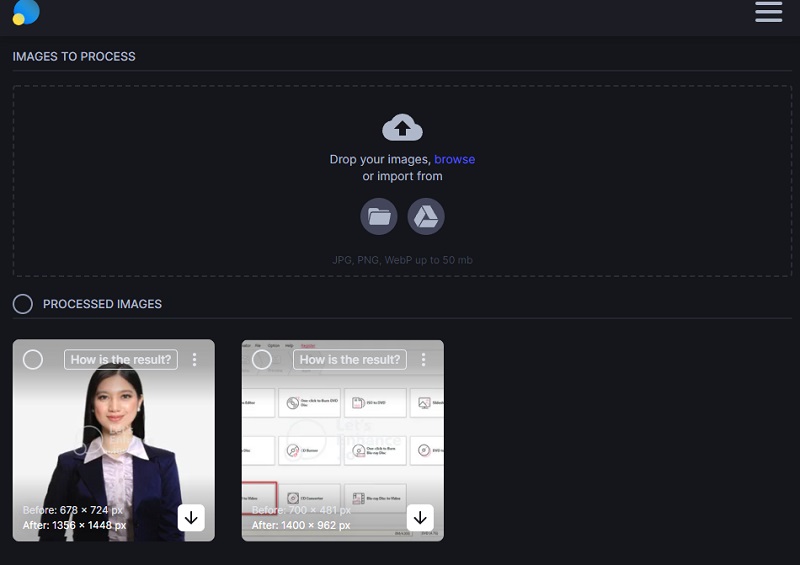 3. ImageUpscaler.com
If you are frustrated by pixelated, low-quality photographs, you should immediately start using Image Upscaler. This outstanding service employs the application of artificial intelligence to improve a photograph while maintaining its natural aspect. In addition, it meticulously inspects and scans the image to fill in any missing pixels, doing it automatically so that the quality is not compromised. You won't have trouble finding photographs for sophisticated social networking sites. It would help if you were delighted by the thrilling conclusion.
Step 1: ImageUpscaler.com may be accessed by going to your web server. After that, choose a picture to upload and click the Upload button.
Step 2: After that, improve the picture, reduce the blurriness, or both depending on what you want.
Step 3: To complete all of your work, you may now press the processing button when you are ready.
Part 2. How to Unpixelate an Image on Mobile Devices
The smartphone app Remini functions as a photo editor that uses AI to make adjustments to and enhancements of user-submitted images. It can potentially improve the quality of the photos by eliminating any blurring that may have been present. The program is helpful if you wish to revert to an earlier version of yourself. Clean images generated by the application effectively fix images that have been incorrectly rotated. Remini is an artificial intelligence-powered photo editor that, unlike previous programs, does not replace or hide the photo's most important details but instead brings them back to life. After processing, the picture is more transparent and precise than the source. These are the procedures you should follow to do this.
Step 1: You must sign up for an account to use the app. The next step is to choose to Enhance from the menu on the app's main screen.
Step 2: Using the enhanced mode will assist improve your photographs so that they have crisper backgrounds and more defined face characteristics. It is effective on photographs with poor resolution and hazy details, and it may assist decrease noise and pixels that seem weird.
Click Make use of it so that the deblurring process may continue.
Step 3: Once you have chosen the photo you want to target, click the red button at the bottom to begin the process. When the work is being completed, this will show an advertisement. In the Pro edition, advertisements like this may, of course, be removed. Play with the slider to see if there are any discernible changes to the level of blurriness. Once you reach that point, save the picture, which may take the place of the previous blurry shot.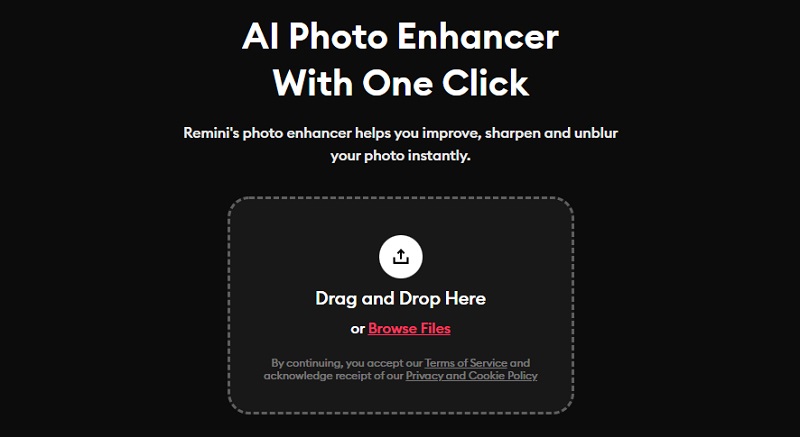 Part 3. FAQs on How to Unpixelate an Image
Is pixelated equally blurry in meaning?
A pixelated picture will not seem blurry. The fine lines that contrast the subject matter inside the photograph do not seem to be blurry, nor do they appear very fine.
How do you keep images from being pixelated?
You will need a stable camera to prevent capturing photographs with pixelated details. It would be best if you steered clear of using settings with a high ISO on your camera.
Why does a picture get pixelated?
Pixelation occurs when there is an excessive amount of display space but insufficient data to produce curves with a smooth appearance. When anything like this occurs, the photos suffer from blurring, distortion, and a general decline in quality. Pixelation is a common issue that arises while attempting to resize a picture of poor resolution or viewing an image of shallow quality.
Conclusions
In the future, it will not be difficult for you to eliminate the pixelation that appears on your images. Because the image unpixelators above will extend their hands on you, start enhancing your images in just a few snaps!