A List of Best Watermark Maker Programs to Protect Your Photos
The only viable method for preventing unauthorized use of your photographs at the moment is to put a watermark. Additionally, using your initials, company name, website address, or emblem as a watermark allows you to get an internet reputation. As we know, theft of content, whether a quick clip, image, GIF, or video, is one of the most widespread crimes in today's society.
Luckily, numerous tools and apps may assist you in adding a watermark, logo, or text to safeguard your images. Whether you like it or not, this is the simplest approach to protect your images' copyright or sell your items. Today, we'll disregard all premade watermarks. Instead, we will explore the finest photo watermark creater tools, which allow users to create elegant watermarks.

Part 1. Top Watermark Maker Software
Besides photos, this section of the content features watermark creators for videos on desktop devices. Try these right now without having to spend a lot of time scouring the Internet.
1. Vidmore Video Converter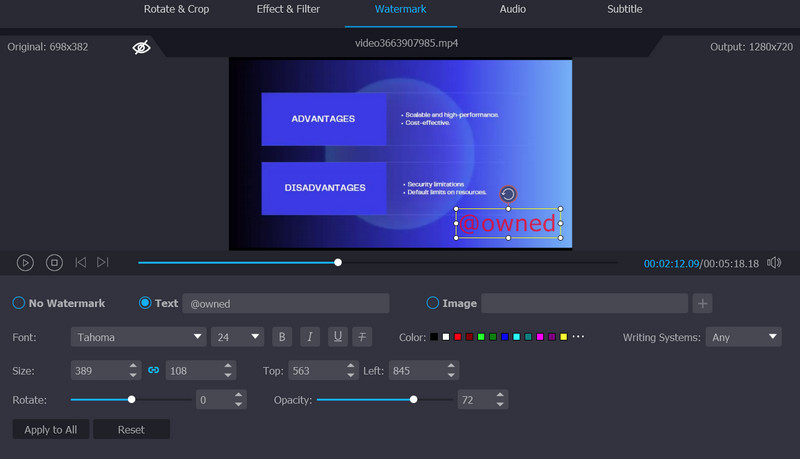 You can use Vidmore Video Converter to add watermarks to your post-recorded videos. It's excellent for putting a watermark on your videos. Because both text and image watermarks are supported, a movie can have many watermarks. You can also change the watermark's appearance in various ways, such as positioning, size, transparency, and so on.
Customization activities such as editing the movie's undesired bits and cropping the video to fit a specific screen precisely are also available. Furthermore, this watermark logo maker for videos may be used to rotate the video to the proper orientation, alter visual effects to make the video more compelling, add appropriate captions to make the video understandable, and so on.
2. Mass Watermark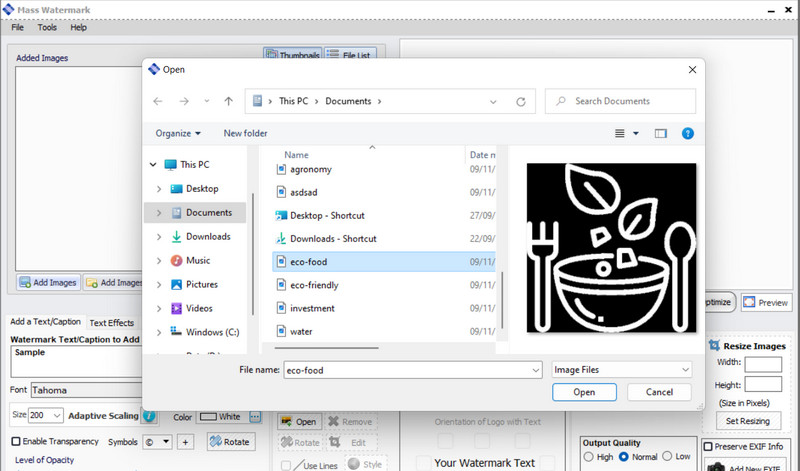 Mass Watermark, as the name implies, is intended to make large watermarking numbers of photographs quick and easy. This watermarking software for Mac and PCs also includes Image Optimization capabilities, which allow you to improve the overall quality of your photos before applying a watermark to them.
The photography watermark maker allows you to customize each watermark you generate, while the Crop, Rotate, and Resize capabilities allow you to optimize your images for online use. What is more, you may instantly publish your photographs to Flickr or your Picasa Web Album using Mass Watermark. The only issue with this program is that its interface is outdated.
3. TSR Watermark Image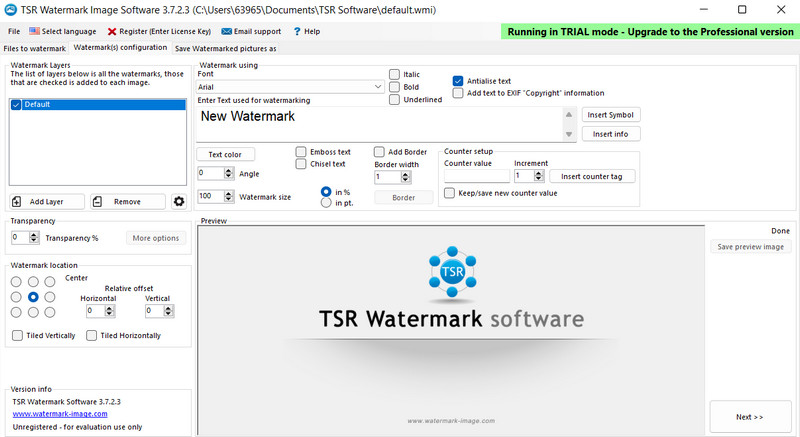 Professional photographers with prior experience with photo editing software will find TSR Watermark Image easy to learn. Aside from standard text and image watermarking, the software also has a 3D watermark feature. The TSR Watermark Image program has a plethora of interesting effects, borders, and crosses for creating eye-catching watermarks. It comes with a free version that provides limited possibilities. If you want access to more than 200 typefaces or advanced uploading tools, you must purchase one of the subscription plans available.
Part 2. Online Free Photo Watermark Creators
Suppose you want a more convenient way where you can create a watermark without installing anything on your device. Online watermark programs are suitable.
1. Fotojet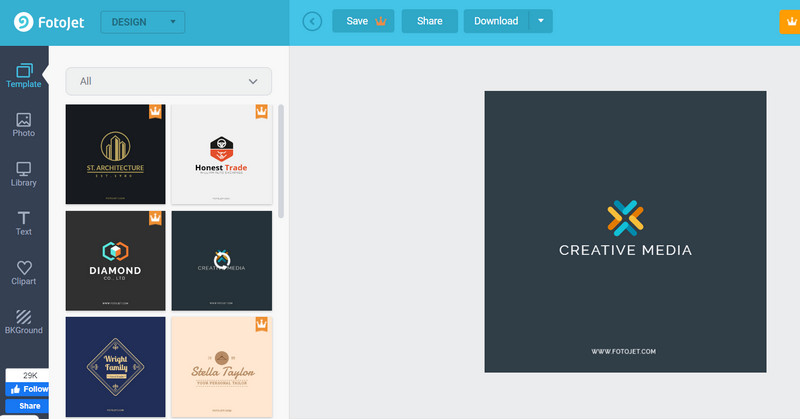 Fotojet is a web service tool that can be used to create online photo watermarks and modify photos. You can use it to generate not only watermarks but also your own logo and even unique text for your photographs. It contains a ton of resources, such as templates, great art resources, and a fantastic editor. All of these will contribute to the beauty of your watermark designs. This photography watermark maker offers a 7-day free trial to use all of its features. After the trial period, you must pay to continue using this free watermark maker. There are no free features available.
2. Canva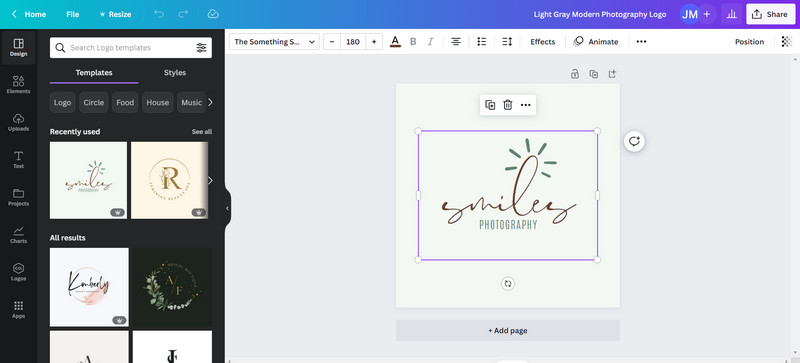 Canva is a graphic design website. It is widely used by YouTubers to produce video thumbnails. In other words, this tool can also work as your YouTube watermark maker. Canva, on the other hand, is a reputable resource if you want to utilize it as a free photo watermark maker. It features a vast library of photographs and graphics, as well as themes for social posts, banner images, presentations, cards, and email headers. You may use Canva to select your desired materials and add your own elements to help design your watermark. One of the best aspects of Canva is that it provides various free alternatives for users to use. If you don't have a budget for a photography watermark maker, try Canva's free option, which may also help you create a superb watermark.
Part 3. Best Apps to Create a Photo Watermark (iOS and Android)
If convenience is your primary concern, nothing beats the usage of mobile apps. At your fingertips, you can instantly create a watermark for your photos. It goes without saying you do not need a PC to make a watermark, which is convenient since you do not have to bring your laptop with you. Without further explanation, here are the best apps to create a photo watermark.
1. Add Watermark (Android Devices)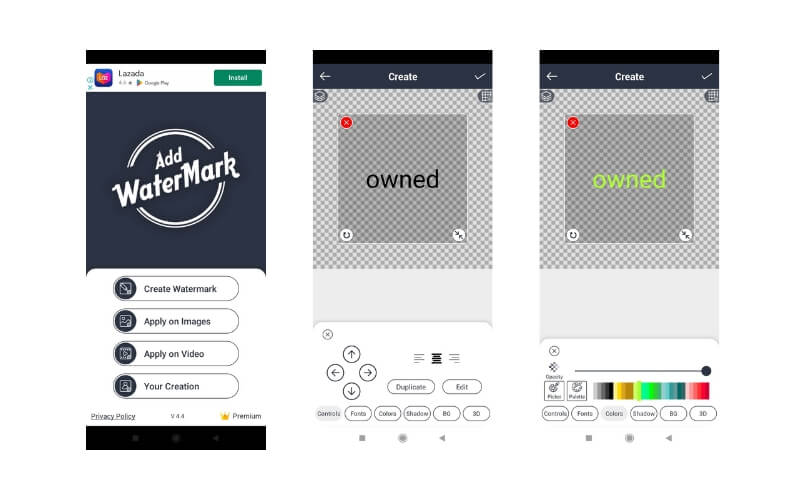 You have obviously used this mobile app if you're interested in applying watermarks to your images. The free version of the software has some fantastic features. It has the capability to make a watermark and then export it. Furthermore, all the standard editing features, including resizing, rotating, changing the hue, and cropping, are possible.
2. My Watermarks (iOS Devices)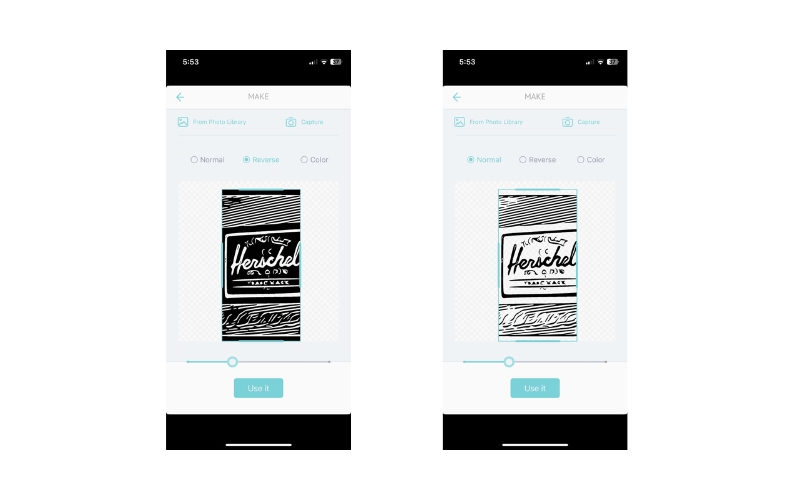 Text, logos, stickers, names, QR codes, and more can all be added to images and videos with the help of EasyMark, a free watermark app for the iPhone. Its commitment to maintaining high standards is one of its most notable qualities. This program was developed to help iPhone photographers create watermarks they can be pleased to use in their work. On top of that, it can work as a transparent watermark maker by automatically removing the background of your uploaded photos to use as a watermark.
Part 4. Which Method or Program Performs Well
Even though all of these programs can be used to create and edit watermarks for photos and videos, Vidmore Video Converter is the best option due to its comprehensive feature set. Compared to the desktop tools, it has the most updated and friendly user interface to navigate the program well. The program even suits users who are into editing videos professionally. In terms of the flexibility and versatility in editing watermarks and the freedom to incorporate elements, Canva stands out. It works online, and it offers many features and advanced functions. That is only possible if you are willing to pay out the premium account price. Indeed, cool watermark makers, you should not miss using them.
Part 5. FAQs about Watermark Makers
Is it possible to create a watermark for complete beginners?
Yes. However, you need to utilize a user-friendly program, meaning those tools that do not require technical knowledge to navigate them. Take, for example, Vidmore Video Converter. It even comes with a simple walkthrough of the interface for your familiarization
Where should I place the watermark on an image?
When you are preventing theft, it is best to place the watermark on a busy section of the photo. That way, it will not be easy to remove the watermark. Also, you may add it to the center. For brand recognition, it will work best anywhere the watermark is visible
What is the difference between a watermark and a logo?
Watermark is the transparent text or image used to protect an image. You may also add a logo as a watermark to an image
Conclusion
Anyone may create a remarkable watermark with the assistance of these photography watermark makers. These tools will help produce a product that you will be pleased with, regardless of whether you require an image watermark, text watermark, or logo.