Quick Tips to Create a Video Collage on Instagram
Indeed, a lot of social media platforms are being made today. And we can say that Instagram is one of the most influential, especially when it comes to different stunning images and videos that are being posted on the feed. One of the programs on this social media platform is the part where they can share the things they enjoy, special occasions.
And many are fascinated by others' Instagram story where they can make a video collage of their recorded moments. And here comes the creativity. That is why in this post, we will teach you how to make a video collage on Instagram. Stay tuned in this post and start your video collage stories.

Part 1. Best Way to Make a Video Collage for Instagram
If you are looking for a way to make a video collage on Instagram and you want it to be done on your computer device, worry no more as Vidmore Video Converter is here to extend a hand! This application is being called as multi-purpose as it can edit your audio, video as well as to convert them to different formats. This tool was built with a user friendly interface, no wonder software users are more into this app.
Due to its rich and easy editing features, you can easily make a video collage for your Instagram account. Therefore, you can post a beautiful story on your social media account. Sounds interesting, right? With that, here is the guide on how to make a video collage for Instagram.
Step 1: Acquire the Video Collage Editor
To start making a video collage for Instagram, click the Download button that is appropriate on your device then install and run it on the system.
Step 2: Add Video Clips
Once the program is up, click the Collage section above the screen and it will direct you to the section where the different editing features are available. Choose the layout that you want and add the files by clicking the Plus sign at the templates that you have chosen.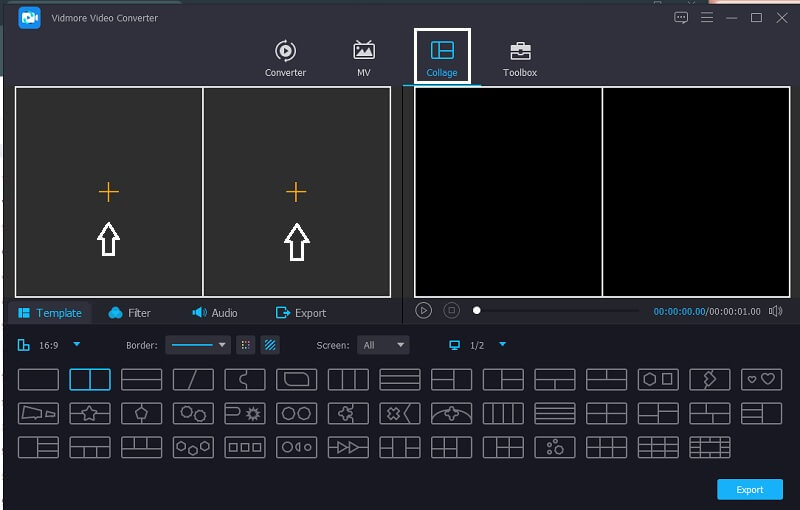 Step 3: Choose Video Template
After you added video clips that you want, you can add an audio track by clicking the Audio tab, by clicking the Plus icon, you can now insert a background music. And if you want to add a different color for your recorded videos, click the Filter tab then apply the effects that you want.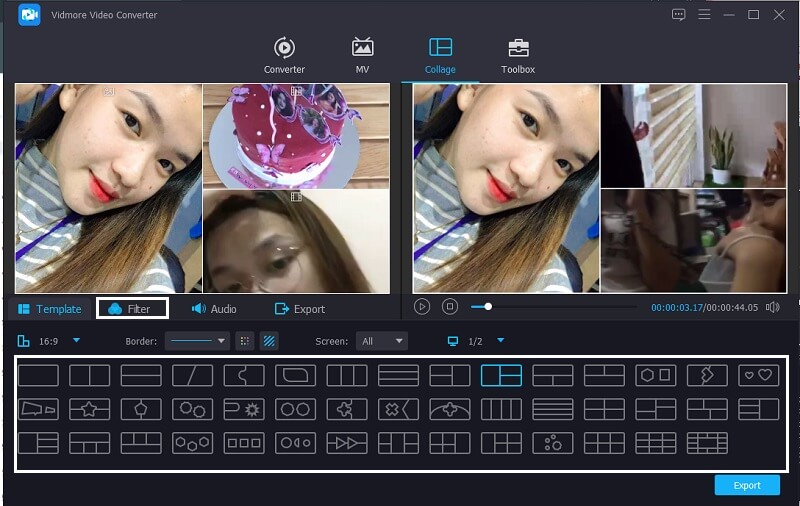 Step 4: Save the Video Collage
If you are done applying the changes in your file, click the Export tab below the screen then the Start Export on the next page that will appear. And that would be all!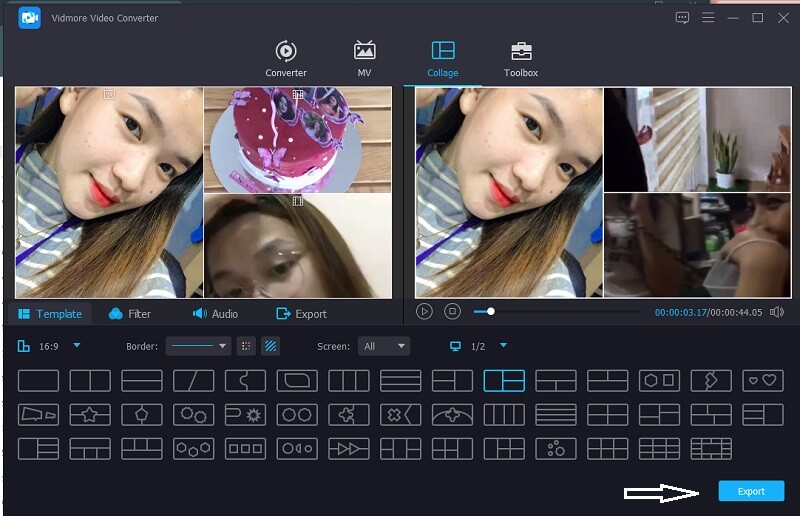 Part 2. How to Make a Video Collage for Instagram on Mobile
We all want to make beautiful photos and videos for us to post on our Instagram stories, and to be able to do that, we will need a video and photo editor that can make it possible. One of the stories that is usually being posted in Instagram are the collage videos where different videos are being played on the same screen.
And if you are one of those avid fans of posting Instagram stories, we reserved two tools here on how to make a video collage for your Instagram stories. So without further ado, here are the video collage makers listed below.
1. InVideo
InVideo is an online tool which offers different editing tools for you to edit your recorded video and photos. This is one of the best editing software that is being recommended by many. It offers a free trial and a paid version. And it is also a good option for making video collage for your Instagram stories. And to better assist you how to use this web based tool, take a look at the steps below.
Step 1: Go to the InVideo official page and sign up so you can use the tool. After that click the Make a Video tab and choose the Blank Canvas and add your video clip.
Step 2: Then click the Upload Media to get different photos and videos on your library. Then click the dropdown arrow at the left side of the screen and click the Collage. Choose the one you require.
Step 3: After placing your clips on the collage that you have chosen and satisfied with the changes, click the Download and Share button above the screen then click the Export tab next. The exporting process may take some time, once it is finished click the Download to get you video collage.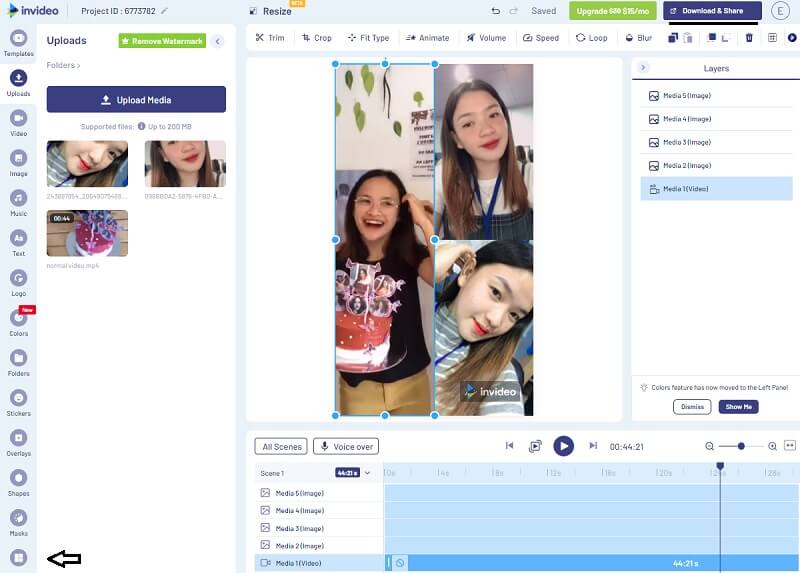 2. InShot
If you are looking for a tool which you can download on your mobile device, InShot is a good fit. This tool allows you to edit photos, videos and even make a slideshow. That is why it is considered as one of the most downloaded tools when it comes to the editing industry. And to help you how to use this handy application, you can refer to the procedure below.
Step 1: Go to your Google Play and search for the Video Editor & Video Maker – InShot and install it on your mobile device. And to begin, hit the Video tab and add the video that you want.
Step 2: After choosing the video that you want, enable the clip on the Timeline then find the PIP from the options that is listed below and add another video or photo that you require.
Step 3: After you made some changes and successfully made a video collage, click the Save button on the right upper part of the screen and wait for the video to be saved on your gallery.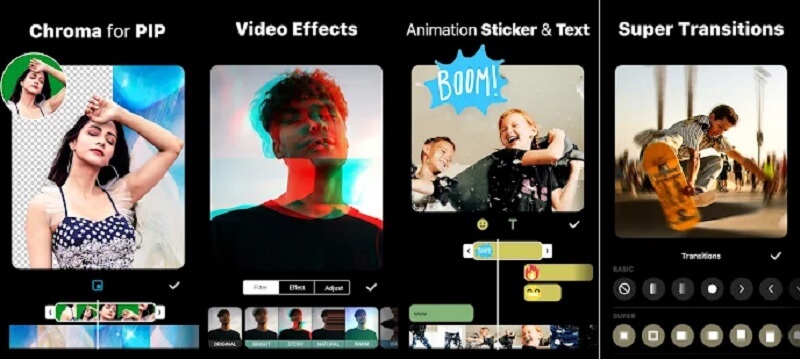 Part 3. FAQs on How to Make a Video Collage on Instagram
1. What video collage maker for Mac allows you to make a collage of video and images?
You can consider using the Vidmore Video Converter as it is both downloadable for Mac and Windows and it can combine the photo and video and put it in a collage.
2. How to put a song in the video collage that I created on the InShot app?
Just click the Music tab on the lower part of the screen then choose from the built in sound effects or you can also input the song from your music library.
3. Can I make a video collage on my Instagram account directly?
Unfortunately, no. That is why you will be needing a third party app for you to do this such as Vidmore Video Converter, InVideo and InShot.
Conclusion
That's all in making a beautiful Instagram story! Refer to this post for you to know the photo and video collage maker for Instagram. So what now? Choose the tool you prefer and start making a collage for your Instagram stories.