Overall Review about the Best Color Grading Software
Color grading software has been created for those interested in video editing who want to give their movie a polished appearance before showcasing it on various platforms. Is the color in your video off-kilter? Do you desire to change the color of your video to communicate a distinct mood for the viewers? Then color grading your video is the finest option. Creating a stunning video requires more than simply combining clips and adding visual and audio effects. You should consider color-grading your videos if you want them to seem outstanding. To get the most out of your video, check out this post to learn about the best tools you can use.

Part 1: Best Color Grading Software
Adobe Premiere Pro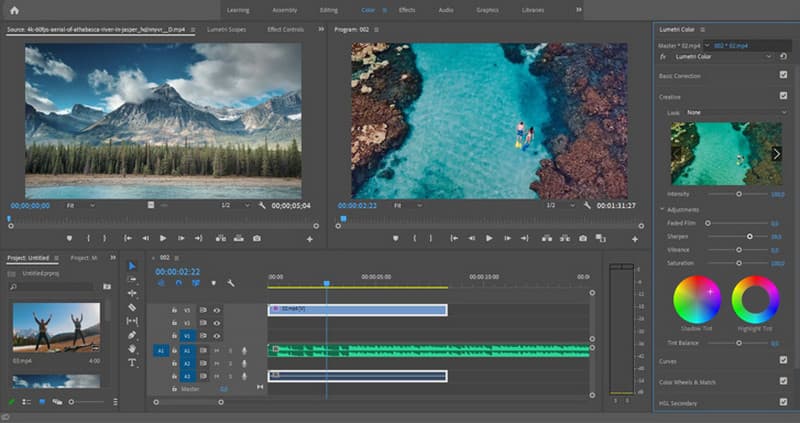 A leading application for editing videos is Adobe Premiere Pro. Color grading in Premiere Pro provides all the resources required to produce a movie with a polished appearance. This Adobe video editor provides high-quality color grading and color-correction capabilities to give your footage the desired cinematic appearance. You can use curves, color wheels, and slider layouts to change your videos' color, contrast, and lighting, utilizing all the tools available in customizable workspaces. While extremely user-friendly, these features are made to please the highest caliber of experts. Many filmmakers use this program; for instance, Gone Girl was made with the aid of Premiere Pro. However, as this tool is just for computers, you should try the Adobe Premiere Rush app if you require color grading software for an iPad or tablet. Additionally, you must buy a membership because there is only a 7-day free trial. You also must have enough knowledge in utilizing this application, or else you will confuse in editing your video. It only means that only professionals can use this app.
Pros
Lumetri can deliver high-quality results because Adobe Media Encoder is bundled with Premiere for free.
Support various video formats.
It can offer more features aside from color grading.
Cons
It is complicated to utilize, especially for beginners.
The app only offers a 7-day free trial.
Purchase a plan to use the application continuously.
Final Cut Pro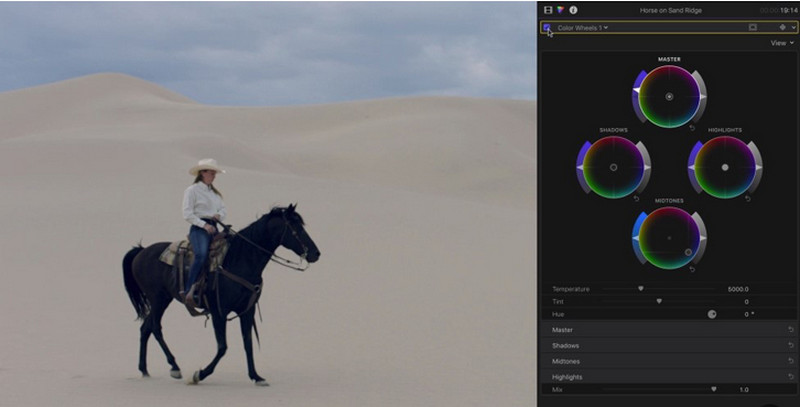 Color grading is a subtle but powerful styling tool for your movie. Color sets the mood, whether a cold blue monotone for a graveyard horror scene or a vibrant and colorful children's TV show. As long as you're using Final Cut Pro X for color grading, you have access to a comprehensive set of tools. Apple created Final Cut Pro X, a program for editing videos on a professional level. Color grading in Final Cut Pro includes color inspectors that support HDR and have color wheels, color curves, and hue/saturation curves. The program offers a wide range of color grading options among its sophisticated tools to assist filmmakers in achieving a cinematic look in their projects. It is a widely used post-production solution in Hollywood studios. Final Cut Pro X was really used to create well-known films, including The Girl with the Dragon Tattoo, No Country for Old Men, and The Social Network. In addition, this program offers advanced video editing, 360-degree video editing, HDR color grading features, and more. You must choose another video editor for Windows because this program is only available on Mac. Additional fantastic features require a membership plan, which you must also buy.
Pros
It has a professional editing tool.
The interface is intuitive.
It offers a wide range of built-in effects.
Cons
The application is unsuitable for non-professional users.
It is only accessible on Mac computers.
Purchase a subscription for more great features.
Adobe After Effects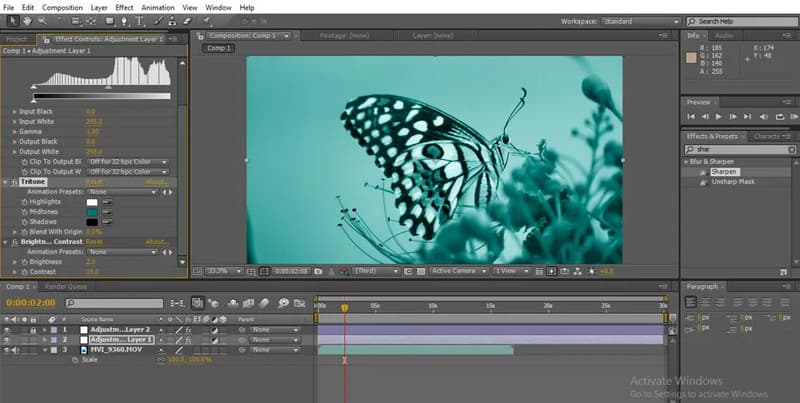 We will discuss color grading in After Effects in this part. With color corrections, we may significantly impact any light we utilize during post-production, even when we film in poor lighting or against a light background. The most crucial aspect of visual effects is color grading. Color correction is the mainstay of most graphic design firms' primary businesses because it has become a standard practice in all movies and television shows. While many color-correcting programs are available today, working with professional software like After Effects is different since it can perform effectively in this area and produce flawless results. You can also access this downloadable application on both Windows and Mac computers, making it more convenient for users. However, even though it can produce high-quality output, utilizing this application is difficult. It is an advanced editing software that is only suitable for advanced users. Beginners can only encounter a complicated procedure when using this application. So, this app is not recommended for non-professional users. Also, like other Adobe programs, it can only offer a 7-day free trial version; after that, the software will charge you monthly.
Pros
It can produce a high-quality final output.
It has many options to offer.
Various features are available other than color grading a video.
Available on both Mac and Windows.
Cons
The process is too complicated for the non-professional user.
For long-lasting use, purchasing software is needed.
It is only suitable for skilled users.
iMovie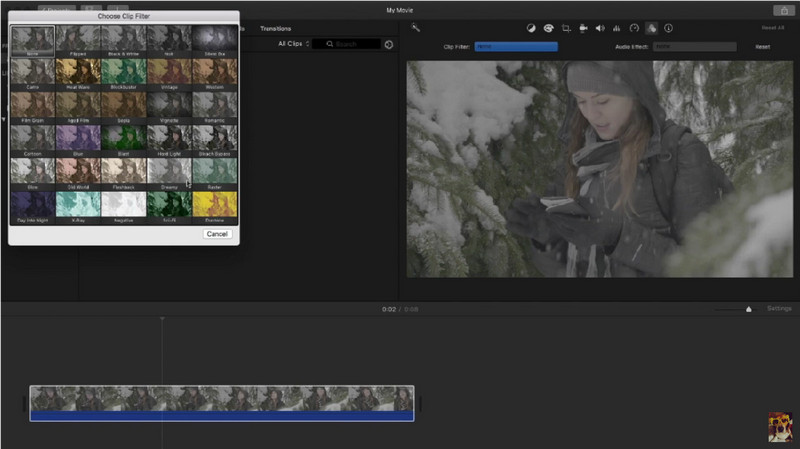 You can also color grade on iMovie on your Mac. It offers numerous filters to make your video more attractive to the viewers. In addition, there are more features you can do when using iMovie. You can merge, trim, flip, cut, rotate your video, and more. However, since it is an Apple program, you can only access it on your Mac or iPhone. You can't operate this app on Windows. In addition, iMovie is also difficult to use. It has many options that are not familiar if you are a beginner.
Pros
It can color-grade your video with an excellent result.
More features are here in this app.
Cons
Beginners will find it difficult to operate.
Only available on Mac.
Part 2: Simplest Application to Color Grade A Video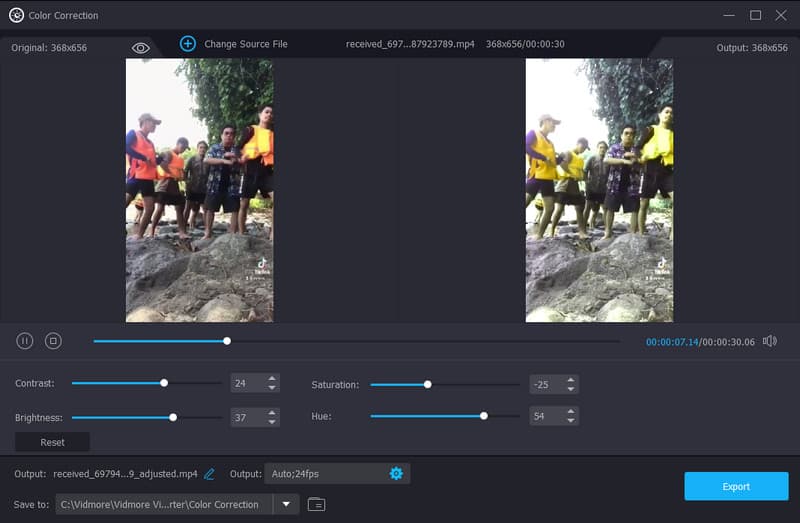 As you observed from the abovementioned information, all the applications only apply to professional users. So, if you want an easy-to-use color grading software for free, use Vidmore Video Converter. It can color grade your video quickly and effortlessly. This app offers an intuitive interface and easy procedures, making it convenient for both professional and non-professional users. It lets you adjust your video's saturation, hue, brightness, and contrast. This offline tool is also accessible on both Windows and Mac operating systems, which is convenient for all users. Furthermore, besides color grading a video, it has more features you can enjoy, such as video watermark remover, video converter, music video maker, and more.
Part 3: FAQs about Color Grading Software
1. What is color grading software, and how does it work?
Color grading software has been created for those interested in video editing who want to give their movie a polished appearance before showcasing it on various platforms. Various video characteristics, including saturation, white point, contrast, black level, detail, and color, can be improved with such tools.
2. Why is color grading important for a video?
A video's color grading and correction are crucial, especially for creating movie videos. The right color is crucial to convey to the spectator the mood, meaning, and environment you're going for.
3. Which video editing software is best for color grading?
There is much useful software you can use for color grading a video. But if you prefer a simple method, use Vidmore Video Converter. It has the most intuitive interface, making it more understandable than other color grading software.
Conclusion
These are the five color grading app you can use on your Windows and Mac computers. Some of them are difficult to operate and expensive to purchase. So, if you desire to color grade a video in an easier way without a subscription plan, use Vidmore Video Converter.