Best Software and Apps to Edit Video Saturation on PC and Mobile
Do you need to enhance your video color's vividness, intensity, and richness? Then, you will definitely need a video saturation editor. An editor that will be your confidante when it comes to the enrichment of your video. An editor that will not only work for the vividness of your video but also for the quality and technicalities of it? Is there an editor like that? Fortunately, yes, which is why we give you this article to provide you with the best apps for your mobile and the best for your software. Yes, we brought extra effort into gathering the said tools since many apps also tend to give their best.
In addition, many claim to be the most outstanding but later fail to give outstanding output. For this reason, we took time to learn and test those apps to edit video saturation, and below are the ones that proved to be the best.

Part 1. Most Outstanding Video Saturation for Desktop
We tested numerous desktop software recently and have found one that stands out. We also tested this software on Mac, and the same prowess has been experienced. We focused on more than one particular in choosing this software. We considered many things before coming up with it, such as the features, the output quality, and the users' reviews. Hence, you can ensure the quality of our choices as you unveil the best software below.
We gladly introduce you to our best video saturation editor, Vidmore Video Converter. This software has all that it takes to be the most outstanding software, from being a powerful video converter, collage maker, and movie maker, to a highly recognized video enhancer with many powerful choices. It comes with numerous tools added to its toolbox, including the color corrector, which you can use to edit the saturation of your video. Furthermore, you will be impressed with this specific function tool, which offers various optimized selections. Besides the saturation, you can also scrutinize your video's hue, brightness, and contrast.
In addition, it also provides you with extensive settings, where you can edit the output's video, and audio presets. Furthermore, this additional setting will allow you to control the frame rate, quality, resolution, encoder, channel, bitrate, frame rate, and more. This means you can blend your wants and needs for your video thoroughly! On top of that, this tool will not only be available on desktop, for it is so flexible in providing the same excellence on Mac.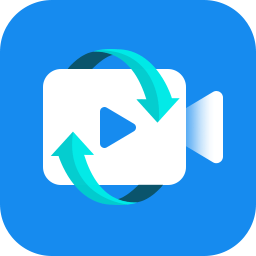 Vidmore Video Converter
Multi-format video converter and enhancer.
1080p and 4K full support.
High to lossless video enhancement.
Support for advanced technologies like AI, hardware acceleration, and multi-core processors.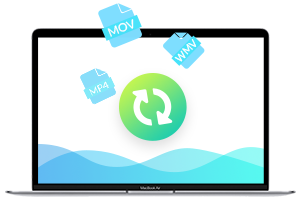 Pros:
It is a multi-purpose video saturation editor.
With an easy and highly intuitive interface.
It enhances the saturation of single and multiple videos losslessly,
It works on batch videos 50x faster than others.
It comes with a toolbox that seriously has every video editing tool that you basically need.
It supports over 200 different formats.
It has full support for 4K videos.
Cons:
Its online version doesn't have a saturation editor.
It is not entirely free software.
How to Edit the Video Saturation in Vidmore
Step 1. Obtain and Upload the File to the Software
Start by obtaining this fabulous software on your desktop or Mac freely. Once you install the software, you can launch it and track its Toolbox tab. From the menu, look for the Color Correction tool and click it. Then start uploading your video file by clicking the Plus icon from the popped window.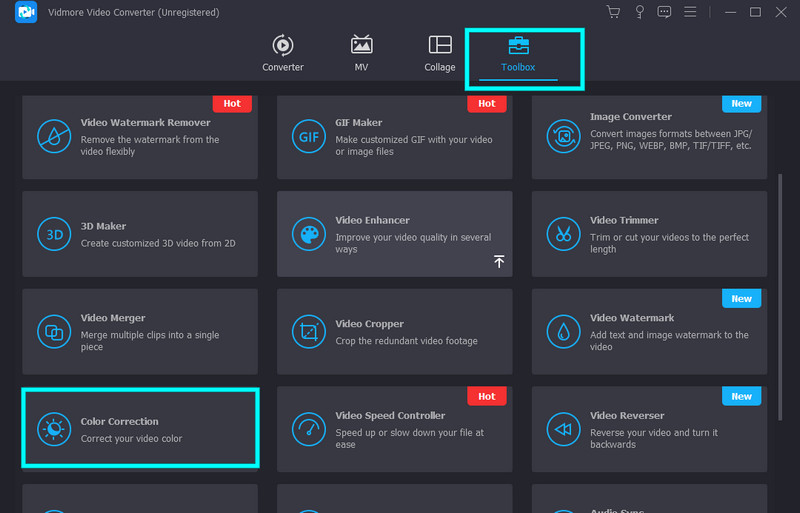 Step 2. Scrutinize the Saturation
After importing the video, you can now begin optimizing your video's color. Scrutinize the Saturation option under the preview section, and adjust it by sliding it or clicking the up and down options. Also, you may tweak the other options based on your video's needs.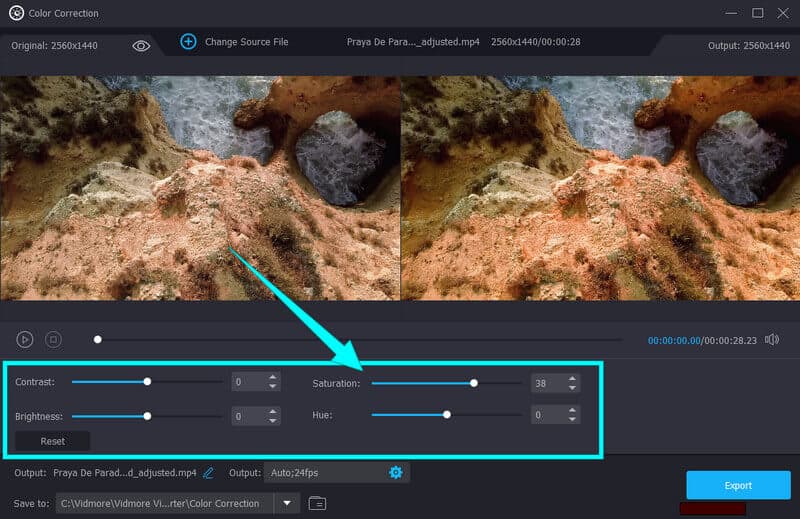 Step 3. Output Settings (Extra)
For the extra adjustments, you may hit the Coggle icon that is under the Hue option. After that, you can begin to adjust the Video settings and the Audio settings according to your preferences.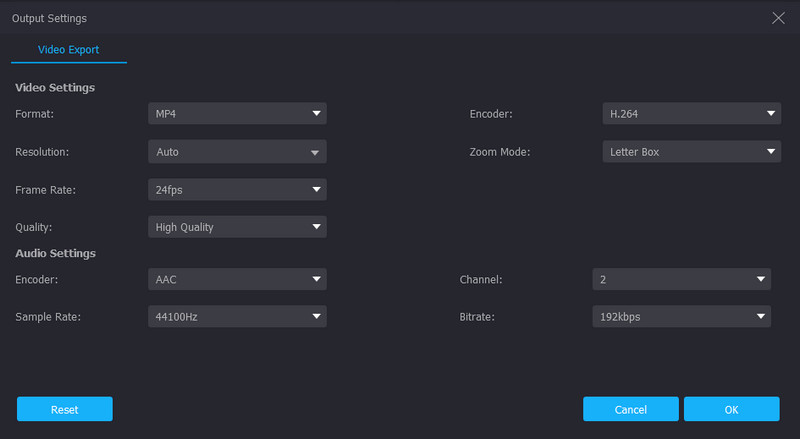 Step 4. Save the Saturated Video
Click the Arrow down option located in the Save To portion if you want to set a destination folder where you want to save your video output. After that, hit the Export button to begin the process. Wait fast for the process to end, then check your new video.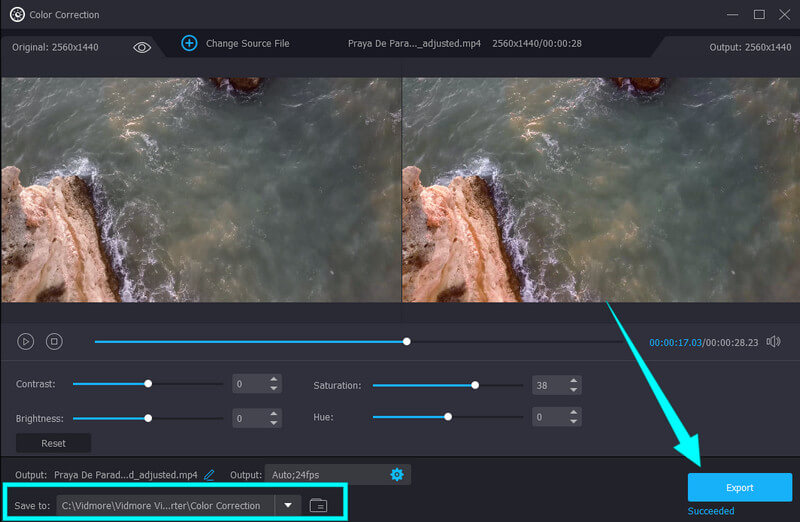 Part 2. Best Apps to Edit Video Saturation on iPhone and Android
1. InShot Video Editor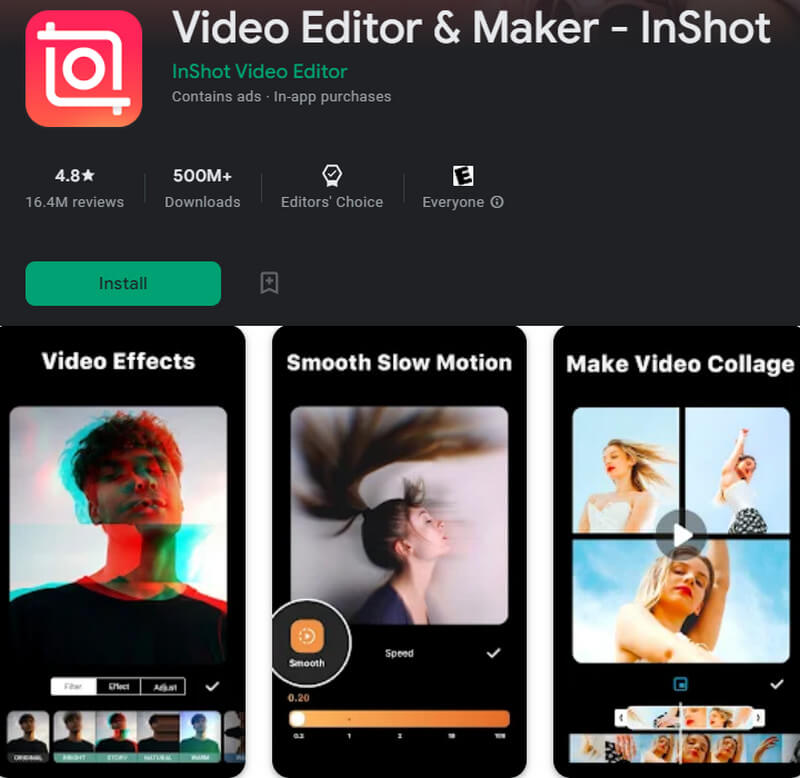 If you are looking for a powerful and all-in-one app to edit video saturation, InShot is one of them. This app is available on both Android and iOS. Furthermore, besides its saturation editor, it offers essential editing tools that you can use to clip, crop, add filters, effects, and more. With InShot, you can easily modify the eight colors without the RGB curve.
Pros:
It uses multiple colors for adjustments.
It comes with a user-friendly interface.
Various filters, effects, emojis, and stickers are available.
Cons:
The free version comes with many annoying ads.
The outputs are watermarked on the free version.
2. Snapseed
Another app to edit video saturation is Snapseed. This is an app developed by Google, with professional tools best for your video editing endeavor. Furthermore, it has excellent features, including filters, effects, HDR management, color correction, and many more. On top of that, it allows you to modify the color curve of your video as part of its saturation editing function for free.
Pros:
You can use it for free.
It offers a huge variety of popular filters.
It enables you to edit the video saturation manually or automatically.
Cons:
It might be challenging to use for beginners.
Part 3. FAQs about Video Saturation and the Editors
What precisely is the saturation of video?
The saturation is the video's intensity, richness, and vividness of colors. When you have low saturation on video, it will look gray and dull, for saturation makes your video alive and colorful.
Is saturation the same as hue?
They are both for the video color but have a difference. Saturation focuses on the brightness of the color, while hue is for the colors in the video, like yellow sun, green leaf., etc.
Can I edit the video saturation in Google Photos on Android?
Yes. Google Photos offers essential editing tools that include the one for saturation.
Conclusion
Having the best video saturation editor is more challenging than you think. Even though many editing apps are available out there, still, not all are the best. This is why we took time only to provide you with the best. As you see, we highly recommend Vidmore Video Converter for it is the software that comes with many unique tools. So, try it now to believe it!