A Guide to Use Unique Instagram Fonts for Your Reels & Stories
Embarking on the journey of creating captivating Instagram Reels and Stories opens the door to endless possibilities for engaging your audience. One impactful method to elevate your content is by skillfully adding text overlays. This post will provide information about Instagram Fonts and methods to change them. Besides that, it will teach you how to add text using different fonts using a reliable program. Are you excited to learn all about these? If yes, check out the following parts!

Part 1. What Font Does Instagram Use
Do you have any idea what font Instagram uses? Instagram uses different fonts for various purposes. Proxima Nova is the main text style for the Instagram caption, comments, and logo. Instagram Stories uses typefaces like Aveny T, San Francisco, and Roboto. Android devices use the default Robo, while iOS devices use San Francisco.
In addition to these basic typefaces, while creating Stories on Instagram, users can select from a selection of various typefaces. Courier Bold, Cosmopolitan, and Freight Sans are among the fonts available.
Part 2. How to Change Font on Instagram
Instagram does not offer a built-in feature that enables users to change the font of their captions or post within the application. The font used for comments and captions on Instagram is standardized and cannot be altered through the application's settings. However, there are a few methods users have tried to work around this limitation, although they mind not always be consistent or reliable. To learn how to change the font on Instagram, read the following parts.
1. Use Text Generator Apps or Websites
Some various third-party applications and websites generate text in different tools. You can use these tools to make your desired text in a different font, then copy and paste it into your Instagram bio or caption. Remember that these tools' compatibility and effectiveness can vary, and some fonts might not display correctly on all devices.
2. Unicode Characters
Unicode characters are characters from various languages and scripts that can sometimes appear as unique designs or symbols. Some users have utilized specific Unicode characters to create the illusion of various fonts. You can find Unicode characters on various websites and copy them into your Instagram text.
3. Apps with Custom Fonts for Stories
Some third-party applications may provide additional fonts and text effects, especially for creating Instagram stories. These applications might offer a way to create more visually appealing text for your Stories. However, the options could be limited compared to other platforms.
It is necessary to exercise caution when using third-party applications or tools. They might violate Instagram's terms of service or compromise the security of your account. Always ensure you are using reputable applications and sources. Remember that the ability to change fonts directly within Instagram can change with updates to the application.
Part 3. How to Add Texts with Different Fonts to Instagram Reels and Story
There are nine built-in fonts to choose from when adding text to Instagram Reels and Story. With that begging said, it only offers not-so-many fonts users can use when incorporating texts. What if you avoid using one because you want something different for your output? For instance, you wanted to use different texts that suit your taste or preference. For that reason, you will need to use a program that offers numerous fonts. Do you have something in mind that can offer that? If not, consider using Vidmore Video Converter, as it checks the qualifications you seek.
Vidmore Video Converter primarily works as a converter infused with several built-in features and editing tools. It offers an option to edit your Instagram Reels or Story, where you can incorporate texts using various fonts. The impressive part is that it offers numerous fonts, font styles, sizes, and colors, which you can apply to your text. Impressive, right? Indeed, Vidmore Video Converter is the right choice to help you with your task. Are you excited to learn how to add text to Instagram Reels and Stories using Vidmore Video Converter? If yes, proceed to the following details.
Step 1. First and foremost, download the program from the official website. When downloaded, please install the program on your computer, open it, and get started.
Step 2. Head to the MV tab from the top menu bar and click the (+) button to import your video file.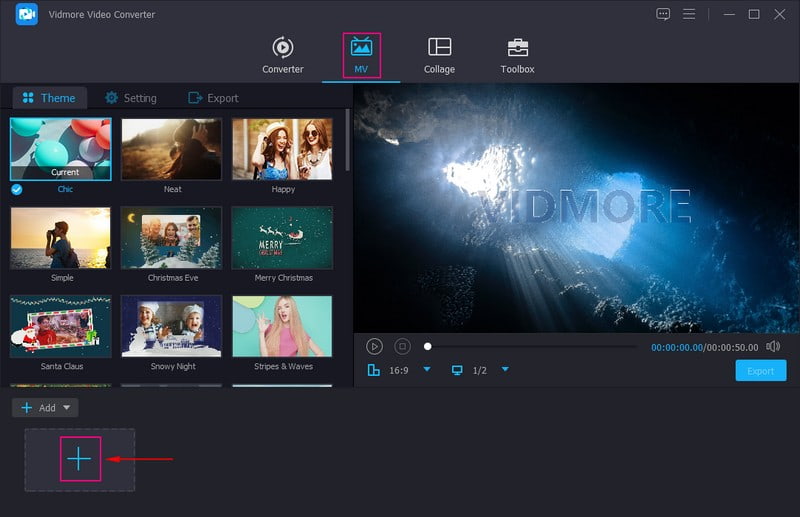 Step 3. Once the video file is uploaded, hit the Wand or Edit button to access the following editing features.
On Rotate and Crop, you can crop and rotate your video file to correct the presentation. On Effects & Filters, you can modify the basic effects and apply filters suitable for your output. On Watermark, you can embed Text and Image watermarks if you want. In the Text watermark, you can add text and select your preferred Font, Font Style, Size, and Color. In the Image watermark, import an image from the local file you want to overlay on your output. On The Audio, you can modify the Volume and Delay of your file according to your preference.
Note: Click the OK button to apply every change you make in each editing tool.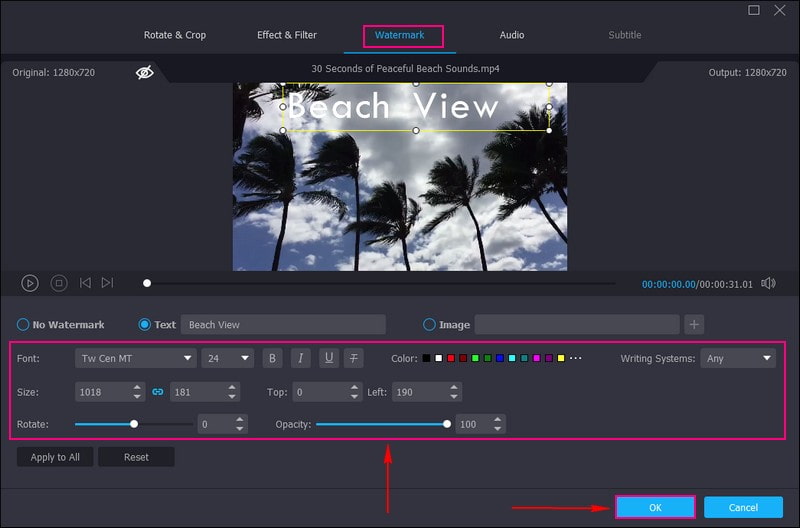 Step 4. You are back to the MV interface. Head to Theme and select your desired Theme from the list to make your video more enticing. Move to Settings; here, you can incorporate Start and End Title and Audio. On Start and End Title, please add a Text and select your desired Font, Font Style, Size, and Color. After that, it will be seen in your video's first and last parts. On Audio Track, you can add Background Music to make your video more lively.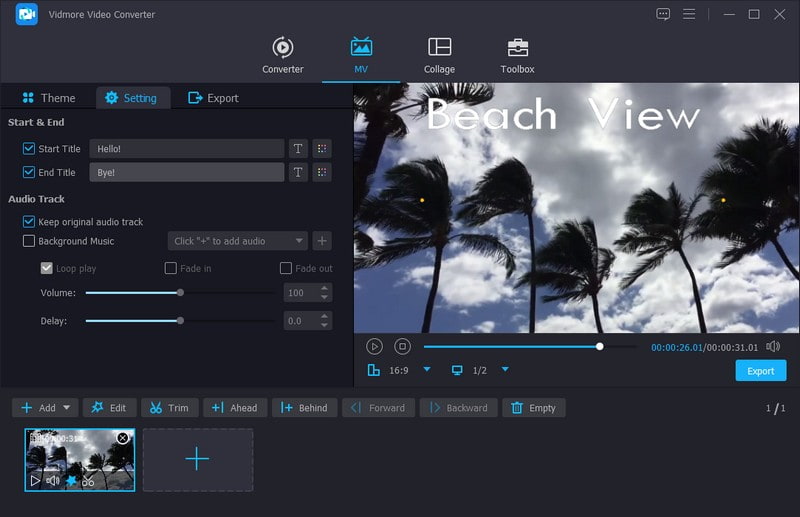 Step 5. Once settled, move to the Export button, modify the Video Settings, and click Start Export to save the edited video. After that, you can upload your video with Text on Instagram and make it Reels and Stories, and your followers will see it.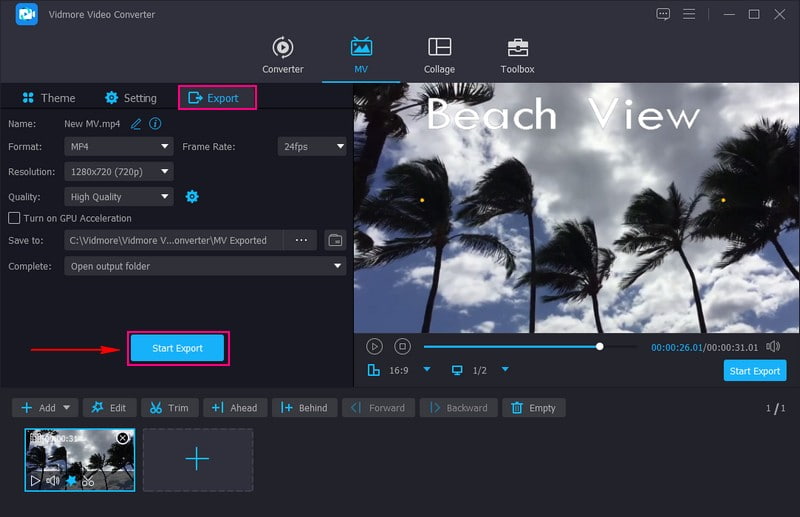 Part 4. FAQs about Adding Text to Instagram Reels and Story
How do you get different fonts on Instagram?
Instagram offers built-in fonts; however, it is only a few. You can use third-party applications like MetaTags to get different fonts on Instagram.
How do you type different fonts on Instagram?
You can type different fonts on Instagram Reels and Stories to add text. These are the only ways to access the built-in fonts that Instagram offers users.
What font is used in reels?
The font used in Reels is called Instagram Sans. In addition, this font can also be used for Stories.
How to add text to Instagram photos?
Open Instagram, swipe to the left, upload your photo, and click the Aa button on the screen's upper-right corner.
What is the first font on Instagram Story?
When you input content into your story, it will initially be displayed using the standard Typewriter font. You can modify this by clicking on the text first and then the font's name at the upper center of the screen.
Conclusion
Adding text to your Instagram Reels and Stories is a great way to improve your content and engage your audience. However, Instagram only offers a few Instagram text fonts that users can use. If you want to use a program that provides numerous text fonts, you can count on Vidmore Video Converter. Besides that, it offers editing tools beneficial for editing your videos to make them more stunning.