How to Stitch a Video on TikTok: Hop on Viral Trends
TikTok's collaborative nature is one of its impressive features; it enables creators to collaborate on content, often in real time. TikTok has a new popular feature known as a stitch, one of the most interactive features that can stitch videos together. It enables creators to interact with other creators' content to create something new and different. So what is stitch, and how can you see them?
This article will tell you what you need to learn about stitching videos on TikTok. Proceed on reading to discover more about TikTok's stitch feature and how to stitch on TikTok. Let's get started!

Part 1. What is Stitch on TikTok
Are you curious about what is stitch on TikTok? If so, this part will provide comprehensive information about the mentioned feature.
TikTok is an application that enables users to interact with other users through stitching videos. It has a built-in stitch feature that engages users to combine the video they are creating with another existing video. Some creators use this feature as their primary video content, which they share on the platform. Indeed, this feature is a creative method to collaborate with others users and make unique content. Besides that, it is an excellent method to get more views and followers by jumping onto other users' bandwagon.
Part 2. How to Stitch on TikTok
TikTok gives users more opportunities to produce more videos using the application. The stitch feature makes things more straightforward than ever for creators to interact with each other. But you might be wondering how to stitch on TikTok. Do not worry; you've landed in the right place. Here's how:
Step 1. Open the TikTok application, and look for the video you wish to stitch. When you see the video, click the Share icon, which resembles an arrow pointing to the right. A list of options will be on your screen; select the Stitch button under the Duet button. After that, wait a few seconds for the video to complete; the lengthier the video is, the longer the loading time.
Step 2. You will be sent to a screen where you may take five seconds of the film, which you will use. Use the sliders and red bars to choose the parts of the video you want to retain. Once done, press the Next button.
Step 3. You will be directed to the recording section of the application. Record the remainder of the video using the editing options in your screen's right corner. You can add effects or filters, stickers, texts, voiceovers, or captions you desire. After that, click the Next button.
Step 4. Before posting your video to the application, you must create a title and hashtag. You can also select whether or not other users stitch your video. Leave the Allow Stitch button in turn-on if you want other users to stitch your video; if not, turn it off. Once settled, hit the Post button, and your stitched video will be posted.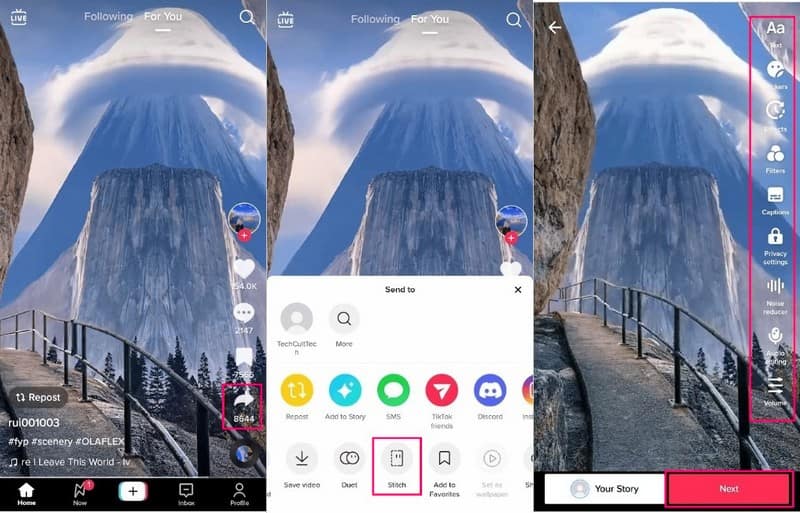 Part 3. How to See Stitches on TikTok
Stitches are a new exciting way to respond to your favorite TikToker videos by stitching together a video of yourself with it. Although TikTok has yet to make this feature apparent, it is still easy to look up stitches on TikTok by following basic steps. Continue reading to discover more about how to see stitches on TikTok.
Step 1. Launch the TikTok application on your mobile or desktop device.
Step 2. Once the application is opened, click the Search icon at the upper part of your screen. Then, enter the word Stitches from the search bar, go to the Hashtag section, and click the first result.
Step 3. Press on any desired stitch video you wish to watch from the hashtag results.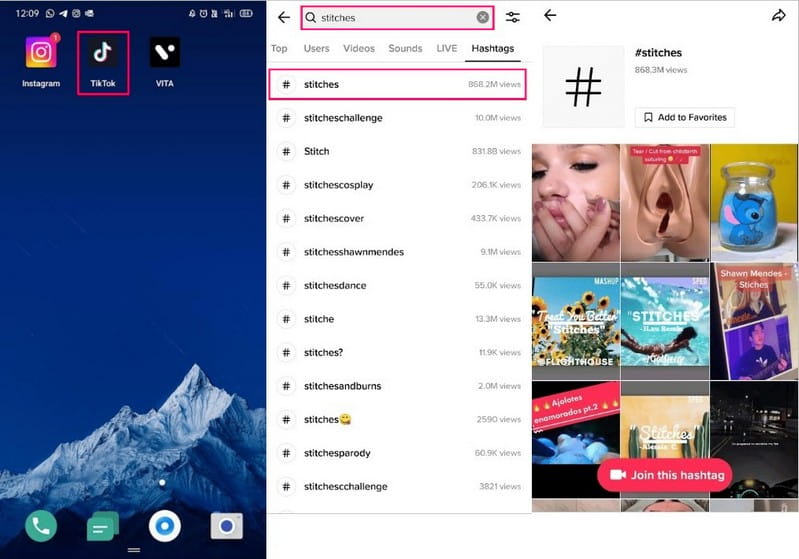 Part 4. How to Find Stitches on TikTok
What if you want to find stitches from a specific creator or influencer you follow? You do not need to go through billions of stitches to find the one you want. There is a more straightforward method to do it. Here's how to find stitches on TikTok:
Step 1. Open the TikTok application on your smartphone.
Step 2. Click the Search icon at the upper part of the screen.
Step 3. Search for stitches@ you followed or the creator you are looking for. After that, you will see several stitches from the user you searched for.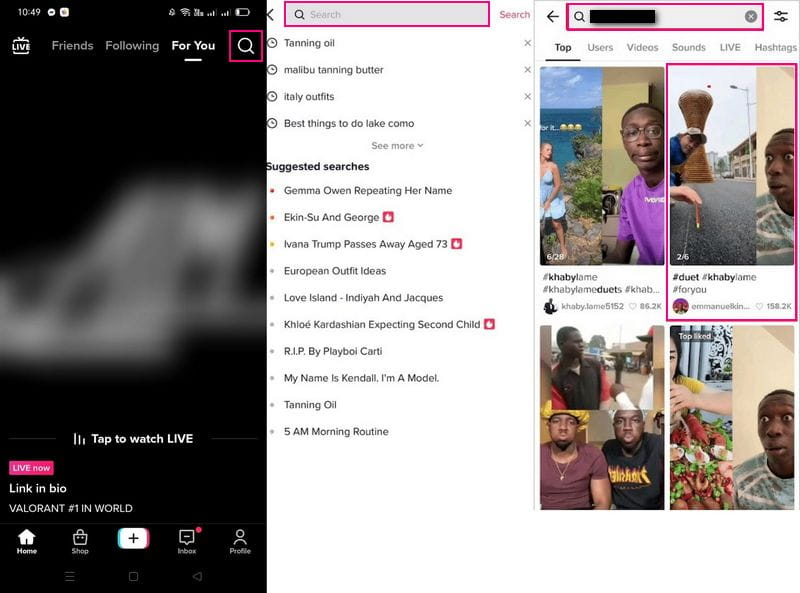 Part 5. How to Merge Videos for TikTok
1. Vidmore Video Converter
Vidmore Video Converter is an excellent program you can count on to merge the videos you can share on TikTok. It has a built-in Toolbox consisting of several toolkits, one of which is Video Merger. This tool can merge multiple videos into a single piece, which is your primary need to fulfill your task. Besides that, it allows you to add as many videos as you want without limitation.
Furthermore, it provides editing options that can help you enhance your video presentation, making it look good compared to before. If you are worrying if your video file can be uploaded on this program, worry no more. This program supports numerous video formats, including TikTok's supported video formats, like MP4 and MOV.
To find out how to merge videos for TikTok using Vidmore Video Converter, rely on the steps presented.
Step 1. Download and Install
Download and Install the program on your desktop device, whether using Mac or Windows. After the installation process, launch the program.
Step 2. Choose Video Merger
Navigate to the Toolbox tab, and look for Video Merger, leading you to the section where you can upload videos.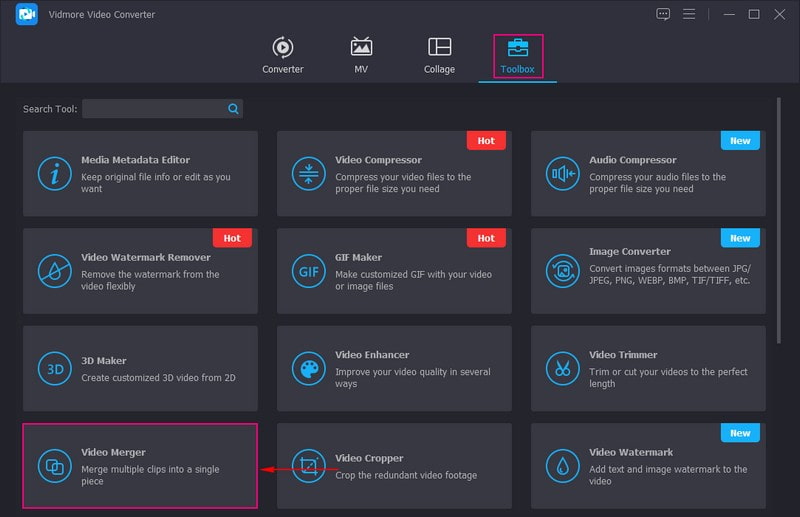 Step 3. Upload Video Clips to Video Merger
Click the (+) icon to open your computer folder, and add the videos you wish to merge for TikTok. After that, your video will be placed in the editing section.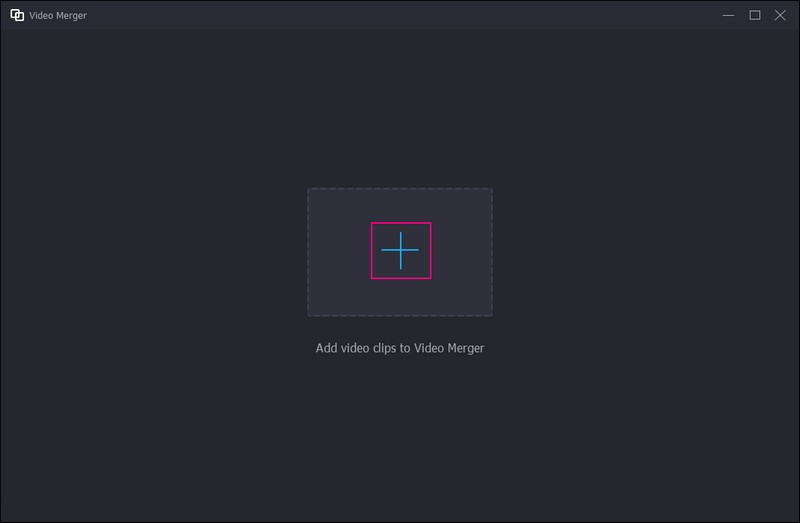 Step 4. Edit Video Clips
Click the Add button if you want to add more videos. Then, click the Edit button to enhance your video presentation. Here, you can crop and rotate, apply effects and filters, add a watermark, and add audio to your video. Press the OK button for every option when you make some changes. Then, click the Trim button to cut off parts of the video you do not need. Once settled, tap the Save button to save the trimmed video. Then, click the Ahead or Behind buttons to arrange the position of your videos based on your desire.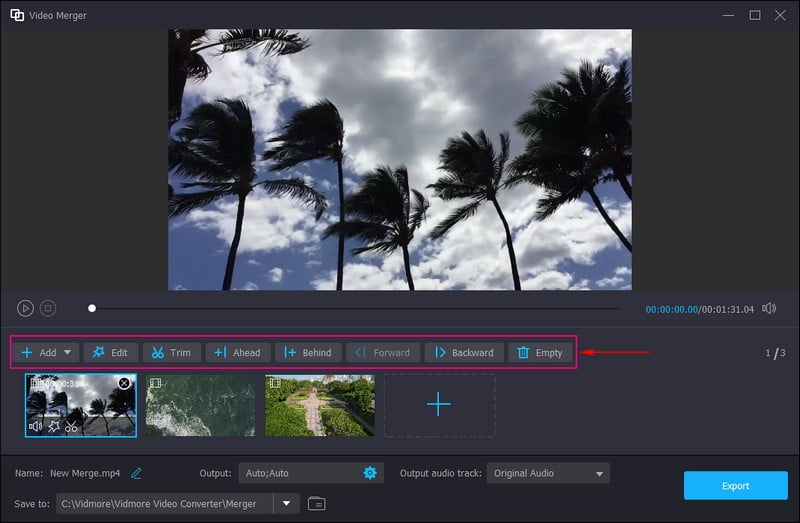 Step 5. Export Merge Videos
Tap the Export button to save the merged videos on your desktop. Afterward, upload the video on TikTok, show off your creativity, and gain more views.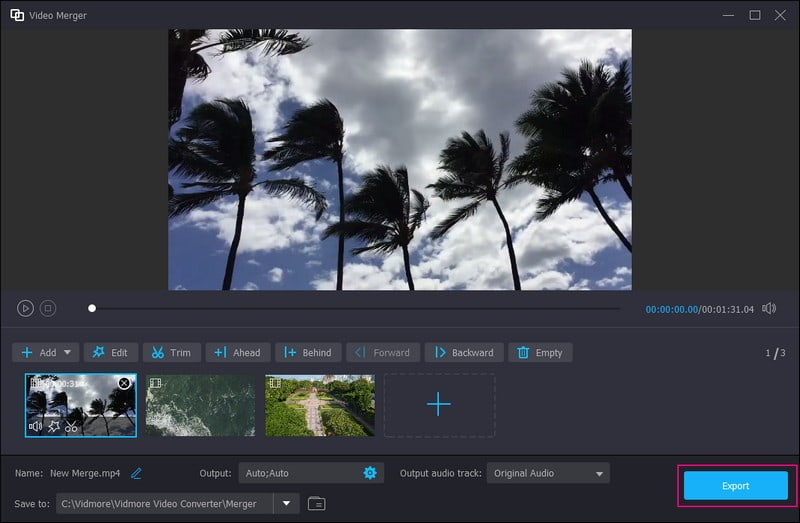 2. Video Merge
Video Merge is a simple mobile application that you can opt for to merge different video files. It supports video formats with different frame rates, exact frame sizes, and audio rates. Also, it can merge your video clips side by side, up and down, and sequentially. On top of that, it works in the background and allows you to do other things while your videos are processing.
To discover how to merge videos for TikTok using Video Merge, count on the steps presented.
Step 1. Download and Install Video Merge using your mobile device.
Step 2. Once you open the application, select Merge Video from the options to open your phone gallery. Select the videos you want to merge, which you will upload for TikTok.
Step 3. Once the videos are added, go to Canvas to select video frame, Style to select video sequence, and select Play Mode.
Step 4. When done, click the Save icon at the top of your screen. It will be saved on your phone gallery and ready to upload on TikTok.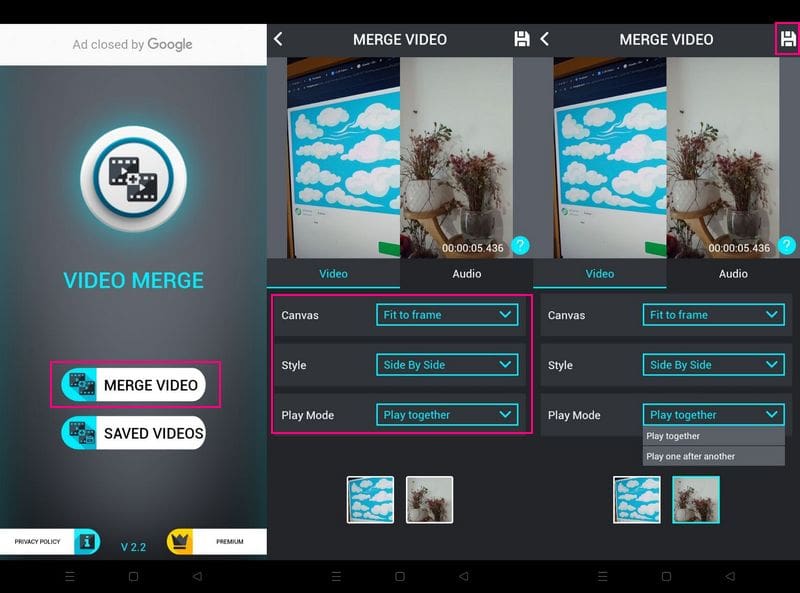 Part 6. FAQs about TikTok's Stitching
What is the difference between TikTok stitch and Duet?
The stitch feature includes videos from other creators and is limited to five seconds of the original video. In contrast to Duet, it requires users to use the entire original video.
Can you stitch more than 5 seconds on TikTok?
It is impossible to stitch video for more than five seconds using Tiktok's built-in Stitch feature.
Can you stitch with a pre-recorded video?
Users can only use the Stitch feature for a newly recorded video; your response should be recorded using the application. Besides that, you can select any uploaded video on TikTok to stitch with, even from your saved folder.
Conclusion
The Stitch feature is an excellent method to keep up the discussion with your videos. It allows you to leave comments on popular content from the platform. Most importantly, it is a fun way to generate material different from what you usually post. And since you have discovered how to stitch a video on TikTok, start stitching the videos you want and making creative content.