How to Color Correct in After Effects with Easy Methods
The Color Correction Tool is one of the common video editing tools in After Effects. It can make your video color perfect and more attractive. If you want to balance the color of your video, this tool is for you. Though After Effects has this amazing tool, you still need to make tweaks accurately to produce a nice and balanced color. In that case, this article will offer you the best color-correcting process in After Effects. In addition, you will also discover the best alternatives you can use. Grab this chance to learn more.

Part 1: Best Way to Correct Color Using After Effects
After Effects is one of the most excellent video editor software in this modern world, it is great at editing and balancing video colors. Using the Color Correction tool, enhancing the colors of your video is possible. This tool can offer the best quality in terms of video color. Also, it has different methods for correcting the color of your video. Moreover, this application is not only suitable for editing video color. It has more features that you can enjoy. You can create a 2D character or cartoon animations, compost 3D rendered footage, combine multiple videos to make a single piece, motion tracking, simulation effects, utilize keyframes, and more.
However, After Effects is complicated to utilize. It has various advanced tools that are hard to understand. It is an advanced video editing software that is suitable for advanced users. If you are a non-professional user, you will have difficulty editing your videos. You need to ask for professional assistance if you want to use this application or watch tutorials. In addition, purchasing this application is expensive. It can only offer a seven-day free trial, and you have to pay for a subscription plan. Use the instructions below to learn how to add color correction in after effects.
Step 1: Download Adobe After Effects on your desktop. You can use the free trial or purchase the application.
Step 2: Open your video file by clicking the File > Open button. After that, select the Pen tool.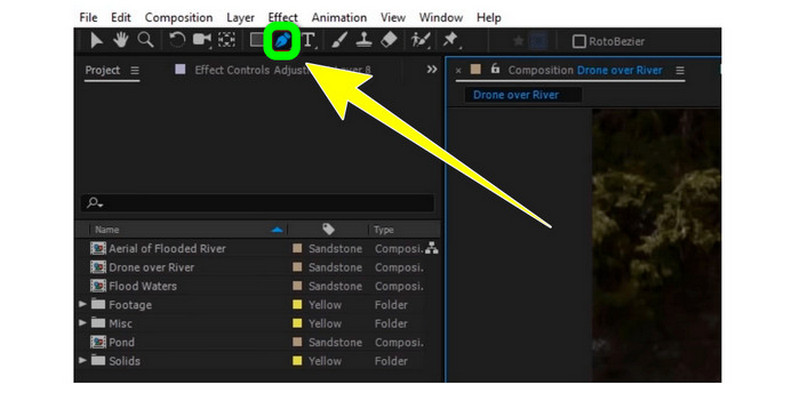 Step 3: Use this tool to select the area of the video you want to recolor. After that, copy the area into a new editable layer.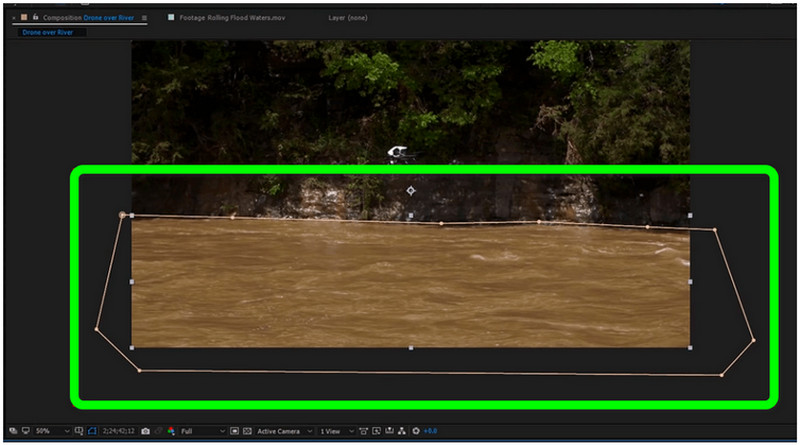 Step 4: Click the composition in the timeframe. Choose the Color Correction and click the Hue/Saturation option.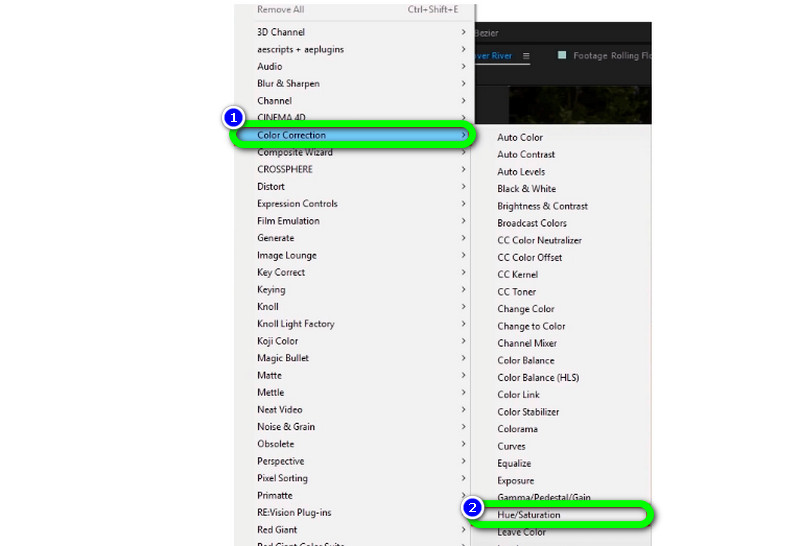 Step 5: You can adjust the sliders to change the area's color in this part. You can adjust the Master Hue, Master Lightness, and Master Saturation based on your preference. Then, save your final video.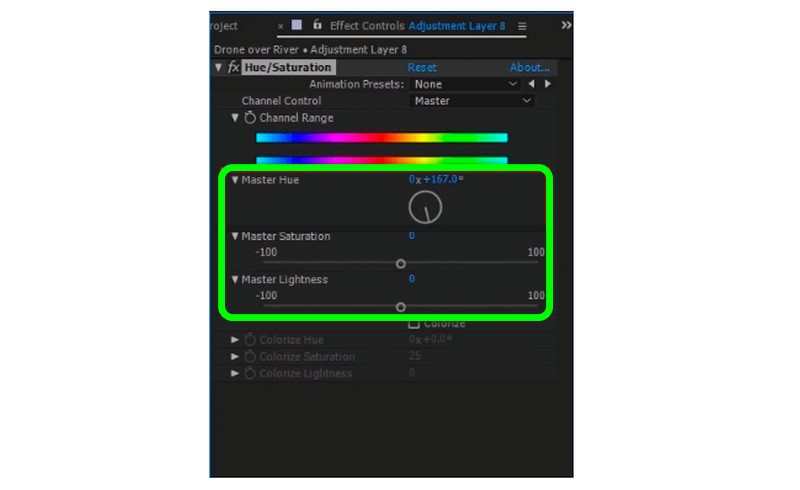 Part 2: Excellent Alternative to Correct a Color
If you prefer the easiest way to fix the color of your video, the best alternative you can use is Vidmore Video Converter. This offline tool is also reliable in editing, correcting, and balancing your video color. It offers a Color Correction tool to easily edit your video's saturation, contrast, hue, and brightness. With the guide of this useful tool, you can improve the color quality of your video. In terms of utilizing this application, it can offer you a simple method with an intuitive and user-friendly interface. This means Vidmore Video Converter is suitable for all users, especially beginners. You can also easily export your edited video because it has a smooth exporting process that makes it more fantastic. Windows and Mac operating system support this application, making it convenient for all users.
Please follow the complete guides below to correct the color of your video quickly.
Step 1: Install the Vidmore Video Converter on your Windows or Mac. Then, open it to start the procedure. You can click the download button below.
Step 2: After launching the application, navigate to the Toolbox option and choose the Color Correction tool.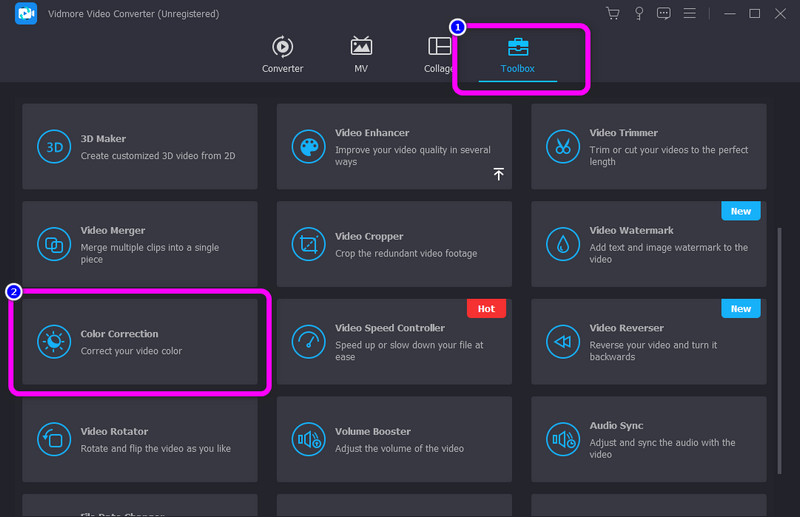 Step 3: Then press the Plus sign button. The folder will appear on your screen. Choose the video file you want to edit.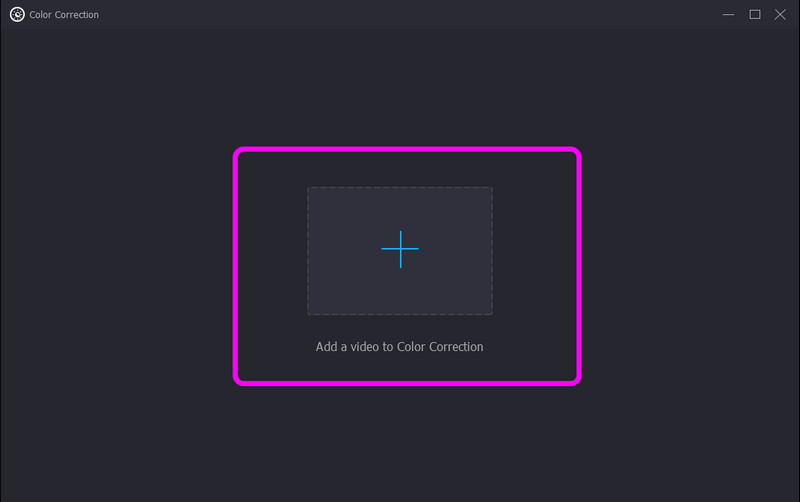 Step 4: Change your video color by adjusting the sliders of your video's Contrast, Brightness, Saturation, and Hue. You can also click the reset button to put it back to normal.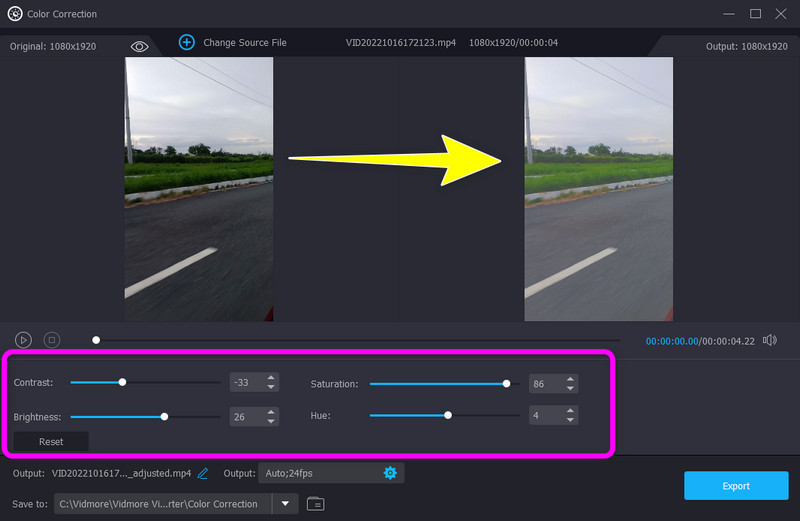 Step 5: In addition to that, if you want to change the video's frame rate, resolution, and other parameters, press the Settings icon on the lower part of the interface. Then click OK.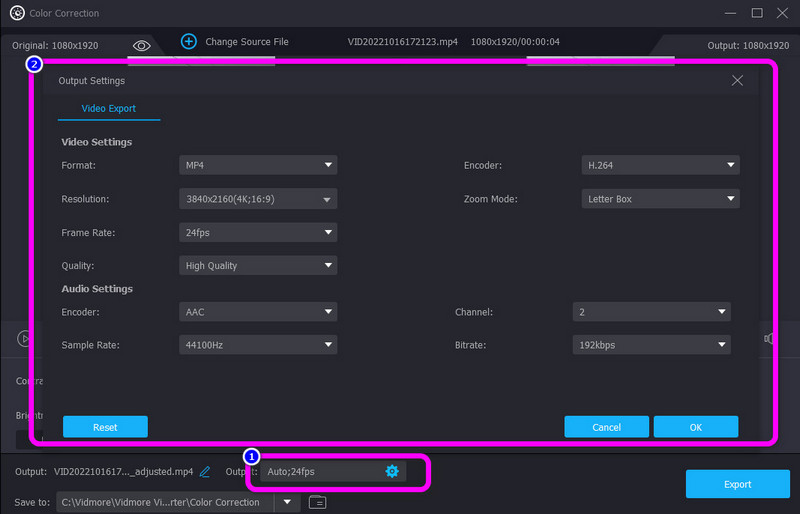 Step 6: Lastly, to save your edited video on your device, hit the Export button on the lower right of the interface.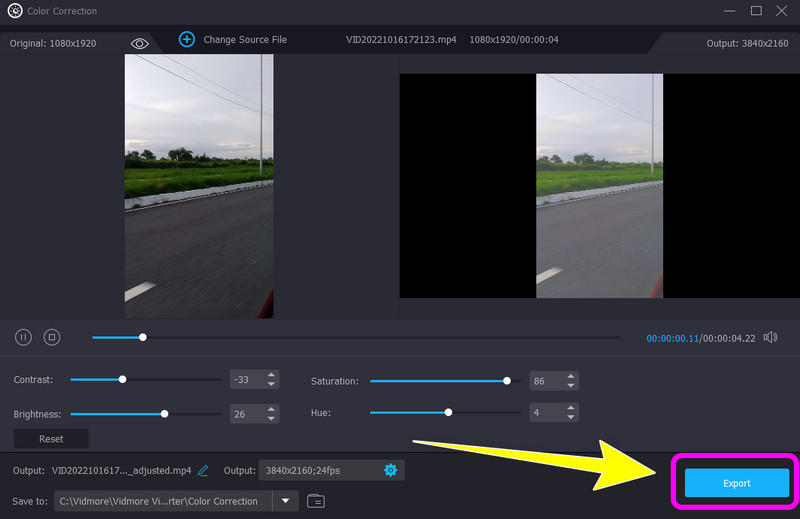 Part 3: FAQs about How to Correct Color in After Effects
1. Do you have to purchase for Adobe After Effects?
Unfortunately, you need to pay for this application. After the seven-day free trial, you are required to pay according to the plan you choose. But if you don't want to get charged for this application, you need to cancel it before the expiration date of the free trial.
2. What are the best tips to learn Adobe After Effects?
First, you need to understand all the basic stuff from the application, especially on using keyframes, layers, compositions, and more. Second, watching tutorials can also be a big help for your editing journey. This way, you are able to familiarize yourself with the software, get new ideas, and use each tool. Third, learning shortcuts is also the best way. It will speed up your workflow when you master the shortcuts. Lastly, you can use google. If you need clarification about a certain thing, it is better to gather information from other resources to get an idea of how to solve your problem.
3. Can I correct the color of my videos for free?
Absolutely, Yes! You can download the Vidmore Video Converter on your Windows or Mac. This application lets you fix your video color without spending a single money.
4. How much does Adobe After Effects cost?
You can purchase Adobe After Effects as a single application like the other Adobe programs. It costs $19.00 per month. This subscription includes a personal website for your portfolio with 20GB of cloud storage to handle digital files.
Conclusion
Now you learned how to do color correction in After Effects. But we must acknowledge that utilizing this application is difficult and unsuitable for non-professional users. In this way, this article also provided you with an excellent alternative you can use to correct the video color, which is using the Vidmore Video Converter. This tool allows you to use a color correction tool with a simple method and interface.