Incredibly Useful ASF Video Cutter Apps to Cut ASF with Ease
Short for Advanced Streaming Format, ASF is Microsoft's video and digital container. The most common kinds of data it holds include WMA and WMV. In fact, this is commonly used for streaming digital content on popular video-sharing sites like DailyMotion and Vevo. Like many online users, you also desire to upload videos on these video-sharing sites.
Yet, the ASF video is rather lengthy or has many irrelevant video parts that you want to get rid of. You need to shorten or remove the unnecessary parts using a video cutter in this case. That said, we will geek out on some of the beneficial ASF video cutter applications. Check out this post to learn further.

Part 1. Optimal ASF Cutter Solutions
1. Vidmore Video Converter
One of the most recommended desktop tools that can help you trim, cut, or split ASF videos quickly is Vidmore Video Converter. This ASF video cutter is free to download. You can clip the video into segments and merge them into one new file after cutting off the unwanted parts. Besides trimming, you can rotate your videos to the right angle, either horizontally or vertically, regulate the video shaking, customize image or text watermark, and a lot more. On top of that, you may convert your videos to your desired format and play them on your favorite device or player.
Pros
Provides various editing and cutting options.
Supports all video/audio formats.
Enhance video quality with basic and advanced editing tools.
Cons
Needs re-encoding before saving the file.
Limited features in its free version.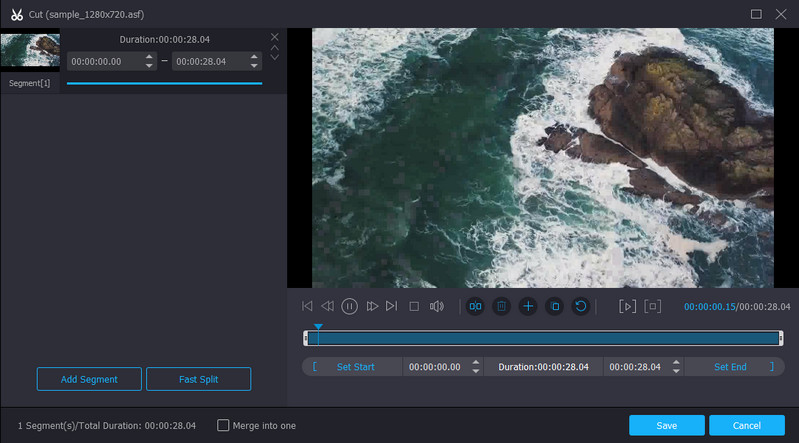 2. Clideo
If you don't want to install extra programs on your computer, you might consider using Clideo. What's great about the ASF video cutter online is that it does not have file size or time limitations. That means you can upload short, large, or long videos with no maximum length required. More importantly, it enables you to upload from Google Drive and Dropbox. Despite this, this tool also has its own share of disadvantages. One is the time it takes to load videos. It takes a long time to load videos successfully.
Pros
Supports local drive, Google Drive, and Dropbox for importing files.
Easy selection of video portions to cut or retain.
Export video in other formats.
Cons
Importing media consumes a lot of time.
Videos in the preview look blurry and pixelated.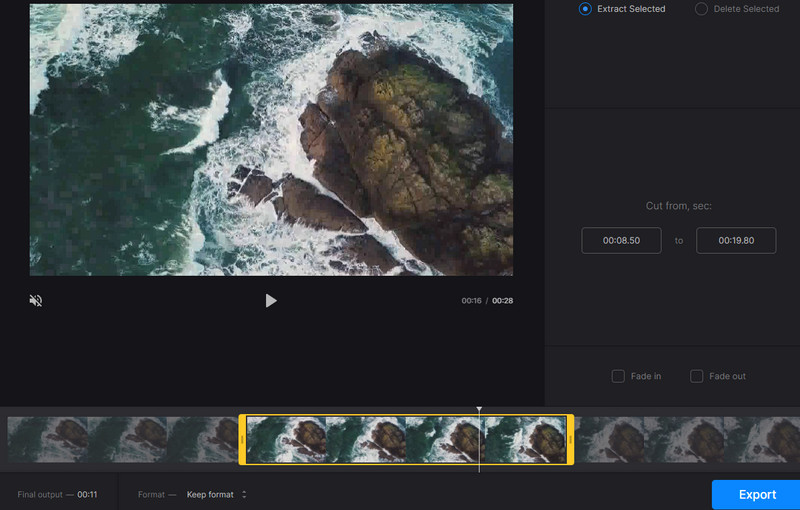 3. WeVideo
WeVideo is another ASF video cutter online that trims ASF videos quickly. The tool has an intuitive interface that green hand users may find comfortable using. In fact, it provides a simple tutorial navigating you through every essential function you need to know about. Besides trimming, users can record webcam, screen, or both. Plus, you can record the sound from your microphone to help you record and add voiceover to your video.
Pros
Offers screen, webcam, and voice recording.
Supports scene transitions and motion effects to enhance videos.
Large collection of animated backgrounds.
Cons
Advanced features are restricted with the free version.
Storage limited to 20GB.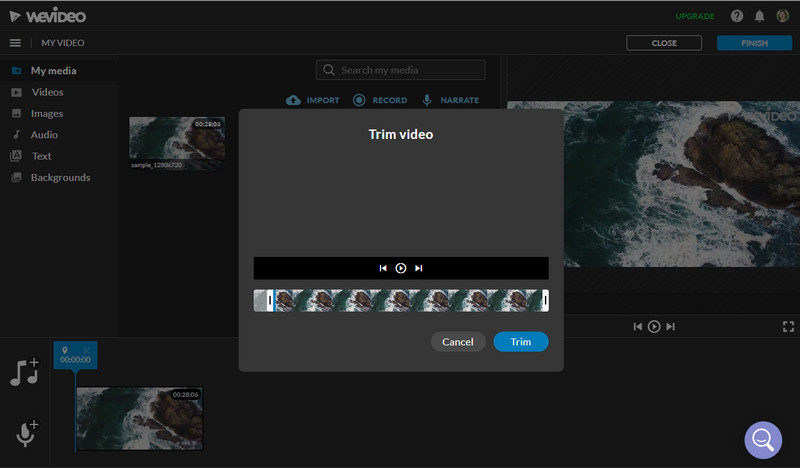 4. Video Toolbox
You can also rely on Video Toolbox as your ASF video cutter online. It is an advanced and versatile online application that enables you to accomplish various editing jobs. This program cut or slice short a video, demux videos, add hardcore subtitles, merge files, etc. With lots of supported video formats, you can do almost all the mentioned functions on any video you like. On top of that, it provides two options for saving the file. You can cut the video by leaving the same format and converting the output.
Pros
Accepts a wide range of video formats like ASF, MOV, FLV, M4V, and so on.
Convert video to any desired output format.
Totally free online video editing program.
Cons
Do not provide a real-time preview before starting the cutting process.
Only support 1500MB upload file size.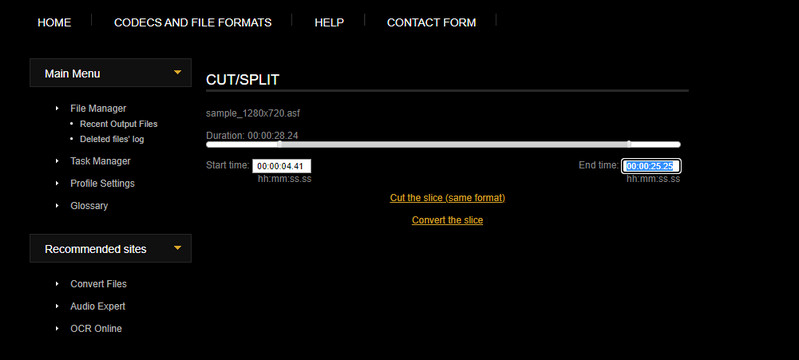 Part 2. How to use the Efficient ASF Cutter
If you want to learn how to trim or cut ASF using the most efficient ASF video cutter, then look at the step-by-step procedure below.
Step 1. Launch Vidmore Video Converter
First things first, grab a copy of the tool's installer by downloading it using the Free Download buttons below. When the download is complete, install and open the program.
Step 2. Import an ASF video
Next, click on the Plus sign button in the tool's main interface, browse the target video and upload it into the app. You can also drag and drop the file from the folder to the app to upload.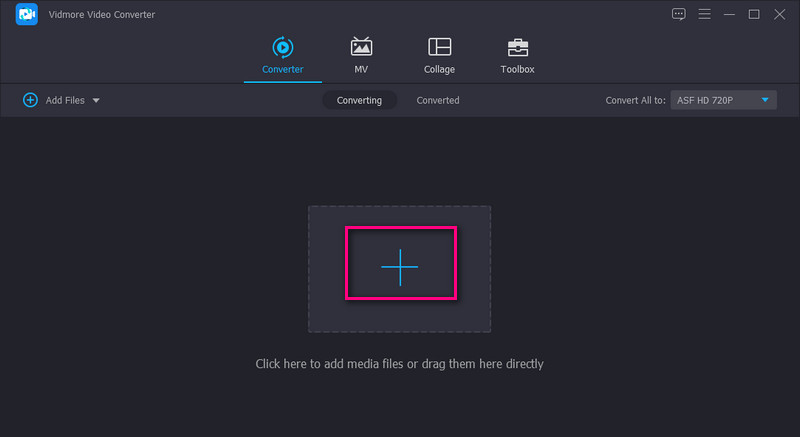 Step 3. Cut unwanted video portions
When you are done uploading, you can now begin getting rid of the unwanted portions of your ASF video. Click the Cut button, and you will see another window to edit the video. You can manually cut parts by moving the slider to the position to trim the video. Then click the Split button under the preview to clip the beginning of the video.
For an instant and automatic way, click the Fast Split button to divide the video into smaller parts. Select between Split by average or Split by time and hit Split. You can pick up your target portions to delete. Next, tick the Merge into one to combine all segments with parts removed. Lastly, hit the Save button to confirm the changes.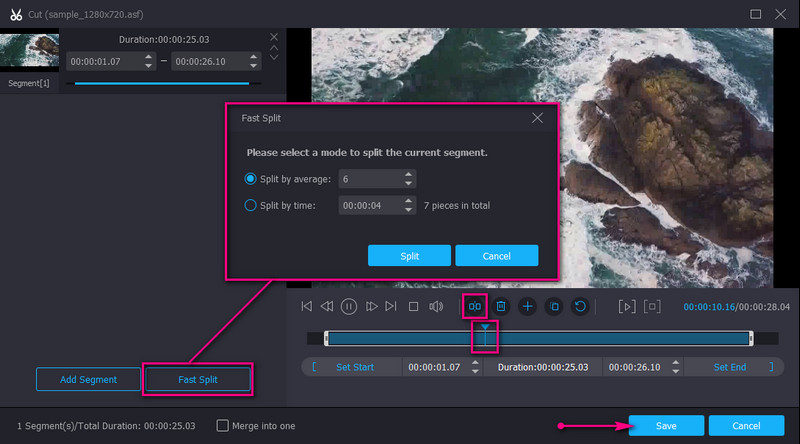 Step 4. Save the trimmed ASF video
You can choose to export the video into another format or keep the original by selecting the same format from the Profile menu. After that, click the Convert All button to save and apply all the changes. You should receive the output in the folder and preview it instantly.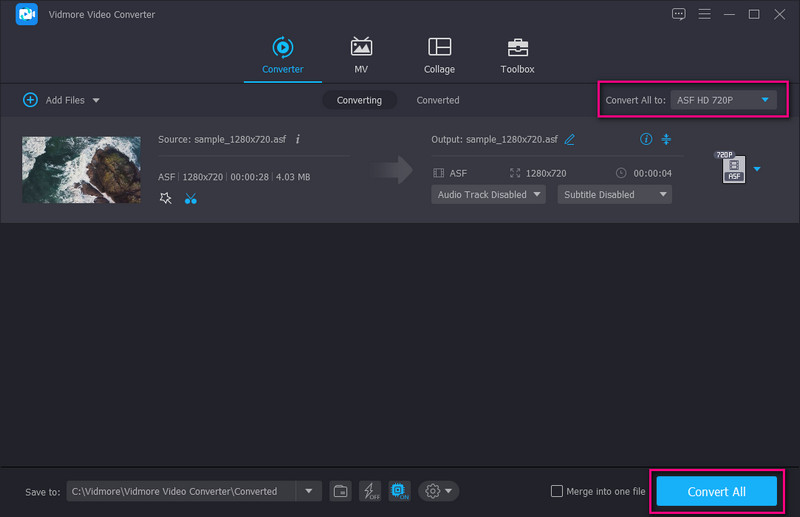 Part 3. FAQS on ASF Cutter
How do I open an ASF file on a Mac?
You can play and view an ASF file on your Mac by converting it to QuickTime supported format. Simply download a free video converter like Vidmore on your Mac and convert the video.
How can I play ASF on Windows 10?
PC with Windows 10 operating system comes with Windows Media Player that can play ASF files. You can only get this native Windows app after a clean installation of Windows 10 on your computer.
How do I edit an ASF file?
Any editor that supports ASF files will also be able to edit them easily. For this, you may use Vidmore and the other programs in this post that offer video editing tools.
Conclusion
Cutting ASF video is not that complex when you have the right tool to use. With these ASF video cutter programs, you should accomplish your cutting tasks in no time. Moreover, you can do it online or offline. But looking closely, Vidmore Video Converter is the most practical choice as the three latter options are dependent on the internet connection. Some contain ads, and the performance is affected when the network is unstable. Better yet, pick the beneficial tool to fulfill your tasks without worrying about slow performance or annoying ads.