Top 5 MP4 Trimmer and Cutter Solution to Cut MP4 Videos
You may have long MP4 videos that need cutting. This usually occurs when you want parts in the video to be gone, such as the long introduction and unnecessary scenes. These useless parts only take up space and need to be removed. If you plan to manipulate your videos by trimming or cutting them, you can do so using the right programs.
There are various applications you can use to trim or cut MP4 videos. Yet, there are programs that are too complicated for other users. Hence, we picked those tools that are suitable for all levels of users. In this post, we reviewed five of what we think are the best MP4 cutter programs. On that note, take a look at these programs and find out which tool suits you well.

Part 1. Best MP4 Cutters
1. Vidmore Video Converter
First on the list of MP4 video cutters that deserves to be mentioned is Vidmore Video Converter. This is a video converting program fully compatible with Windows and Macintosh computers. Besides the converting function, the tool also provides various editing tools, including cutting videos of any format. In conjunction with this, it is easy to use with the grabber or slider for trimming and cutting. Moreover, you can cut video by seconds for accurate and precise trimming.
Aside from that, you can access features like adding audio, applying filters and effects to develop professional-looking videos that are perfect for sharing and entertainment. On top of that, it comes with a merging capability making it an excellent free MP4 cutter and joiner. Indeed, it is full-featured, and trying the tool is worth it.
Pros
Supports various video formats, including MP4, MOV, FLV, etc.
Provides helpful video editing tools.
Intuitive user interface.
Cons
Mediocre computer resources required.
Limited features in the trial version.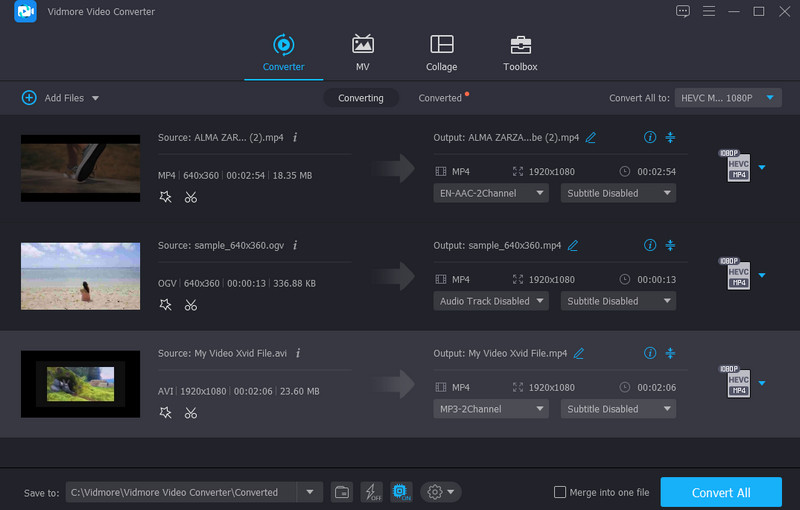 2. VirtualDub
VirtualDub is also a very good try when it comes to cutting and trimming MP4 videos. There are different cutting capabilities that you can employ to get the desired result. With this MP4 clip cutter, you can either use the frame bar or use the set selection start and end as you please. Likewise, there are other tools that you can use beyond cutting. There are noise reduction, video segmentation, noise reduction, and so much more.
Pros
Diverse editing tools.
Works as a good MP4 cutter for PCs with low computer resources.
Totally free program.
Cons
Outdated user interface.
It does not support 4K editing.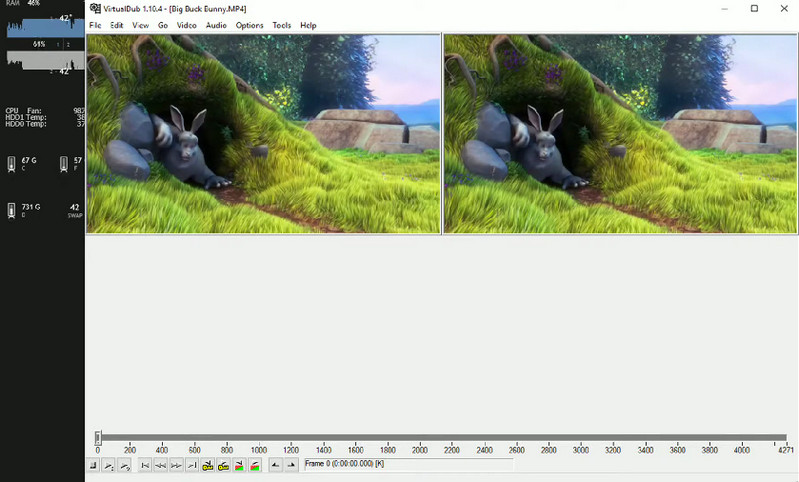 3. QuickTime
If you are on a Mac and you would like to cut your MP4, QuickTime is a highly recommended program to use. You read it right. Aside from being a media player, this also works well as a video cutter allowing you to manipulate your videos. You can split, trim, and even merge files with this simple MP4 trimmer for Mac. The best part is it is easy to manipulate that uses a slider to cut and trim video files.
Pros
Built-in video editor for Mac.
Simple and lightweight program.
Works
Cons
Only available for Mac users.
Limited video editing functions.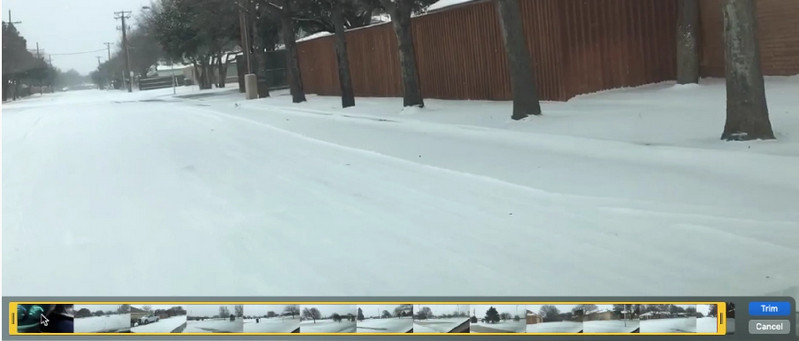 4. Ezgif
Suppose you don't want to download a program for cutting MP4 videos. You can opt for online programs such as Ezgif. It works well with nearly all web browsers. The tool lets select the start and end time by seconds when cutting the video, which is manual. Or, while the video is playing, you can use the current position of the playhead on the video and set it as the position for starting or ending of cutting MP4.
Pros
It does not require downloading anything on your computer.
Supports MP4, AVI, FLAV, MOV, and more video files.
Dynamic video and image editing tools.
Cons
Max upload file size is 100MB only.
Best MP4 trimmer only for clips.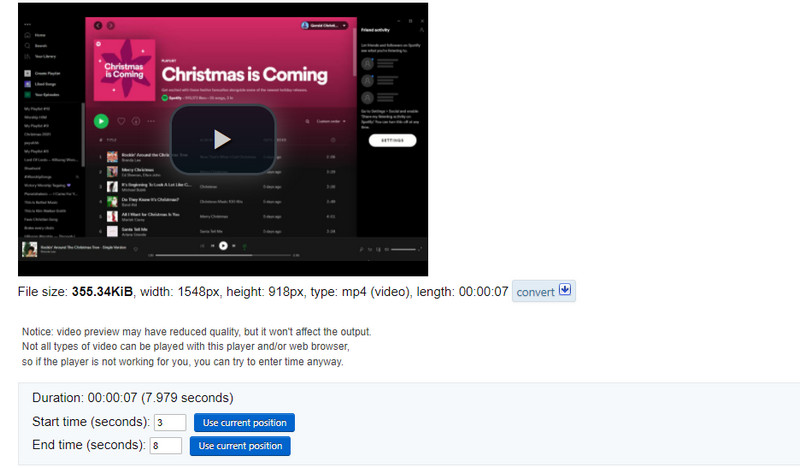 5. Clideo
Clideo is another online trimmer MP4 file that you should consider using. This free program offers useful video and audio editing functions that include cutting or trimming videos. In like manner, you can use the markers for cutting or trimming. On the other hand, you can define the parts to cut in seconds for precise and accurate editing. This online trimmer for MP4 is also equipped with output formats to convert your videos into other video formats.
Pros
Comes with fade-in and fade-out effects.
Supports several video and audio output formats.
Upload from the cloud storage.
Cons
Internet-depended tool.
Slow to upload large video files.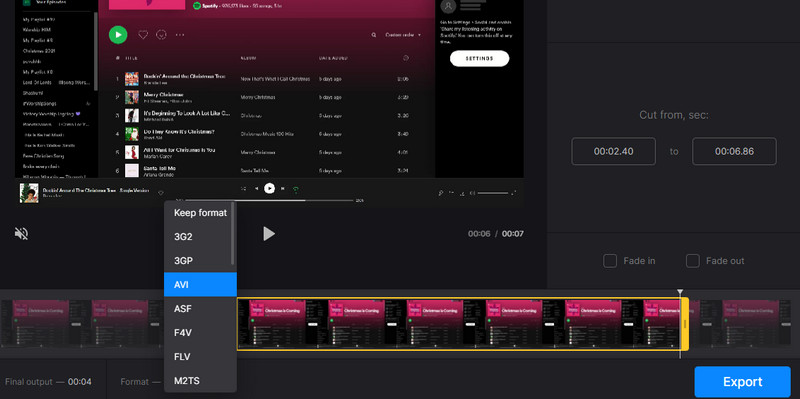 Part 2. How to Use the Best MP4 Cutter
Undoubtedly, of all the tools mentioned above, Videmore Video Converter may benefit you in cutting, especially if you require a lossless MP4 trimmer. Over and above, it is easy to maneuver that you don't even a green hand user can handle it without confusion. To use this MP4 converter and cutter, follow the instructions below.
Step 1. Install the MP4 Cutter
Before anything else, download the MP4 cutter by clicking on any of the Free Download buttons presented below. Once downloaded, open the installer and follow the setup wizard to install the app. After that, launch it on your computer.
Step 2. Upload an MP4 file
Upload your target MP4 file by clicking the Plus symbol in the program's main interface. This will open a folder on your computer. Locate and load the video file you intend to manipulate. Optionally, you can drag and drop the video into the program to upload conveniently.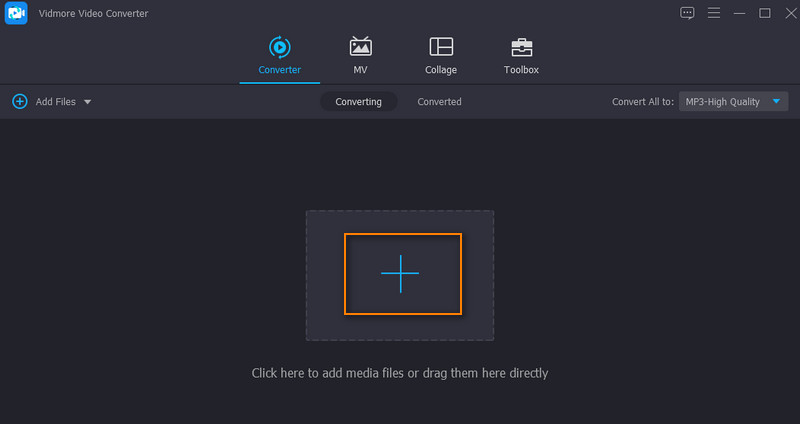 Step 3. Cut the MP4
Now, click the Cut button, and you will see the studio editor of the tool. From the Cut window, you have various cutting options. You can use the marker, set the start and end by seconds, or use the fast split feature to segment the video into several parts automatically. To trim the MP4 video, place the Playhead to your desired position in the video and hit the Split button. After that, click the Save button to confirm the changes.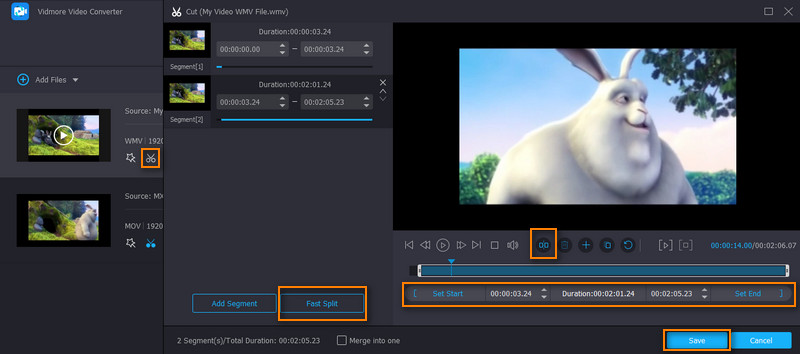 Step 4. Export the video's final version
Open the Profile tray of media formats and select an output format for the video from the Video tab. You can select the same format if you want to retain the format. Afterward, click the Convert All button to process the video and save the changes. You can find the video playback from the folder that will automatically pop up once the process of conversion is done.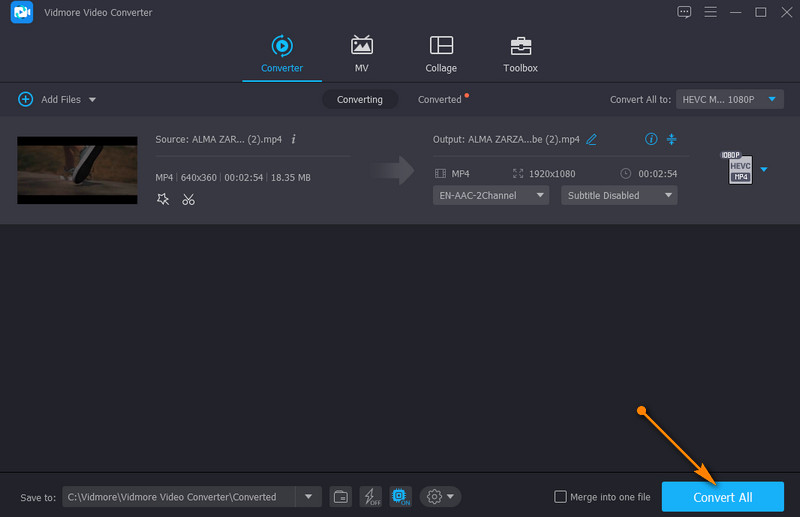 Part 3. FAQs on MP4 Cutters
How can I trim a large video file?
Suppose you need to cut large video files. In that case, you may use the MP4 cutters above. You can rely on Vidmore Video Converter for this kind of need. This lets you cut large video files into small chunks and split them into halves.
Can I edit a video in VLC?
Yes. Besides playing multimedia files, you can also achieve great results upon editing your video files in VLC. It is equipped with useful features such as video rotating, cutting, converting, and a bunch more. The only downside is that you cannot cut a video into multiple parts using this tool. But for trimming or cutting parts in the video, VLC is worth a try.
How can I trim a long video online?
There are various web-based programs that you can utilize to trim a long video online. However, you need to choose those that don't implement file size limitations. Better yet, go with offline tools.
Conclusion
We have mentioned some of the best MP4 cutter software and programs in this post. Some of these programs are operated online and while others operate even without an internet connection. Therefore, if you are looking for an excellent tool to assist you in cutting MP4 videos, you should find the list helpful. Still, you can determine the best MP4 cutter based on your own preferences and it would be best to get a hands-on experience of each tool.